The Island of Corregidor has a vibrant yet tragic past. With its strategic location at the entrance of Manila Bay, it serves mainly as a fortress of defense to protect Manila since the Spanish era.
Aside from being a fortress, it also serves as a penal institution, custom station and signal outpost during the Spanish rule; taken over by the Dutch and British during their attempts to invade the Philippines; fortified by the Americans with massive coastal artillery and ammunition magazines to defend Manila during the liberation of the Philippines; and played a vital role during the World War II on the war against the Imperial Japanese Army.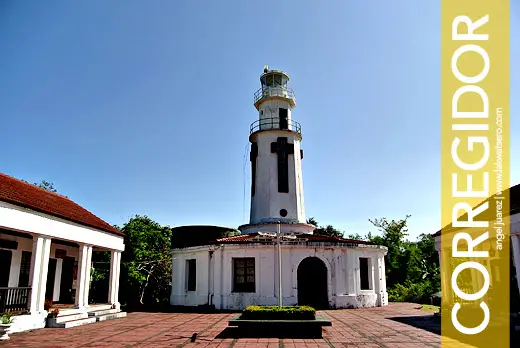 Its importance had long been recognized by the early colonizers specifically by the Spaniards that they built a major lighthouse in the island, second to be built in the archipelago after the Pasig River Light.
Corregidor Lighthouse was built alongside Caballo Island Lighthouse which is just a quarter of a mile a way and separated by a narrow passage that is not safe for huge seacraft. It is situated on the highest point of the island known as the Topside, the lighthouse of Corregidor (Faro dela Isla de Corregidor) was originally conceptualized in 1835. It was aimed to be the primary guide to the sailors traversing the Verde Island and those entering Manila Bay going to the port of Manila, the most important trading center in the country. Actual construction commenced in 1846 and finally completed and put to service in 1853.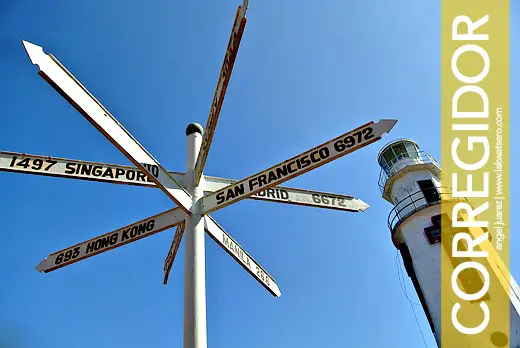 The original lighthouse was torn down in the latter part of 1890's to give way for the construction of a more powerful lighthouse that was put into service in 1897. The same lighthouse was in service for decades and renovated several times. During the liberation of the Philippines from the Japanese in 1945, Corregidor Island was heavily bombed leaving every structure in the island in ruins even the lighthouse.
The lighthouse that stands today was built in 1950 on the same site of the original using some of the old stones and materials. The design was completely different from its predecessor, with a cylindrical tower rising at 60 feet above the ground and a keeper's house that is now turned into a souvenir shop.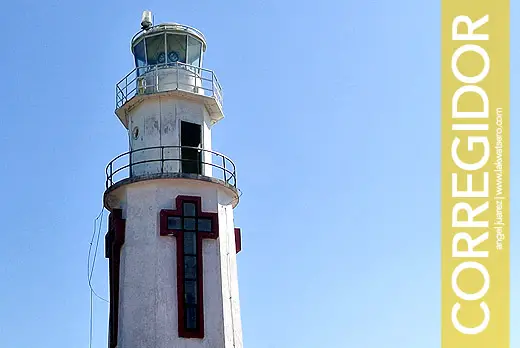 The lighthouse's solar-powered lantern stands at 48 feet (14.6 meters) from the base with a total focal plane (height of the lamp above sea level) of 633 feet (192.9 meters) above sea level. It flashes three white lights every 20 seconds and can be seen from as far as 36 miles away in the West Philippine Sea.
For more than a century, the Corregidor Island Lighthouse has served its purpose and still serving its purpose up to now. But more than a guide to sailors, the lighthouse is an icon of Corregidor Island, a memorial of the its vibrant and tragic past, and a symbolism of its important role in our history as a nation.