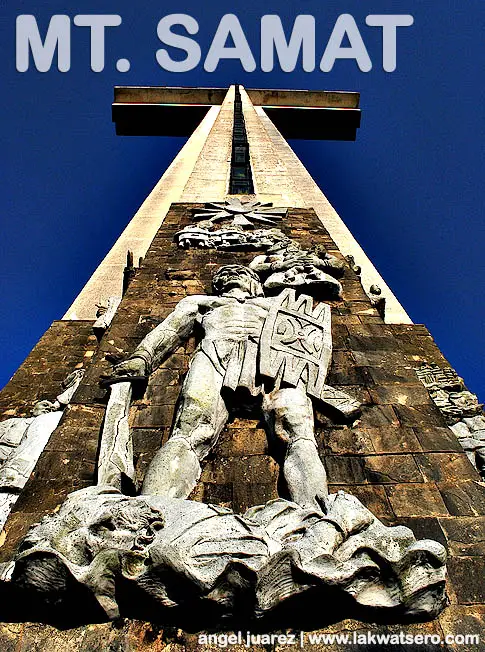 In 1966, a shrine was commissioned to be built on the summit of Mt. Samat to commemorate the heroic Filipino and American soldiers in Bataan who fought the Japanese Imperial Army in 1942, in what is known toady as Battle of Bataan.
Located in Barangay Diwa, town of Pilar, the shrine with a land area of 73,665 hectares, was designed by Lorenzo Castillo and landscaped by Dolly Quimbo-Perez. It was inaugurated in 1970 during the 25th Anniversary of the end of World War II.
The complex is an open museum, with architectural and artistic masterpieces of some of our National Artists. The main features are the Colonnade and the Memorial Cross.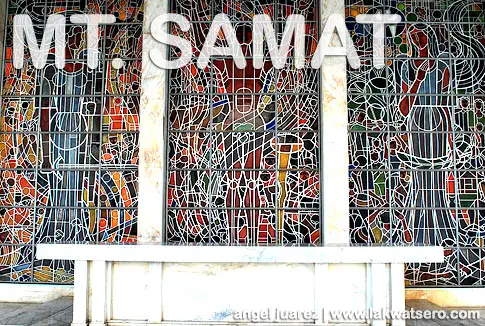 The colonnade has an altar at the center, surrounded by a marble-covered esplanade. The altar's backdrop is a stained glass mural by designed by Cenon Rivera and made by Vetrate D'arte Giuliani. Also in the colonnade are  sculptural inscriptions and murals of the Battle of Bataan by National Artist Napoleon Abueva; bronze insignias of USAFFE Division Units by Talleres de Maximo Vicente, Leonides Valdez, and Angel Sampra and Sons; bronze urns symbolizing eternal flame; and four bronze chandeliers hanging on the ceiling. *
Standing high on the summit, at 92 meters is a giant Memorial Cross made of marble, steel and concrete. It has an elevator and a thirty-meter long viewing gallery at the arms of the cross. It is open to the public, where one can have a 360 degree view of Bataan Peninsula. The nearby historic Corregidor Island and Manila Bay can also be seen here. The exterior of the cross,  from the base up to about 11 meters has sculptures depicting significant battles and historical events, made also by Napoleon Abueva.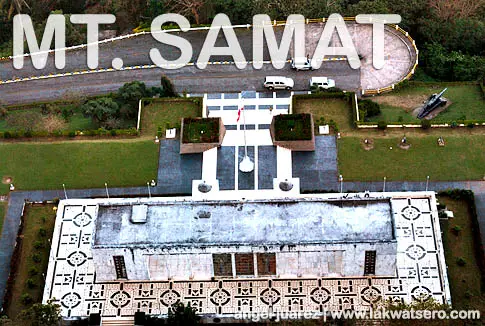 Every 9th of April, the day Bataan fell to the Japanese, the Philippines commemorate the day as a national holiday to remember the heroes not only of the Battle of Bataan, but those who fought for the country during the Second World War. The celebration is always stage in Dambana ng Kagitingan of Mt.Samat, Bataan. Mabuhay ang magigiting na bayani ng digmaan!
The shrine is open everyday from 8AM to 5PM. Entrance fee is P30.00 for foreigners and P20.00 for Filipinos and a discounted P10.00 for students. Parking fee is P20.00 for small vehicles and P30.00 for big vehicles. The Memorial Cross has a separate entrance of P10.00.

*Some information taken from http://filipinos-ww2usmilitaryservice.tripod.com/id37.html