Four hours of land travel from Manila will take you to Real, a coastal town of Quezon Province fronting Pacific Ocean. Like Siniloan in Laguna, it is also nested at the foot Sierra Madre, the longest mountain range in the Philippines. So it isn't surprising that it harbors numerous waterfalls.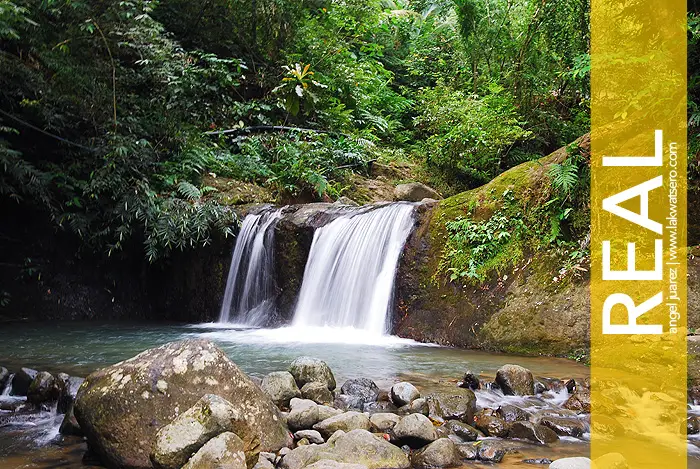 There are at least nine known waterfalls in town namely Bagombong, Malalago, Kinanliman, Tipuan, Pinagminahan, Ngabngaban, Mahanginhangin (Cawayan), Balagbag and Lunok (Noknok). Among these, only few are easily accessible including the last three which I happened to visit on a daytrip.
Mahanginhangin (Cawayan) Falls
Mahanginhangin Falls, popularly known as Cawayan Falls as it is situated in Barangay Cawayan, is just a short walk from the trailhead at Real-Infanta Road. It is made up of six layers of cascades. The first two are where most locals go for they are easily accessible. The remaining four cascades upstream require a bit of climbing, scrambling and bouldering. The last cascade is a towering 40 feet drop that flows against a wall into a small yet deep basin.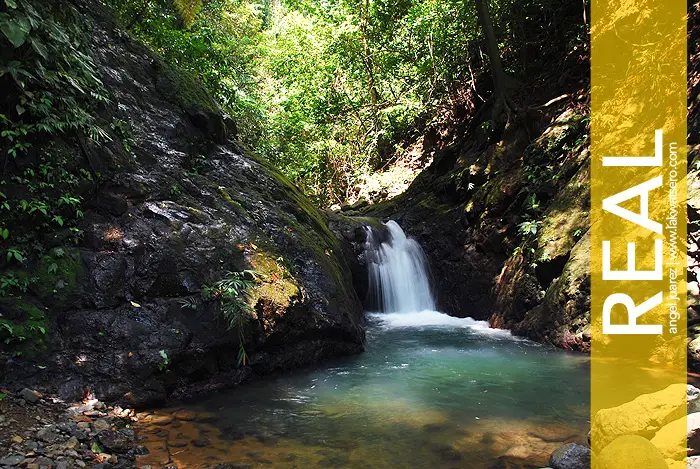 To get to to Cawayan Falls, ride the Infanta bound bus in Legarda (Approx P200, four hours) or an Infanta bound jeep from Siniloan and get off at Barangay Cawayan in Real. Ask the driver to drop you off at Cawayan Falls before Cawayan Garden, both located on the left side of the road if you are going to Infanta. If you are coming from Real Poblacion, take a trike to Cawayan Falls (P10, 5 minutes). The first cascade is around 15 minutes by foot from the main road, going to the sixth level will take around 30 to 45 minutes. Entrance fee: P10.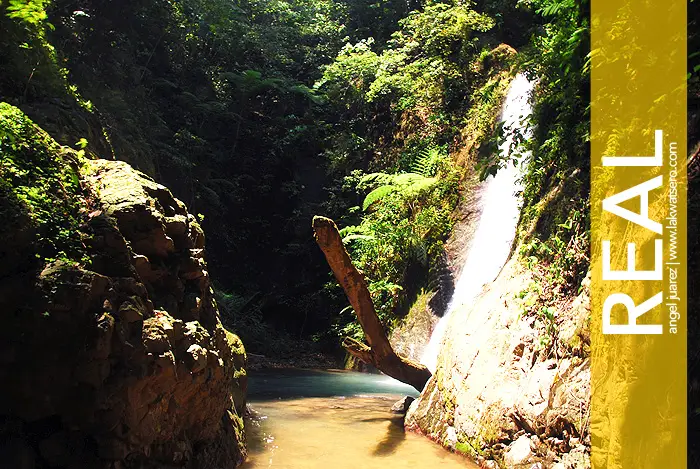 Balagbag Falls
In Barangay Tingnoan, south of Poblacion Real, are two waterfalls that are quite mainstream but majestic just the same. One of which is Balagbag Falls.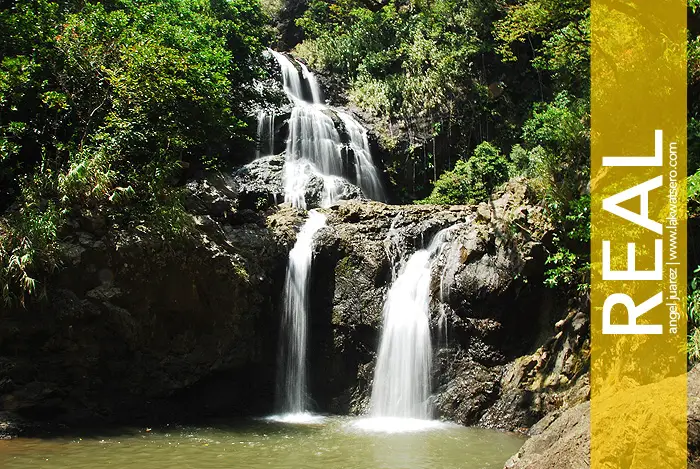 A two-tiered waterfalls, Balagbag Falls is a favorite destination for locals and non-locals alike. This is no surprise as it is majestic and easy to reach, just a short walk from the start of the trail at Real-Mauban Road. The first level is approximately five meters high with deep natural pool ideal for cliff jumping. A trail at the left side leads to the second level, a towering cascade at approximately 25 meters high with a shallow catch basin.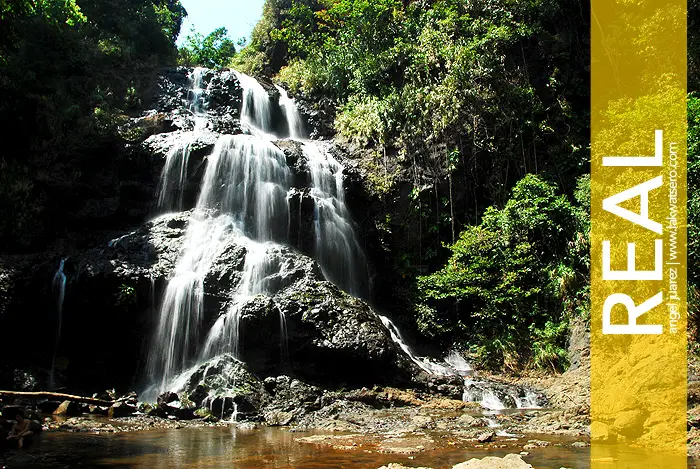 To get here from Poblacion Real, catch a bus, a jeep or a tricycle (P20/person) to Tingnoan Dulo (basketball court). Then transfer to another tricycle to Balagbag (P25/person one-way or at least P70/trike one-way for special trip). Going back, just wait for trike (P25/person one-way) or jeep going to Tingnoan Dulo at the main road. Entrance Fee: P20.
Noknok (Lunok) Falls
Approximately one kilometer from Balagbag Falls is Noknok Falls, sometime called Lunok Falls, a one-layer cascade tucked in a foliage-covered area also of Barangay Tingnoan. Standing at a height of approximately 10 meters and with deep natural catch basin ideal for cliff jumping, Noknok Falls is another favorite destination for locals due to its easy accessibility, around 10 minutes walk from the trailhead at Real-Mauban Road.
Noknok Falls is just a short walk from Balagbag Fals. Entrance Fee: P20.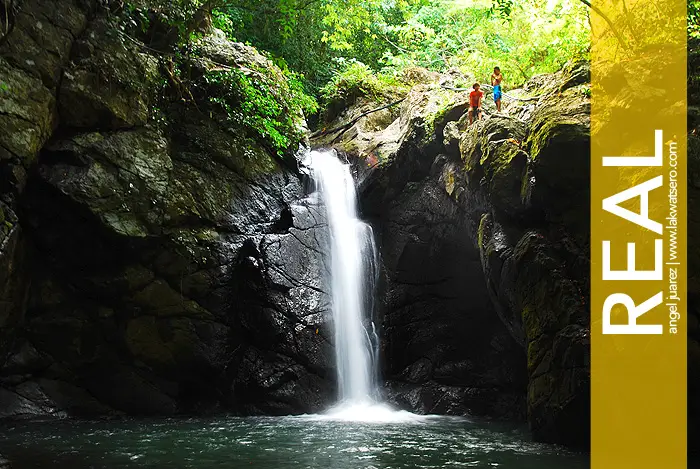 How to Go to Real, Quezon
Catch a direct Real-Infanta bus in Legarda for a four-hour travel via Rizal and Siniloan-Famy, fare is P200 from Manila.
Alternatively, you can catch a van from Legarda to Siniloan for at least three hours travel, fare is P120. From Rizal area, take the Siniloan jeep at their terminal in front of Robinsons Cainta/Big R/Junction. At Siniloan, catch a jeep or van to Infanta and get off at Real, it is one hour travel and fare is at least P50.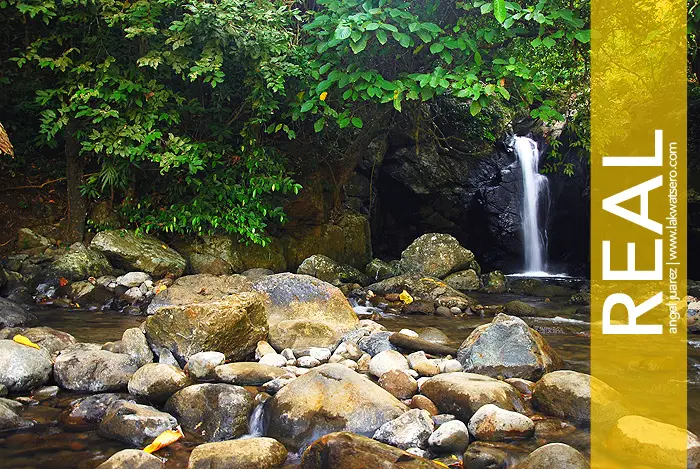 Sample Daytrip Itinerary
0500H: Legarda to Real bus (Fare: P200)
0915H: Get off at Cawayan Falls in Barangay Cawayan, Real, Quezon (Entrance: P10)
1130H: Back in main road / trike to Dot Star or Tingnoan Tricycle Terminal (Fare: P10) / lunch / trike to Tingnoan Dulo (Fare: P20)
1230H: At Tingnoan dulo / transfer to trike to Balagbag Falls (Fare: P70 /solo)
1245H: Balagbag Falls (Entrance: P20)
1400H: Lunok Falls (Entrance: P20)
1500H: Back in highway / van to Siniloan (Fare: P70)
1600H: At Siniloan / van to Legarda (Fare: P120)
1930H: Back in Manila
Estimated Budget: P700