Siniloan, the northeastern most town of the province of Laguna, is home to numerous waterfalls that lie along its different river systems. In fact, among their official tourism slogans is "Waterfalls Sanctuary of Eastern Laguna." This is without a doubt as it is nested at the foot of Sierra Madre, the longest mountain range in the country.
Its most popular attraction – the waterfalls of Mount Romelo, specifically Buruwisan Falls. There are at least eight known waterfalls in Mount Romelo alone, some say that there are more unnamed ones that are yet to be exposed to public. Aside from Buruwisan Falls, there's Lanzones Falls, Batya-Batya Falls, Sampaloc Falls, Diwata Falls, Sebakon Falls, Sapang Labo Falls and the very daring Twin Falls!
But beyond Mount Romelo's group of waterfalls are others that are equally enchanting and easier to reach like those in the lowland Barangays of Magsaysay, Kapatalan and Llavac.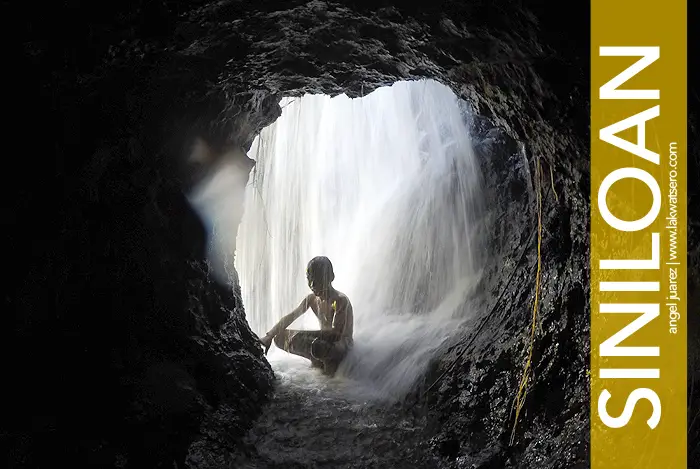 Tulay na Bato Falls
One of, if not, the most stunning waterfalls in Siniloan is Tulay na Bato, which is in the boundary of Barangay Magsaysay and Kapatalan. Surprisingly, not much tourists or even locals go here, and only few know the spot.
Ma'am Luz Saldivia, a retired lawyer and now an advocate in improving the lives of the people in the community, owns the land where Tulay na Bato Falls is located. She now resides in her humble house at Kilometer 17 of Siniloan-Famy-Infanta Road, in a site known as Trekkers', the nearest and easiest approach to this waterfalls.
Tulay Na Bato Falls is approximately forty feet drop to a deep circular basin surrounded by a huge wall and boulders. The name basically came from huge rocks that serve as bridge to get to the falls if you are coming from Kilometer 17. Literally, you will cross boulders! There's no harness in place so careful with the huge rocks. The falls is just a short downhill trek, approximately 10 to 15 minutes from Trekker's. It can also be reached via Kilometer 18 but it is quite a long uphill river trekking from there.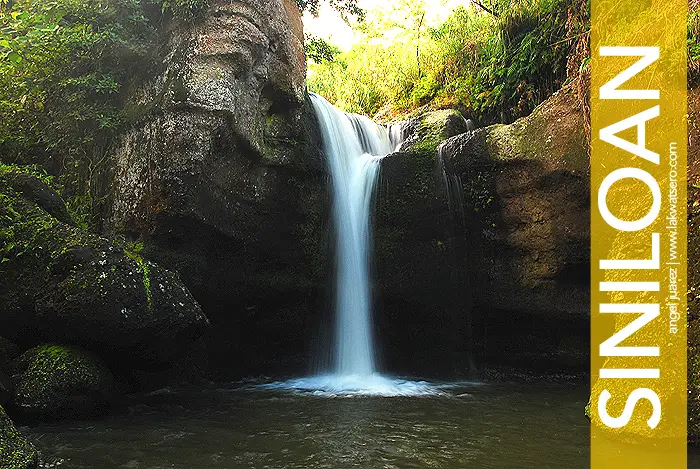 To get here from Manila, catch a Raymond bus going to Infanta from Legarda and ask to be dropped at Trekkers' at Kilometer 17 of Barangay Magsaysay, Siniloan. Fare is approximately P140 per person, one-way. Travel time is approximately three (3) hours. Entrance fee is P10 per person for a day trip and P50 per person for overnight campers.
Hagdang Bato Falls
Approximately one kilometer downstream from Tulay na Bato is a series of smaller cascades that resembles a staircase, thus Hagdang Bato Falls, another amazing natural wonder of Barangay Magsaysay.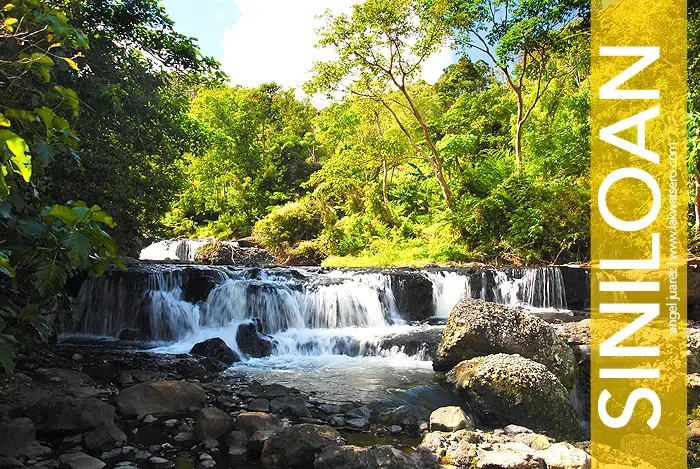 Prepare to be amazed as you will be walking along and across the river with waterfalls of various heights and forms all around you. The most remarkable is the wide curtain type, approximately five feet high. There are numerous natural pools for those who want to take a dip, careful as some are quite deep.
To get here, you can trek along the river downstream from Tulay na Bato Falls. It is approximately one kilometer away or roughly 20 minutes trek on an average pacing. Alternatively, you can take the trail along the main road, beside a waiting shed at Kilometer 18. It is around 20 to 30 minutes downhill trek to the river, passing by a school and cooperative buildings. Expect "limatik" specially on rainy season.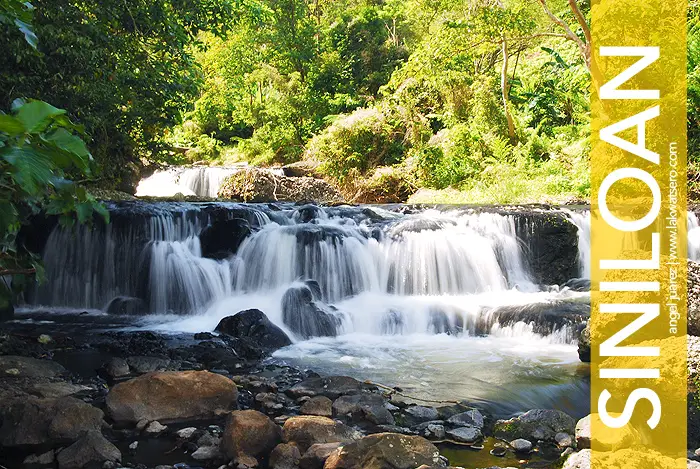 Asul na Talon
Not far from Hagdang Bato and also in Kilometer 18 is another waterfalls, a hidden one in fact. No one even knows the official name of it, locals simply call it as Falls, but others call it Asul na Talon. Possibly for two reason: one, because the gushing water reflects a shadow of blue; and the deep and bubbling natural pools near the falls is reflecting a blue hue.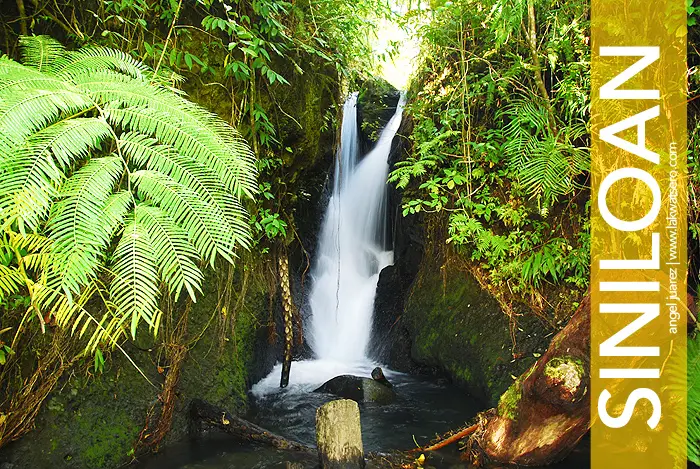 The water falls from a height of fifteen feet into a small yet deep basin. At the back of the gushing water is a small cave, but going inside requires your Spiderman skill on crawling against a nearly vertical wall.
The trek here takes around half-an-hour downhill from the main highway, passing several rivers, and muddy and grassy trails. Expect "limatik" on rainy season.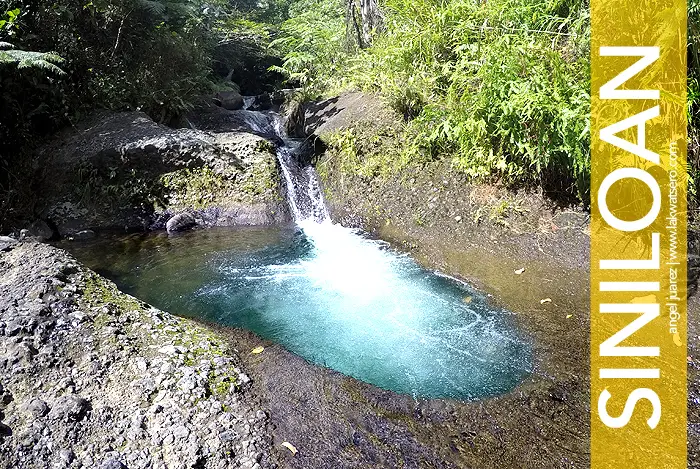 To get here, you can walk along the main road from the jumpoff of Hagdang Bato to the basketball court near Councilman Serrano's home. You can ask the kids or the locals there to guide you to the falls above "bangkaan".
Kalawang Falls
Another surprising waterfalls of Siniloan is Kalawang Falls which is hidden in the green slopes of Barangay Llavac. The village is tucked in between Real, Quezon on the east and Barangay Magsaysay on the west.
Kalawang Falls is made up of four layers of cascades that range from five to thirty feet, arranged like huge staircase, majestic on its own right. It has a deep natural basin ideal for swimming. Surprisingly, despite its grandeur, the falls is rarely visited by tourists.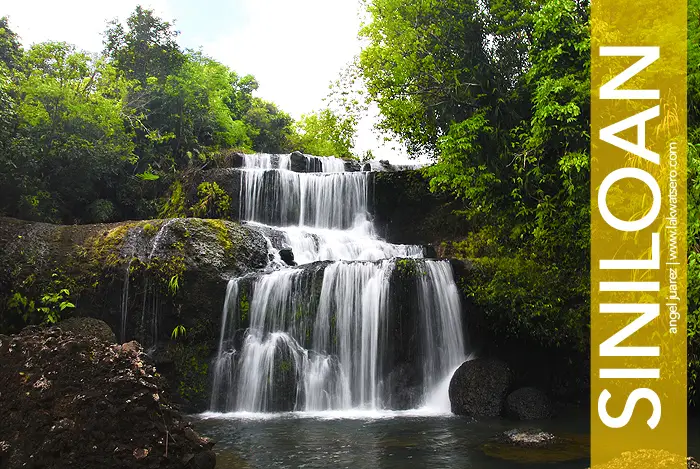 There are numerous trails that lead to Kalawang Falls from Kilometer 18 but the nearest is from the main road in Kilometer 19, near a basketball court. It is an uphill trek that leads to a grassland, passing a river where the waterfalls lie downstream.
To get here, you can walk for approximately twenty (20) minutes along the main road from the jumpoff of Asul na Talon onward to the Kilometer 19, after the Bible School and Cemetery on the left side of the road and before the basketball court at the right side. You can flag a jeepney or a tricycle if you see one and ask the driver to drop you at the trail to Kalawang Falls in Kilometer 19 with the landmarks listed above.
And More Unnamed Waterfalls!?
But wait, there's more!
Aside from these four waterfalls, there are others in the highlands of Barangay Magsaysay and Llavac. A local gave me a tip that there exist numerous waterfalls along Lalawinan River, some towering 100 feet high. I asked for its name but he only said Lalawinan. It is quite a long trek going there, so camping is advised.
How to go to Siniloan, Laguna
From Manila, catch a Raymond bus going to Infanta from Legarda and ask to be dropped at Trekkers' at Kilometer 17 of Barangay Magsaysay, Siniloan. Fare is approximately P140 per person, one-way. Travel time is approximately three (3) hours.
From Rizal area, take the Siniloan jeep at their terminal in front of Robinsons Cainta/Big R/Junction, fare is P83 and travel time is around two (2) hours. From Siniloan town proper, catch a Llavac jeep in Tulay Pari which is just five (5) minutes walk from the public market. The Llavac bound jeeps traverse the Siniloan-Famy-Infanta road up to Kilometer 21. Fare to Kilometer 18 is around P25, travel time is approximately 30 minutes.
Siniloan Day Trip Itinerary
Budget: ~P600
Difficulty Level: Moderate
0400H: Assembly at Raymond Bus Terminal in Legarda
0430H: Departure from Legarda to Siniloan
0730H: Arrival in Trekkers' / Registration / Briefing
0800H: Trek to Tulay na Bato Falls
0820H: ETA in Tulay na Bato
0930H: River trekking to Hagdang Bato
1000H: ETA in Hagdang Bato
1130H: At Asul na Talon Jumpoff / Start trekking to Asul na Talon
1200H: ETA in Asul na Talon
1300H: Back in main road / Lunch / Proceed to Kilometer 19
1400H: Start trekking to Kalawang Falls
1430H: ETA in Kalawang Falls
1600H: Back in main road / Jeep to Siniloan
1630H: ETA in Siniloan Junction / Take a bus or van to Manila
2000H: ETA in Manila
Trip Expenses
P140 – Manila to Kilometer 17 / Siniloan
P10 – Entrance Fee in Tulay na Bato
P50 – Tip to the kid guide in Tulay na Bato (Optional)
P100 – Tips to the kid guides in Hagdang Bato (Optional)
P60 – Tips to the kid guides in Asul na Talon (Optional)
P35 – Jeep from Kilometer 19 to Siniloan Town Proper
P120 – Van from Siniloan to Legarda
P150 – Expenses on food, water, miscellaneous