Night Photowalk
The night was getting deeper and so far everything in Samabe was a blast! After the long travel from Manila to Jakarta and to Bali, and our activities in the afternoon in Samabe, I felt tired. But everything was worth it, who are we to complain when we were having the time of our lives in the lap of luxury?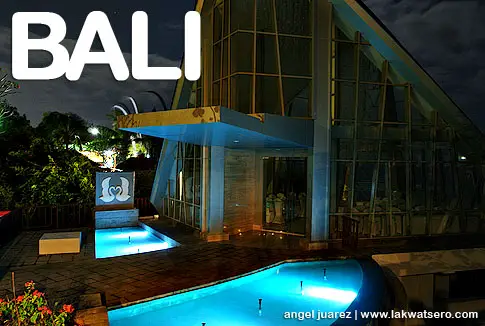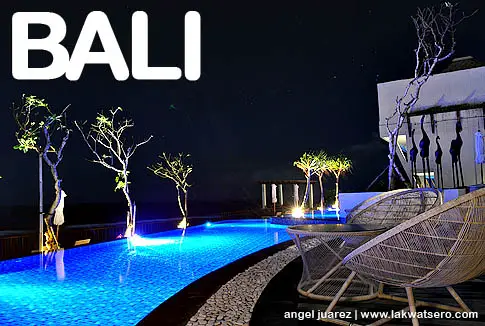 Thet decided to hit the sack early while I decided to walk around the resort to see and capture the charm and beauty that Samabe exudes at night. I went to to the Chapel, the Outdoor Ocean View Swimming Pool and the Ring of Fire Pool Bar. Everything was still in romantically beautiful order. I walked and walked and walked until I exhausted my camera battery's power, my cue to call it a night.
Morning Rituals
Rahejang Semeng Nusa Dua! Good morning Nusa Dua!
It was a fine summer morning in Bali and our day started early. I decided to check out the beach, a quiet and private seaside with cream colored sand. The reef was barely exposed due to low tide, snorkeling and kayaking would be impossible so I just walked the stretched of the beach and went back to our suite to fetch Thet for our breakfast.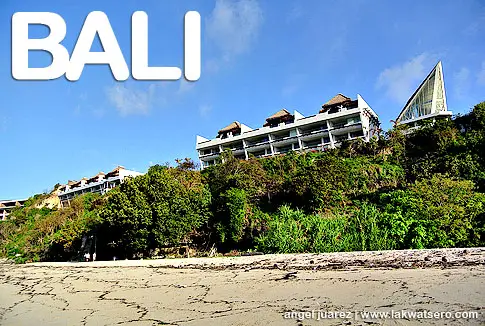 Buffet breakfast was at Rempah-Rempah Restaurant, where a wide variety of nutritionally-balanced and healthy items were on the table. Continental, Japanese, Balinese and even special organic breakfast, they were all there for us to indulge. What a great way to start to our day!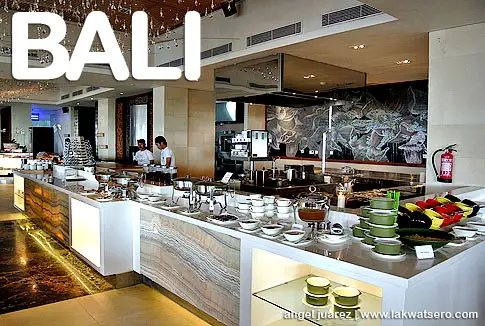 Our signature activity for the day was the 60-minute special Balinese Massage scheduled at eleven in the morning which left us some spare time to laze and bum. I decided to walk around the resort once more amid the blue sunny sky of Bali while Thet hit the swimming pool. When I returned to our suite, it was my turn to enjoy the pool 🙂
We were already dressed up and ready for our massage when the masseurs knocked on our door. They set up the beds, Thet was on the bedroom and I on the living room. Then we were both treated to a sixty minutes of pure pleasure of Balinese Massage. My personal gauge to a relaxing massage is if I was able to sleep during the treatment. Well, I was asleep on around 80% of the duration of the massage, needless to say, I enjoyed it! With all honesty, it was the best massage I had recently.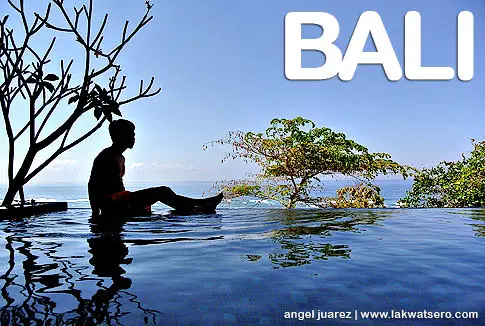 Sumptuous Lunch at Crystal Blue Ocean Grille
Our massage ended at noon, just in time for lunch. We were still quite full but the thought of another round of sumptuous gastronomic treat made us excited. We decided to try Crystal Blue Ocean Grille, a romantic al-fresco diner overlooking the main pool and the vast Indian Ocean. It is one of the finest restaurants in Nusa Dua, offering modern European fine dining cuisine.
A look at their menu revealed the wide assortment of delicious ala carte fine dishes – Seared Wagyu Beef Oyster Blade Steak, Wagyu Beef Burger, Roulade of Free Range Chicken, Hand Made Rigatoni Pasta and Classic Chilled Gazpacho among others. There are kids menu too such as Chicken Breast Fillet and Battered Fish Gourmet.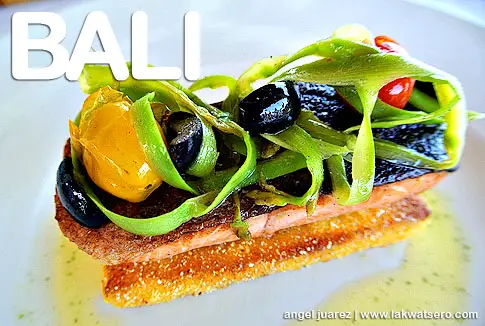 But our choices were Baked Mediterranean Vegetable Lasagne, Pan Fried Fillet of Salmon and King Prawns. As expected, they were all exceptional! We were all smile while devouring the luxurious feast on our table. We took our time savoring the flavors of Europe. It was heaven!
No doubt that we enjoyed our lunch but I was sad because it marked the end of our stay in Samabe. Our friend Mike, who would be joining me in Grand Mirage, already arrived from Manila and in a few hours Thet would be leaving to Singapore.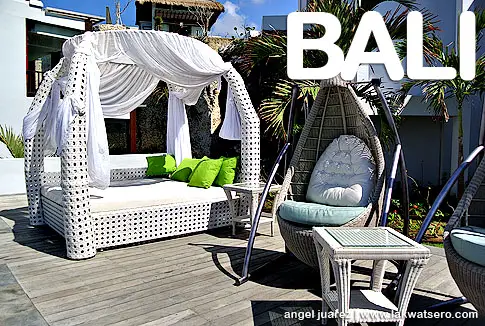 Farewell to Sheer Bliss
They say all good things come to end, our Samabe experience is no exception. With heavy hearts, we packed our stuff and left our suite.
I met Agnes again in the reception area. I asked her to show me the villa so we checked out the 265-square meter One-Bedroom Ocean Pool Villa. It was grand and classy, in the tradition of Samabe Bali's grandeur. An architectural masterpiece, an interesting fusion of contemporary and traditional Balinese design and equipped with modern furniture – king size bed with custom designed mattresses, walk-through dressing room and stylish bathroom. The villa has a separate living room, bedroom, large terrace and a private pool. No doubt, it is an ideal choice for honeymooners and couples, a promise of a romantic and luxurious holiday in the island of the Gods.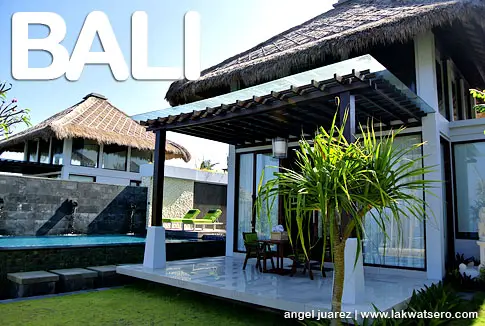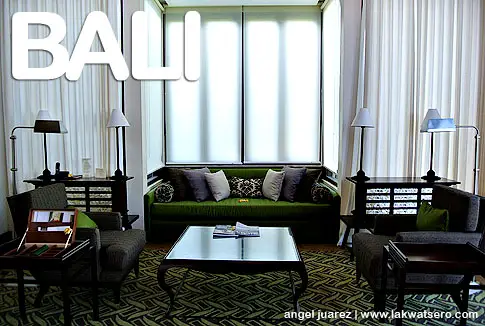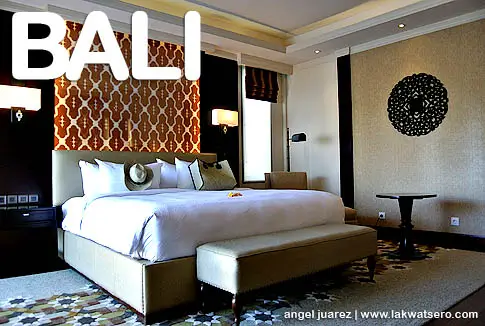 After a quick inspection of the villa, it was time to bid goodbye. It was the hardest part of this trip. In just a short time, we were pampered by Samabe Bali Resort and Villas in the lap of its comfort and luxury. We felt so special because they made us feel very special. The facilities, amenities, cuisines, activities and the staff… they all exude the best of Bali. It was a great opportunity and honor to experience everything, all the best things that Samabe offers.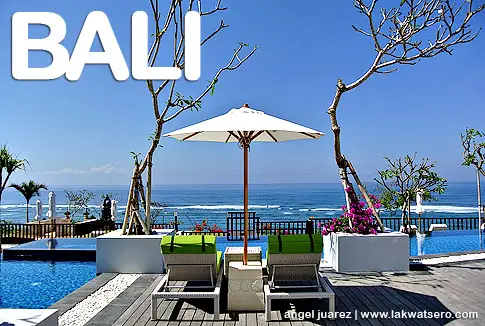 For the nth time, I fell in love with Bali but this time it was because of Samabe's hospitality, charm and grandeur. Thank you so much Samabe Bali Resort and Villas for the unforgettable experience.
—
Samabe Bali Resort & Villas is resided on the cliffs of Southern Nusa Dua with its white sand beach and vast turquoise blue ocean, representing a top 5 star Bali Resort beachfront. 39 luxury suites, 7 penthouse villas – all blessed with spellbinding ocean views – and 35 freestanding villas stretch within the 8 hectares resort, located only 30 minutes from Bali's International airport. Samabe Bali Resort & Villas introduces Unlimited Privileges, a fresh concept of luxury Bali Resort and Villas all inclusive, which include 24-hour butler service, daily cocktail hours and 24-hour selection of gourmet & organic cuisine in all restaurants & room service. Start your romantic Bali hideaway at this all inclusive resort where you can tie the knot at the Pearl Chapel, dine at the collection of feasts at Samabe, experience complete indulgence at Galangal Spa, and be embraced in the heartfelt Balinese hospitality. – www.samabe.com

For more photos of Samabe Bali Resort and Villas, check out my slideshow. You may also check their website at www.samabe.com and follow them on Facebook and Twitter!