I felt the warm welcome of Bali the moment I stepped out of Bali International Airport and hopped in the service vehicle of Samabe Bali Resort and Villas. The travel from the airport to the hotel takes about half-an-hour but Nyoman (like all other male name in Bali) made sure that I was at ease and comfortable.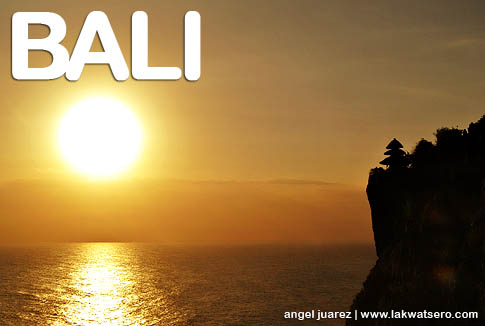 "Kamusta ka?", he asked with the biggest smile that he could produce. I was surprised to hear him speak in Filipino, he explained that he learned some Filipino words when he worked in Dubai. He offered me drinks, asked me questions to start conversations and told me stories to make sure I wouldn't get bored. Stories of Bali, of Kentamani, of his life in Dubai and of his personal life. The half hour ride seemed to be just a short one that I didn't notice the van already stopped.
I looked around and a grand setting was all around me. Nyoman opened the car's door and the smiling staff of the resort welcomed me in their lively persona. I felt so special. I felt like a royalty! They say first impression lasts and it seems that they made sure to perfect it. I was utterly impressed, I felt so comfortable… at ease… at home!
Welcome to Samabe Bali Resort and Villas!
Samabe Bali Resort and Villas sits in an eight hectare of cliff land in the upscale Nusa Dua of Bali, Indonesia. A 5-star beachfront resort with 39 luxury suites, 7 penthouse villas and 35 freestanding villas, most with spectacular ocean view and all with perfect fusion of contemporary and Balinese inspired architecture.
With its breathtaking private beach and romantic ambiance, Samabe exudes unique Balinese charm and character. It is a perfect romantic hideaway, a sheer paradise, a luxurious abode. A grandeur experience awaits in this newest landmark of Nusa Dua.
Luxury All Inclusive Package

I was advised that my accommodation in Samabe was under the "All Inclusive Unlimited Privileges", a fresh concept of luxury all-inclusive benefits that include 24-hour personalized butler service, special welcome amenities, full gamut of premium meals, world-class beverages, wide selection of resort's signature activities and unlimited laundry service. Wow! It was everything I ever wanted for a perfect holiday! The thought of everything included in the package made me feel that I was above the clouds. I was terribly excited!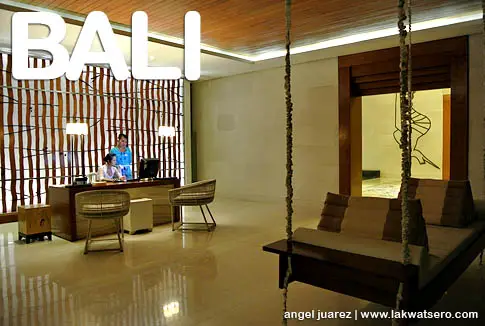 I sat in the couch at the reception area and waited for the staff to process my check-in. A welcome drink was served. Shortly after, I met Agnes Herdiati, the resort's PR Manager and Yani Wongsiwonoto, the Director for Sales and Marketing. Agnes volunteered to accompany me in my beachfront suite, few meters away from the reception area. My friend Thet from Singapore who would be joining me in the trip already arrived earlier and was assisted to our suite. Aboard the resort's cart, I had a glimpse of the resort's exquisite grandeur and I knew we would have a good time.
The Suite
The cozy living room welcomed me when I entered the suite and my first word was simply "Wow!" No other word for I was stunned. It was so regal and quite huge for the two us! It would be our home for a day!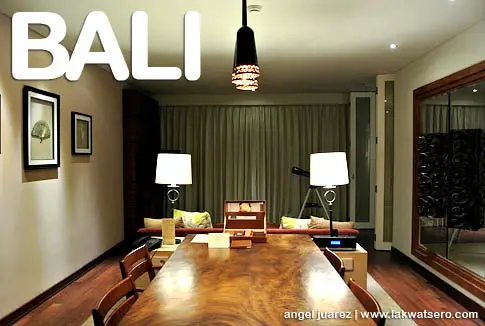 It was the 180-square meter One-Bedroom Ocean Pool Suite located on the ground floor of the main suite building, with a private pool and a garden overlooking Indian Ocean. The living room, which is separated from the bedroom, has a 42-inch flat screen LCD TV, DVD player, indoor dining table, day bed sofa, mini bar, IDD telephone, iPhone/iPod dock, office desk and telescope, among others. Yes! A telescope! I was amazed because it was my first time to stay in a hotel with a telescope in the room, perfect for stargazing at night. How cool is that!?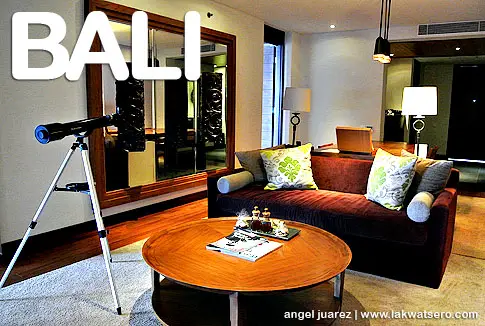 Meanwhile, the bedroom has two queen sized beds with comfortable bedding, flat screen LCD TV and IDD Telephone. But my favorite part of the suite was the spacious shower room and dressing area complete with a lovely bathtub and luxurious amenities – shampoo, conditioner, body lotion, tooth brush, liquid soap, hand soap, milk bath, sea salt bath, sewing kit and more! It was the coziest shower room I have seen. I can spend a night inside, honest! 🙂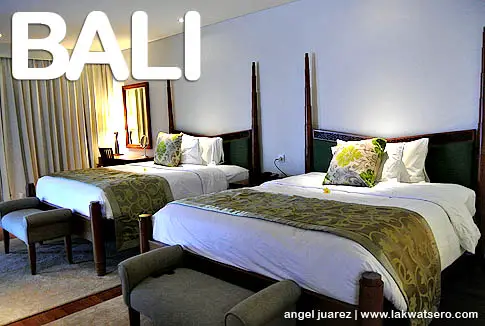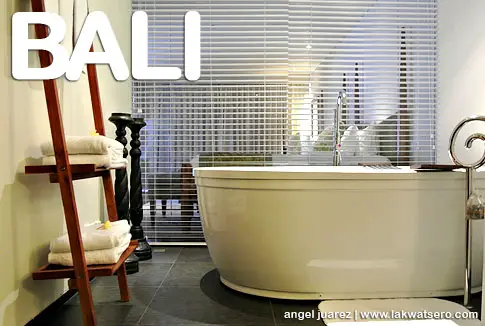 Quick Tour of Samabe
After a quick look on what our room offers, it was time to see what's in store for us in the resort. Agnes assisted us on a short walk around Samabe – the Outdoor Fitness and Gym Track, Children's Club, Outdoor Ocean View Swimming Pool, the Royal Samabe Villa, Crystal Blue Ocean Grill and Ring of Fire Pool Bar.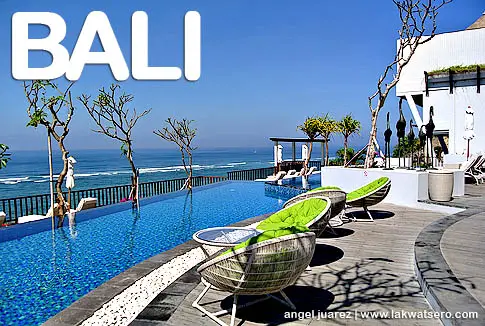 Thet and I were all smile while touring the place. The resort was not yet fully operational and there were still ongoing works around but the sheer beauty of its totality was already imaginable. They were probably fully open by now, in time for Asia Pacific Economic Cooperation Ministerial Meeting 2013 in Bali.
Back in our suite, after all the excitement and amazement settled in, my stomach kicked in, a reminder that I still had not taken my lunch. Thet was already hungry too. Thankfully, as all-inclusive guests, we were allowed to order foods from any of their restaurants, round-the-clock, even at room service. So we browsed their menu and ended up ordering a Chicken Tandoori and Pepperoni Pizza, our late lunch and our first taste of Samabe menu, both were honestly good!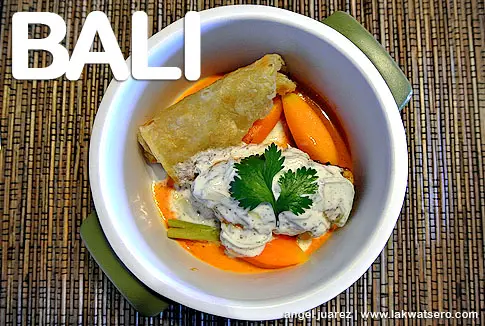 Samabe Signature Activity: Private Sunset Tour to Uluwatu and Rijstaffel Dinner at Rempah-Rempah Restaurant
As much as we wanted to just stay in the luxury and comfort of our room all day to enjoy its amenities, we can't resist to experience also the activities they offer. As an all-inclusive guests, we were entitled to a Samabe Signature Activity a day.
There are various indoor and outdoor activities to choose from, all equally interesting and sure fun. Selection includes Village Safari Tour, One-Hour Massage or Spa Treatment at Galangal Spa, Balinese Cooking Class, Private Chauffeured Drive to Kuta and Seminyak Shopping Areas, Reserved VIP Seats at Devdan Show, Sea Walker, One-Hour Water Treatment at Thalasso Aquamedic Pool, Private Snorkeling Tour, Sunrise Beach and Village Adventure walk, Batik Painting Class, Balinese Costume Dressing, Guided Bicycle Village Tour and Private Sunset Tour to Uluwatu.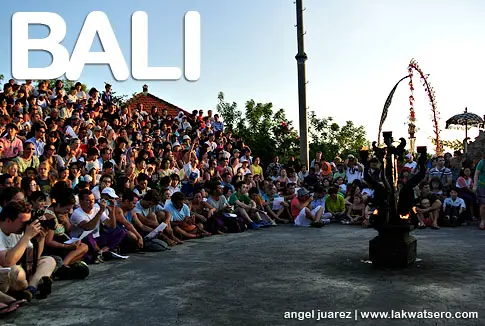 With the wide array and variety of selection, choosing one is a tough job. In the end, we decided to have the private sunset tour to Uluwatu and Balinese massage the next day.
Uluwatu, a Balinese temple, is one of nine directional temples meant to protect the island of Bali from evil spirits. Built in the 11th century, it stands on a large limestone cliff in Pecatu Village of South Kuta, overlooking the Indian Ocean. Aside from the temple, the place is also popular for its famous kecak dance performance with the beautiful sunset as its backdrop.
Kecak dance is a traditional Balinese Dance played by more than 50 men chanting "chak" with the main characters portraying the story of Ramayana, one of the two great Hindu epics. The show lasts for about half an hour.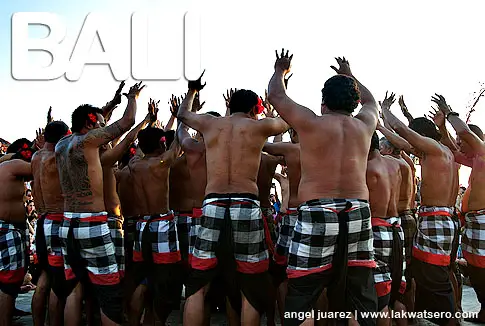 I have been to Uluwatu last year but it is a place I wanted to visit again. It was Thet's first and every first timer in Bali should not miss Uluwatu – the temple, the sunset, the kecak dance and the naughty monkeys that reside in the area.
We left the hotel at half past the hour of four in the afternoon. Aboard the private service by Samabe, we navigated the busy and narrow streets of South Kuta. It was rush hour and traffic was expected. We arrived at Uluwatu almost six in the evening, the sun was already bidding goodbye.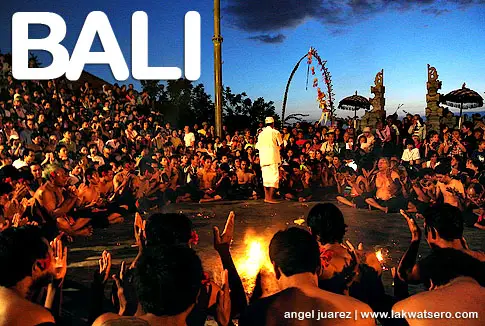 We were in a hurry as we were among the last guests to arrive. The sun was inevitably setting and the show was about to start. Panic time! I had no time at all to take a decent shot of Uluwatus's famed sunset and worst, the best seats in the show were already occupied. We ended up squatting on the floor, without a view of sunset backdrop. More guests arrived after us and occupied the rows in front of us. Shortly after, the show started.
We enjoyed the performance despite our odd spot. Thanks to the interesting and fun portrayals of the dancers. Photo opportunity followed the performance and the crowd was a chaos, but we found our way out of the stage. We dropped by the Uluwatu Temple before heading back to Samabe.
The night of immersion to Balinese culture wasn't over yet because a traditional Balinese dinner was waiting for us at Rempah-Rempah Restaurant, the main dining area of Samabe that serves Balinese, Asian and Mediterranean cuisine.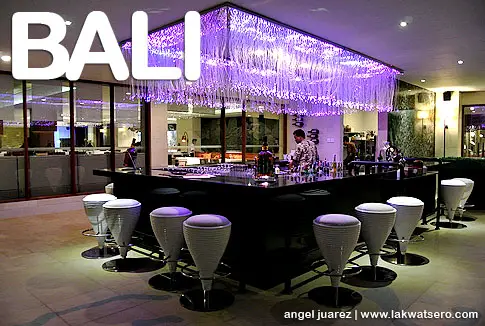 The friendly staff welcomed us and we were seated to a specially arranged table attended by a dedicated waiter who asked for our drinks. Thet ordered an Iced Tea while I ended up on a Soda Gembira, as suggested by the waiter. It is a combination of soda water, condensed milk and grenadine, very popular in Indonesia. A few minutes passed and our drinks arrived. I excitedly sipped my Soda Gembira and true enough, it was outrageously good! I was happy with it! Soda Gembira means happy soda by the way 🙂
Then came the freshly prepared dishes – Shredded Chicken with Sambal Matah (Raw Spices), Sauteed Bean Sprouts with Chili Sambal and Soy Sauce, "Ayam Madu" Honey Glazed Leg of Chicken with Bumbu (Balinese Spices),  Grilled Fillet of Snapper with Bumbu Merah (Red Spices) and Beef Stay in Peanut Sauce partnered with steamed rice. For dessert, they served Banana Fritters.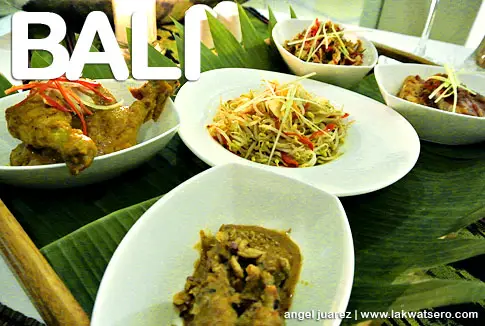 The dishes have some sort of similarities with Filipino foods but made different by the spices. They were all excellent, specially the satay with peanut sauce and the shredded chicken, both deliciously oozing with flavors and spices. We were so full and happy with our meal. I guess it was the meal to beat in Bali.
Continuation on the next page…