Poon Hill
Ghorepani, Nepal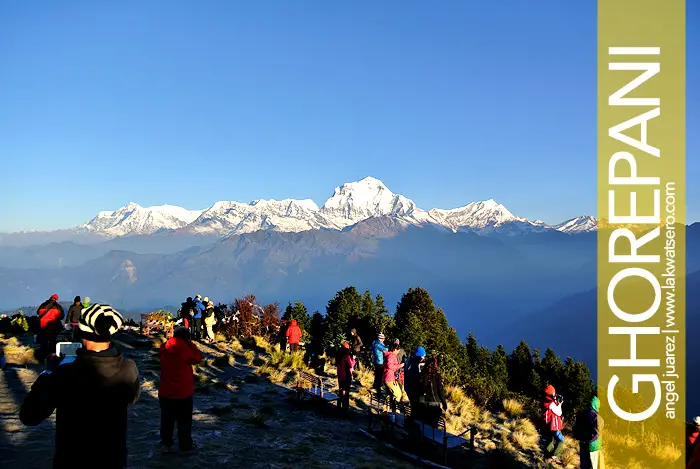 "If not for Poon Hill, tourists will not be flocking in Ghorepani," the exact words of Lok, my Nepali guide. True enough, there were lots of tourists on that spot when I was there, all hoping to see the unobstructed view of the Himalayas.
Poon Hill is situated in the town of Ghorepani, Nepal. With elevation of 3210 meters above sea level, it is one of the best spots to see the snow capped mountain peaks of Eastern Himalayas such as Dhaulagiri (8167m), Annapurna I (8091m), Machhapuchhare (6998m), Nilgiri (7041m), Annapurna South (7219m), Annapurna II (7939m), Annapurna III (7555m), Annapurna IV (7525m), Lamjung Himal (6988m), Hiunchuli (6441m) and Tukuche Peak (6920m) among others.
Trekking to Poon Hill requires at least three days from Pokhara. It is one of, if not the most popular routes for short trekking in Annapurna.  The journey involves long walks and some steep ascend but generally doable to anyone with reasonable amount of fitness.
I had a chance to trek to Poon Hill on my short visit to Nepal late last year. It was three days of walking, river crossing, eating Dhal Bhat and a whole lot more. On my last day, we woke up at four in the morning and trekked from Ghorepani Town to Poon Hill Viewpoint to catch the sunrise. It was one of the best views of sunrise I have seen in my life. The scene as the golden sunrays touched the peaks of Himalayas was so divine that I almost cried.
That was the closest that I could get to the Himalayas for now. There is a dream to get even closer in the future, but until then, my trek to Poon Hill will always remind me of the beautiful snow capped mountains of my dream!