After spending a blissful day at Samabe Bali Resort and Villas, Mike and I transfered to the nearby Grand Mirage Thalasso Bali for another leg of our Bali escapade where a whole new round of fun and excitement was waiting for us.
Grand Mirage Thalasso Bali is a five start beachfront luxury resort in Nusa Dua. It is considered as one of the icons of Bali being one of the first resorts built in the area. Over the years, it has maintained its grandeur and was able to establish itself as among the best resorts in Bali.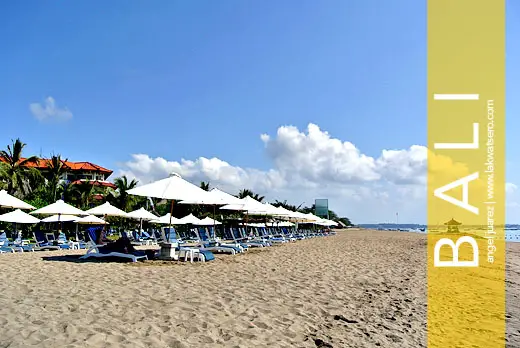 Situated in Tanjung Benoa area and overlooking the vast Indian Ocean that offers a idyllic view of sunrise, Grand Mirage features a 301 impressive rooms and suites decorated with authentic Balinese furniture, four themed food and beverage outlets, spa with aquamedic pool, function and meeting rooms, activity center and other facilities and amenities that guarantee a well spent holiday in the Island of the Gods.
Nostalgic Welcome
During my first visit in Bali two years ago, I already had an opportunity to visit Grand Mirage. It was just short stop to see their beach since we were staying in Kuta then. But it was such a memorable day. I remember my amazement as I walked into the grand lobby, bewildered by the grandeur of the place. I said to myself, "I will stay here someday". That day didn't took so long because I was back two years after. I was back to fulfill my little dream.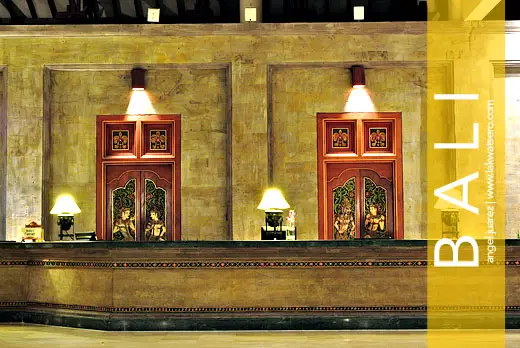 The spacious lobby of Grand Mirage is literally grandiose, just what the resort promises it to be. It is designed to reflect the unique Balinese culture and manned by welcoming staff. Needless to say, I was impressed!
Mike and I were led to a waiting room where we met Stella, our contact from the resort. Our accommodation was under All Inclusive Vacation Package which offers an extensive array of pleasing options such as personalized service, room service, mini bar, unlimited food & beverages, dinner with cultural show, extensive activity schedules for both children and adults, use of motorized water sports for those who reserved through their website and staying for at leats three nights, unlimited use of non-motorized water sports and round-trip airport transfers for those staying for at least three nights. Pretty impressive package huh! 🙂
A Quick Tour of the Resort
After completing our check-in requirements, we headed to our room at the third floor of the main building. It was a Balinese designed De Luxe Ocean View Room with twin single beds, measuring 42 square meters with a private balcony overlooking the vast Indian Ocean. The room is equipped with elegant features and amenities such as wooden armoire, dressing table, LCD TV, mini bar, cupboard, tea and coffee maker, safety box, IDD telephone, individual controlled air conditioner, hair dryer, closet, bathrobe, slippers, toilet and shower kit, shaver and with complimentary wi-fi access! Truly, the room echoes the being-at-home feeling and I couldn't ask for more!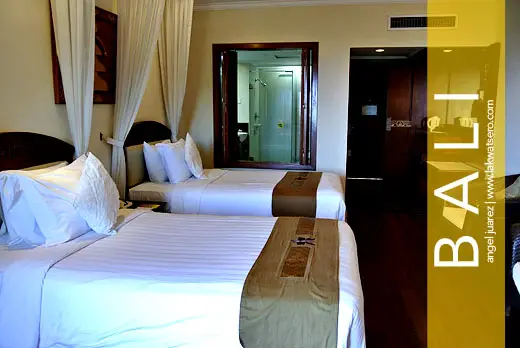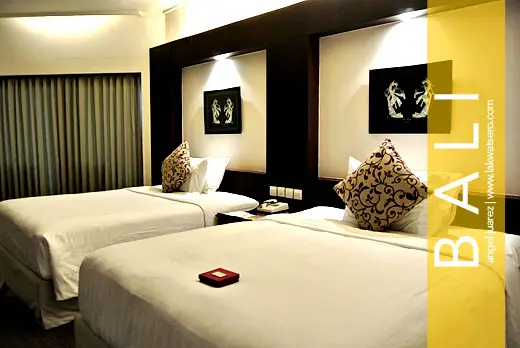 When we were settled, we met Stella again at the waiting lounge for a quick tour of the resort. She showed us the elegant Ocean View Suite, a spacious 80 square meter suite with a comfortable sitting area, a balcony with an ocean view, equipped with well-curated Balinese furniture and filled with great features and amenities!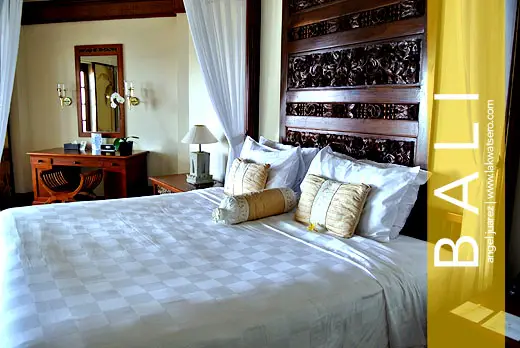 We also checked out the Panorama Lounge, La Cascata Restaurant, Grand Cafe, Games Lounge, Pool Area, Beach Area and Thalasso Bali Spa. Mike and I couldn't contain our excitement as Stella showed us the facilities and highlights of the resorts. I lost count of how many "wow" we exclaimed. Needless to say, we were overwhelmed!
The Devdan Show
We were scheduled to watch the Devdan Show at Nusa Dua theater in the evening, a show I was eagerly looking forward to see. Devdan Show is a 90-minute cultural presentation that features the dances of Indonesia, a spectacular, modern and contemporary acrobatic and dance show presented into a magical journey throughout the archipelago that highlights the diversity of cultures of the people of Bali, Sumatra, Java, Borneo and Papua. It is a world class performance on a world class stage and effects!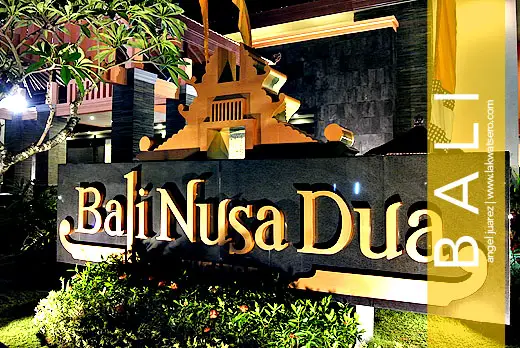 It was a night of discovery and appreciation for Indonesian culture, arts and talents. For 90 minutes, we were treated to a visual feast of spectacular artistry, graceful movements, colorful costumes and interesting music of the archipelago. We were amazed and astounded by the performances, the diversity of the cultures and the people and the noticeable similarities of Indonesia and the Philippines when it comes to culture and dances. It was an amazing show, entertaining and informative, definitely a show for all ages!
Dinner at Rama Theater
After the show, we hurriedly went back to the hotel and proceeded to Rama Stage hoping to catch the latter part of Kecak Dance Show staged that night (a cultural show is stage at the open air theater every Monday, Tuesday, Thursday and Saturday). Unfortunately, we missed the show. But the dancers were still there, entertaining guests who wanted to have souvenir photos with them.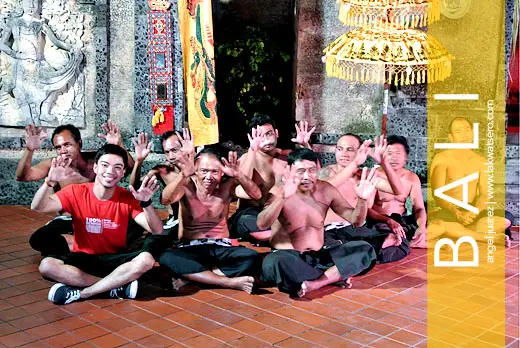 After queueing up for photos, we had our dinner buffet at the Rama Stage where we feasted on the wide assortments of Balinese and Indonesian cuisines.
Before calling it a day, I walked around the resort and took some night shots. Grand Mirage exudes different grandeur and charm at night and I was able to capture its beauty at dark.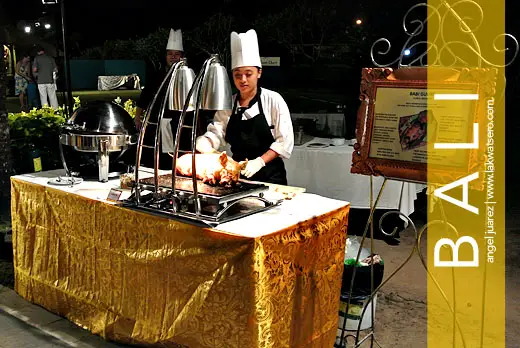 Buffet Breakfast at Grand Cafe
Selamat pagi Bali!
I woke up early to catch the sunrise and the sun didn't disappoint me. The scene was divine, a promise of a beautiful day ahead!
When I went back to our room, Mike was already up. We wanted to make the most out of our short stay in Grand Mirage so our call time was early. The buffet breakfast starts at six in the morning and we decided to take it the earliest that we could so we would have more time for other activities afterwards.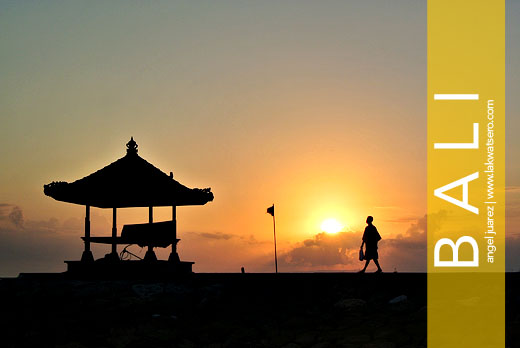 We headed to the Grand Cafe where a wide assortment of breakfast buffet is served – Balinese, Chinese, Japanese, American and European. There are pancakes, congees, sausages, nasi goreng, bread, fruits and a lot more! Grand Cafe is open 24 hours a day, seven days a week, offering culinary journey around the world with its international dishes. Artistically designed with Balinese tones, this restaurant overlooks a stunning pool view, beach and ocean view.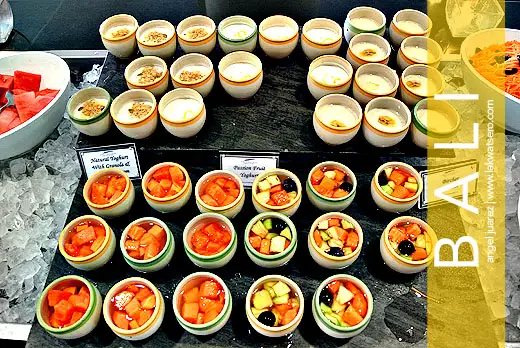 Guided Kayaking Tour
After our heavy breakfast, we went back to our room to have a short rest. We still had few hours to spare in the morning so we scanned the activity list and decided to try the guided kayaking tour scheduled at nine in the morning.
From the name of the activity itself, I was expecting that it was just the same sea kayaking experience plus a guide which would allow us to go beyond the buoy line but I was surprised that it was more than that. There were around 10 kayaks on our batch, some manned by single person and some by partners. Mike and I chose to kayak separately. We were all required to wear lifevests.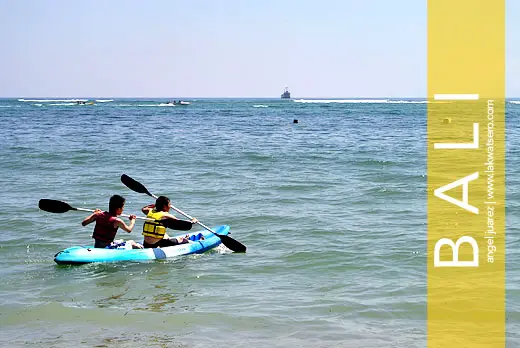 We boarded the kayak and headed to the water. When we were all ready, our guide assembled us all and led us outside of the buoy line into the deep blue water of the Indian Ocean. What was there? I wondered.
I thought our guide would bring us somewhere shallower, on an area with good corals and marine life. But he brought us in the middle of the blue waters, on an area with some huge waves. It took some time before I finally got it! We were off to ride the waves aboard our kayaks. It is like surfing where the goal of the activity is to ride the waves but using kayak instead of surf board. Our guide told us to spot for the good waves, paddle hard before the surf break and enjoy the ride. Then everyone became busy trying to immittate what our guide was doing. I failed on my first few attempts, but as soon as I got my bearing, I was able to ride the waves with all ease! It was fun! Tiring but fun! And I didn't expect it to turn that way.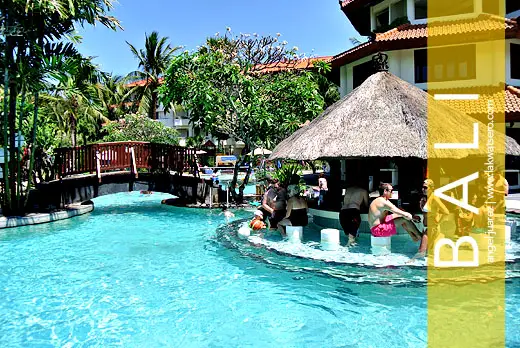 It was almost twelve noon when went back to the shore. Still high from our previous activity and with the summer sun of Bali on its peak, we decided to kill few minutes in the Coconut Pool Bar to chill up. I ordered two glasses of Soda Gembira and handed one to Mike, that was when he fell in love too with my favorite Indonesian drink. Shortly after, we hit the pool to freshen up.
Lunch at Jukung Grill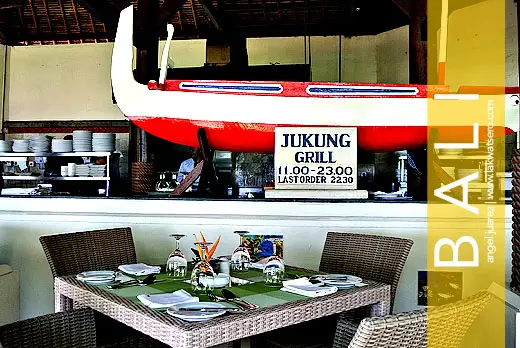 Chow time was a decision making moment. The resort has four specialty restaurants and where to eat was always a dilemma. We ended up in Jukung Grill, the beach area restaurant of Grand Mirage that specializes on sea foods, meats and other grilled dishes. We ordered fish and chips, pork and chicken satay, salmon and other dishes that seemed good. Apparently, our choices were great! Everything we ordered was perfect! We ended with full and happy stomachs 🙂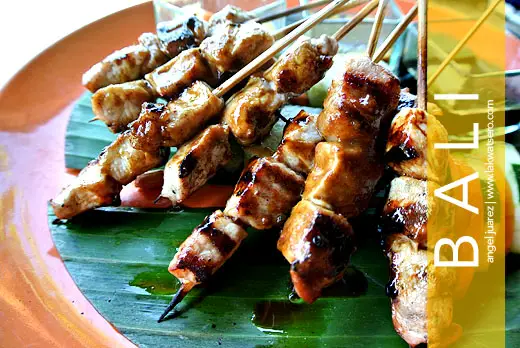 Late Afternoon Biking
With the noon sun on its peak and the summer heat taking its toll on us, we decided to cool up and relax in the comfort of our room. I had a short nap and when I woke up, the sun was much friendlier. I scanned the activity list again and the thing that interested me was biking! Mike was in too! So we went out of our rooms to borrow bikes and excitedly saddled up, we were advised to be back by five in the afternoon.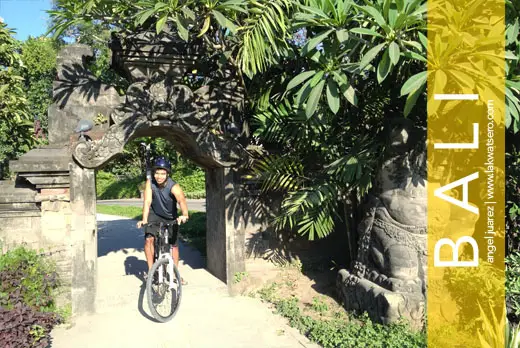 We traversed the small road southward along the beach and reached its end in no time. Going back, we saw an alley going out of the resort and followed it, it led us to the main road. Without specific destination on our mind, we just followed the main road going south leading to a roundabout. We stopped at the roundabout and had some photo ops at an stone arch before going back. I regret not researching on the nearby attractions, we should have biked to the other beaches or temples or other interesting spots around the area.
The Aquamedic Pool Experience at Thalasso Bali Spa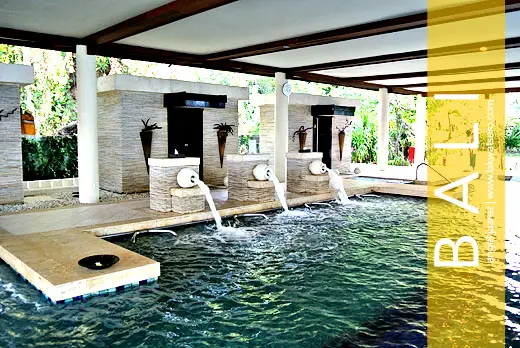 By six  in the evening, we proceeded to Thalasso Bali Spa for our scheduled session in their Aquamedic Pool. Thalasso Bali Spa is one of the anchors and pride of Grand Mirage Resorts. Situated along the beach in the resort's compound and overlooking the ocean, Thalasso Bali Spa offers a wide range of spa treatments that guarantees perfect relaxation and rejuvenation of the body and soul. It features an aquamedic pool with aquatic jets and pure seawater heated up to 38°C, as well as 16 uniquely designed rooms for various treatments.
We were there for the guided 60 minutes experience in their aquamedic pool. A female theraphist assisted us and monitored our timings all throughout the session to ensure that we were doing it right and we were fine. According to her, the aquamedic pool reduces excess cellulite and improves muscle tone, flexibility and circulation through a series of aquatic leg exercises. So for sixty minutes, we were treated to a relaxing and rejuvenating experience at Thalasso Bali Spa's aquamedic pool. It was one of the many highlights of our stay in Grand Mirage Resort.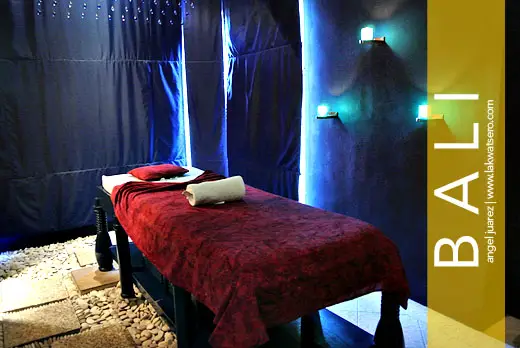 Dinner at La Cascata Italian Restaurant
From sun up to sun down, our day in Grand Mirage Reort was full of exciting activities – the guided kayaking tour, biking around Nusa Dua and the aquamedic pool experience, not to mention the gastronomic trips in Grand Cafe and Jukung Grill! Without a doubt, it was one amazing day in this resort and the best way to cap it all is through an awesome fine dining experience in La Cascata Restaurant.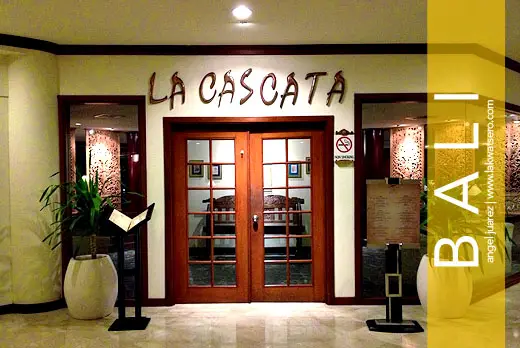 La Cascata Restaurant is an inhouse fine dining restaurant of Grand Mirage Resort that specializes in Italian and Mediterranean cuisines. The restaurant is open only for dinner and requires advanced reservation due to limited seat capacity. Funny thing was, we were not aware that reservation was necessary so we just went inside like gatecrashers, what a shame! Hahaha! Thankfully, the corteous staff were able to find an empty table for us.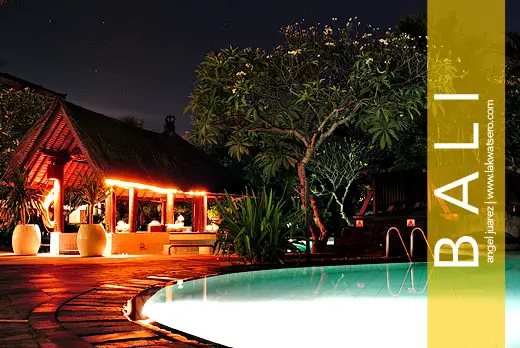 We had pasta, pizza, breads and some meats. They were all fantastic, taste and presentation wise! Being an Italian food lover, I must say that La Cascata's offerings are some of the best I have tasted so far. We were all smiles while devouring their culinary masterpiece! What a way to end our day!
Mike left that night to catch her flight to Manila, I was scheduled to leave the next day onward to Banyuwangi to climb Kawa Ijen. My last night in the resort left me in solitude, the feeling of sadness floated in the air of my room. The good times with Grand Mirage Resort was about to end! The experiences flashed back in my head until I fell into slumber.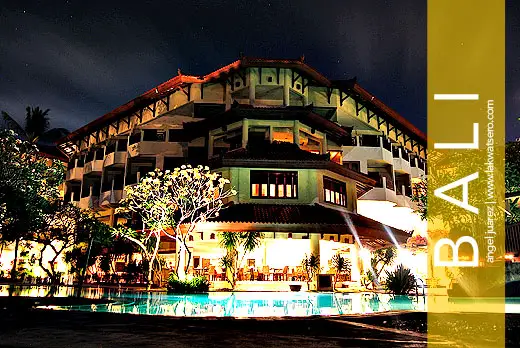 So Long Bali, So Long Grand Mirage
The next day, I woke up feeling heavy. I didn't want to leave yet but I had to go. I walked around for my last glimpse of the resort's totality, everything seemed in their normal routine – early risers enjoying the pool and the beach or having their morning yoga by the beach, kids playing in the ground, lovers on their morning walk and the usual scene after sunrise at Grand Mirage. I would be missing all these!
I had my breakfast again at Grand Cafe and went back to my room to pack my stuff. They say all good things never last, this entire experience with Grand Mirage Resort is no exception. Before noon, I left the resort with all the good memories of my short stay with them.
Honestly speaking, Grand Mirage Resort lives up to its name and reputation as the playful side of Bali. My three days and two nights with them is an experience I hope you too can try.
—
Nestled among the lush coconut trees and the golden sand of Nusa Dua, Grand Mirage Resort and Thalasso Bali is one of leading all inclusive luxury resorts in Bali. Located only 25 minutes from Ngurah Rai International Airport, this hotel is capable in creating the feel of home while providing the best modern comfort and top class of a 5 star resort.
The beachfront resort's all inclusive vacation package (at regular rate of US$223 per room per night) offers an extensive array of pleasing options such as impressive high class warm and friendly service, unlimited food & beverages in 4 world class restaurants with exceptional cuisine, dinner with amusing cultural show 4 times a week. Room service and mini bar are included as well. – www.grandmirage.com
For more photos of Grand Mirage Resort and Thalasso Bali, check out my slideshow. For booing and more information, please check their website at www.grandmirage.com. You also follow them on Facebook, Twitter, YouTube, Pinterest and Instagram!