Only six hours away from Manila is Baler, the capital of the province of Aurora and a popular surfing destination in Luzon. But despite its proximity to Metropolis, much of Baler remains quaint and pristine.
But Baler is more than just its swells and breaks, it is now fast becoming a tourist hotspot because of its natural wonders, historic spots and other attractions.
Wondering what to do here? Then, check out this list! 🙂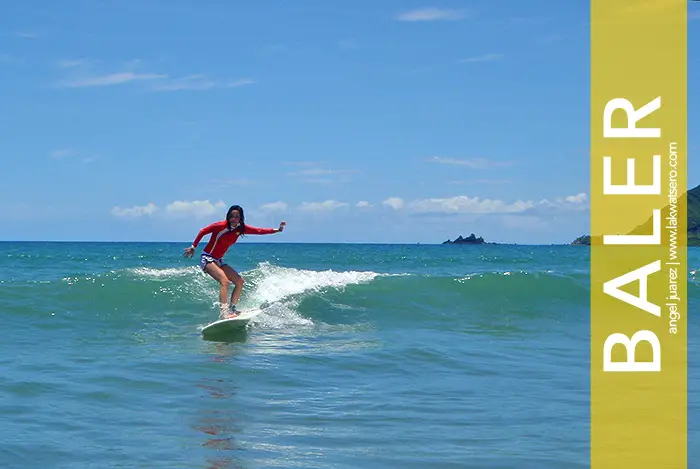 Surf or Learn to Surf
Baler is not Baler without the swells and breaks of Sabang Bay. Undeniably, surfing puts the town in the map. It is the main reason why tourists flock to the town. For only P350, you can have an hour of surfing lesson and if you think you already got your bearing, you can rent the board for only P200 per hour, P400 for half day and P800 for whole day.
The waves of Baler is ideal to all levels of surfers, from newbie to pro. Best month is during Amihan season or around November to February, when the wind from the north-east prevails.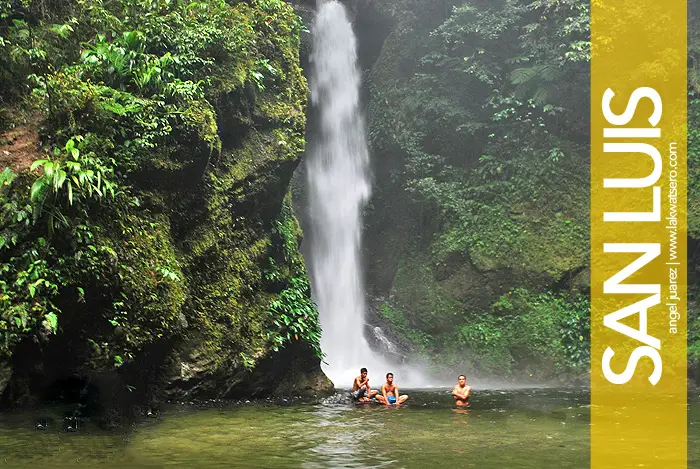 Trek to Ditumabo Falls
Never leave Baler without trekking to Ditumabo Falls in the neighboring town of San Luis.
Dubbed as the Mother Falls, Ditumabo Falls is made the biggest of all waterfalls of Baler and suburbs. The cold water cascades from a height of 140 feet into a natural pool before going to a rocky streams that drains to Diteki River.
A visit to Ditumabo Falls involves a short trek into the green forest at the foot of Sierra Madre Mountains, a relatively easy trek beside the stream that involves few river crossings.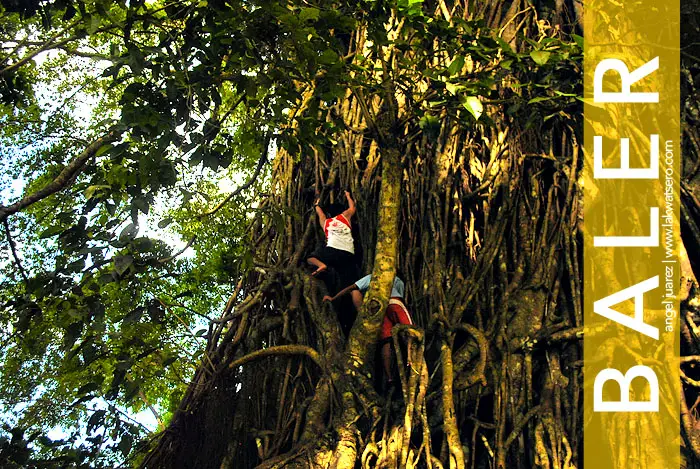 Climb the Century Old Balete Tree
This massive century old Balete tree is an icon of Baler, it is so huge that it can fit multiple people inside. Do you also know that you can climb to the top?
For a minimal fee, local guides can assist you on climbing the old Balete tree holding only to roots and branches. It's an extraordinary experience and you will definitely be surprised on how the tree seems to look like a different world up above with its unique trail that leads to a seemingly new dimension.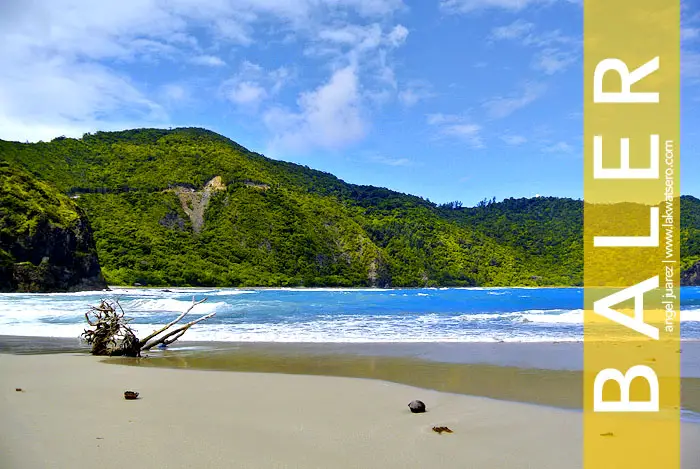 Visit Dicasalarin Cove
This secluded cove south of the town proper is such a beauty! No wonder it is one of the most photographed spot in all of Baler.
Privately owned by Bahia de Baler, Dicasalarin Cove has a charm of its own. The huge waves, murmuring winds, fine cream sand and the interesting structure on top of a cliff are probably all that made up this cove. But if you look differently, there seems to be a deeper mystery casting the place. A mystery only the gifted eyes can see.
Visit Dicasalarin Cove and experience its different charm.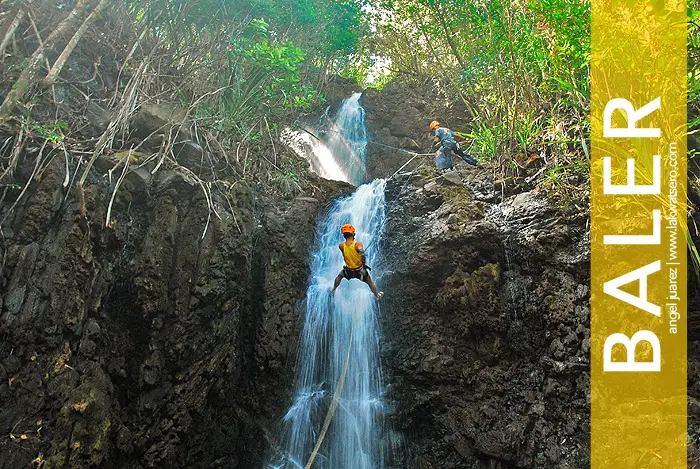 Enjoy the Natural Waterfalls Massage at Diguisit Falls
Feel the pressure of the water and enjoy a relaxing natural waterfalls massage in Diguisit Falls. This small waterfalls is easily accessible along the main road going to Dicasalarin Cove.
Diguisit Falls is made up of three small cascades that drop to rocks and boulders. Easy with the trek as the rocks are quite slippery!🙂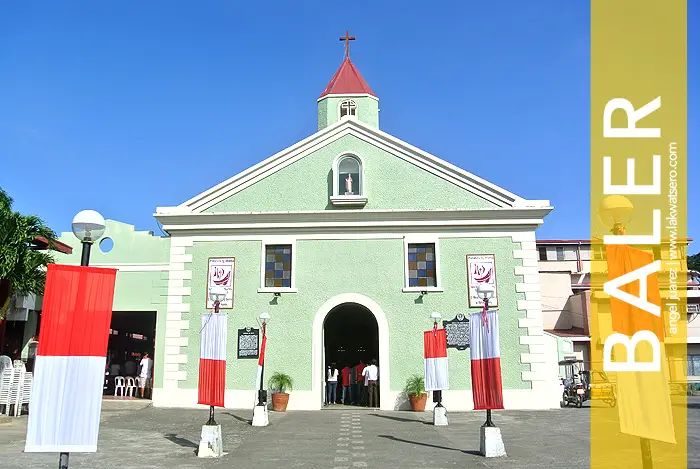 Relive the Old Times at the Downtown
A walk in the town proper of Baler is like a walk in a museum, with its heritage structures, ancestral houses and other establishments that will remind us of the past.
See the historic Baler Church, pay a visit to Museo de Baler, drop by Doña Aurora Aragon Quezon House or just walk around the old streets of Baler and feel the beautiful vibe that the quaint town exudes.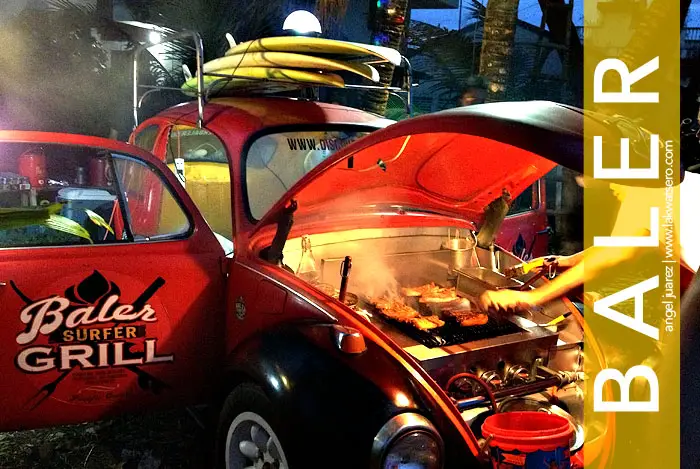 Go on a Foodtrip!
Lined up along Sabang Beach are variety of restaurants that will surely satisfy your cravings.
Have a luxurious buffet at Costa Pacifica, indulge in mouthwatering pasta creations of Bayler's Inn, try the famous shakes of Bay's Inn, experience the budget buffet at Chef Jerry Shan's Place or go on a food tasting trip in the small eateries, grill stalls and hole-in-the-wall restaurants of Baler.
Make sure to fill your tummy before you go into an energy draining activity on or off the waters of Sabang. Then reward yourself with delicious indulgence afterwards. Go on a food trip ala Baler!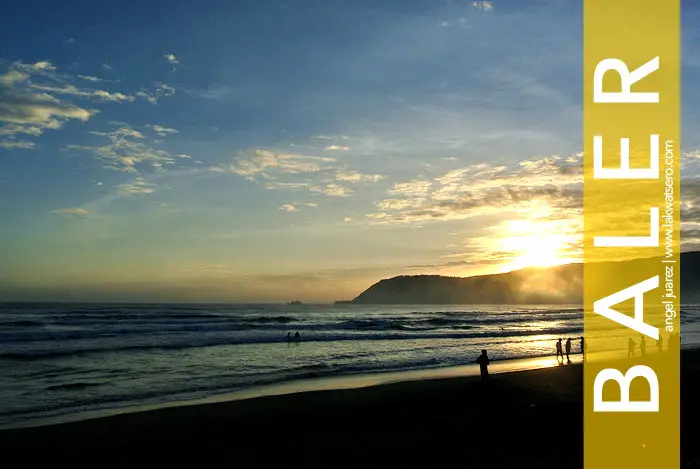 Catch the Pacific Sunrise
Get up early before Sabang Beach gets busy with the wave riders and catch the picturesque sun as it rises up in the east.
Baler is blessed to have an amazing view of Pacific sunrise and it is truly worth waking up early to catch a glimpse of this natural beauty.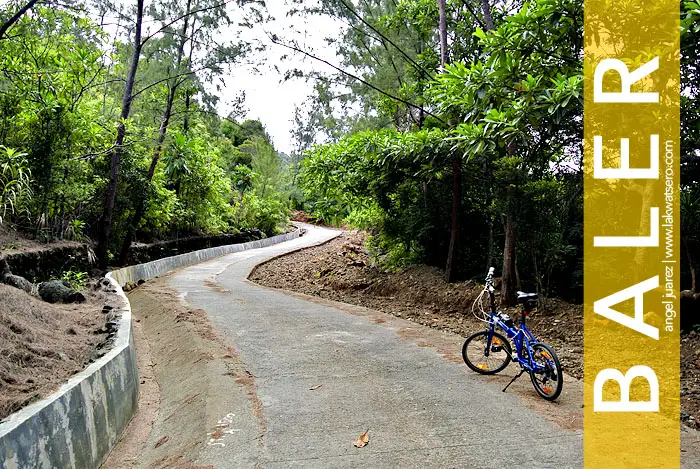 Bike Around the Town
Feel the cool and fresh breeze as you roll into the roads and trails of Baler with your bike. It is the cheapest and most intimate way to explore the town. Most attractions and must-visit spots of town are easily accessible by bike. If you are into epic ride, brave the steep road to Dicasalarin Cove or explore the road and trails of Baler and the neighboring towns of San Luis, Maria Aurora and Dipaculao.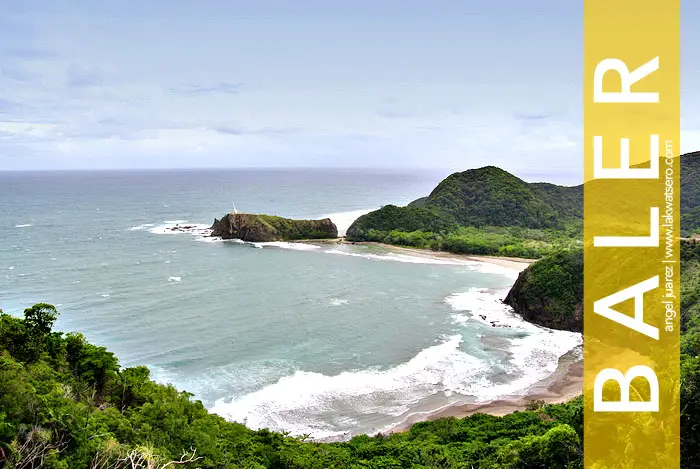 Beach Hopping!
Baler is not only about Sabang Beach, there are other beaches in this coastal town that are worth visiting. Each has its own unique characteristic that distinguishes each from one another.
Sabang Beach is vibrant and active. Cemento Beach is rocky and rugged. Diguisit Beach is coarse and scenic. Dicasalarin Cove is secluded and mysterious.
Spend some time beach hopping and discover the many faces of Baler's coast.
How to Get to Baler
Manila to Baler
Genesis Transport Service is the only bus company that plies directly from Metro Manila to Baler. Their Baler bound buses are located in their Cubao Terminal.
Genesis offers two types of bus service for the Baler:
The executive luxury bus called Joy Bus, a non-stop service trip with snacks on a sleeper bus with Wi-Fi, a bus stewardess, blankets, pillows and a morning kit. There are at least three trips a day, with travel time of five hours and P750 (November 2014 rate) fare. Advance reservation is required.
The regular air-con bus that travels six to seven hours for a fare of P450, advance reservation is not necessary.
Although Genesis has a published schedule of the trips, the schedule of the regular aircon bus is almost always not followed. Joy Bus from Cubao to Baler are set to depart at 12:30AM, 1:30AM, 2:30AM and 5:30AM while the regular air-con bus has supposed to have hourly trip from 2AM to 8AM but it also depends on the volume of passengers. It is advised to be in the station early if you are taking the regular air-con bus and be attentive of the announcement and updated schedule since there is no proper way of queuing or ticket issuance for the regular trips. For advance reservation on Joy Bus and other information, call their Cubao Office at (02) 709-0803 or (02) 421-1425.
You can also book your bus or private transfer from Manila to Baler or vice versa below:
BOOK YOUR BUS/TRANSFER FROM MANILA TO BALER
Manila to Cabanatuan to Baler
Another alternative of going to Baler is via Cabanatuan City, Nueve Ecija. Several bus lines ply from Pasay, Avenida, Cubao and Caloocan to Cabanatuan daily including Genesis Transport, Five Star Bus, Baliwag Transit and ES Transport. Travel time is approximately three hours and fare is at least P202 (November 2018 rate). There are also vans servicing Manila to Cabanatuan.
Buses from Metro Manila stop at Cabanatuan Central Terminal where the vans and buses to Baler are also stationed. Genesis Transport and Maria Aurora Bus Line have air conditioned bus trip to Baler from here with the earliest bus at around 5AM, travel time is approximately four hours and fare is P247 (November 2018 rate). There are also non-airconditioned buses at the bus station, they are slower yet cheaper at P176 (November 2018 rate). Meanwhile, there are vans from as early as 4AM to as late as 6PM, they depart when they are full, travel time is faster at three hours and fare is P220 (November 2014 rate).
You can book your bus from Manila to Cabanatuan or vice versa below: