At 3,776 meters above sea level, Mount Fujisan or simply Mount Fuji is the highest in Japan. It is in fact considered as an active volcano with last recorded eruption more than three centuries ago. It is one of Japan's three sacred mountains and considered as a pilgrimage site. No wonder thousands of mountaineers and pilgrims hike its summit every year.
The summit is covered with snow during winter and most of spring and autumn, but dry during summer which usually falls from the months of July to September, the climbing season.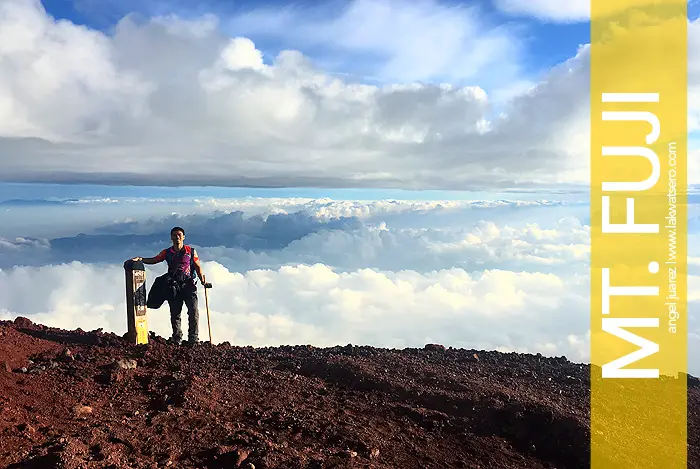 There are four trails going to the summit of Mout Fuji but Yoshida Trail is the most popular as it is the usual route of climbers from Tokyo and nearby areas. While a day trek (bullet climb) from Tokyo is possible, an overnight trek is highly advised specially for non-experienced climbers.
Mount Fuji Overnight Climb Itinerary
Day 1
0700H: Assembly in Shinjuku Terminal, breakfast
0815H: Travel to Kawaguchiko (option for cheaper direct bus, or train to Otsuki then transfer to another train to Kawaguchiko)
1030H: Arrival in Kawaguchiko, last minute shopping for snacks, drinks, trail food and other necessities
1130H: Bus to Station 5
1230H: Arrival in Station 5, pay for environmental fee (optional), start trek
1330H: Arrival in Station 6, check in at hut, rest
1800H: Dinner, lights out
2330H: Call time
2345H: Start assault to summit
Day 2
0045H: Arrival in Station 7
0145H: Arrival in Station 8
0230H: Arrival in Station 8.5
0415H: Arrival in Station 9
0500H: Estimated time of arrival in the summit
0520H: Start descent
0800H: Back in Station 6, quickie breakfast, pack-up, check out
0845H: Start descent to Station 5
0915H: Arrival in Station 5, snacks
1010H: Bus from Station 5 to Kawaguchiko
1100H: Arrival in Kawaguchiko, rest
1130H: Bus from Kawaguchiko to Shibuya
1340H: Arrival in Shibuya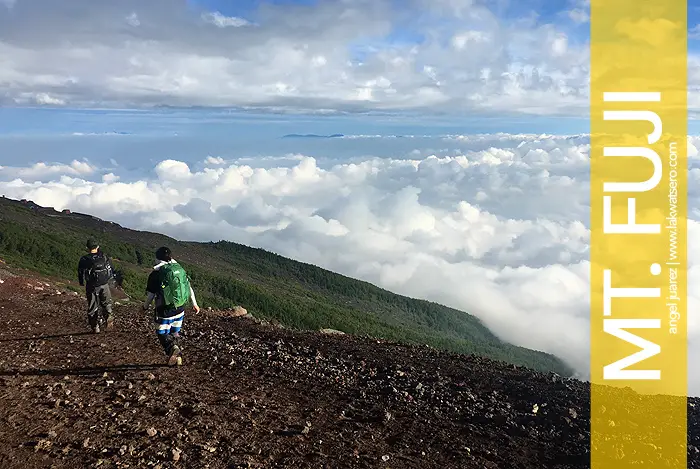 Expenses (in Japanese Yen)
Shinjuku to Kawaguchiko Highway Bus – 1,800
Kawaguchiko to 5th Station Roundtrip Bus – 2,100
Walking Stick – 1,200
Environmental Fee – 1,000
Seikanso 6th Station (Accomodation + Dinner) – 8,100
Kawaguchiko to Shibuya Highway Bus – 1,800
Foods – 1,000
Miscellaneous – 1,000
————————–
Approximately Y17,000 or P8,000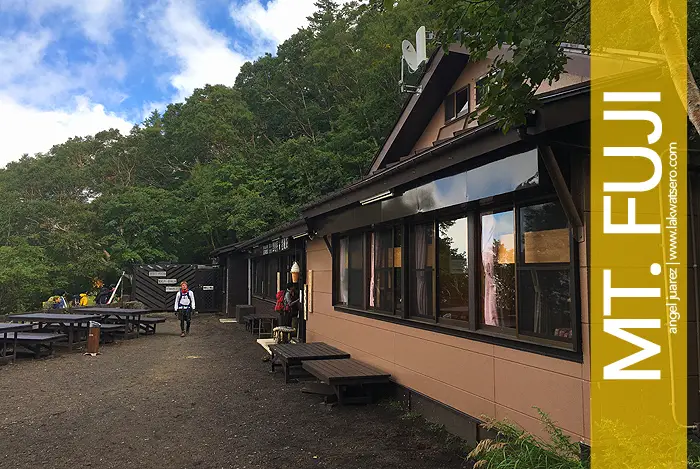 Where to Stay in Mount Fuji
There are accommodations/huts from Station 6 up to Station 8.5. Rate starts at Y7,100 (~P3,500) per person per night during weekdays and Y8,100 (~P4,000) on weekends. Advanced reservation is advised during peak season or month of August. They accept credit cards. For reservation, you may email the huts directly. This site lists all the accommodation along the Main Yoshida Trail from Station 5 all the way to Station 10 with links to the websites of the establishments containing the contact information.