I was clueless about the ins and outs of Maldives when I first went there. I know for a fact that the country sits in the middle of Indian Ocean and that it is made up of fine white sand islands surrounded with perfect hues of turquoise and azure waters. More than that is unknown to me.
While the perception of Maldives being an expensive country for travelers is true at some point, I have proven then that it can also be traveled on a budget. So I stayed in the island villages, dine in the local restaurants and explored the country the backpacker way. I survived and have proven that Maldives can be experienced without breaking the bank.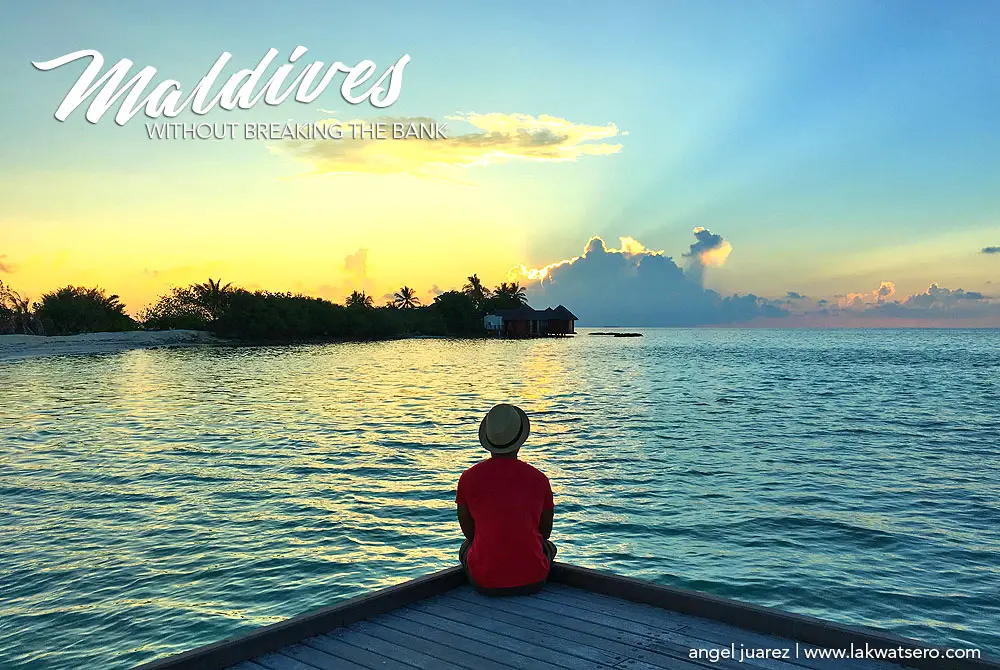 As more and more people get to travel to Maldives, I came to envy those who have gone there and stayed in an exclusive island resorts, one of the things I missed on my first visit. The floating cottages seem to be a must for most, cliche but has become a must experience. The more people share their experience in staying in those luxury resorts, the more I felt that Maldives is an unfinished business. I needed to go back! I want to go back!
So I returned to Maldives in a hope to explore the other islands and experience the luxury of staying in an exclusive island resort. And this enhanced version of our itinerary came to fruition.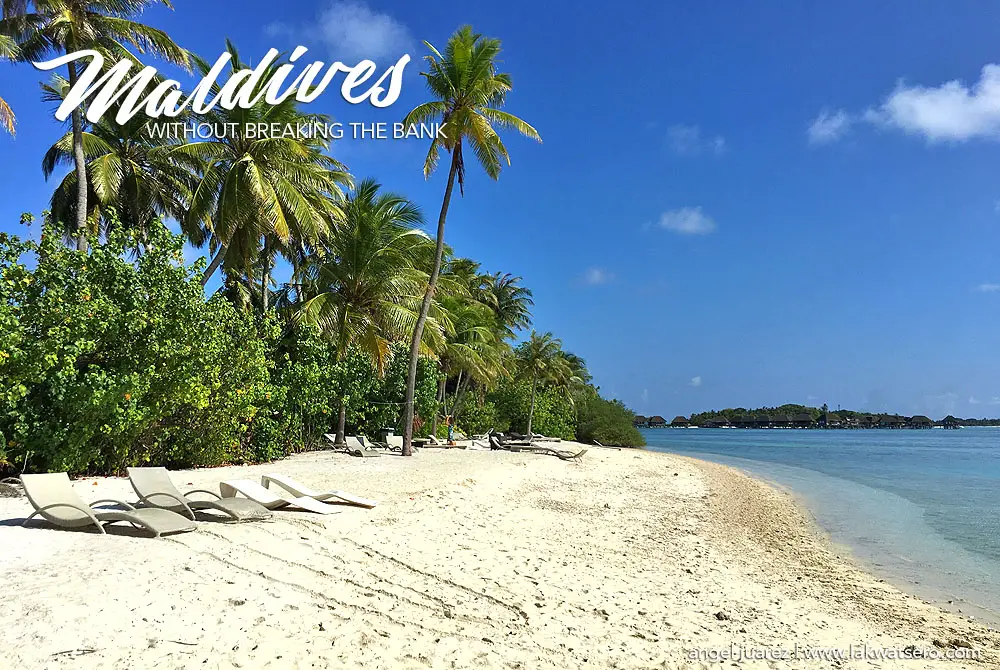 Itinerary
Day 1: Male Bound
Spend the first day for travel and transfer. Take the low-cost airlines from Malaysia or Singapore and expect to arrive at night.
1100H: Manila to Kuala Lumpur
1900H: Kuala Lumpur to Male
2000H: Arrive in Male / Proceed to UI Hulhumale
2100H: Check-in at UI Inn
2200H: Lights off
Day 2: Huraa! Here I Come!
Wake up to a beautiful day in Hulhumale. The morning is free so you may opt to walk around the village or swin on its man-made beach. Leave the island by noon for Huraa.
0500H: Call time / Sunrise
0600H: Breakfast
0700H: Free time at the beach
1100H: Check-out / Proceed to Hulhumale Port
1130H: Speed boat to Male
1145H: Arrive in Male / Walk / Lunch
1315H: Walk to Viligili Port
1330H: Arrive in Viligili Port / Buy ticket to Huraa / Rest
1430H: Ferry to Huraa
1600H: Arrive in Huraa / Proceed to Hotel / Bikini Beach
1730H: Sunset
1800H: Dinner
2000H: Lights Off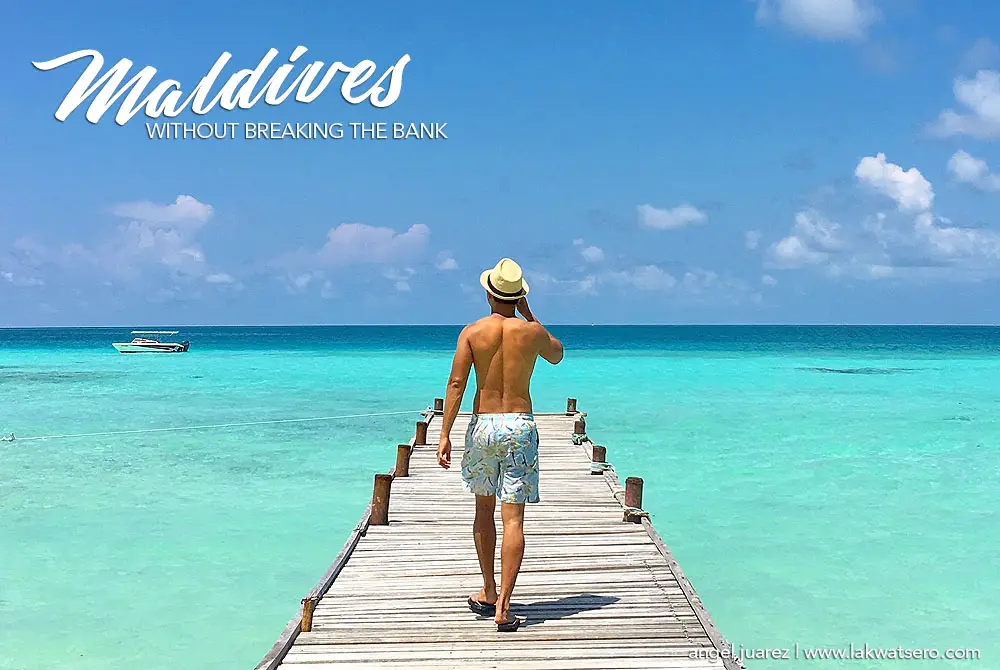 Day 3: An Island in a Day
It's a free day which you may spend on exploring the nearby islands from Huraa such as Viligili Island, a popular picnic site.
0530H: Call time / Sunrise in Bikini Beach
0700H: Breakfast
1000H: Viligili Island Picnic Tour
1600H: Back in Hotel / Rest
1900H: Dinner
2000H: Lights Off
Day 4: En Route to Paradise
Take the boat going back to Male that departs at around 9AM. Note that there is the only public ferry going to Male daily. Proceed to the airport, the meetup point for all island resorts in North and South Male Atoll. If you are staying in Paradise Island Resort, there are multiple transfer schedules daily. Spend the rest of the day in the comfort and luxury of your resort.
0600H: Call time / Breakfast
0730H: Proceed to Port
0800H: Ferry Huraa to Male
0930H: Arrive in Male / Proceed to Airport
1000H: Resort Meetup
1030H: Airport to Paradise Resort and Spa
1100H: Arrive in Paradise Resort and Spa / Check-in
1200H: Rest / Lunch
1300H: Free time in Resort / Shark and manta ray watching
1900H: Dinner
2000H: Lights Off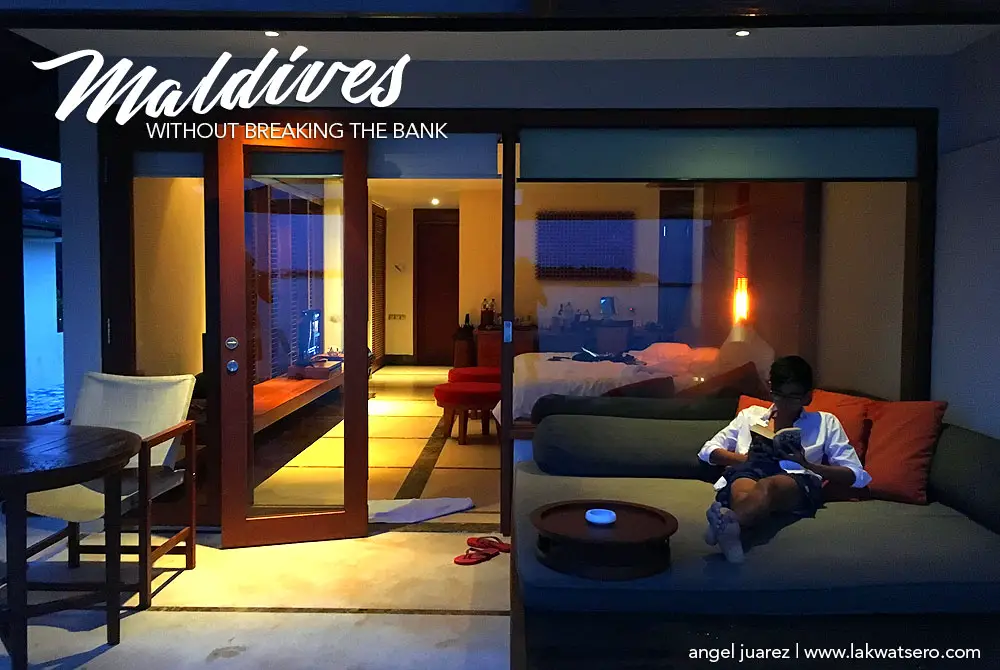 Day 5: Goodbye!
Relax, enjoy and savor the Maldivian life. This will be your last day in Maldives so take it slow. Avail of the late check-out if possible or just stay around the resort after checking out and avail of the late transfer. Take the flight back to home in the evening.
0700H Call Time / Breakfast
0830H Free time in Resort
1100H Check-out / stay in the resort
1600H Back to Male Airport
1700H Check-in for the flight
1900 Male to Kuala Lumpur
Where to Stay
Exclusive Island Resorts near Male
Top-Rated Affordable Luxury Resorts Near Male
Paradise Island Resort & Spa
North Male Atoll, Maldives
Starts at 9,500 PHP (2-person sharing)

Anantara Veli Maldives Resort
South Male Atoll, Maldives
Starts at P18,000 PHP (2-person sharing)
Where to Stay in Hulhumale / Male
Top-Rated Budget Accommodations in Hulhumale / Male
Express Inn
Hulhumale, Male
Starts at 2,000 PHP (2-person sharing)

Dream Relax Hotel
Hulhumale, Male
Starts at P2,000 PHP (2-person sharing)
Where to Stay in Huraa / Thulusdhoo
Top-Rated Budget Accommodations in Huraa / Thulusdhoo
Seashine Maldives Guest House
Huraa, Maldives
Starts at 3,000 PHP (2-person sharing)

Ocean Cottage
Thulusdhoo, Maldives
Starts at P3,000 PHP (2-person sharing)
Budget and Expenses
| | |
| --- | --- |
| Particulars | Cost |
| Round trip airfare: Manila – Kuala Lumpur – Male -Kuala Lumpur – Manila |  ~P18,000 / person |
| One Night Accommodation in Hulhumale |  P2,500 / 2-person sharing |
| Two Nights Accommodation in Huraa |  P6,000 / 2-person sharing |
| One Night Accommodation in Paradise Island Resort and Spa |  P9,800 /2-person sharing |
| Island transfer to Paradise Island Resort |  P5,500 / person |
| Picnic day tour to Viligili Island |  P2,700 / person |
| Taxi from Airport to Hulhumale |  P100 / 2-person sharing |
| Public Ferry from Male to Huraa |  P77/ person |
| Public Ferry Huraa to Male |  P77/ person |
| Bus from Hotel to Hulhumale Port |  P20 / person |
| Ferry from Hulhumale Port to Male |  P35 /person |
| Taxi from Viligili Port to Male |  P100 /2-person sharing |
| Ferry from Male to Airport |  P35 /person |
| Budget for food |  P2,000 /person |
| Miscellaneous expenses |  P3,000 /person |
| Approximate Total Budget per Person |  P40,694 /person |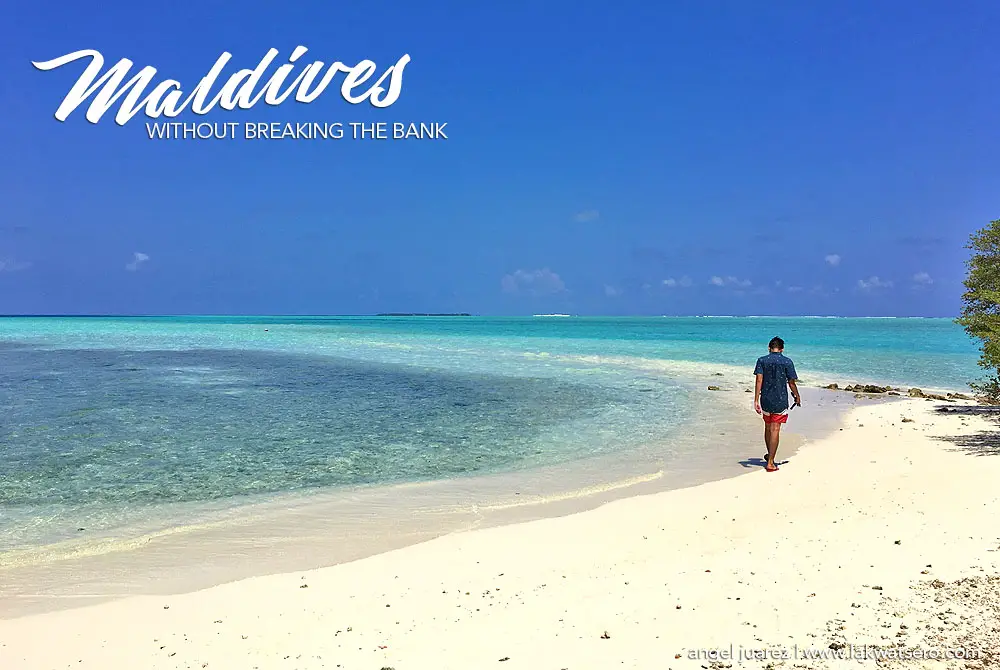 Tips
All nationalities can obtain free visa upon arrival in Maldives
Maldives is a Islamic state, as such religious materials that are offensive to Islam, religious idols, pornographic materials, narcotics and psychotropic substances, and live pigs are strictly prohibited. Meanwhile, arms and ammunition, alcohol and spirits, pork and its by-products, dogs and dangerous animals are restricted except for government authorities
United States Dollar is widely accepted anywhere in Maldives, prevailing exchange rate is 1 USD = 15 Maldivian Rufiyaa (MVR)
I suggest to exchange only small amount of your United States Dollars to Maldivian Rufiyaa (I exchanged only 100USD), enough to pay for local transportation and small stores. Although they accept USD too, it is cost effective to pay in MVR since some round up the USD amount.
Public transport (ferry and bus) in Maldives is operated by Maldives Transport and Contracting Company PLC. Their latest schedule can be viewed here: http://www.mtcc.com.mv/transporthome.aspx
Taxi rate in Male and Hulhumale is fix at 25 MVR
Commonly used power outlets in Maldives is the British Type – 3 flat prongs, power is 230V 50Hz
Maldives has two distinct seasons: dry from January to April (northeast monsoon) and wet from mid-May to November (southwest monsoon). But despite the little rain, expect the sun all year round
Maldivian cuisine is based on three main items: coconuts, fish and starches. A complete typical meal costs around 50 – 90 MVR in local eateries and restaurants
Bikini is strictly prohibited in public beaches
Staying in exclusive island resorts is definitely costly, stay in cheaper hotels, lodges or inns if you want to further save cost and just go on island hopping or day excursion to see the other islands, beaches and even the exclusive resorts
Budget carriers Air Asia from Kuala Lumpur and Scoot from Singapore fly to Maldives
Take note of published rates of any establishments, most exclude the taxes on the published rates