Down to our last day in Tubbataha Reefs, our ship cruised back to the Northern Atoll. The sky was overcast and the water was choppy. The bad weather was as if condoling with us that our Tubbataha dream was about to end.
Dive 1 (Malayan Wreck): Back to Malayan Wreck
On our first dive of the day, we went back to Malayan Wreck, the very first dive site we visited on Day 1. Armed with our cameras, unlike the first, we descended once more to this beautiful wall.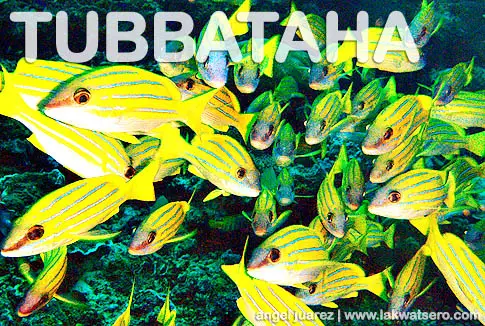 We already surrendered our expectations of seeing Hammerheads, Mola Mola, more Mantas and Whale Sharks. At this point, our aim was just to enjoy the dive. We just let the fate dictate on whatever surprises that would be in store for us.
The dive went smoothly as we drifted along the wall. The bottom time was a show of School of Jacks, Humpheads, Sea Turtles, White Tips, Gray Reefs, oversize Tunas, Trevalies and other tropical pelagics.
We didn't make it to the wreck which was supposed to be where our safety stop would be, but it was still a good and relaxing 54 minutes of wall and drift diving.
Dive Profile: Maximum Depth – 20.8 meters/Date-Time of Descend – 09-May-2011 0700H/Bottom Time – 54 minutes/Water Temp – 29°C/Start Air – 2900 PSI/End Air – 700 PSI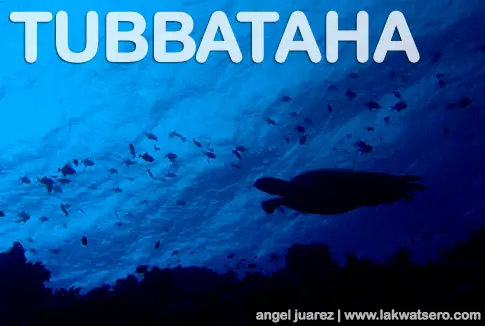 Dive 2 (Malayan Wreck): More of the Wreck
The rain and big waves persisted, and I got dizzy so I didn't eat much during breakfast and just chose to sleep. Two hours past, we found ourselves gearing up again for the second to the last dive of the group. It was Ate Claudia's last since she needed to complete the "No Fly Time" hours prior to her flight back to Cebu, before noon of the next day.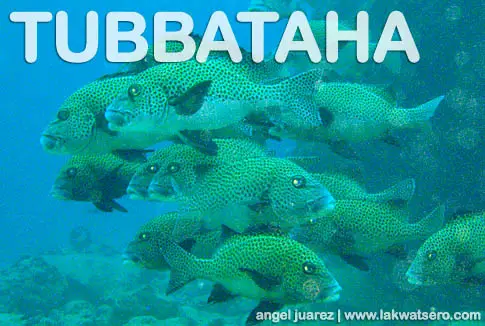 It was again in Malayan Wreck, but this time we had a chance to explore the small wreck on our safety stop. The wreck lies on the shallow area of the reef, two to four meters deep, and home to School of Many-Spotted Sweetlips, oversize Gropers and other sea creatures.
Exploring the wreck reminded me of Coron, and how Ate Claudia and I miss wreck diving. The wrecks of Coron are monsters though, compared to Malayan.
It was a great and fun dive. Isn't it fun chasing a sleepy juvenile Gray Reef Shark we found sleeping on the shallow reef? The sleepy young Shark kept relocating but I kept on following. I know I was such a bully, I am sorry, but I didn't mean any harm 🙂
This was the longest bottom time we had, sixty one minutes of another wall and drift diving with more Sharks, School of Yellow Bream, Titans and other kinds of Triggerfish, Sea Turtles and more.
Dive Profile: Maximum Depth – 20.4 meters/Date-Time of Descend – 09-May-2011 1031H/Bottom Time – 61 minutes/Water Temp – 29°C/Start Air – 3100 PSI/End Air – 800 PSI
Dive 3 (Wall Street): Into the Blue
On our last dive, we were combined with the group of Monsignor Nene, Memey, Amish and Father Aldrin. Only I, Father John, Doc Candy and Mark were left in our group for the last dive of the entire trip.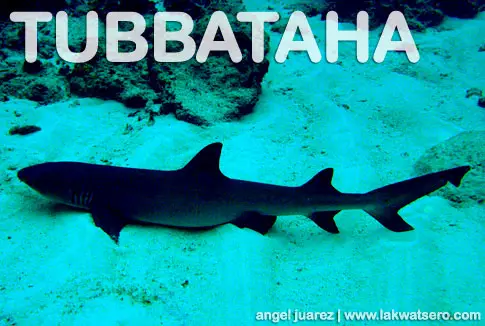 We tried the profile of the all-foreigner group who saw the Hammerheads – dive into the blue, without any wall or bottom on sight. Our descent was still on the wall though, and some of us, including me, swam against it until we could barely see the wall.
I got afraid at some point, but curiosity overpowered. I followed the others, while constantly monitoring my depth and orientation. But the elusive creatures that we wanted to see didn't show up. Perhaps we were really not meant to see them.
What graced our curiosity was the School of Barracuda, who quickly circled me. I was shocked and got afraid, I know Barracudas attack humans, so the first thing that came to my mind was to buzz and call the attention of my buddies. The Barracudas were already gone a few seconds after I buzzed.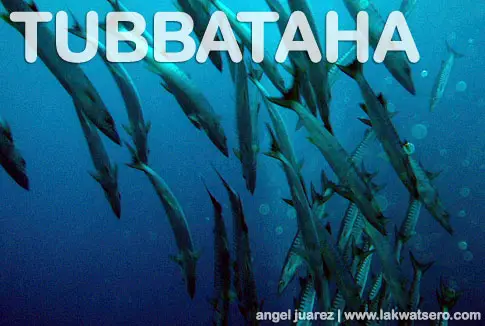 The sighting was too quick, perhaps 10 seconds or less, that I forgot if I clicked my camera during the period. But when I viewed the cam, I had a single shot of it. I totally forgot how I managed to take a photo of the School of Barracudas, good thing I did 😉
My last dive in Tubbataha Reef was perhaps my most adventurous dive there, a pure 49 minutes of fun diving mostly spent in the blue. When we surfaced, it was still raining and the water was still choppy.
Dive Profile: Maximum Depth – 19.3 meters/Date-Time of Descend – 09-May-2011 1409H/Bottom Time – 49 minutes/Water Temp – 28°C/Start Air – 2900 PSI/End Air – 500 PSI
We had a short visit to the ranger station before the ship sailed back to Puerto Princesa. The four days of diving in Tubbataha went so fast but the memories of Tubbataha will forever be inscribed in my mind. This is my most memorable dive trip so far, and I am very happy that we did it. I felt so proud because not everybody gets a chance to visit the reefs and I was so blessed to had the opportunity to experience Tubbataha. It was a dream come true!