In the heart of Luzon are the provinces of Cordillera, famous for their unique architectural masterpieces that can be traced back thousand years ago – the Rice Terraces. These are carefully hand carved mountainsides that look like giant steps forming stairways to the sky. Most famous of them are concentrated in the province of Ifugao, and Banaue's Rice Terraces, being accessible is the most popular of all.
The rice terraces of Banaue are scattered over town which include the popular Batad, Hapao and the one that is easily accesible – The Bangaan Rice Terraces. They are all inscribed in the UNESCO World Heritage List in December 1995 as a Living Cultural Heritage of the people of Cordillera.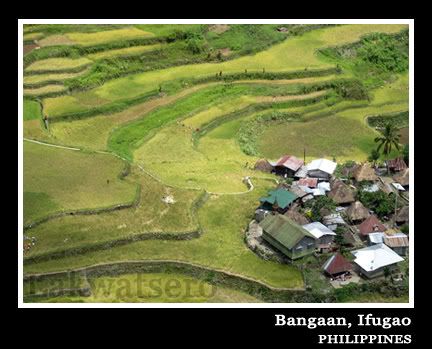 From the top of the Bangaan Rice Terraces, one will witness the unobstructed view of the beauty of these hand carved mountains and the village below. Experience the surreal feeling of walking on one of the wonders of our modern world, trek to Bangaan Rice Terraces and Village and see the marvelous creation of the ancient Ifugaos.
How to get There
By Land
Banaue is the jump off point to Bangaan. From Banaue, there are jeepneys bound to Bangaan located in the town proper, you may also hire a tricycle for P700.00/~$15.25 half day tour from Banaue to Bangaan with sidetrip to Guihob Cold Spring. Expect a bumpy ride.
There are three ways to get to Banaue from Manila. The direct Manila-Banaue bus, via Baguio and via  Bontoc.
Manila-Banaue
Autobus Lines (Contact No: 7358096) has daily trips to Banaue that leaves the terminal at 10:00PM and 10:45PM respectively. It is a nine (9) hour bus ride for P460.00 (~$11).
Manila-Baguio-Banaue
Most bus companies heading to Northern Philippines have trips to Baguio. But Lakwatsero prefers Victory Liner, their Baguio bound buses leave the terminal (Manila, Pasay, Cubao and Caloocan) every hour. It is a five to six hours travel for P390.00 (~$10). The most ideal time to travel is around 10:00 to 11:00 PM for you to reach their Baguio Terminal by 5:00AM the next day.
From Victory Baguio Terminal, catch a cab to Dangwa Terminal or to Rizal Park where the buses to Banaue can be found. It is a short taxi ride (around 10 minutes) for approximately P40.00 (~1USD). At Rizal Park, two bus companies have Banaue route: KMS Transit (departs 9:30AM & 9:30PM) and Ohayami (departs 9:30AM & 9:30PM), while in Danwa Terminal, the Dangwa bus departs 7PM to Banaue. Travel time is 8 to 10 hours. Fare is at P380.00/~$8.5 (as of January 2008).
Manila-Bontoc-Banaue
Bontoc, the capital of Mountain province is a 12 hours ride from Manila. Cable Tours (Contact No: 074-6021068, +639185216790, +639214488814) and Kasilen Transport (Contact No: +639178629574; +639163603483) have daily trips to Bontoc, leaving Manila at night. Fare is P500.00 (~$12.50).
Banaue bound buses are at Immanuel Bus Terminal near the Bontoc Municipal Hall. Buses depart from Bontoc every hour with the last trip at around noon. It is a 2-3 hours travel at P100.00/$2.25.
Where to Stay
Bangaan Family Inn is the only accommodation in the town Bangaan, located along the trail from Banaue to Mayoyao. They have native nipa huts overlooking the rice terraces of Bangaan. But most hotels, pension inns and lodges are situated in Banaue. For the complete list of the accommodation in the area, click here.
Activities
Trek to Bangaan Rice Terraces and Village
Fit the native Igorot dress and pose for pictures in the village
Shop for more souvenirs in the village
See native Ifugao huts
Drop by to Guihob Cold Spring
Trek to Batad, where the most beautiful rice terraces can be found
See the Banaue Rice Terraces
Visit Sagada
Images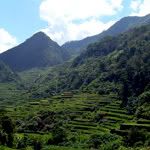 [1] Bangaan Rice Terraces.
[2] Another view of Bangaan Rice Terraces with the Bangaan Village.
[3] Native nipa hut.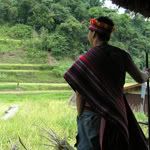 [4] Get a chance to fit the traditional Ifugao dress.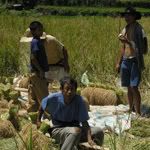 [5] Harvest time.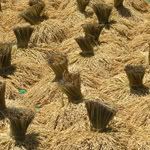 [6] Golden grains from rice terraces.
Lakwatsero Experience
Lakwatsero has been to Bangaan, Ifugao in 2005. Watch out for the narrative and itinerary of his adventures in "My Travels".
(Visited 150 times, 2 visits today)