I had a chance to visit Saigon early this year, and in a short time I spent there, I instantly fell in love with the city. This emerging Asian city is an amazing fusion of Vietnamese and French culture. Being an old colony of France, Saigon, the Capital of Vietnam, has a distinct charm that sets it apart from other Asian cities.
Based on my personal experience, here are some of the things I did in Saigon that you might want to give a try.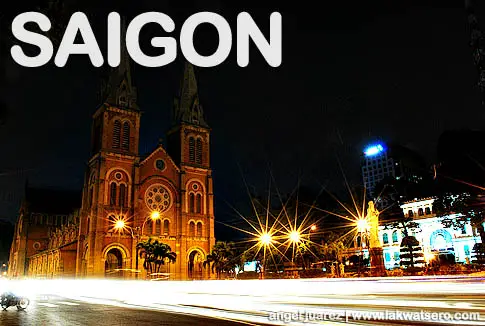 Things to do in Saigon
1. Cross the street without getting hit by motorbikes
Cost: VND 0
Note: I never saw any street as active and busy as the streets of Ho Chi Minh, where crossing is an adventure and an art. Motorbike is the major form of transport in Vietnam, in Saigon alone, their number is estimated to be ten times more than the cars.
2. Shop in Cho Ben Tahn Market
Cost: VND15,000 for mixed sweets; VND180,000 for Vinamit; and VND200,000 for Trung Nguyen Coffee
Note: Cho Ben Tahn Market is a landmark, it is in every guide book and a must for every tourist in Saigon. But do not be fooled, if you think you will find Vietnam's biggest bargains here, then you are wrong. Take for example the Vinamit I bought there at VND180,000, but when I walked around the backpacker district, I found the same product at VND160,000. The Vietnam Flag shirt costs VND80,000 here when it is only 45,000 in backpacker district and VND60,000 in Saigon Square. There's a rumor that sellers use plastic bag color coding to identify if a buyer is an easy pick or a hard bargainer, and to warn other sellers around.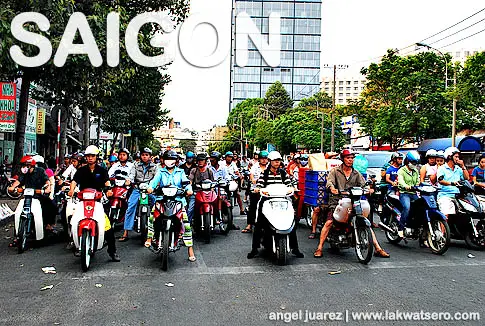 3. Visit the War Remnants Museum
Cost: VND15,000
Note: A visit to this museum brought me back to the scenes of the two-decade Vietnam War when superpower United States of America stepped in after France stepped out. In an effort to crush communism, the US went overboard in Vietnam. I felt a little angry of America upon seeing what they did, so I decided to buy a Vietnam flag shirt the next day in memory of innocent lives who suffered during the war.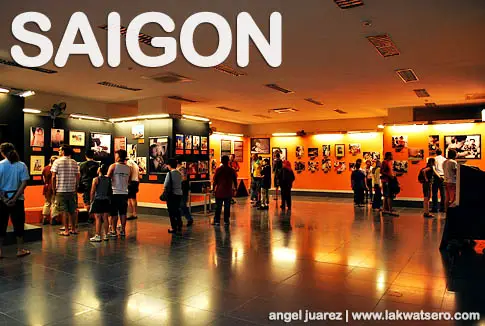 4. Eat Pho in backpacker's area
Cost: VND48,000
Note: You haven't been to Ho Chi Minh if you have not eaten street Pho, their national soup. My verdict, hmmm, sorry I didn't like it that much. I can still remember the taste of leaves up to now.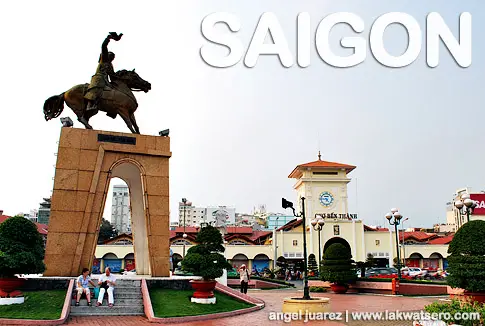 5. Walk to and around Reunification Palace, Notre Dame Cathedral, Post Office Building, Peoples Committee Hall, Opera House and nearby areas
Cost: VND0
Note: The good thing about the city is that it has maintained its structural heritage that are reminiscent of the French empire. These beautiful structures are best explored by foot since they are close to one another (well, for me who loves walking).
6. Watch the Puppet Show
Cost: VND120,000
Note: Always a blockbuster for tourists. I got sleepy though on the first half of the show, perhaps because I was seated at the corner most and farthest row, and I couldn't understand the Vietnamese dubbed show. But my eyes were glued from the second half towards the end.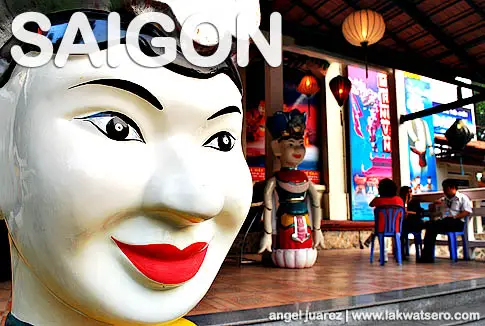 7. Avoid being scammed by a Taxi driver
Cost: VND300,000 for 2
Note: We got into a Lao driven taxi in the airport and scammed because the normal rate is around 200,000. Later did we know that we should have ride a Vinasun Taxi operated by the government.
8. Dine in Quan An Angon at Nam Ky Khoi Street
Cost: VND214,000 for 2
Note: You can never go wrong in this restaurant, not because it is in Lonely Planet guide but because they serve really good Vietnamese cuisines. I loved their Canh Ga Chien Nuoc Mam or Fried Chicken Wings with Fish Sauce (VND 60,000), Heo Xien Nuong or Grilled Pork Skewer (35,000) and Com Chien Ngon or Fried Rice in Ngon Style (VND 68,000).
9. Try their street foods
Cost: VND40,000 for 2 grilled pork skewers; VND15,000 for an iced lychee
Note: Cheap and really good! That are Vietnamese street foods. Try the food stalls inside Ben Tahn Market, their pork skewer is comparable to Quan An Angon's.
10. Buy "original" Samsonite and Crumpler bags
Cost: VND280,000 for Samsonite Backpack; VND350,000 for Crumpler Sling Bag
Note: Bags! Bags! Bags! For foreign tourists, Vietnam is synonymous to bags. So I succumbed to the pressure of bag shopping and bought a Samsonite backpack at super low price in Saigon Square and a Crumpler Sling Bag at Buin Vie. If you ask me if they are originals, I doubt! They look good, but too good to be true actually. Are there really shops in Ben Tahn and Saigon Square selling brand new North Face, Samsonite or Crumpler? An officemate gave me a tip that a shop in Saigon Square is really selling original originals, this I have to verify on my return.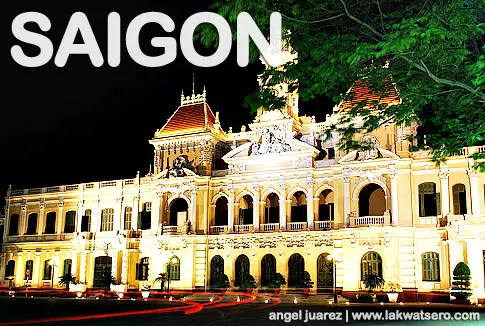 11. Marvel at beautiful Peoples Committee Hall and Opera House at night
Cost: VND0
Note: I think the best time to see these structures is at sundown when the night lights add glow to their grandeur and charm. Beautiful!
12. Try Iced Coffee in the backpacker's street of Buin Vie
Cost: VND16,000
Note: Do not miss the street coffee (Ka Phe) sold on the streets of Saigon. We had one along Buin Vie and enjoyed it while people watching in the busy backpacker street.
13. Dine in Jollibee Pasteur
Cost: VND50,000 for Chicken-Spaghetti Meal and Strawberry Float
Note: Seeing a Pinoy pride being patronized by Viets was fun. Yes, the Jollibee is starting to hit big in this country. But do not expect the original Filipino taste on their food, the blends were already adjusted for Vietnamese' palates. My Jolly spaghetti never had the sweet Filipino taste I am accustomed of and my Chickenjoy did not have gravy 🙁
14. Walked anywhere
Cost: VND20,000 for 2 buns of PappaRoti
Note: While walking around, we happened to discover this small shop that sells cheap yet very good coffee buns. PappaRoti is located along Nguyen Dinh Cheu right outside the big grocery Co.op Mar
15. Get in the tunnel of Cu Chi (Be sure you do not have afternoon flight)
Cost: USD22 for 3 persons at Saigon Mini Hotel 5; ++ expenses on transportation, food and other pasalubongs
Note: We hopped in an open tour to Cu Chi Tunnel that came so cheap at USD5, with English speaking guide. Most tour company offer this kind of tour. But since Cu Chi is quite far from Saigon, we missed our flight back to Manila in the afternoon. Good thing we were holding open dated tickets that saved us on rebooking costs and penalties. Nevertheless, never ever attempt to do a Cu Chi tunnel tour if you have a flight to catch in the afternoon.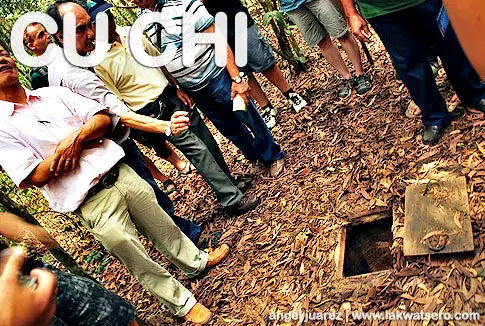 16. Buy flavored coffee in Annam Gourmet Market
Cost: VND17,000 per 100 grams
Note: We regret buying only samples, the rhum flavored coffee of Ca Phe Huong Kem being sold here is damn good! If we knew ahead, I could have bought a kilo or two. Annam Gourmet Market is located near the Opera House
17. Be an instant millionaire
Cost: –
Note: Even wonder of the zeros in my costing? Well, because in Vietnam, you are an instant Millionaire since a Philippine Peso is equivalent to VND450 and a US Dollar is equal to VND20,000 🙂