I could smell and hear the waves as Gael and I walked towards the long stretch of Buenavista Beach. The crashing was so loud, the waves must be huge! I was so excited but I tried to hide it to Gael. Then as if a big surprise, my eyes became wide when we finally reached the shore, and all I ever did was to repeatedly utter a silent yet big "WOW!"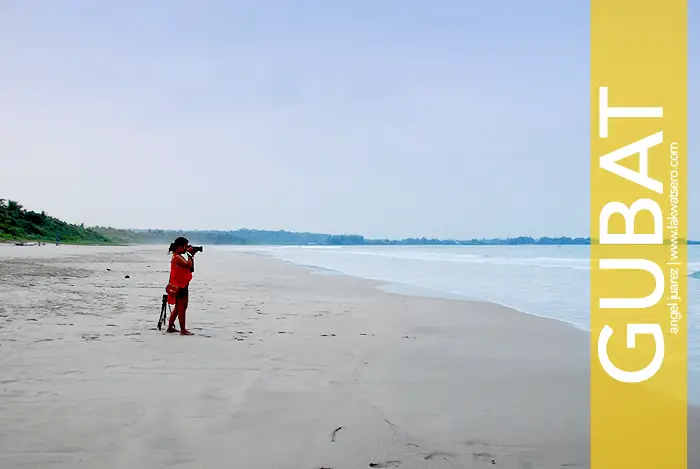 The sun was already down and the purple sky was slowly creeping from the east. There were only few minutes left before total darkness envelope us. On that moment, I felt the rush. Without second thought, I dropped all my stuff to the sand, left Gael without a word, ran to the nearest board rental and hurriedly hit the waves! I wanted to take advantage of the remaining daylight to ride the swells. I couldn't say "no" to the waves, the calling was just too strong and overpowering to resist.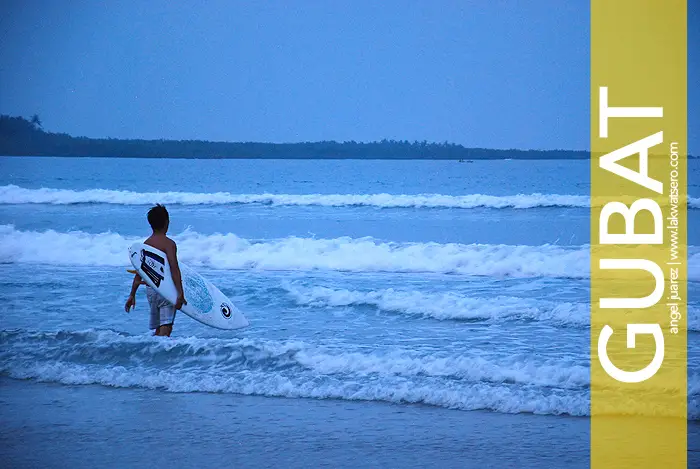 It was love at first sight with Buenavista Beach! The waves, the sea, the sand, the place! My kind of place!
Fronting the roaring Pacific Ocean in the town of Gubat, Buenavista Beach is one of Sorsogon's best kept secrets! Wait, perhaps not anymore as it is quickly gaining popularity not only to surfers but to beach lovers as well. With its long stretch of gradually sloping and fine cream sand, mesmerizing gradient of turquoise and blue water, and beautiful swells, who wouldn't fall in love with Buenavista Beach?
But unlike other surfing spots in the country, Buenavista Beach is generally raw and unspoiled. Except for few small huts, the stretch of the beach is still green. To date, there are only two surf camps there offering board rental and basic accommodations.
I spoke to Noli John, one of the pioneers of surfing in Gubat and now acts as president of Gubat Bay Surfers, he also manages Lola Sayong Surf Camp. He wants the place to maintain its raw charm. Well, it is definitely refreshing to see green in the horizon while aboard the surf board so I agree with Noli. But I won't be surprised if concrete structures and huge buildings sprout in the coming years, I can sense that it is another Baler or La Union or Bagasbas in the making. Well, I love Baler but I hope I am wrong.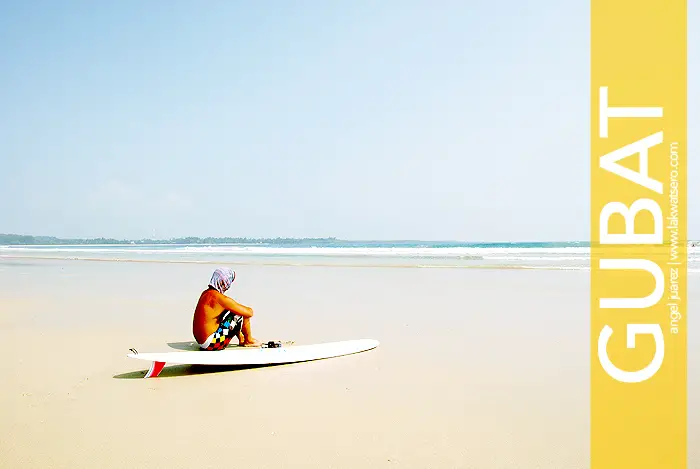 There was an event in Lola Sayong Surf Camp that night, the opening of their cocktail bar. A young local band was playing live while the small crowd was happily listening to the beautiful synergy of their music and the songs of the sea. The chill ambiance was perfect for a glass or two of cocktail or mocktail which is unbelievably priced low at P65 per glass.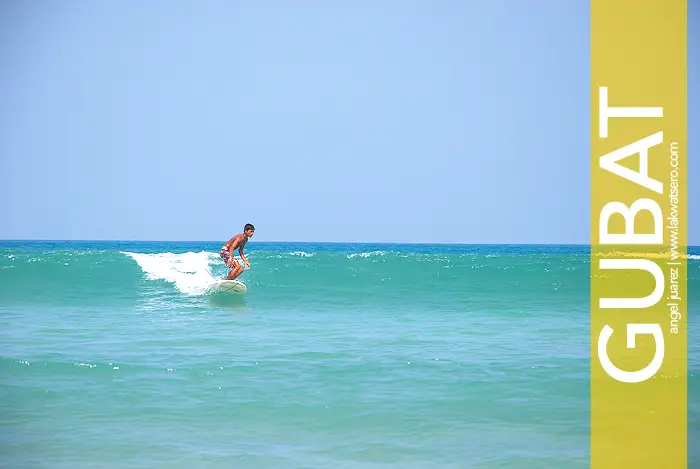 The history of Lola Sayong Surf Camp is sort of a success story for Gubat. A kind old lady who owns a parch of land along Buenavista Beach, a group of young men and a passion for surfing are its formula. Today, Lola Sayong Surf Camp evolved to be the heart of Buenavista Beach, the go-to place for surfers, for beach bummers and for everyone. They have fan room cottages for only P800 per night that can accommodate at most four (4) people with breakfast. For campers, rental is P150 per night per tent that fits two (2) people; if you have your own tent, you only pay P75 per tent per night. They also offer surf lesson for only P350 per hour (board and instructor package); board rental at P200 per hour or P600 for whole day. According to Noli, surfing season starts from October and lasts until March, with the start and end of the season as the best months.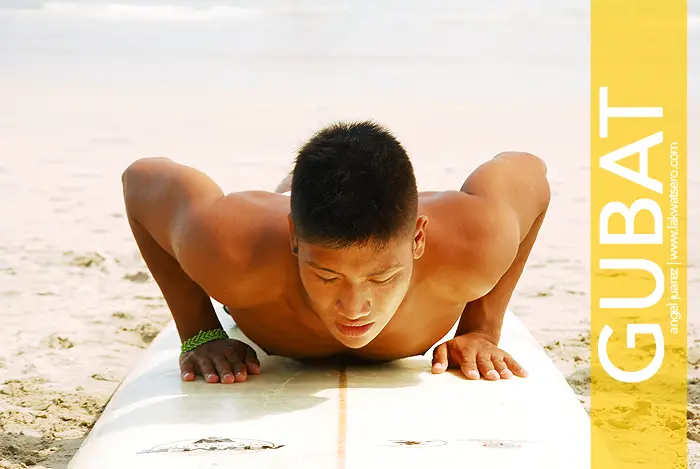 The next morning, the daylight revealed the real grandeur of the place. It is more sublime than I thought it was. The receding tide exposed the long and wide fine sand, cream in color but as if white when the sunlight touches it. The turquoise sea that endlessly generates beautiful swells is an eye candy. I fell in love with Buenavista Beach once more.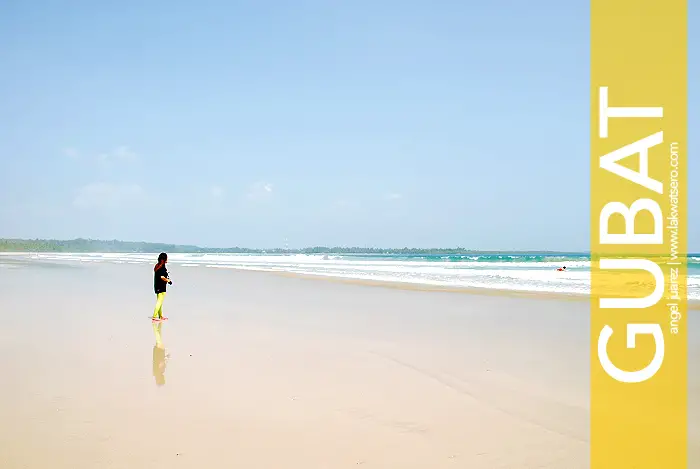 I could count the surfers with my fingers, they seemed to be having a lot of fun. Our itinerary, on the other hand, was to go on snorkeling and to see the waterfalls on the neighboring town. But the call of the waves and the grand beauty of Buenavista Beach were too hard to resist, I ended up riding the swells again the morning.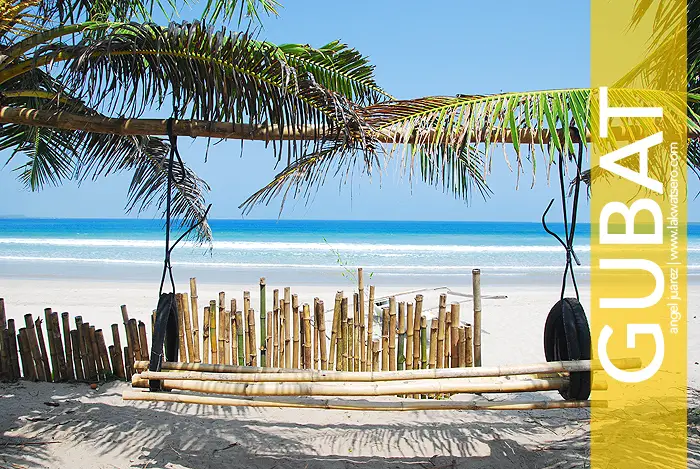 Each with a glass of cold and refreshing iced tea on our hands, Gael and I spent the rest of the morning staring at the beautiful masterpiece right in front of us. I wanted to freeze the moment… to just laze whole day basking under the sun with my feet on the sand. But I had to leave by midday back to Manila and leaving Buenavista Beach was one of my saddest goodbyes.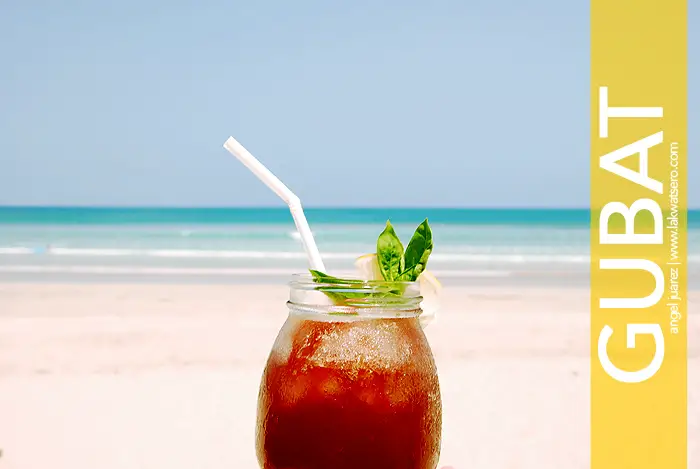 How to Go to Gubat, Sorsogon
By Plane
Fly from Manila or Cebu to Legazpi City in Albay and proceed to LKY Metro Transport Hub, the central transportation terminal of Legazpi City. From there catch the direct bus to Gubat from Manila or a bus bound to Sorsogon City where you can transfer to a jeep going to Gubat. There are jeepneys at the town proper of Gubat going to Bulusan that pass by Buenavista Beach. Alternatively, you can hail a tricycle to take you there directly.
By Bus
From Manila, catch a twelve-hour bus straight to Gubat. DLTB and Philtranco serve the route with daily departures. You can book your bus from Manila to Cabanatuan or vice versa below:
From Visayas and Mindanao, Philtranco buses from Leyte, Samar, Davao and Cagayan de Oro pass by Sorsogon. Get off at the Abuyog Junction (Abuyog – Gubat – Ariman Junction) and transfer to a jeepney going to Gubat.
By Boat
From Allen (Samar), catch a ferry to Matnog and take a jeepney or van going to Sorsogon City. Get off at the Abuyog Junction (Abuyog – Gubat – Ariman Junction) and transfer to a jeepney going to Gubat.
From Masbate City, there's are ferries that go to Bulan and Pilar. From Bulan or Pilar, take a jeepney or van going to Sorsogon City. Get off at the Abuyog Junction (Abuyog – Gubat – Ariman Junction) and transfer to a jeepney going to Gubat.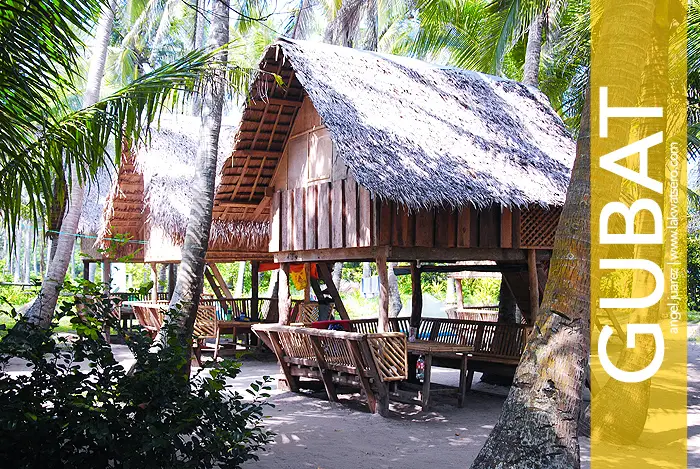 Where to Stay
Lola Sayong Surf Camp
Buenavista Beach
Barangay Buenavista, Gubat, Sorsogon
Rate: Closed cottage is P800 overnight with breakfast good for four (4). Camping is allowed, tent rental is P150 per tent geod for two (2), if you have your own tent, you only pay P75 pitching fee per tent.
Contact: Noli Mercader at +63905-2421693
Buenavista Surf Camp
Buenavista Beach
Barangay Buenavista, Gubat, Sorsogon
Contact: Rosemary at +63930-6185015