On one of our road trips to the western part of Southern Tagalog, we happened to visit Quezon Province from Pagsanjan, Laguna via Cavinti and Luisiana.
Quezon Province is a popular pilgrimage site for different religious sects, it is home to Mt. Banahaw, considered by locals as a holy ground, where Kamay ni Hesus Healing Church is also situated.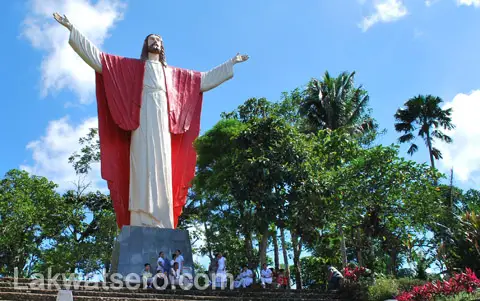 The shrine is located on the slopes of Mt. Banahaw, Barangay Tinamnan, Lucban, Quezon. It features a church where healing masses are celebrated by the known healing priest Fr. Joey Faller. Also on the site is a 292-steps hill with life size figures depicting the 14 Stations of the Cross. On the top is a large statue of Jesus Christ, a 50-foot statue that is said to be the third biggest in the world.
So for those planning a holy week trip or even a summer getaway, Kamay ni Hesus Shrine is a perfect place to commemorate the life and passions of Christ.
To get there via public transport, just hop on to a Lucena bound bus at Kamuning or Buendia that will take you to Lucena Grand Central. From there, the shrine is just a short jeepney ride.

You may contact (63)42-5403085; +63917-8536267 for inquiries and more information on mass schedules, prayer request, invitation and healing sessions.