It was an uneventful red eye flight from Manila to Kuala Lumpur via Malaysia Airlines, my first time to fly with them. It was a pleasant flight but I am not totally impressed with the entire service. The economy meal was mediocre, the cabin is showing signs of aging, the crew although cordial were not warm. But they earned good points on their interesting inflight magazine, wide assortment of duty free items for sale, and good selections of inflight entertainment (I was glued on the local film they showed during the flight).
Enough of my experience with Malaysia Airlines. So I arrived at Kuala Lumpur International Airport (KLIA) past midnight, cleared the immigration and custom inspection on a breeze, then went to the departure area and chose a sweet spot to get some sleep. I managed to have three hours of nap and woke up at half past the hour of five in the morning. With my flight to Kathmandu still six hours away and with some Ringgit on my wallet, I decided to see Malaysia's famous icon – the Petronas Twin Towers!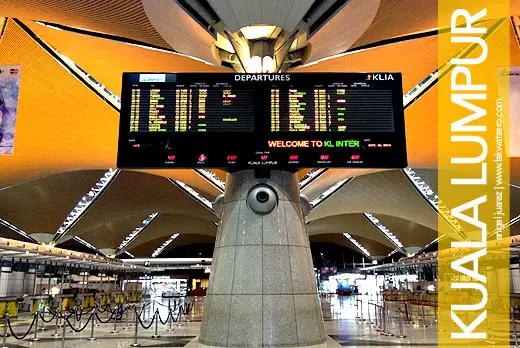 The towers are part of Kuala Lumpur Convention Center (KLCC) in Bukit Bintang, downtown Kuala Lumpur. Once the highest in the world, they are still the tallest in Malaysia and entire South East Asia, and the currently the eighth in the world. They were built in 1993 and completed in 1996, it is now home to some of Malaysia's biggest corporations.
It wasn't my first time to see it up close. Back in 2010, I already visited the place but it was dark and very different. I promised myself to visit it on daylight. That day finally came.
KLIA to KLCC
Commuting to the Petronas Twin Towers, there are three ways to get there from KLIA by commuting- by taxi, by train and by public bus.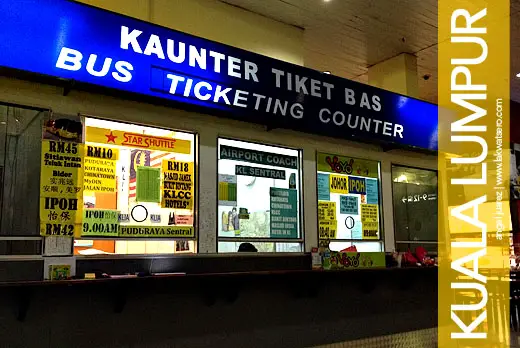 Taxi of course is the most convenient yet most expensive mode of transport, it is around one hour trip and the cost is at least 75 Malaysian Ringgits, even higher if you chanced upon scammers.
Train is the easiest and fastest way to get there but requires a transfer. So easy, just hop on a KLIA Express train from the airport to KL Sentral for 35 Ringgits and transfer to LRT Line to KLCC for only 2.5 Ringgits. It takes only 28 minutes from the airport to KL Sentral and around 15 from KL Sentral to KLCC.
Meanwhile, the cheapest mode of going to Petronas Twin Towers is by taking a bus from the public bus terminal of KLIA. There are more than five bus companies serving the direct to KLCC route for only 18 Ringgits. Buses leave almost every after 30 minutes as early as 6AM daily.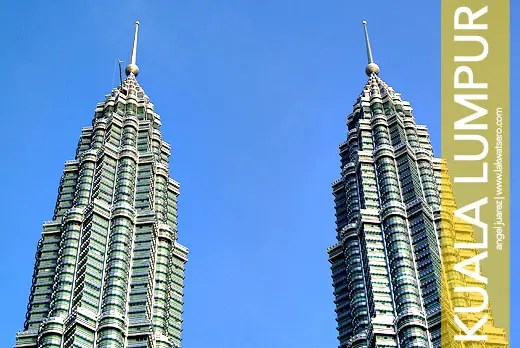 I took the public bus that left past six in the morning and I was already at the KLCC after an hour. I went directly in the fountain area in front of the towers and finally saw the beautiful structures up close at daylight. They look like lovers holding hands. I stayed on my spot for quite some time and killed moments just gazing at the towers. They indeed are majestic!
The sun slowly crawled into my sweetly shaded spot, its rays blinded me so I took it as cue. I stood up and went inside the Suria Mall. It was still early and the shops were still closed, only the grocery was open. I saw a Nasi Goreng and my stomach kicked in so I ordered one to go for only 2.6 Ringgit.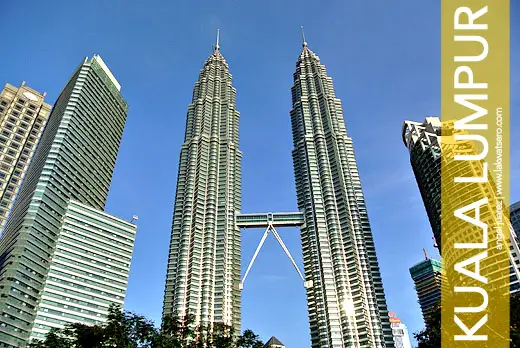 With few more minutes to spare, I went to the back of the tower and just walked on the lagoon side, on the greens and the bridge. The view of Petronas Twin Towers was more vivid on that side, with the sun completely painting the towers with its light rays and on the backdrop of Kuala Lumpur's clear blue sky, I stared again on them in awe, bewildered.
KLCC to LCCT
Then snap! Time was so fast, it was almost nine, time to go to the Low Cost Carrier Terminal (LCCT), one hour away from the city. I walked to the nearby LRT station and hopped into a train to KL Sentral (2.5 Ringgits) then transferred to a bus bound to LCCT at the basement. I paid 10 Ringgits for the fare, it was supposed to be free since it was Air Asia's shuttle but the conductor couldn't understand me when I said that I will retrieve my e-ticket from my mobile phone.
The check-in counters for Kathmandu flight were already open when I arrived at LCCT. It was the same chaotic terminal that I hate and love at the same time. I headed directly to the document verification desk and the airline staff handed me my boarding pass. I quickly proceeded to the security check, immigration and the pre-boarding area just so to escape with all the chaos of LCCT. Shortly after, the plane started its boarding procedure.
It was a short but sweet sidetrip to Malaysia's famous icon and a new adventure awaits for me just four hours away. Four hours away is my happy place, Nepal!