The travel time from Lumbini to Kathmandu took 10 hours. Departing at seven in the evening, we were already in the Bus Park of Nepali capital before sunrise the next day. It was a cold morning at 12°C.
I walked to the main road looking for Thamel, the tourist district of Kathmandu, but the street signs made me realize that I was quite far from where I intended to go, more than Thamel and the Durbar Square, Kathmandu is a big city.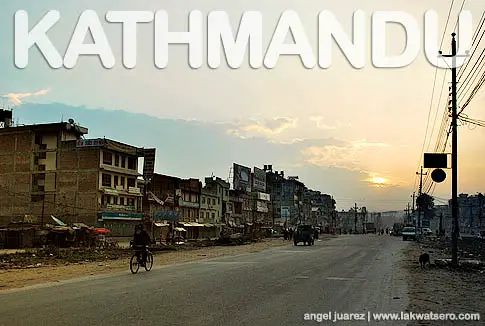 While walking along a dusty road unsure of which direction to go, a downtown bound bus passed. I heard the barker shout "Thamel! Thamel!", so I boarded the bus and sat at the rear with some Nepalese students. A few minutes later, I got excited on my my first sighting of stupa in Kathmandu. I asked the students beside me if I was already in Thamel and they nodded, so I got off.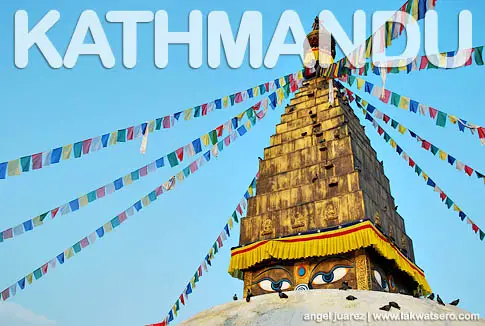 I wasn't in Thamel yet though but in Chabahil district, some five kilometers to Thamel. Thinking that I was already close to the tourist district, I walked around asking for direction but a local told me that it was still far so I hopped in one of the microbuses and paid 15 Rupees which brought me to Ratna Park, just a short walk to Kathmandu Douka Durbar Square.
Kathmandu Durbar Square or Basantapur Durbar Square is a cluster of ancient temples, palaces, courtyards and streets that date back to the 12th and 18th centuries. The square is known to be the social, religious and urban focal point of the Capital City of Nepal. [1] It is one of three Durbar Squares in the Kathmandu Valley and declared as a UNESCO World Heritage Site in 1979  along with other six important important cultural sites in Kathmandu Valley.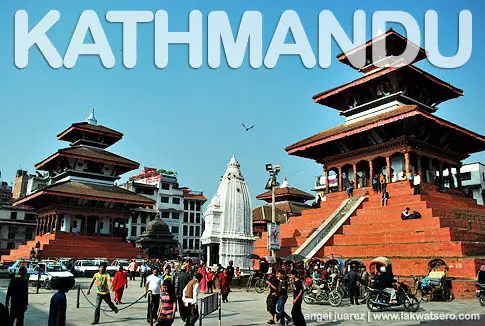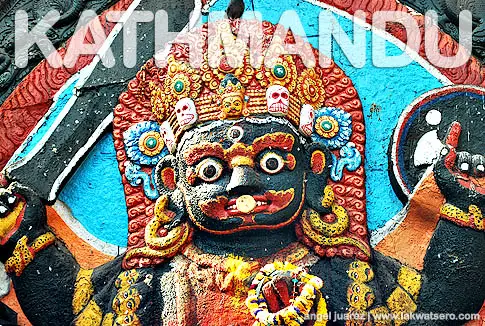 The guard stopped me at the main entrance of the Durbar Square. He asked for my ticket and upon presenting nothing, he directed me to the counter to which I paid 750 Rupees for a pass to Durbar Square Museum. I found out later that the museum pass is optional and one can wander around the square for free. There are many roads and alleys leading to it, the guard and counter are only on the main entrance. Nevertheless, I made myself believed that the 750 Rupees for the museum was worth it, at least I learned more of the history of Nepal and got to know the royalties.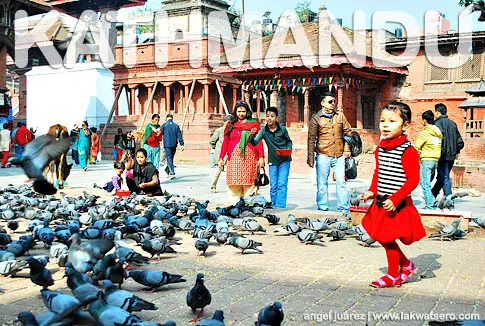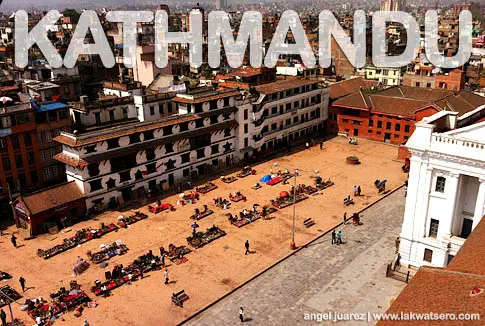 For three hours, I wandered around the Durbar Square, bewildered and amazed with its magnificent structures and architectures.
Following my itinerary, I left Durbar Square at mid-day and headed to Nagarkot. My attempt to find a direct bus from Kathmandu yielded negative result so I ended up taking a local bus to Bhaktapur, then another local bus to Nagarkot. Total travel time was two hours. Before three in the afternoon, I was already in Nagarkot.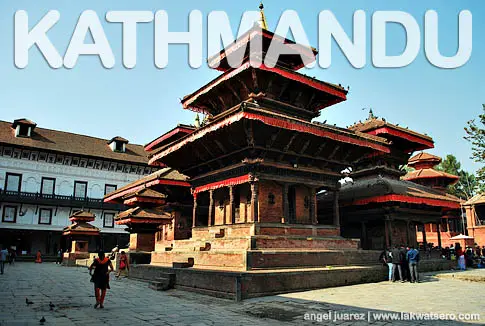 Located atop the Kathmandu Valley, at 1900 meters above sea level, Nagarkot is one of Nepal's popular tourist spots. Its proximity to Kathmandu and central Bhaktapur, temperate weather, serene ambiance and beautiful sunrise in the backdrop of the panoramic view of the Himalayas make Nagarkot a must visit in Nepal. The place reminded me so much of my dear Sagada.
I went to the first guesthouse that I saw, near the corner of the intersection of main road of Nagarkot. An overnight stay costs10 US Dollars for a basic room with twin beds but no hot shower, I agreed and paid the rent nevertheless. After two days of traveling without shower, proper rest and sleep, I can take any room with a shower and bed. I found out later that there are more guesthouses in the upper road, better than the one I got for even lesser amount.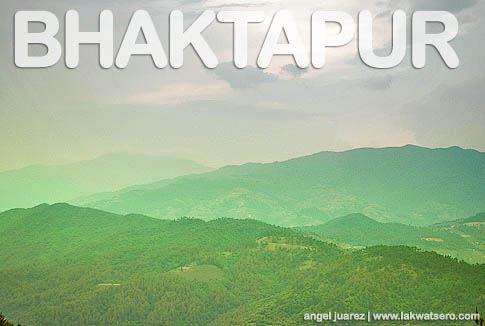 After a shower and quick rest, I wandered around and met Karan, a local guide. I asked him where's the best place to see the sunrise and he invited me to join his group the next day for sunrise tour in the lookout tower for only 500 Rupees. I immediately said yes!
I went back to my room before sunset with the day taking its toll on me. I stretched my tired body on my soft bed and called it a day. The night was cold but lovely, I curled up under the thick blanket and my consciousness faded quickly due to fatigue. After two days, I finally had a decent sleep and it was one of my best nights. I would finally see the sunrise over Himalayas!