January 26, the daylight revealed the beautiful waves that made the town famous. Good morning San Juan, La Union!
I sat in the restaurant of Kahuna Beach Resort for breakfast and watched as the perfect long swells break on the shore. The waves were fantastic and tempting, I wished we could stay longer and surf but we have itinerary for the day and surfing was not on it.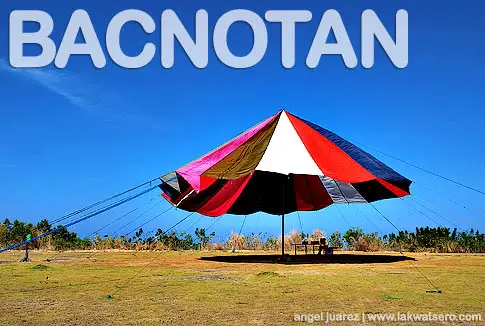 We left San Juan for Bacnotan at seven in the morning for trekking and tree planting in Holcim La Union plant. As a way of giving back to nature and promoting responsible mining, Holcim converted hectares of their compound into an ecotrail. The trail is home to variety of plants and provides places for recreation for birdwatchers, hikers, nature photographers, bikers, campers and even those who just want a leisurely healthy walks not only for its employees but also for the public.
Our trek took only a couple of minutes on a part of the trail. It would take us hours to see its entirety so they decided to cut it short. After the trekking part, we went to a decommissioned site and planted trees. In a few years, we are hoping that this old mining site recovers and all the seeds we planted will give greens and shades to it.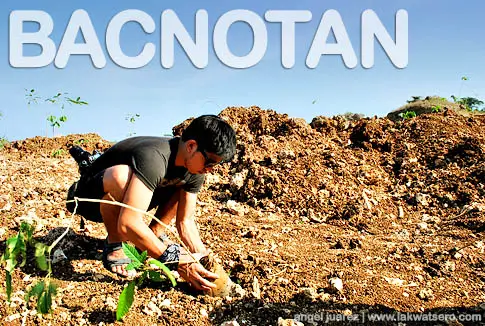 We left Bacnotan at noon and headed to the provincial capitol of  San Fernando for the lunch prepared by the local government of La Union. In the menu were the local specialty called Dinakdakan, Pinakbet, Grilled Blue Marlins and fresh fruits. After we devoured our lunch we then traveled to the City of Pines for the Baguio leg of Lakbay Norte.
Baguio's temperate weather greeted us as we got out of the bus for snacks hosted by Te Quiero Tapas Bar and Restaurant of Microtel. They served us a quite heavy yet sumptuous snacks: Chips and Squid in a dip made of mashed potato, garlic and olive oil; Ham and Cheese Panini; and Strawberry Shakes.
Our main activity in Baguio was airsoft at Baguio Country Club. Most of us were new in this sport but the guys from Baguio Airsoft Club were all patient and willing to teach us. They demonstrated the guns, taught us the rules of the game, gave us some pointers and reiterated safety as their priority.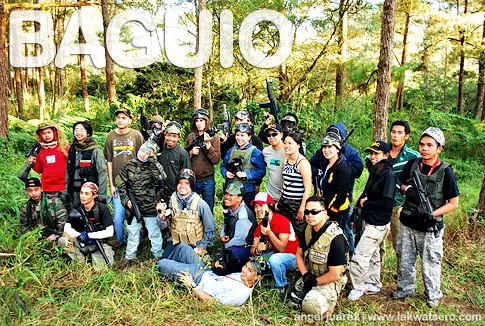 We were divided into two groups, each mixed with players from the Baguio Airsoft Club. During the first game, I was grouped with the counter terrorists. Our goal was to find the assigned pilot in the forest and bring her to a neutral ground before the terrorists find her. The game started and the exchange of fire followed, we tried to advance to the forest but the terrorists were able to block and kill some of us. Mid-game and I was shot too. The game time lapsed that we didn't save the pilot.
I had two more games after the first but won only one. On the last game, they added traitors to both teams through a lottery. I picked the green traitor pellet so I disguised in my team, but I am really bad in acting so my teammate Rodel killed me even before the traitors were engaged officially.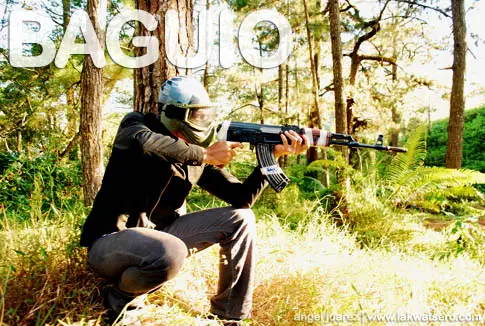 It was my first time playing airsoft and I enjoyed it a lot. We were all sweating after the games as if we were not in Baguio. Back in the bus, the stories, laughter and teasing continued until we reached our home for the night – The Manor at Camp John Hay.
Before our bonfire dinner, we had a short tour of the hotel and I would say that it is one, if not the best hotel in Baguio City. Our room is big and cozy; the staff are nice and courteous; and the food are great.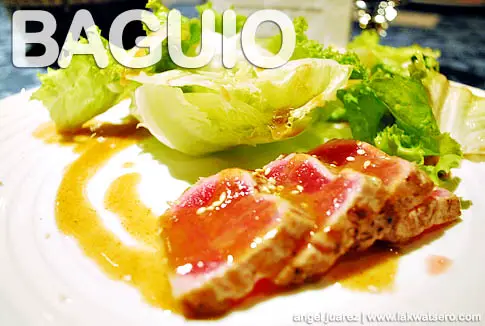 At dinner, a complete course was served to us – Seared Tuna on Mixed Greens Sesame Vinaigrette, U.S. Beef Short Plate with Mushroom Sauce, Vegetable and Mashed Potato and Marinated Strawberries with French Cream for desert.
I wish we had more time in The Manor to enjoy its facilities and more of the city. Sad to say, we only had a night. I do not know if I will be able to stay there again someday, it's beyond my usual limit for accommodation so I am very delighted that I was able to experience it with Lakbay Norte. The stay in The Manor is the best way to end the busy and tiring day of trekking, airsoft and long travel.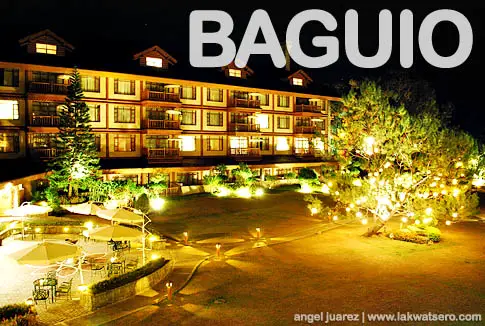 Lakbay Norte is an eight day media familiarization tour of Northern Luzon organized by North Philippine Visitors Bureau in cooperation with Manila North Tollways Corporation, Victory Liner, Mc Donalds, Petron and Universal Robina Corporation.
Thanks to La Union Conventions and Visitors Bureau, Holcim Philippines Inc., Local Government of La Union, Baguio Conventions and Visitors Bureau, Te Quiero Tapas Bar and Restaurant, Baguio Airsoft Club and The Manor at Camp John Hay.