Arriving Kuala Terengganu past six in the evening after more than eight hours of land travel from Kuala Lumpur, I was quite curious of what more can I do in the city. It was already dusk and the darkness was slowly eating up the blue sky. The streets were mostly quiet, the shops were already closing down, the city was wrapping up and about to call it a day.
I was also quite concern with my budget. I only had 24 Ringgits plus some lose Malaysian coins in my wallet. I also have few Dollar and Peso bills but the money changers were already closed for business. I asked around but locals say that money changers open at 10AM and close at 5PM.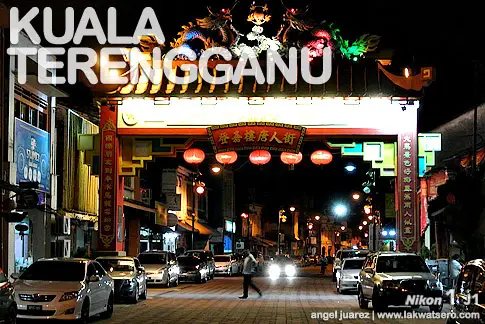 From the bus terminal, I walked towards the general direction of the Chinatown. I've read on the net during my research that a backpacker's lodge named Sankris is located at Jalan Air Jernih. Based on my map, it is only a short street, probably less than 500 meters from end to end, so I thought that no major difficulty will transpire in locating the place.
I walked along Jalan Air Jernih but I saw no trace of Sankris Lodge. I crossed the street and walked along the other side but still no luck. So I asked around but nobody seemed to know such a place exists. I walked again, slowly, surveying every establishment and signboard but still negative. Finally, a resident confirmed to me that Sankris Lodge already ceased operating and pointed me instead to a newer hotel, charging me 50 Ringgit for a single room overnight.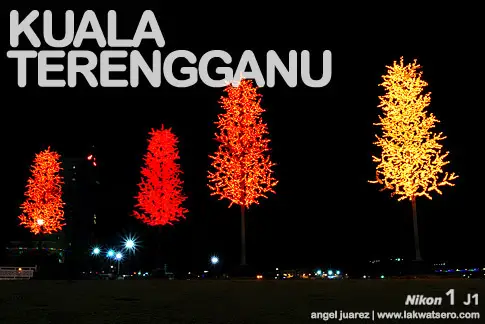 Of course I begged off, my cash on hand were not enough. I walked away and wandered along the Chinatown, hoping to see an open money changer but the only open establishments were restaurants and noodle houses. I wasn't hungry but the aroma of Chinese foods was so inviting and it was a torture because I couldn't afford to buy given my limited Ringgit. So I just walked away and ignored the ramblings of my stomach.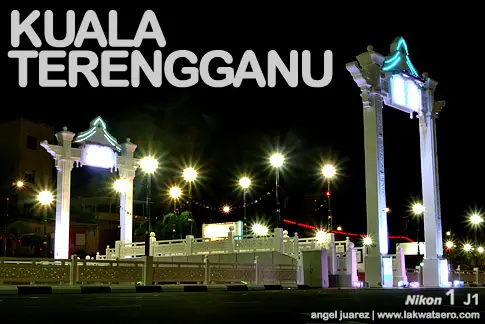 More walk and I found myself in Pulau Warisan with trees illuminated with colorful lights. I enjoyed my time there taking night shots of the area – the bay, bridges, the city skyline and colorful displays. Then I realized that I still didn't have a place to stay. It was almost eight in the evening. I finally decided to take my misfortune seriously.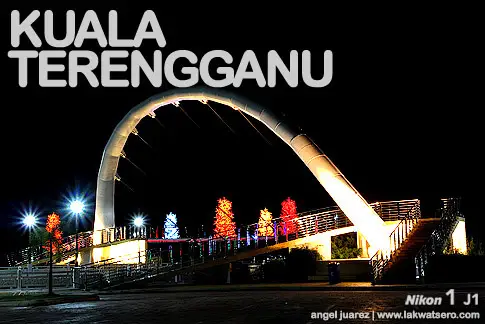 The only place I thought that I can afford was the Ping Anchorage Travelers Inn along Jalan Sultan Ismail. I already passed by the place earlier, it was near the bus station so in a few minutes I was already there. Luckily, there were still available rooms. They charged me 25 Ringgits per night and I was assigned to a clean and comfortable fan room with twin bed. With only 2 Ringgits left, I decided to buy a bottle of water to the nearby store but when I checked the gate of the building it was already locked. So I spent the night without any liquid intake. I had chunks of chocolates which I devoured before dozing off and that made me survived the night 🙂
Thanks to Zest Air and Tourism Malaysia for making this trip possible. Zest Air now flies four times a week from Manila to Kuala Lumpur.