It was another cold morning in Kathmandu, the sky was clear and the Himalayan wind was blowing in subtle speed. I woke up before six in the morning, had a quick shower before packing my stuff up. My mind was still in state of trance, must be the cold weather, making the sack looked inviting. I wanted to go back to bed but I had to start moving. I munched some cookies and finished the tetra pack of orange juice that I bought the other night before going down to the reception area of Festoon Inn to check out. It would be a long day for me, I was going to Pokhara!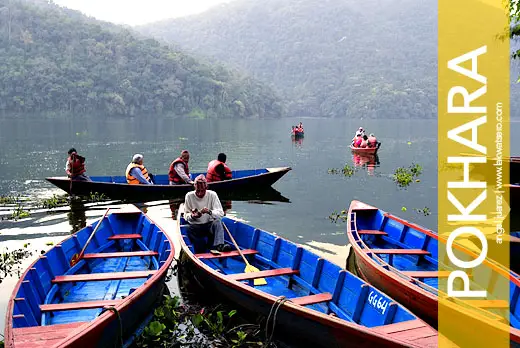 I asked the guys in the reception area of my hotel on the direction to Kalanki Bus Stop. Based on my readings, it is where the micro buses to Pokhara are stationed. It was quite far and taxi is the most reliable mode of transport going there, they said. They estimated the taxi fare to cost me at lease 400 Rupees, quite steep, I thought. But there are microbuses to Pokhara in Gongabu too, and it is nearer in Thamel, so they advised me to go there instead.
I flagged one of the taxis parked in front of the hotel and instructed the driver to bring me to Gongabu, specifically to Pokhara micro bus stand. We agreed on 200 NPR and in half-an-hour, I was already at Gongabu.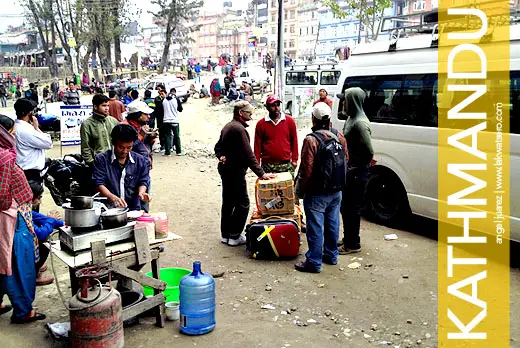 It was a busy scene at Gongabu, stores are lined up on both sides of the street. Sellers, shoppers and bystanders crowd the wide avenue. The micro bus stalls are no exception, the staff were busy attending to the numerous passengers heading to various destinations in Nepal. I went to the one heading to Pokhara, the staff on the counter asked me to wait. So I waited while carefully watching the happenings around me. One, two, three micro buses already left, headed not to my destination. I thought they were waiting for more passengers to Pokhara, if I was not mistaken, there were only just three or four of us yet.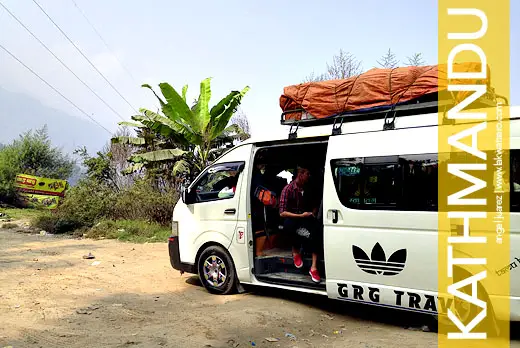 By eight in the morning, we were allowed to board the micro which eventually left the bus stand shortly after. But it left not to Pokhara, but only around the city to fetch more passengers. It circled around the area and went back to the bus stand with still few vacant seats. At the bus stand, the staff collected 500 NPR before leaving at nine in the morning finally towards Pokhara.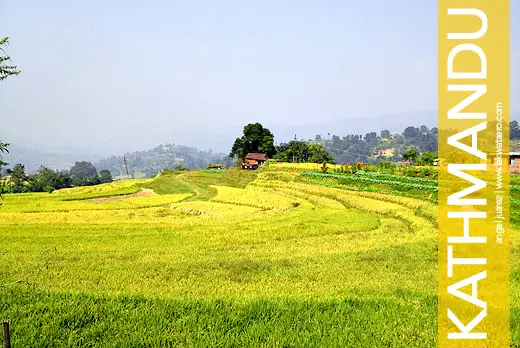 The micro was full and cramped when it left, all aboard were Nepali except me. They were conversing in their local language which was Greek to me. It would take at least six hours to Pokhara with the buildup of traffic just outside of Kathmandu due to some roadworks. With the cold temperature inside the micro and being drowned in the local conversation, sleep was not hard. I woke up an hour-and-half after when the micro stopped for a kidney break.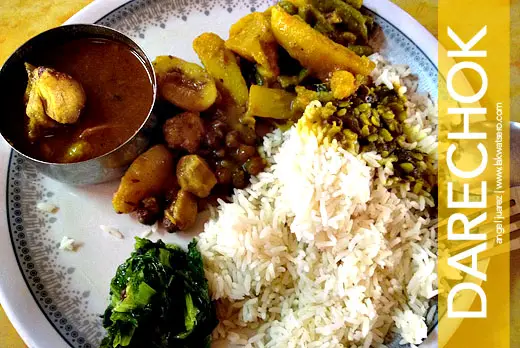 After the short stop, the micro continued its journey and stopped in Darechok past noon for lunch. Everybody lined up for a Dal Bhat, so I thought of giving it a try. Dal Bhat consists of steamed rice (dal) and cooked lentil soup (bhat). I had one with Boiler Chicken Khana for 240 NPR and a soda at 80 NPR. It was my first authentic Nepali meal for the trip and with all honesty, I liked it. I have learned that Dal Bhat is the traditional meal of Nepal, Bangladesh and India, sort of a national and a staple meal of these countries.
When lunch break was over, we continued rolling to Pokhara, passing along the scenic countryside of Nepal. Almost three hours have passed and we reached downtown Pokhara. The micro unloaded all its passengers along the busy Prithvi Chowk Road, some four kilometers away from the Lakeside, the backpacker area of Pokhara.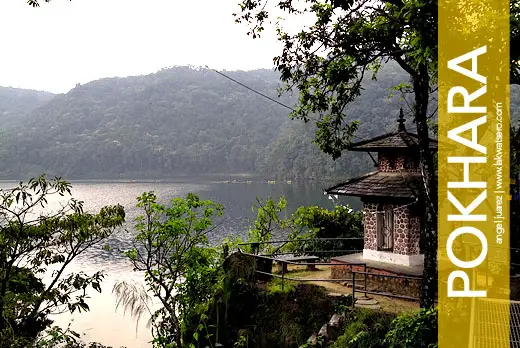 I thought it was still early so I decided to walk to Hotel Lotus Inn in the Lakeside where I was booked for the night. It was a slow and leisurely walk, my way of getting to know the city and after 40 minutes of walking, I was already in my hotel.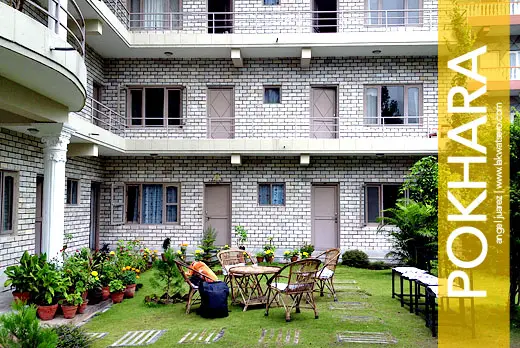 Hotel Lotus Inn has an open garden, a four-storey building with huge rooms and strong wifi connection. It is conveniently located near Lake Fewa, just a stone throw away from the restaurants, shops and major establishments in the Lakeside. For 520 PHP per night, I thought it was a great deal from Agoda. An old guy manning the counter welcomed me, he was cordial and he speaks good English. He led me to my room at the third floor, a twin bed room big enough for me. The room is surrounded by glass windows, with a good view of the mountains of Annapurna on a clear day. But it was cloudy and hazy that day, the mountains were out of sight. I rested for a bit and went outside for a short walk at the Lakeside while waiting for my guide which I would be meeting in the hotel at around five.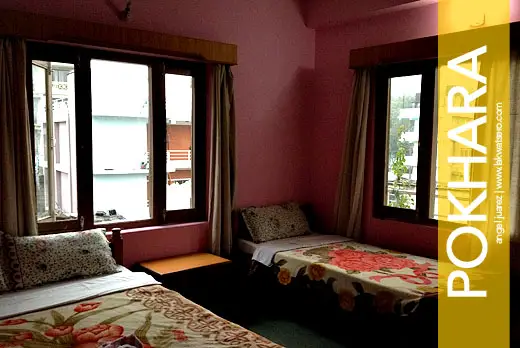 Lok is a local guide who lives in Kathmandu. He is in late twenty and a father to a young boy who now goes to a primary school in the capital. He speaks good English and knows a lot about Nepal – its mountains, history, culture, politics and more. He was my guide.
He arrived at the hotel at exactly five in the afternoon and after a short introduction, I asked him to accompany me in renting the necessary stuff I would be needing for a three days and two nights trek. So we went to a shop at the Lakeside, and rented a down jacket and a sleeping bag which according to Lok would be enough since I already have a fleece, a sweater and two pants. I paid 500 NPR for the rental for the entire duration of the trek. I also purchased headlamp (400 NPR) and a rain cover (250 NPR).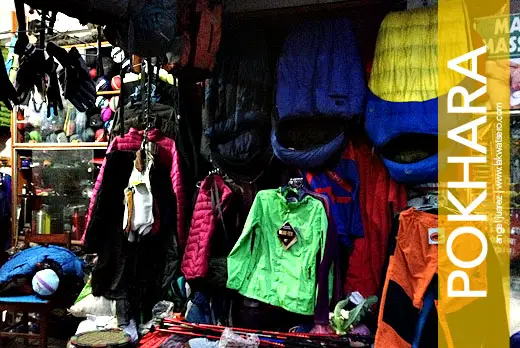 We parted ways afterwards, he would still search for a place to stay for the night. I invited him to stay in my room since it has twin beds but he declined. We agreed to meet at eight in the morning of the next day.
I walked back to my hotel to leave the stuff I rented in the room and went again outside for a walk and for some errands. It was already dark, but the Lakeside was more vibrant with the night lights and all. Pokhara has a different vibe compared to Kathmandu… a notable contrast, a different charm. It is more quiet, relax and laid back. The serenity of the Lakeside might be the opposite of chaotic Thamel, but I love them both.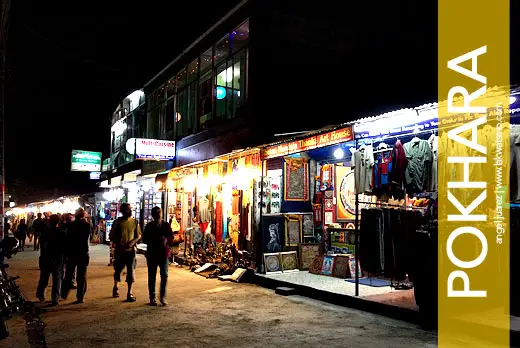 I passed by different restaurants offering Italians, Americans, Nepali, Indian, Korean, Chinese and other Western viands but I wasn't interested on dinner. I just walked and walked, slowly and leisurely while feeling the city vibe, occasionally stopping on souvenir shops and book stores for something that interests me. It was so easy to fall in love with Pokhara with its unique charm!
I stopped by a money changer to exchange my dollars and bought a pack of orange juice on the way back to my hotel. It was a cold night with light wind blowing from the east and I wasn't ready for it so my steps were big and quick.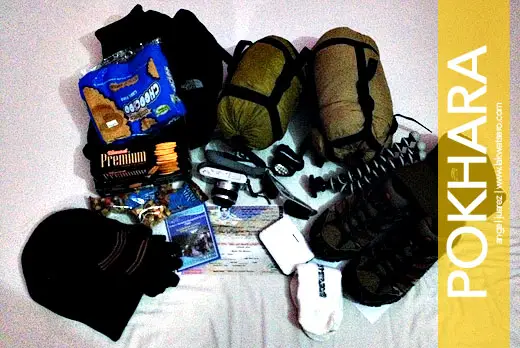 Back in my room, I prepared my stuff and packed only what were necessary for three days of trekking. The rest that I wouldn't be needing, I decided to leave in the hotel. I would be back after three days anyway.
It was a long road from Kathmandu to Pokhara, six hours and a half to be exact. I was supposed be tired and sleepy but I wasn't. I wasn't tired nor sleepy, my mind was perfectly awake. Perhaps I was just excited for the trek or probably the charm of Pokhara instantly struck me. It was a long road to Pokhara, but it was a long and strenuous road trip I am willing to experience again and again and again.