*Since I was afraid to use my DSLR in Delhi, I used my mobile phone for all the photos in  this post 🙂
The plane left Manila past seven in the evening and arrived Bangkok after three hours. Some passengers got off, mostly Filipinos and Thais, but replaced by more Indian passengers going to Delhi. Another meal was served in Bangkok to Delhi leg with remarkably Indian menu. Four hours passed, at one o'clock in the morning, Delhi time, the plane touched down the runway of Indira Gandhi International Airport. My heart beat fast as the plane taxied to the airport. I felt frightened when I realized that I was alone in an unfamiliar place, culture and language, miles away from my homeland.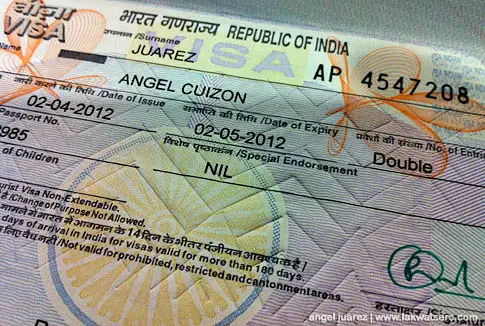 Welcome to India!
Having a double entry visa which I applied a week before in Manila, I passed the Immigration without any hassle. Then to Customs, no question asked either.
At half past one in the morning, the night was on its peak and the city was still asleep. I just stayed inside the arrival hall of the airport. Seated in one of the benches,I took a nap,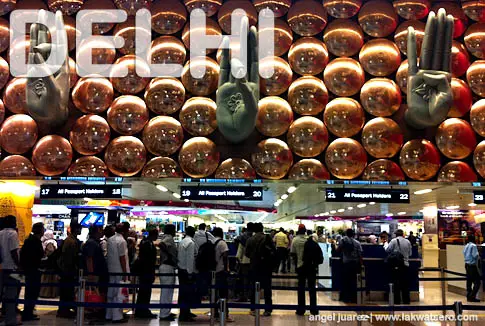 By 5:30AM, I walked towards the Metro Express Airport Station and purchased a ticket to New Delhi Station for 80 Rupees. It took only less than thirty minutes from Airport to New Delhi via the convenient and comfortable Metro Express, the newest line of India's mass transit system.
I saw the New Delhi Railway Station building the moment I stepped out of the Metro Express Delhi Station. By foot, I followed the road going there, ignoring the rickshaw drivers who were offering me something I didn't understand. The sun was just breaking from the horizon but the place was already busy and crowded.
Scam Try #1
I placed my bags in the scanner at the entrance of the station's building and picked it up on the other side. Suddenly, a man in long sleeves approached me and asked for my ticket. I didn't have a ticket yet since I was planning to get one in the International Tourist Bureau so I shook my head.
He introduced himself as my "friend", who was quick on grabbing my shoulder.
"The tourist bureau transferred to different building last month due to heavy passenger traffic of the festival", my friend said.
Appearing very helpful and concerned, he asked for my pen and scrambled something on a piece of paper that reads 'DTTDC'.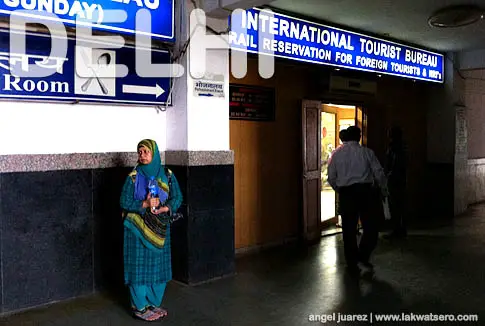 "Take a rickshaw and ask the driver to bring you here and pay only 20 Rupees", my friend told me while handling me the piece of paper.
"I thought the tourist bureau opens at eight, it is only six", I said.
"No! No! Come!", my friend grabbed my shoulder again and led me out of the railway station to the nearby rickshaw stand. He talked to a driver in Hindi, I got inside the rickshaw.
The rickshaw traversed the streets of Delhi, passed the slum area and into a building that banners 'Delhi Travel and Tours Development Corporation', approximately one kilometer away from the railway station.
A guy in early 30's welcomed me inside the DTTDC office. He asked me how could he help and I told him that I needed a train ticket to Gorakhpur. He faced his PC's monitor on his left and I could see that he made online inquiries on Indian Railway website. I waited patiently while looking around the room. There were three other tables, Caucasian tourists were on the two.
Then the guy got back to me and said, "Sorry, no more ticket until the 10th."
"Even in Tourist Quota?", I asked, surprised. I know he didn't search using Tourist Quota.
"Even in Tourist Quota", he replied.
Then he laid out a lot of options to me, like spending a couple of days in Delhi or Agra, or flying directly to Nepal. The cost, as high as 16,000 Rupees that eventually went down to 9,000 Rupees.
I realized then that it was a scam. I kept quiet for a while, thinking of what to do to get out of the situation but my wondering was interrupted by a Caucasian girl on the next table who were frantically on an argument with another male agent.
I told the guy that I couldn't afford the options he presented. I've got only 4,500 Rupees and some lose dollars. But he insisted, to the point that he even asked for my credit cards. I said I have none.
Thinking of how to escape, I told the guy that I will just fly to Nepal by rerouting and rescheduling my Kathmandu to Delhi Indigo Air ticket. I waved it and he grabbed it.
The guy inspected my ticket, picked up the phone and dialed the airline's contact number printed on my itinerary receipt. After some punches on the dial pad guided by the voice menu, he started talking in English to a girl on the other end of the line.
"The flights for today and the next are all fully booked", he said to me afterwards.
"It can't be!", I blurted out.
He then handed me the phone and I confirmed from the Indigo Air agent all that he told me. The next flight with available seat was still two days ahead, but I have to pay 90 Singapore Dollars for the penalty and fare difference. Before ending the call, I asked if I can do the flight changes online to which the girl airline agent affirmed. I told her that I will think about it first.
"See! I told you, you cannot go to Nepal", the guy said. "I am offering you the cheapest alternatives", he added.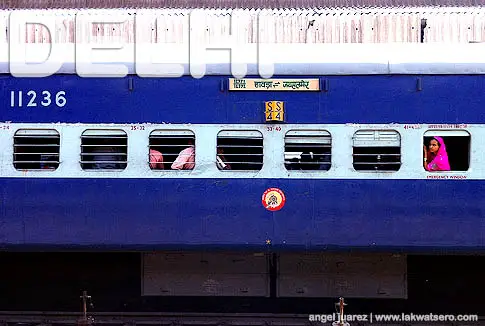 "I am sorry! I am traveling alone on a budget and I do not have the luxury of time for delays. I cannot defer my schedule because I only have seven days for this trip. I will just go back to the airport and look for cheap flights to Kathmandu. I will take my chances!", I straightly uttered in a confident voice in an effort to end our conversation.
I couldn't remember what happened afterwards, if there were more arguments or exchange of words. I just wanted to get out. Then, I found myself walking out of their office. Outside, I went straight to the rickshaw driver who was still waiting for me.
"Take me back to the New Delhi Airport Express station", I said.
But before we left, an old man appeared from nowhere and questioned me. He was talking a lot but I kept on saying 'no'. More men circled my rickshaw, they started conversing in Hindi.
"Just take me to the New Delhi Station", I pleaded.
Then the guy whom I talked to inside the 'DTTDC' office approached the crowd and talked. The rickshaw started moving and to be sure, I said once more, "New Delhi Airport Express Station".
Scam Try #2
In less than ten minutes, we were back in railway station. I pulled 100 Rupees from my wallet and said, "Forty Rupees. Twenty going there and twenty going back."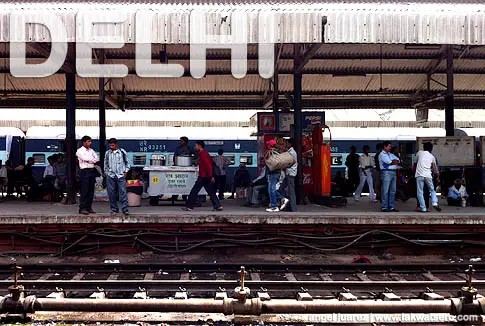 "No! No! No! I waited for you. Give me 700!", he said in a strong voice.
"Seven hundred!?! You've only waited for less than twenty minutes and now you are asking for 700?!", I exclaimed.
He insisted but I constantly and firmly refused. I sensed that he wouldn't let me go until I give him what he wanted so I tried to negotiate.
"I do not have enough money. That's why I did not avail of the tour company's offers. Get this 100 and let me go.", I said.
"Give me 700 now!", the driver insisted.
At that point, I didn't know what else to do. I just closed my eyes so tight that it wrinkled my forehead, then held the bridge of my nose with my right thumb and index fingers. I held it for a few seconds and when I opened my eyes, there were already bystanders watching us. An old guy talked to the driver in their language, '700' was what I only understood.
Shortly after, the driver faced me again and said, "Okay! Do not cry, give me that 100."
They thought I was crying when in fact I was just thinking and cooling off since I was already getting mad. Perhaps the crowd pitied me and convinced the driver to let me go which he did. He even assisted me to the entrance of the railway station building and told me where to buy the ticket.
While walking away, an old man whispered to me, "He's a cheater." Indeed, he was.
Scam Try #3
So I was back to the railway station building, smiling because my little drama worked. But when I thought everything was over, another guy cornered me, saying the same script of my friend that I met earlier on the same spot , asking for my ticket and other stuff. It was a deja vu, but at least I already knew. I ignored him and said that I've been there earlier but he kept on following me. Thank goodness, he left when I went to the second floor, but knowing that the Tourist Bureau is on the ground floor, I went down again and entered a waiting room full of locals.
Tired, I sat and rested on the floor for a while. I noticed that most eyes were on me. Then I spotted a foreign looking couple, who happened to be Portuguese, I approached them and asked if they know the Tourist Bureau but they were also looking for it. It was already past seven in the morning so I decided to ask around. I approached a uniformed guard who advised us to go to the other building adjoining platform 1. The Portuguese guy knew where it was so the three of us walked together.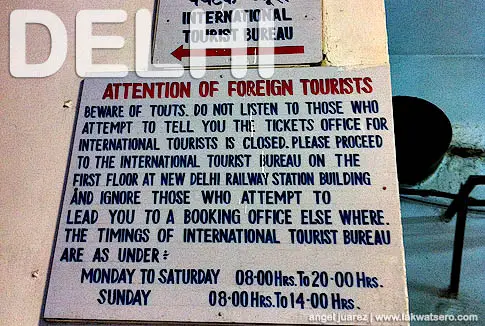 Scam Try #4
On the platform 1, another guy stopped us. We said we were going to the Tourist Bureau but the Portuguese couple were not going there for the tickets, they were just looking for a place or locker to leave their stuff. They were planning to tour New Delhi before they fly out to Lisbon early morning of the next day. They were instructed to go to a different place and they left me with the words 'goodbye' and 'good luck'.
I was alone again, on the hands of a guy that was giving me train schedules and rates. I suspected that he was another tout, but the guy was quick on holding my shoulder and walked me out of the station. I saw the signage of Tourist Bureau, I pointed it to him but he ignored me and kept walking, across the street from the station into another travel and tour company.
A fat Indian guy was on the table, smiling as I took the seat in front of his table. Aha! Another scam try!
The fat guy lines were familiar, it was as if a repeat of the one in DTTDC. But I was firm on saying that I wanted to leave on the same day to Gorakhpur. He asked for my passport and for whatever stupid reason, I handed it to him. I just let him talk, talk and talk. I rarely uttered a word. He was my new 'friend', as he claimed and I wanted to say , "you are not!"
To cut the story short, I presented my Kathmandu to Delhi Indigo Air ticket and told him that if he could not book me to a train to Gorakhpur, find a flight to Kathmandu with the same rate as my ticket, which was just 89 Singapore Dollars.
"I cannot match it my friend", he said while handing me back my passport.
So I stood up, thanked him and walked away.
Scam Try #5

I finally made it to the Tourist Information Bureau by 7:30 in the morning but it was still closed. There were already people queuing outside. In front of me in the queue were Malaysian couple Akram and Aliah, they too had encounters with touts before reaching the office.
While waiting for the bureau to open, another tout tried to mislead us. The tout said 'DTTDC' and when the Malaysians were about to leave, I whispered to Akram, "No! I was just there a while ago."
The two stopped and I advised them to stay on the queue and talk only to people inside the Tourist Information Bureau. The tout came back, but we just ignored him. Finally at 10 minutes before eight in the morning, the office opened.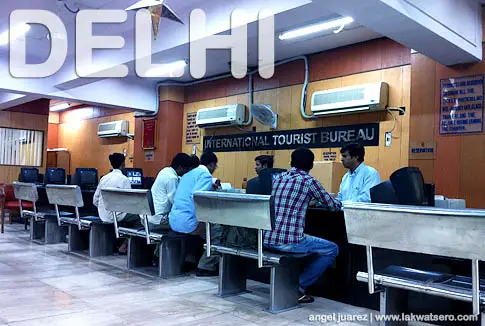 The International Tourist Bureau is the only office allowed to sell Tourist Quota tickets of Indian Railway. The Tourist Quota are seats reserved and intended for international tourists on some of the trips and can be purchased without advanced reservation. Their office is located on the second floor of the building adjoining platform 1. It is open everyday from 8AM to 5PM, Monday to Saturday and from 8AM to 2PM on Sunday.
Finally, A Train Ticket!
Service started at exactly 8AM and before 9AM, I already have a ticket from Old Delhi to Gorakhpur that leaves at 3:30PM. Upper bed sleeper class for only 292 Rupees. I also asked the agent to book me a Gorakhpur to Delhi six days after and it costs 322 Rupees, my total bill was 614 Rupees.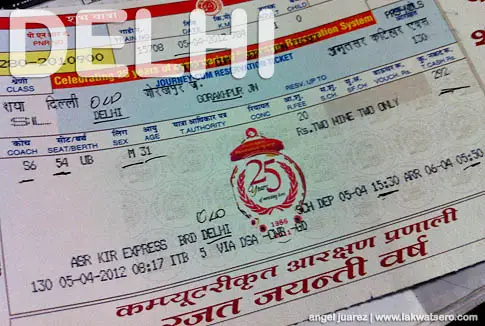 I bid Akram and Alliah goodbye. I still had six hours to waste but with all that happened to me that morning, I was already tired and afraid to roam around. I didn't want to stay and wait in the chaotic railway station, the only safe place I could think of was the New Delhi Airport Express Station, there is a coffee shop and a KFC there.
So I walked for approximately 600 meters towards the Airport Express Station. Surprisingly, no more tout approached me.
It was only 930AM, the KFC opens at 11AM. I found an empty bench and stayed there while waiting for the fast food store to open. Luckily, I made the free wifi work on my phone so I finally had a contact to the virtual world, my first since I arrived Delhi.
I enjoyed the hours in my sweet spot at the Airport Express Station. I felt safe and comfortable inside, away from the touts, the crowd and the chaos that welcomed me in the railway station. While at peace, I got to think clearly. With the wifi on, I was able to adjust my Kathmandu to Delhi Indigo Air ticket to the 12th for only 39 Singapore Dollars penalty. Taking a plane back from Kathmandu to Delhi would later prove to have been a very wise decision.
I went to KFC by 11AM and ordered a chicken sandwich and a frappe, 124 Rupees. I was not yet hungry so I took out the sandwich and just devoured the frappe.
The last thing I needed to do was to go back to the International Tourist Bureau and cancel my return journey. It was almost noon, the sun was up and the heat was on its peak. I made it to the Tourist Bureau, sweating but lucky that not a single tout approached me. I was able to cancel my return journey and was able to get a refund less the penalty.
Going to the Old Delhi Terminal, the locals told me to ride a rickshaw or just go there by foot. With my bad experience from a rickshaw earlier and the scorching midday heat, neither of the two sounded a good option. I consulted my GPS Map and noticed that the Chandni Chouk Station of Metro Express is right beside the Old Delhi Railway Station. I wonder why the locals never mentioned it to me when it looked like a better choice and I think it was. For 8 Rupees, I was able to reach the Old Delhi Railway Station in no time.
It was a very eventful day and I was thankful that I was still on schedule despite what happened. I sat on a bench amid the busy platform and waited for my train to arrive. I recalled the day and all that transpired and I smiled thinking of everything, somehow it spiced up my trip. I realized, I was indeed in India!
Fast Facts
The DTTDC
The 'DTTDC' I am referring in this is post is a private travel and tour company named 'Delhi Travel and Tours Development Corporation' and not the 'Delhi Tourism and Transportation Development Corporation', which is an official government body for overall development and promotion of Delhi as a tourist destination for Domestic and International tourists visiting India. They just happened to have the save acronym.
On Booking an Indian Railway Train Ticket
For information about Indian Railway, visit their official website at http://www.indianrail.gov.in/.
Booking a train ticket via the Indian Railway website requires Indian local mobile number.
If you do not have an Indian mobile number, it is still possible to book a ticket online via makemytrip.com and cleartrip.com. Andie Novidos of The Viewing Deck has a detailed instruction how. Here is the link to his post: India Train Booking Abroad Without Local Mobile Number.
Another option is to avail of Tourist Quota tickets. Tourist Quota tickets are seats or berths available only to foreign tourists and IndRail pass holders on more than 200 out of a total of 9,000 trains a day. The tickets are very limited but can be availed on short notice only from the International Tourist Bureau of Indian Railways. There are International Tourist Bureau located in New Delhi, Varanasi, Kolkata, Chennai, Agra-Cantt, Jaipur, Bangalore, Ahmedabad, Secunderabad, Jodhpur and Mumbai.
International Tourist Bureau in New Delhi is open everyday. 8AM to 5PM, Monday to Saturday and 8AM to 2PM on Sunday
International Tourist Bureau in New Delhi Railway Station is located on the Second Floor (though they call it First Floor) of the building adjoining platform 1, not on the building that one sees from the Metro Express Terminal
DO NOT ever entertain persons who say that the International Tourist Bureau is closed or has moved to different building, they are scams!