In our continuous pursuit for great diving spots in the Philippines, Ate Claudia and I set foot in the central Philippine province of Negros Oriental to dive in one of the infamous dive sites in the country – the Apo Island.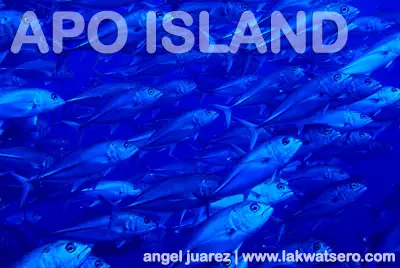 Straight from an hour flight from Manila, I arrived in Dumaguete City past eight in the morning and headed to the Scuba Ventures Dive Shop, just beside our hostel – Harold's Mansion in Hibbard Avenue to meet Ate Claudia, who arrived earlier from Cagayan de Oro City Cebu. It was my first time in the Negros Island, and I was so anxious to finally set my foot in Negros!
An hour and a half away (by land and by boat) from provincial capital Dumaguete City, Apo Island is an inhabited island under the jurisdiction of the town of Dauin. It has land area of approximately seven hectares and a population of less than a thousand. The water surrounding the island is an underwater paradise teeming with very lively and colorful marine life where almost everything seems over sized. A Marine Protected Area and considered as one of the world's best diving sites, the area has around ten dive sites.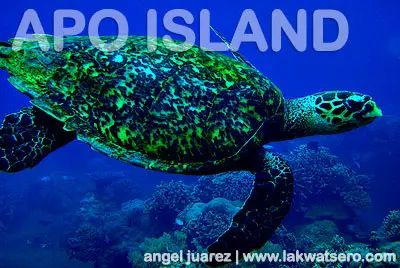 With the Scuba Ventures guys, we drove down to Barangay Matapay in Zamboanguita, the jump-off point to Apo Island, where we transferred to our dive boat. Ate Claudia and I were the only divers of Scuba Ventures that day, we were scheduled for three dives around the island.
It was already half past the hour of ten when we reached the first dive site – Coconut Point. Located in the northeast of the island, Coconut Point is home to colorful soft and hard corals, huge Angelfish, Groupers, Jacks, Wrasses, Snappers, Parrotfish, Triggersfish, Batfish, schools of Bigeye Jacks and Sea Turtle.
When we descended, Samuel, our Dive Master pointed a very huge Bluefin Jack from a distance. We were around ten meters away from it but it looked so huge that I estimated it to be around three to four feet. It was a very big welcome.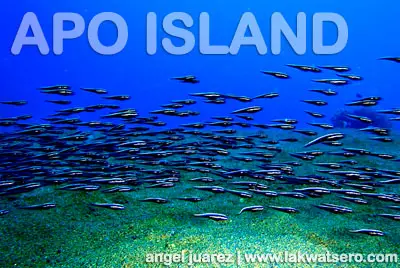 We dive deeper to an average of 20 meters, and as we went further, the sight became a 360 degree show of huge underwater species, schools of fishes, colorful corals and other marine life. It was so beautiful that I kept on saying wow to myself, I didn't even know where to look and focus my attention. A huge Humphead Wrasse here, a school of Jacks there, huge Parrotfish, Angelfish, Batfish, Triggerfish, Groupers, Turtle,  Flounder… they were everywhere. It was unbelievable underwater paradise.
We logged 53 minutes underwater, at 22.7 meters maximum depth. Lucky us, there was almost no current and the visibility was good.  We ascended with 45 bars of air left in my tank and had a surface interval just in time for lunch. The boat docked to a beach where we ate our food we bought from the city. Samuel collected P300 each from the divers as environmental fee for diving in the sanctuary.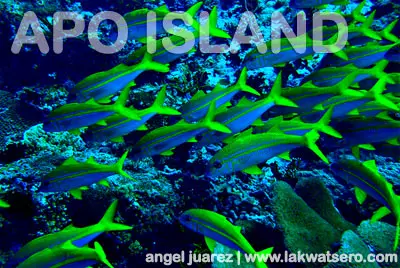 An hour after, the boat maneuvered to the east of the island for our next dive at Mamsa Point. Mamsa is a Visayan term for Mackerel or Jackfish. It was called such because it is home to schools of Jacks.
We descended to a coral area, around 10 meters in depth and drifted to the south where we saw schools of Yellow Tail Snappers, small Stripe Fish and the resident Jackfish. These were apart from the common tropical fishes, soft and hard corals and other underwater species in the area.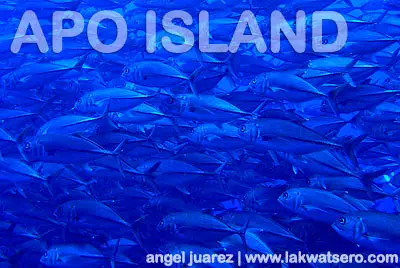 We had a great time as we followed the school of Jacks at 24.5 meters on mild current and good visibility, we forgot that we were not supposed to go deeper than our first dive of 22.7 meters. At 54 minutes underwater, even longer than the first dive, it was a bad profile. (No regrets though :)) I ascended with 40 bars left in my tank.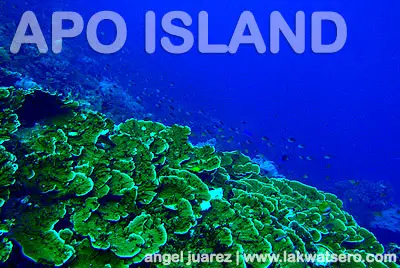 After a short nap during the surface interval, we went to our third and last dive site on the southeastern part of Apo Island – the Kan-uran Point. Kan-uran Point has a vast area of Cabbage, Staghorn, Brain and Soft corals. The coral area was so large with Groupers, Pufferfish, Snappers, Lizards, Wrasses and other tropical fishes roaming around. We also spotted a poisonous sea snake swimming very close to us. It was a short dive at 40 minutes on a maximum depth of 15.6 meters and 80 bars of air left.
And so our day ended filled with happy diving memories in Apo Island. That was three fun dives on one of the best diving locations I have experienced so far. It proved to us that indeed it is one of the world's bests.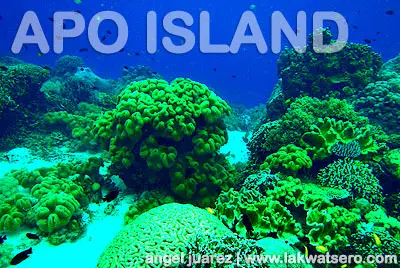 Local rate for diving in Apo Island and Dauin is P3000 for three dives, inclusive of equipment and transportation, but exclusive of foods.
Here area some of the dive operators in Dumaguete, Dauin and Apo Island: