Crossing the border from Bangkok, Thailand to Siem Reap, Cambodia has become legendary on its own. More and more backpackers are doing the challenge which is proven to be the cheapest yet adventurous and inconvenient way of crossing the border between the two countries.
Several guides have been published on the net including the very popular Seat 61 site which I found very useful. But it was Marcos' Ambot-ah and Doi's Travelling Feet that I thanked a lot to which I patterned my trail.
The Angkor Wat of Siem Reap has been on my bucket list for quite sometime now. And finally my time came to fulfill another dream. Two months after my land border crossing from India to Nepal, I was back again to the same kind of journey to different lands.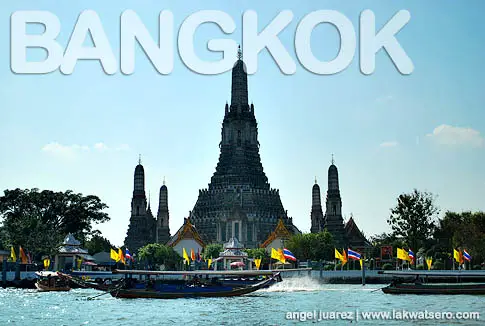 I armed myself with a lot of reading, research and preparation for this trip. With the route notoriously known for being another tout haven and for me who stupidly can't get rid of these touts, I was scared as hell. But I had to do it.
Upon reading Marcos' piece and Doi's recently published guide, I decided to take the "casino bus" to Aranyaprathet at Lumpini Park. Doi actually suggested that I take this bus which they say is the fastest that I can reach Aranyapratet with travel time of only 3 hours. I decided to scrap the government bus at Mo-Chit or the budget friendly and scenic train ride because my schedule was tight and I had to make the most of my short vacation, thanks to Independence Day holiday 🙂
I flew to Bangkok the night of June 8 and stayed at my favorite hostel in the city – Lub'D Silom, a merely fifteen minutes walk to Lumphini Park.
It was a short stay at Lub'd, merely six hours which is just enough to recharge my phone, get a good sleep and shower before heading to Cambodia. I left the hotel five minutes before five in the morning, it was still dark and Silom Road was still deserted. I walked for fifteen minutes to Lumphini Park at the northern end of Silom Road and found the casino bus parked at the southeast corner of the park along Thanon Witthayu, near the park's entrance and across the HSBC building. I approached a lady barker who was shouting in Thai. I presented to her my question written in their language and printed on a sheet of paper "Bus 99 to Aranyapathet?"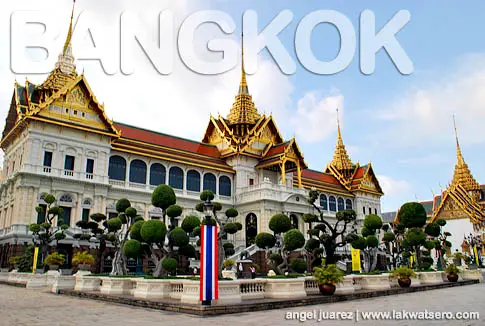 The lady nodded and pointed me to the double-deck bus parked on the street. I got in and sat on the upper deck. There were still few vacant seats but it was still early at 530 in the morning, so we waited. Shortly after, a lady occupied the seat behind me.
A few more minutes passed and I was surprised when the lady beside me uttered – "anong oras kaya aalis ito?" (what time will the bus leave), to which I replied – "6AM po" (at 6AM). Apparently, she is a Filipino, and she probably noticed my Philippine peso bills when I was organizing my stuff.
She was Annalyn, now based in Bangkok with his European husband. She was going to a casino in Poipet. Actually, everyone in the bus except me were all heading to casinos in Poipet, thus it was called a "casino bus". So these people need to travel for three hours just to play in the casinos since casino is not allowed in Thailand.
The bus departed at exactly six in the morning and made a short stop at a gas station out of the city, I paid 200 Baht for the fare. Annalyn and I talked almost in the entire duration of the trip. I can feel her longing to chat in Tagalog. I told her I am going to Siem Reap to see the Angkor Wat. She felt a bit ashamed that she haven't seen it yet and promised to check it out soon.
We reached the border at 0925H and we both walked a few meters to Thai Immigration. We cleared Thai and Cambodian Immigration swiftly without any hassle. Surprisingly, there was no queue on the Cambodian side. Annalyn left me after she got her stamp and by ten in the morning, I was already in the government free shuttle to Poipet parked just outside the Immigration. The bus waited for a few minutes until there were three of us aboard, it was still the low season for tourist crossing the border.
In a few minutes we were already in Poipet Tourist Passenger International Terminal. I proceeded to the counter and the personnel asked me if I will take a bus or a shared taxi. The bus, cheaper at $9, departs at 3:00PM and takes three hours to reach Siem Reap. The shared taxi costs $12 and leaves as soon as there are already four passengers, travel time is two hours. I chose the latter but I was the only passenger going to Siem Reap that time so I waited.
An hour and a half past, a group of Caucasian tourist heading to Siem Reap arrived, they were six. After their negotiations, the terminal staff called me to join the group in their mini van. We left at 11:40AM and reached Siem Reap after two hours of smooth and scenic travel from Poipet.
The minivan dropped us at their own stop so I needed to ride a motorbike for a dollar to Angkor Night Market in Sivatha Road where Ed and Doi reside.
It was a total of eight hours of land travel from Bangkok to Siem Reap in an unbelievably hassle-free border crossing. I over reacted too much and expected a lot of touts, but aside from some motorbike drivers in Cambodia side of the border that were offering their ride to the Tourist Transport Terminal, I was lucky that I encountered no scam. The ride, the transfer, the immigration and the whole process were all smooth and cheap, not that convenient but not too much of a hassle either.
I arrived Siem Reap a few hours before sun down. There were still some time for some activities and to roam around but I decided to rest and just stay at Ed and Doi's room. I reserved all the activities for the next day, it would be a busy one.
Bangkok to Siem Reap Border Crossing on a Nutshell
Ride a "casino bus" at Lumphini Park to Aranyapathet (3 hours / 200 Baht)
Walk to the Thai and Cambodian Immigration
Take the Cambodian government free shuttle (right beside the immigration office) to Poipet Tourist Passenger International Terminal
Ride a shared taxi to Siem Reap (2 hours / 12 US Dollars)
For more information on how to travel by land from Bangkok to Siem Reap and other relevant information, check out Marcos' post here and Doi's posts here.
Note: I lost my phone with all my border crossing photos so I just used my photos of Bangkok and Siem Reap 😛