It has been a year since Super Typhoon Yolanda (Haiyan) hit Central Philippines and devastated the Province of Leyte. One that was hardly hit was Tacloban City, which today is obviously already back on its feet. Like a rising phoenix, the once bustling metropolis is quickly rising from the debris of the tragic calamity.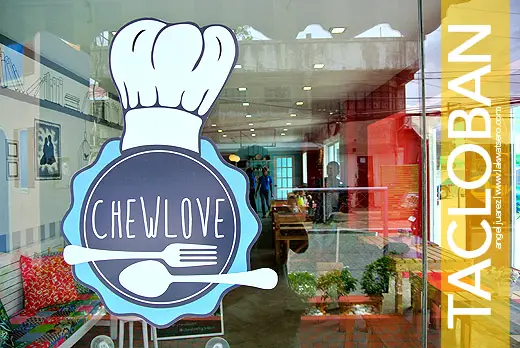 Tacloban City is currently in important phase of its history. The city is bouncing back and reinventing itself. Traces of devastation are almost gone, people's lives are almost back to normal, and most businesses are back to operation including the home-grown and well-loved restaurants of the city.
So if you happen to visit or revisit Tacloban City, here's a list of cool restaurants and cafés that I have so far tried, you may want to check them out. 🙂
Sunzibar
I do not need to check out all the restaurants in the city to hail Sunzibar's Rum Ribs as the best in town because if there's any out there that is better then it wouldn't be so hard to know. Well, there is no other spot in the city that is known for ribs than Sunzibar!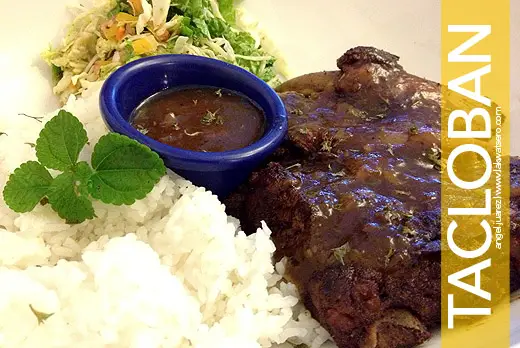 This homegrown Mexican restaurant is almost synonymous to ribs! Not just simply ribs but great ribs – the real fall-off-the-bone type, oozing with flavor and spices.
I have serious reasons to believe that Sunzibar is one of the culinary treasures of Tacloban and is enough reason to fall in love with the city. Their specialty Rum Ribs is always a best seller, and for only P385, it comes with two glasses of iced tea, salad and rice! Great deal!
What more do they offer? House Salad (P64), Pasta Carbonara (P118), Chicken Pesto Pasta (P120), Tuna Pesto Pasta (P115), Hot Beef Nachos (P143), Bangus with Hummus (P142) or the spicy version of their ribs called Diablo (P383). Sunzibar is open from Monday to Saturday, 10AM to 9PM.
Chew Love Restaurant
This cool and new restaurant has a different take on our favorite food. They bravely reinvented the traditional to come up with interesting and unique offering. Mind you, they are good! Really good!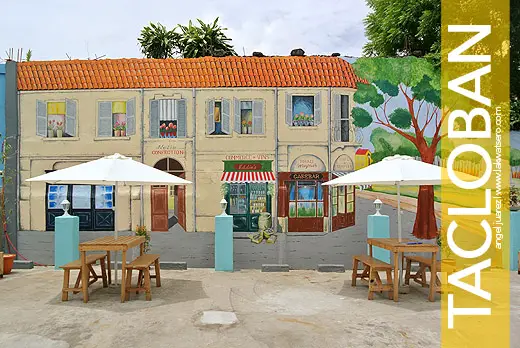 You know it is a cool restaurant if they have witty names for their offerings such as Love at Pork Sight (P160), Pork-ever Love (P160), Crazy Pork You (P150), Beef-areful With My Heart (P180), Steak to One (P140), Cheeky Feeling (P155), Fish be With You (P170) or Shroomantic Soup (P70). Their drinks are uniquely made and named too like the Gingerly Yours – a refreshing lemonade infused with ginger, Mexican turnip, carrot and chayote; and Bluer than Blue – a refreshing blue lemonade mixed with fresh oranges. They also have sandwiches, burgers, sides and more!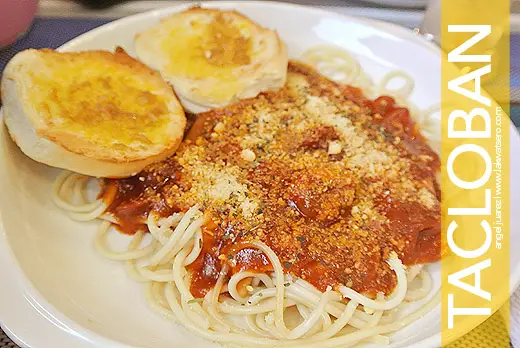 My personal favorite? It's the sweet and sour and mildly spicy Hungarian Spag-hottie (P155), the pink lemonade with bits of fresh guavas they call Pretty in Pink (P110/pitcher) and the Gold Digger Halo-Halo (P80). Why Gold Digger? Well it is for you to find out! 🙂
Chew Love Restaurant is open from Monday to Saturday, 11AM to 8:30PM.
Giuseppe Ristorante
Located along the busy Avenida Veteranos, Giuseppe Ristorante is one of Tacloban's iconic restaurants. This restaurant specializes in everything Italian, serving fresh, flavorful dishes prepared from the finest ingredients sourced from around the world. From their fresh scallops grown in the cold waters off the coast of Guiuan to the extra virgin oil imported from Southern Italy, and even to their special home-made pastas.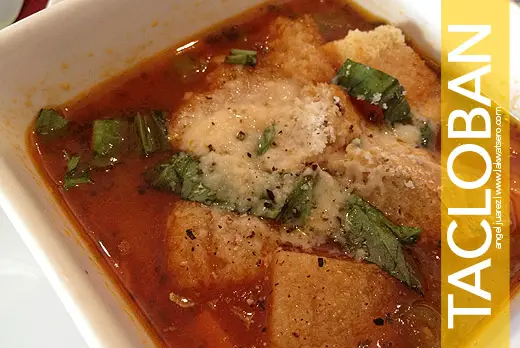 Some of their specialties and best sellers are the Beef Baby Back Ribs, Chicken Parmigiana, Spaghetti Marinara, Grilled Pork, Specialty Pastas and of course the charcoal-baked Pizzas. My personal favorite – their Minstrel Soup and variety of cakes and other desserts!
Giuseppe Ristorante is open daily from 10AM to 9PM, they have free wifi!
Jose Karlo Coffee
An icon and a landmark, that is Jose Karlo Coffee!
Situated along Juan Luna Street, just across from Sto. Niño Church of Tacloban, this coffee shop has stood the test of time. Established in 2002, the coffee shop suffered the brunt of Typhoon Yolanda but with the help of its kindhearted friends, it reopened in early this year.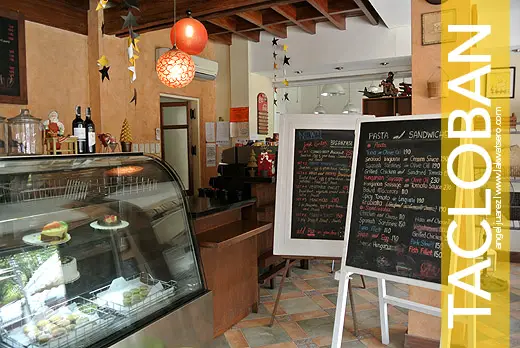 One goes here for its specialty cakes, drinks and cool ambiance. Must try are the Cheesecake and Carrot Cake, they are really good! They also serve pasta and other dishes but it is only the Hungarian Sausage in Olive Oil Pasta that I have tried so far and I find it quite peculiar yet expensive. The other items in the menu looks promising though, specially the Baked Macaroni, Pancakes, Sandwiches and the mouthwatering cakes that has earned a lot of good reviews. I will definitely go back here when I return to Tacloban City so you must give it a try too. 🙂
Jose Karlo Coffee is open daily from 9AM to 12MN, wifi is free!
Libro Atbp. Bookstore and Coffeeshop
Books, cakes, couch and coffee! Perfect combination! Yeah! And that synergy makes Libro Café special!
Located in the corner of Gomez and Sto. Niño streets, Libro Café is one of my favorite places to unwind in the downtown. The cafe has a homey ambiance that will definitely make you wanna stay long. From the name itself, the shop is full of books and other reading materials that you can borrow for free while enjoying their affordable drinks, cakes and other pastries.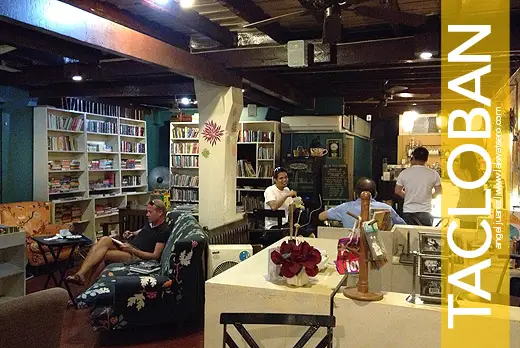 The cafe has a homey ambiance that will definitely make you wanna stay long. From the name itself, the shop is full of books and other reading materials that you can borrow for free while enjoying their affordable drinks, cakes and other pastries. Their best sellers include their own version of Cookie Monster Chocolate Cake, Chocolate Cheesecake Brownies, Fruit Shakes and other coffee-based drinks. Trust me, you will love this place!
Libro is open daily from 9AM to 12MN. I am hopeful that they offer free wifi when I return. 🙂
K Patisserie
Moveover Sonja, K Patisserie's cupcakes are equally good but way cheaper!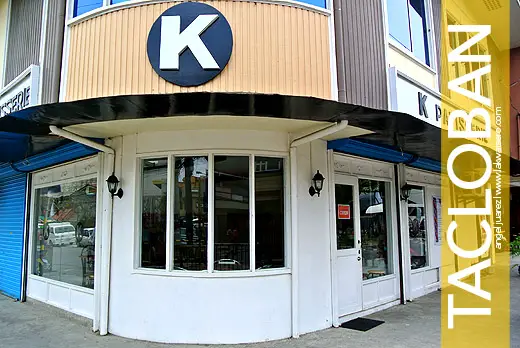 K Patisserie is a cake shop, tea shop and snack bar all in the same place, their specialty is cupcake which they are proud to be baked from scratch. Their best sellers include Mango Graham, Red Velvet, Oreos and Cream, and Cheesy Ube among others, but my personal favorite are the Choco Yema and Double Chocolate Chip.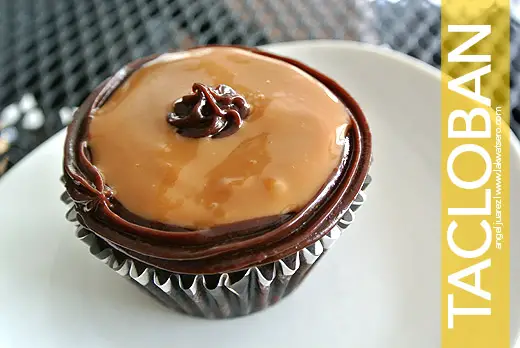 But K Patisserie is more than cupcakes, they also serve Burgers, Sandwiches, Pasta, Breakfast Meals and more! If you are a Burger fanatic, you will love the place because you can customize your own burger here.
K Patisserie is located on the corner of Gomez and Paterno Streets, open daily from 9AM to 8PM.