A journey will not be complete without venturing into culinary adventure, for me it is an integral part of every trip. For some, the food experience breaks or makes the entire journey. For others, it defines the place. For me, it casts an unforgettable impression to a destination.
For a beautiful place like El Nido, food can serve as icing on the cake if you know where to best satisfy your palate. Well, taste is subjective, but with lots of restaurants and hole in the wall eateries in town, you will definitely find a dining spot that will complement your amazing experience in the tropical paradise.
Let me give you some choices. 🙂
Bacuit Grill
My go to place for affordable and good food with a view. I love their pasta, specially the Shrimp Pasta and the Carbonarra, well the taste of butter (or is it a margarine) is quite strong but I like it just the same. They have a pretty big order, each serving can be shared by two. My friends say that the crab meal is worth it but my personal favorite is the Shrimp Spaghetti. Be there before sundown, they have an amazing view of Bacuit Bay sunset. Budget wise, your P150 can already satisfy your cravings here.
Trattoria Altrove
You can never go wrong in Trattoria Altrove, a relatively new player in town but definitely one of, if not the best restaurant in El Nido. They specialize in pasta, pizza, gelato and everything Italian. Pasta serving is quite small and priced above average, but the flavorful and well presented serving justify it. The thin crust pizza is great, baked in traditional brick oven. Ambiance is quite good too, the humble interior of the restaurant is beautifully designed. No advance reservation and the restaurant can get really full at peak times, but if you are not too hungry I believe it is worth the wait. Service is also good! Shell out at least P300 for a dining experience here.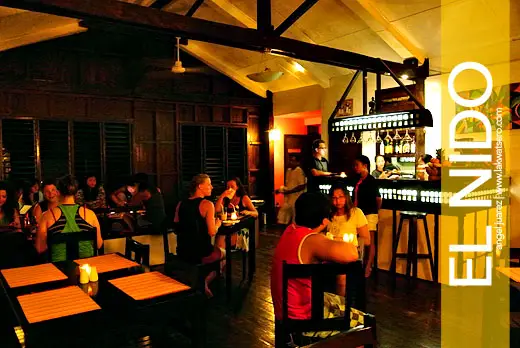 Seaslug Beach Bar and Resto
For an al fresco seafood dining experience along the beach, Sea Slug Beach Bar and Resto is the place to go. They have wide selection of menu items – seafoods, grilled, pasta, sandwiches and myriad of drinks and beverage choices. The food may not be the best in the island, but with live band performance every night and really nice atmosphere, Seaslug is always a big hit! Expect to shell out at least P200 for a food and drink combination.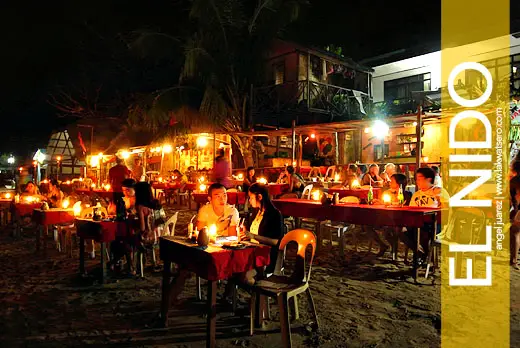 Art Café Restaurant
Already an icon of El Nido, Art Café offers variety of food choices – seafoods, Filipino, Italian, American, European and other international meals. Servings are quite huge and priced reasonably. Most customers rave about their pizza, which I find just average. What I like is their Tomato Pesto on Pasta, well that's because I am a fan of both pesto and tomato based dishes. The atmosphere is good as it is housed on the second floor of El Nido Botique and Art Café, overlooking the Bacuit Bay. At least P200 is a good budget here.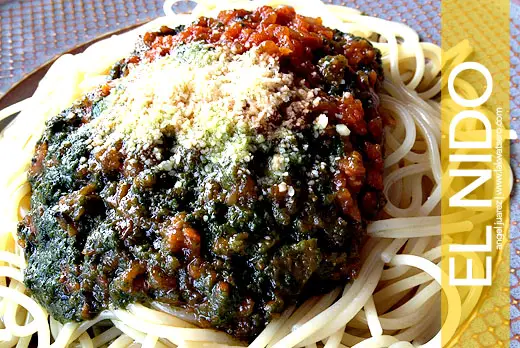 Balay Tubay Bistro
If you are into good music and dining experience, then Balay Tubay is for you. The place itself is a gallery that features music and artworks of local artists, the smell is a bit old book though. Their specialties include seafoods (don't miss their "catch-of-the-day!"), steaks and pizza. We had salad and pizza here, and I was told that it was Noel Cabangon who prepared both! How about that? 🙂 Budget wise, hmm you're P250 can give you food and drink and a good music.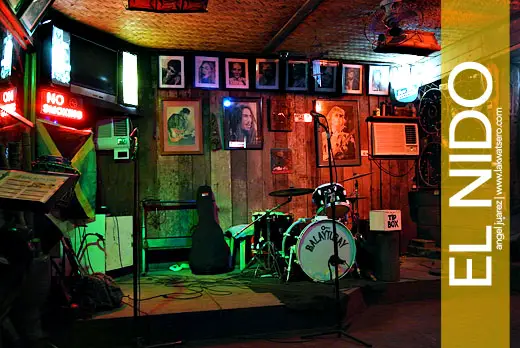 The Alternative Restaurant
The restaurant of the famous backpacker hotel, The Alternative Restaurant is open for everyone. They offer mostly European and  Filipino cuisines with emphasis on vegetarian and healthy options. Experience barefoot dining, with a great view of Bacuit Bay, great atmosphere and equally good food in the Alternative Restaurant. My personal favorite are the sausages! 🙂 Budget, at least P200!
And more…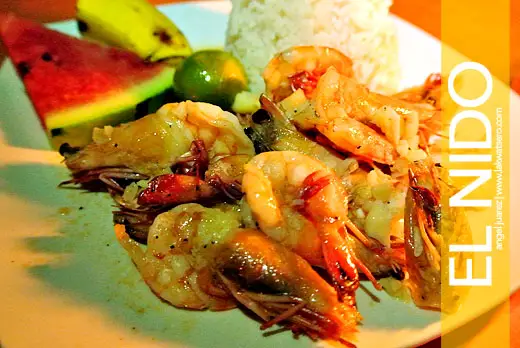 Squidos
I always passed by this restaurant when I am in town but I never get a chance to try Squidos. Well there was this one time that I almost, but we were in a hurry and there were a lot of guests waiting to be seated. The restaurant serves mostly seafood and other Filipino and International dishes. I heard a lot of good feedback about their seafood curry, seafood pasta, buttered crab, stuffed squid and calamares. I'll make sure to give this restaurant a try next time! 🙂
Squidos Hilltop Bar
I haven't really been here but my friends say that the sunset view is the best! Well, this restaurant sits on top of a hill, a merely 10-minute trike ride from the town proper. Most guests go here for the P250 buffet, which they say is worth it! Hmm, will put this in my bucket list on my return.
El Nido Corner Restaurant
Nestled literally in the corner, at the northern edge of the beach of El Nido town, beside Bacuit Grill. This is another restaurant with a view, serving mostly European and other International cuisines. There are mixed feedback about El Nido Corner but I'll make sure to experience it first hand when I come back to El Nido.
Well, if these restaurants don't satisfy you, there are more out there. From small time eateries in the side streets to high end restaurants in the exclusive resorts, El Nido has something to offer for everyone. If you have a discovery or recommendation, please give us a heads up.
Enjoy your food trip in El Nido! 🙂