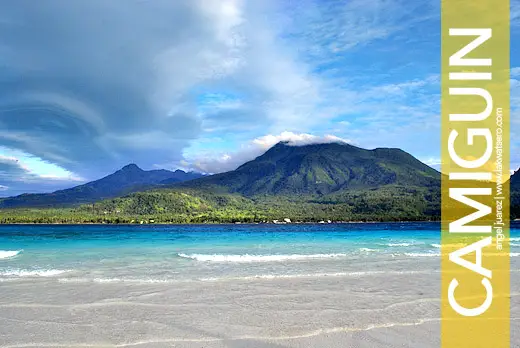 Contrary to common impression, the main island of Camiguin has no white sand beach. The island is an outcome of series of volcanic eruptions long time ago that volcanic rocks and sand make up its coast. The picture of the white beach we usually see in postcards is the White Sandbar northwest of the island, approximately fifteen minutes by boat.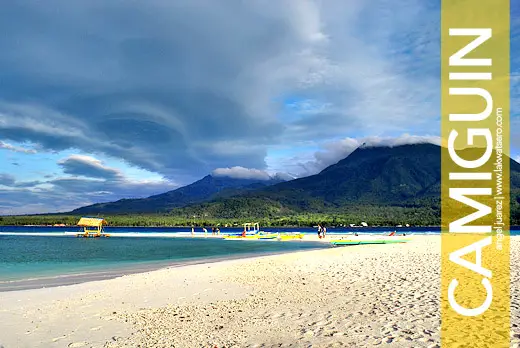 Situated off the coast of the town of Mambajao, northwest of mainland Camiguin, the uninhabited White Sandbar offers imposing beauty with its white sand, surrounding emerald and blue water, and the towering Old Vulcan and Mt. Hibok-Hibok on the backdrop. It is generally flat, shadeless and submerges substantially during high tide, its shape and size are constantly changing due to sea current and tidal movements. Needless to say, it is one of the most photographed spots in all of Camiguin.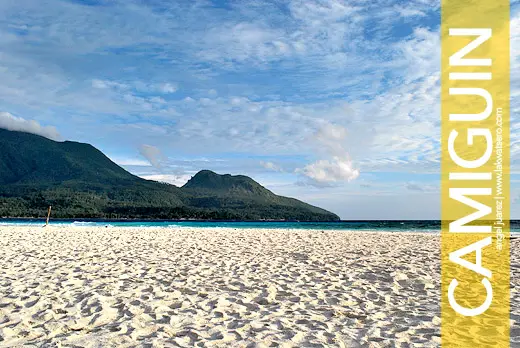 But the postcard perfect beauty of White Sandbar is not only above the surface because deep down the water is a colorfull world teeming with marine life. Scuba divers and snorkelers frequent the site to witness the variety of soft and hard corals that carpet the seabed and the busy underwater traffic of tropical fishes. The site is generally unspoiled and unexploited, and diveable all year round.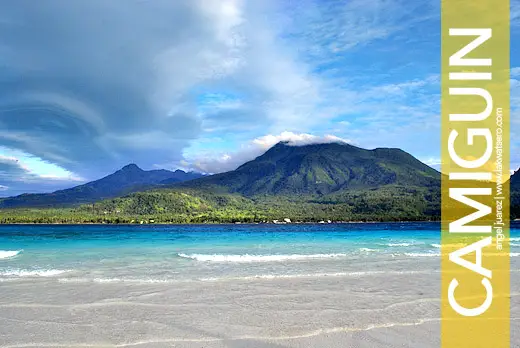 Although the sandbar is frequented by tourists during broad daylight, it is also great to see during sunrise and even sunset. Note that it has no shade, so get ready to be soaked in direct sunlight when going there specially at midday. Small outrigger boats that can fit up to four persons can be chartered to get to the sandbar for as low as P300 round trip, the boats are docked in the shore of Barangay Yumbing or Barangay Agoho.
Cliche as it is, but you have never been to Camiguin if you have not visited the White Sandbar, so make sure not to miss this spot. For more information about Camiguin, check out Lakwatsero's Camiguin Travel Guide.
(Visited 373 times, 2 visits today)