Nested at the foot of Mount Banahaw is the town of Cavinti in the province of Laguna, home to at least five waterfalls including perhaps the most famous in the country – Pagsanjan Falls or Magdapio Falls or Cavinti Falls.
Magdapio Falls (or Cavinti Falls or Pagsanjan if you are from Pagsanjan) is the third and lowest level of the three-tier waterfalls along Cavinti River in Barangay Anglas and Tibatib, Cavinti, Laguna.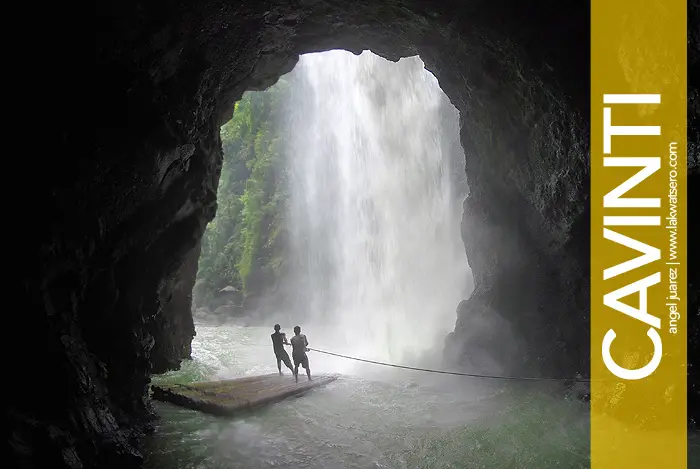 The water drops from a height of 120 meters against a cave and into a deep natural pool. The cave can be reached by riding a bamboo raft, rate is on tip basis. With its grandeur, Magdapio Falls or Pagsanjan Falls as taught to us in school, is worthy of its space in our textbooks.
It is popularly called as Pagsanjan Falls because the usual approach to this cascade is by riding a boat and shooting the rapids upstream from the town of Pagsanjan. This journey may be easy but costly at around P1,200 per person excluding tips. There is a cheaper way of experiencing it however and that is by taking the foot trail from Pueblo El Salvador in the town of Cavinti. The trail from Pueblo El Salvador is around 600 meters drop via steps and vertical rappelling that takes at least 20 minutes to complete.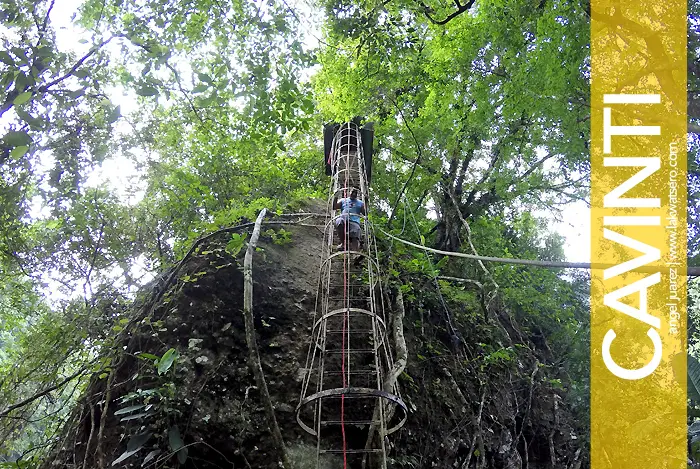 Managed by the local government of Cavinti, Pueblo El Salvador charges only P270 per person for entrance fee; use of harness, helmet and life vest; and guide fee. You have an option to ride the boat going back for shooting the rapids experience for additional P360 per person or take the same trail back to Pueblo El Salvador.
Not far from Magdapio Falls is a smaller offbeat waterfalls named Kipot, located upstream from the river junction of Cavinti River.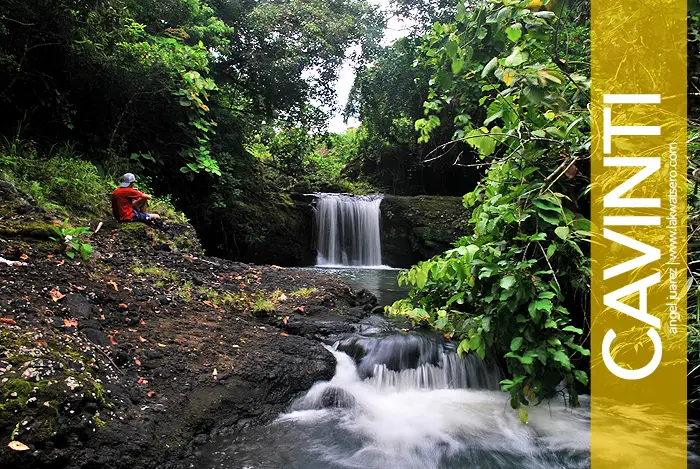 Kipot Falls is approximately 12 feet high with deep and huge circular pool. The trailhead is from the main road approximately one kilometer from the junction of Pueblo El Salvador and Magdapio Falls (Pagsanjan Falls). From there, the falls is around 30 minutes of trekking.
It is generally offbeat and overshadowed by Magdapio Falls so the trail is not well established. Keep watch of snakes and rare species of giant spiders on the trail.
Here's a rough day itinerary to Magdapio Falls (Pagsanjan Falls) via Pueblo El Salvador Trail and Kipot Falls.
Itinerary
0330H: Assembly in LRT Buendia
0400H: Buendia to Santa Cruz, Laguna (P140)
0545H: Arrival in Pagsawitan, Santa Cruz / Jeep to Cavinti (P24)
0630H: Arrival in Cavinti-Magdapio Falls Junction / Breakfast
0730H: Trike to Pueblo El Salvador (P100/trike special trip or P20/person for public sharing)
0745H: Arrival in Pueblo El Salvador / Registration (P270/person)
0800H: Start Trek
0830H: Magdapio Falls (Pagsanjan Falls)
1000H: Trek back (or shooting the rapids back for additional P360/person)
1100H: Back to Pueblo El Salvador / Walk to Kipot Trailhead
1130H: Start of trek to Kipot Falls
1215H: Kipot Falls
1300H: Return trek
1345H: Back at main road / trike to Cavinti Poblacion – Sta. Cruz Jeep Terminal (P15/person)
1430H: Cavinti / ride jeep to Sta. Cruz
1500H: Cavinti to Sta. Cruz (P24)
1530H: Arrival at Sta. Cruz / Foodtrip at Ted's in Duhat (ride Pila bound jeep)
1730H: Sta. Cruz to Buendia (P132)
Budget: ~P1000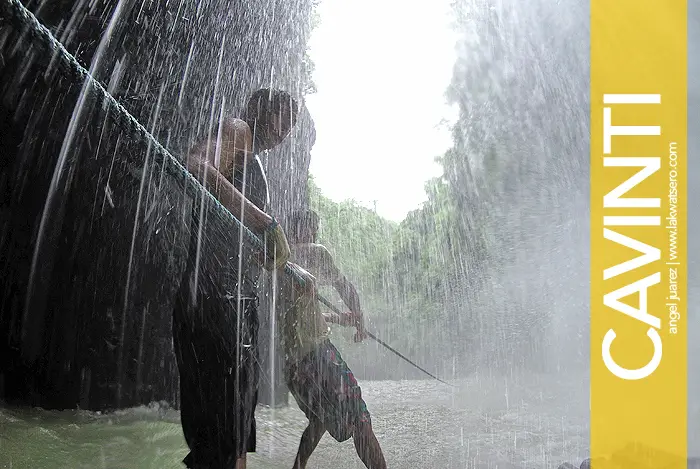 How to Get to Pueblo El Salvador
From Manila, catch a Santa Cruz bound bus (P140/2 hours) at Buendia or Cubao and get off at Santa Cruz. Transfer to jeep (P24/30 minutes) going to Cavinti and ask the driver to drop you at Magdapio Falls junction. From there you can take a tricycle (P100 per trike good for four pax) to Pueblo El Salvador.
Other Tips
First trip of Buendia to Sta. Cruz is 4AM
First trip of Sta. Cruz to Lucban via Cavinti is 6AM
Last trip of Sta. Cruz to Buendia is 8PM
No guide in Kipot Falls, just follow the trail from the main road (near a waiting shed approximately one kilometer from Pueblo El Salvador access road) to the river then go upstream
Rates (guide included)
Package A – P50/person
– Trekking to View Deck
Package B – P270/person
– Trekking and rappelling (includes helmet and harness)
– Raft ride to main falls
Package C – P630/person
– Trekking and rappelling (includes helmet and harness)
– Raft ride to main falls
– Boat ride exit (shooting the rapids) to Pagsanjan, Laguna