Standing proud on the northern tip of the island town of Capul, Northern Samar is the lonely sentinel of San Bernardino Strait, the Faro de Isla Capul or Capul Island Lighthouse, one of the few remaining operational Spanish Era lighthouses in the country.
Situated on hill known as Titoog Point of Barangay San Luis, the lighthouse of Capul Island is a towering 39 feet conical structure made up of granite. It was constructed in 1893 and partially completed in 1896 when it was first lit. The base is in a ruined keeper's house 110 feet above sea level. It has a white conical tower with red markings and focal plane(height of the lamp above sea level) of 142 feet or 43.3 meters that flashes white light every 17 seconds and can be seen within 18 miles radius.
The lighthouse is still being utilized by the Philippine Coast Guard. A room in the keeper's house serves as their sleeping quarter and the whole compound is their home. The walls of keeper's house are similar to the keeper's house of Palaui Lighthouse while the dilapidated rooms and roofs are pictures of Capones'. It is easily accessible from the Poblacion via the cemented road that leads direct to it. One can ride a habal-habal (motorbikes) to go there, rate is P200 round trip from the Poblacion.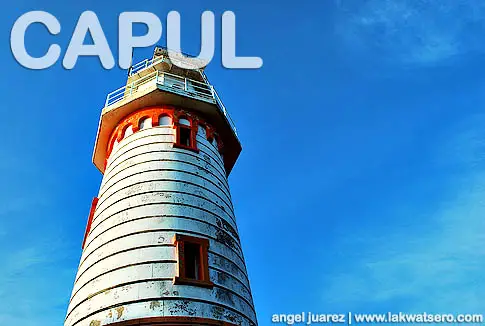 Faro de Isla Capul is a national gem and heritage, worthy of distinction for its historical and architectural importance. A silent witness to the evolving times and rich history of the Capul Island. It is looking forward for official recognition and landmarking from the National Historical Commission which is tentatively slated on July 30, 2012.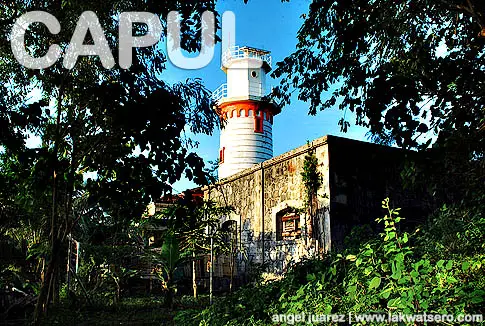 +++
How to Go to Capul Island
From Allen, Samar: A boat departs from Looc every 12 noon daily, fare is P50.00. From Dapdap, a boat leaves in the afternoon on Mondays, Wednesdays, Fridays and Weekends, fare is also P50.00. Travel time is 30-45 minutes. Alternatively, if you miss the boat, you can go to the town of Victoria and ride a public boat to San Antonio Island (P40 / 30 minutes ride), then ride a habal-habal to Sitio Dalupirit (P35 / 10 minutes ride), and charter a boat going to Capul Island (P300 / 30 minutes ride).
From Matnog, Sorsogon: A boat departs daily from Matnog at 11 or 12 noon. The boat is not in the main ferry terminal but on the beach on the side of the port, near the bus terminal, fare is P100 and travel time is 45 minutes to an hour.