When thinking of waterfalls to visit on a day tour from Manila, the province of Laguna will surely make the cut. This without a doubt since there are lots of waterfalls in the province that are all within reach from the Metropolis.
Pagsanjan Falls in Cavinti will always come to mind since it is one of the tourist spots that were developed and marketed for tourists ahead of the others. It was highlighted to us in our formative years in school as I remember. There is also the Taytay Falls of Majayjay, another famous one which may be smaller in size but beautiful and mesmerizing just the same.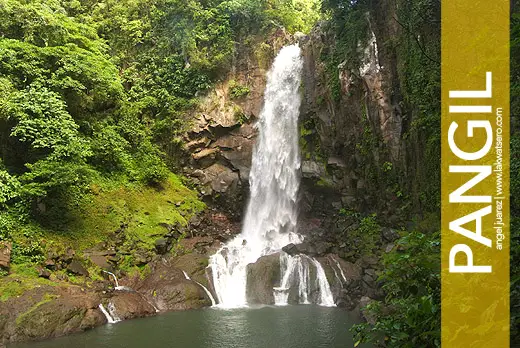 Aside from the two mentioned above, very few knows any other waterfalls in Laguna when in fact there are more. The lesser known Sampaloc, Lanzones, Batya-Batya and Buruwisan Falls of Siniloan; Ambon-Ambon Falls of Pangil; and Bunga Falls of Nagcarlan among others. Regretably, due to its proximity to Manila, we often overlook the place. We tend to explore and discover offbeat waterfalls and other spots in far flung provinces without knowing that Laguna hides more secrets and surprises. Surprises like the majestic Buntot Palos Falls!
Situated in Laguna's eastern town of Pangil, in the area known as Manila's backdoor to Southern Tagalog, Buntot Palos Falls is a wonder waiting to breakout. Known to locals as Hidden Falls as it is hidden in the forested area of the southern range of Sierra Madre, Buntot Palos is translated as "Eel's Tail". Why it is called such? No one really knows.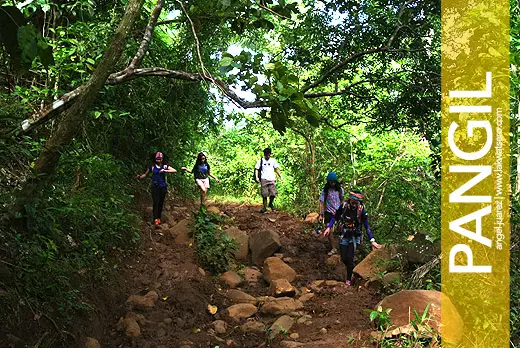 One of the grandest and highest waterfalls in the country, Buntot Palos Falls stands at 80 meters, with its water coming from the upper slope of Sierra Madre. The waters cascade against geometrically beautiful wall, dropping to layers of huge and hard rocks before flowing into a deep natural basin below and into the Pangil River that ends in Laguna Lake.
But unlike the other waterfalls of Laguna, Buntos Palos is one of the toughest to reach because it requires at least two hours of trekking from its two entry points – Pangil EcoPark and Barangay Balian. The muddy and rocky trail ascends to approximately 400 meters into a forest area where only horses could traverse on rainy days. The two-hour trek is relatively easy and non-technical, yet a truly rewarding one. A real trekker's treat!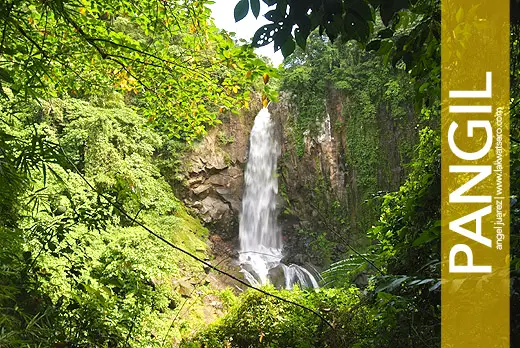 The waterfalls may look small in stills but don't be fooled because it is a grand, massive and raging one. If you are brave enough, try crossing the raging waters to the huge boulders where the waters plunge. But please do it with extra care and with the aid of your guide. There are also small basins tucked in the wall below the rock layers but going there means swimming in the deep natural pool. For added fun, try jumping off the waterfall's wall into the deep side of the pool! 🙂
So if you are looking for a day-trek out of Manila, consider Buntot Palos Falls and be awed by its impressive grandeur.
How to Get There
To go there via public transport from Manila, you can either take take the Sta. Cruz (Laguna) bound bus from Cubao or Pasay, or the Infanta bound bus in Legarda. The former goes to SLEX while the latter traverses the backdoor that passes the towns of Rizal Province.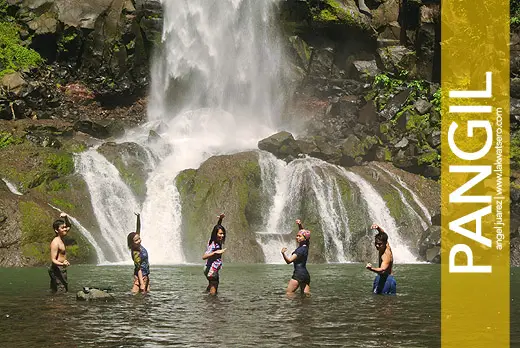 If you are taking the Sta. Cruz bound bus, get off at end terminal, transfer to a jeepney bound for Siniloan and get off at Barangay Balian Outpost. Register at the outpost and ask for a guide. Guide fee is at P300 for a group of at most five people, no registration fee but they ask for donation. Alternatively, you may also register and get a guide at Pangil EcoPark at P100 per person. Ideal time is to leave Manila at 4Am or 5AM to start the trek on or before 8AM, while the sun is not too harsh. Expect to shell out not more than P1000 for this day trek.