If there's one food that will always be remembered for Philippine Airlines, I am quite sure that it will be the famous Arroz Caldo of Mabuhay Lounge.
This traditional Filipino food is simple and yet it became one of the airline's signatures. Its simplicity is perhaps its best secret and the reason why it remains on their menu for years, consistently as their most sought after offering.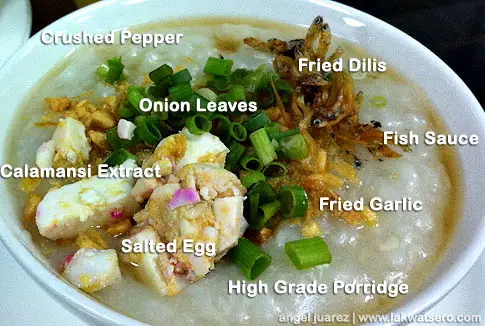 It is no different from other Arroz Caldo on the streets or perhaps in the high end restaurants. It is so simple that you can recreate it at home anytime – the base high grade rice porridge with diced chicken which you can top with chopped onion leaves, fried garlic and dilis, salted egg, crushed pepper and drops of fish sauce and calamansi extract. What makes it unique though is that it is always cooked with passion and served with love in a recipe perfected by time to be one of the legacies of the airline.
I am sure that the Arroz Caldo of PAL will always and forever be served in their lounge and will always and forever be a big hit because more than its exceptional appeal to every palate, it defines not only PAL but the country and the Filipino people – simple pero rock!