I have always wanted to be a triathlete, racing with others on a swim, bike and run events, and competing with same minded individuals and myself on a great test of endurance and strength. I dreamed of being called an "iron man"!
But I am not a good swimmer and my confidence on swimming in an open water is unbelievably low. With that, I cannot possibly join a triathlon unless it is a group competition, a relay type where I will be in the run or bike leg, not the real thing 🙁
So I dropped the idea of being a triathlete for now (or perhaps forever) and settled on the idea of doing just the bike and run stuff – duathlon it is! Confident that I can do it considering that I already joined a couple of running events in the past and I occasionally ride my bike, not just regular rides but mostly epic ones.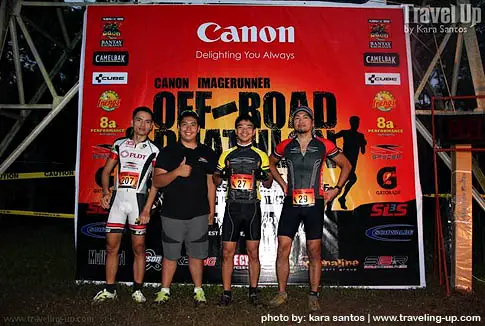 But my busy schedule pushed back my little dream for some time, I guess it wasn't my priority or perhaps I was just scared. Not until my friend Francis of Spyder Philippines offered one of their free slots to me for the Canon Image Runner Offroad Duathlon, a six-kilometer run,  25-kilometer bike and 3.5-kilometer run on the trails of La Mesa Forest Reserve.
Saturday, October 12, the day before the event, Typhoon Santi crossed the island of Luzon. Metro Manila was placed on storm signal number 2 and as expected it rained the whole day. I was expecting that the event will be cancelled and rescheduled. I have experienced biking in La Mesa Forest Reserve in the previous year and it also rained the day before. It was muddy and the trail was unforgiving, a pain in the ass, literally and figuratively.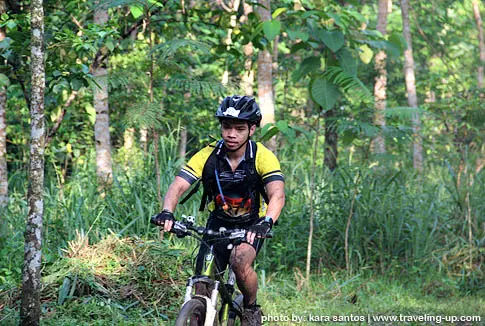 But the event pushed through. Bannering the Team Spyder jersey, I biked all the way to La Mesa Forest Reserve early for my first duathlon, excited and a bit afraid but destined to finish the course. My goal is to just finish the race.
At daybreak, there was no rain, a promise of a clear sky. Hundreds of duathletes showed up evidently excited as I was. And at six in the morning, the organizers signaled the start of the race. I excitedly crossed the starting line and ran along with others on a soft trail. The first few minutes were easy, but then after a while my stomach felt different. I was full and it made running quite difficult. I slowed a bit to regain my composure and after around 40 minutes I reached the transition area. Fellow Team Spyder duathlete Art of outsideslacker.com was already there, "take it easy, finish strong", was his very good advice to me.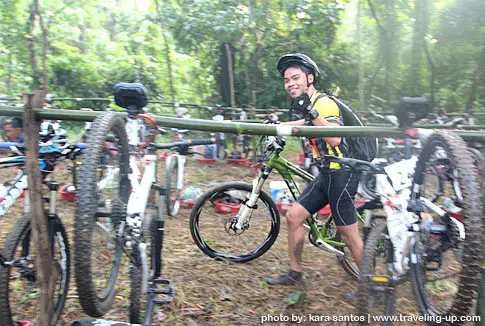 After a breather I decided to go ahead of Art. Time is of the essence with me because I was quite slow, I had to keep on moving, albeit slowly, to be able to finish the race. As expected, it was a tough course made even tougher by the trail condition. Some parts were impossible to bike, so there were instances that I (and even other bikers) had to get off the saddle and just walk the bike. My two legs cramped and gave up several times so I had to stop every now and then to rest my legs. There were times that they hurt intensely that I almost gave up but I was determined to finish the course. I saw Art sped away of me. I, on the other hand, took it slowly. More than two hours passed and I was already on the final few meters of the bike course, Art already finished the race.
The last leg of the race was a real test of strength, determination and endurance, for me it was the toughest leg of the race. Halfway the 3.5 kilometer muddy trail, I tripped over a tree trunk and my left leg cramped again. It was the worst cramp I ever experience in my life, I even saw the muscles bulged intensely that I got afraid. There were no other runners around, no one to ask for help so I just rested for a few minutes and massaged my leg. Eventually, I was able to stand on my own and walk slowly. Thankfully, the pain became tolerable (or perhaps I became immune with it) and I was able to go back to running and brisk walking. Three hours and forty seven minutes after the gun start, I finally crossed the finish line. My legs were trembling!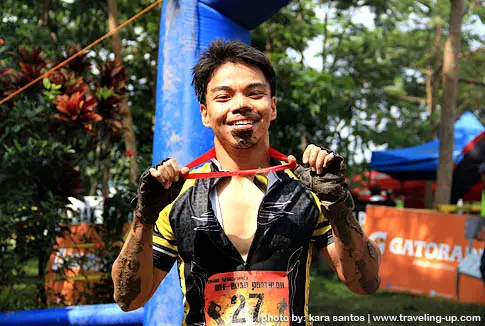 I was thankful that I was able to finish the entire course of my first duathlon when not everyone was able to. My sweet rewards were the finisher's medal and finding out in the end that I was on the upper half of my category, probably even in the overall ranking. Meanwhile, Art ranked fifth in his category, very well done!
It was only after the duathlon that I have read Art's Duathlon tips on his blog. Had I read it earlier, I would have come more prepared and probably fared better. But that's the essence of the first time, the learning and realizations that will help us to improve and be better.
Back home, I was still high after finishing my first ever duathlon and I found myself searching for other upcoming duathlon events. Well, I guess I will be seeing myself in more duathlon events in the future! But for now, I thank Art, Francis, Kara for the pictures and the whole Team Spyder for this opportunity and for all the support! See you again on the next race! 🙂