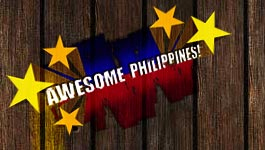 Up to the mountains of Pulag and Apo, down to the reefs of Tubbataha and Anilao, and towards the horizon of the 7107 islands of the Philippines, an unimaginable  experience awaits everyone. For it is truly an Awesome Philippines.
Department of Tourism (DOT) in partnership with MTV Asia, recently launched a first-of-its-kind national tourism campaign for the country dubbed as Awesome Philippines. The campaign, executed as part of MTV Revelations, uses a series of video vignettes and new media to promote the Philippines to youth travelers in eleven overseas markets: the United States, United Kingdom, Australia, New Zealand, India, Japan, China, Taiwan, Hong Kong, Malaysia and Singapore.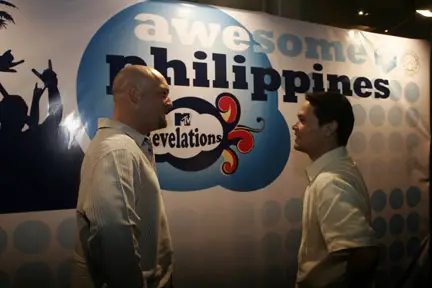 Chris Pattinson of MTV Asia and DOT Secretary Ace Durano
(Photo by http://awesomephilippinesatmcafe.blogspot.com/)
Present in the launching were Secretary Joseph "Ace" Durano (Department of Tourism), Undersecretary Eduardo Jarque Jr. (Department of Tourism), Eduardo Mapa Jr. (Managing Director / Media Contacts), Sherry Magno (Media Contacts) , Yvonne Tey (Director, Marketing Partnerships / MTV Asia), Chris Pattinson (MTV Asia), Andrew Chan (Technical Consultant / Second Life) and MTV VJ Maggie Wilson.
Event participants Grace, Jonel, Mich, Bleue and Joy
(Photo by http://awesomephilippinesatmcafe.blogspot.com/)
MTV Asia was chosen by the DOT as the partner for its Awesome Philippines campaign because of the resonance that the MTV brand has among the youth market worldwide. MTV VJs from overseas are featured in the video vignettes showcasing a number of the best destinations and attractions that the Philippines can offer to youth travelers. In the vignettes, the youth connection is distinctive as it employs a style that is synonymously MTV – fast-paced, vivid and visually engaging. Additionally, the vignettes strongly bring out a true Filipino flavor while it presents the Philippines as a must-visit travel destination for the overseas youth market.
All activities for the Awesome Philippines campaign strive to highlight what our 7,107 breathtaking islands can offer:
The Philippines as Asia's beach capital owing to a coastline twice the length of that of the U.S, its pristine white sand, its crystal blue waters, an immense variety of marine life, exotic flora & fauna, a tropical party lifestyle. Think Boracay, hailed as possibly the finest beach in the world.
The Philippines as a haven for adventurous escapes. Think various aquatic sports like swimming with the friendly Donsol Whale Sharks in Bicol, trekking lush green jungles of the Chocolate Hills or spelunking the caves of the Puerto Princesa Subterranean River National Park in Palawan.
The Philippines as Asia's dive capital with its numerous perfect dive spots including the Tubbataha Reefs Natural Park in Palawan, where you can enjoy unparalleled scenic underwater beauty and even explore historic shipwreck sites
The Philippines as a health and wellness destination with its world-class spas offering a variety of traditional local massages and therapies
The Philippines as a magnet for shopaholics with its amazing bargains on both imported brands and local handcrafts. Think Mall of Asia in Manila, one of the biggest shopping malls in the world.
The Philippines as a destination rich in history and culture, from its indigenous traditions, colonial influences, and a cuisine that is proud in its variety and influences — all still waiting to be fully discovered by the world
The Awesome Philippines campaign cuts through with its use of highly-interactive web activities. Online activities also include an online contest, Video Remixes that will allow everyone to create their own dream holiday in the Philippines in a creative video story, plus another exciting web-based application using the virtual world of Second Life, a virtual world that allows everyone to create to their own virtual identity, interact with other users, encounter objects, and participate in individual or group tasks while exploring a virtual Philippines.