For most of us based in mainland Luzon, we always look down to the south for our kind of vacation when in fact, closer to us are countless tourist spots waiting to be rediscovered. Northern Luzon is just within our reach, why don't we revisit the region and see for ourselves that it has so much to offer to our wanderlust.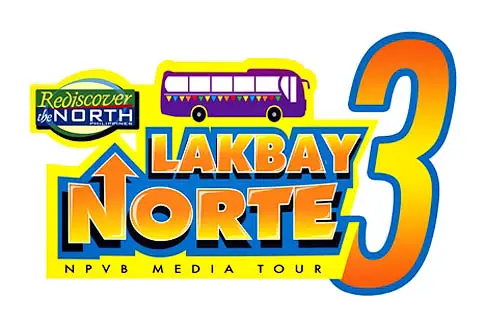 So in eight days starting this January 22, I will going to have the opportunity to be reacquainted once more to some of the best places in the north. Eight days of fun, food, travel and adventure along with some of the best people in the blogosphere and media for this year's Lakbay Norte 3 organized by North Philippines Visitors Bureau in cooperation with Manila North Tollways Corporation and Victory Liner. Lakbay Norte is a 9-day Media Tour of North Philippines.
I was lucky to have been selected this year as one of the six blogger participants for the tour which include fellow Pinoy Travel Bloggers Gael Hilotin of The Pinay Solo Backpacker, Marcos Caratao of Ambot Ah, James Betia of Journeying James, Edcel Suyo of Solo FlightEd and Christian Sangoyo of Lakad Pilipinas. Other participants include another travel blogger Kara Santos of Travel Up,  Inquirer Magazine, Philippine Daily Inquirer, Manila Bulletin, Business Mirror, Travelife, Travel Plus, Asian Traveler, Cebu Pacific's SMILE Magazine, One Sport Magazine / One Radio, Living Asia Channel and representatives from Victory Liner.
To tease your imagination, some of the activities slated for us are spelunking in Norzagaray, sport fishing in Pantabangan, white water rafting in Tabuk, surfing in Pagudpud, paddle boarding in Paoay, trekking in La Union, airsoft in Baguio, river cruising in Dagupan, go karting in Tarlac, jungle survival in Subic and off road adventure in Angeles. Those are aside from relaxation, pampering and culinary treats in various restaurants, hotels and spas. All in all, eleven provinces, eight days, endless fun!
This will probably be my longest continuous trip in the Philippines so far and the best thing is that, it is a sponsored trip 🙂 Thanks to North Philippines Visitors Bureau, Manila North Tollway Corporation, Victory Liner, Mc Donalds, Petron, Robinsons Land Corporation and Smart.
I think I should start packing now! Lakbay Norte mode is now on!