All roads lead to Cultural Center of the Philippines in Manila; Greenbelt 3 and Glorietta Cinemas in Makati; Trinoma, UP Town Center and Fairview Terraces in Quezon City; Nuvali in Sta. Rosa; and Ayala Mall in Cebu this August for the bigger and better Cinemalaya Independent Film Festival!
With the theme "Break the Surface", nine full length films and ten short features will vie for the 12th year of Cinemalaya. Here are the the nine competing full length films:
Ang Bagong Pamilya ni Ponching
Directors: Inna Salazar and Dos Ocampo / Writer: Inna Salazar
Main Cast: Janus del Prado, Ketchup Eusebio, Odette Khan
Genre: Dark comedy / family light drama
Synopsys: A religious man who does petty crimes, Ponching, gets into a new venture, text scamming, thinking it will not really hurt anyone. One day, his seemingly "innocent" text scam accidentally cons a recipient into thinking he is the bastard child of their late relative.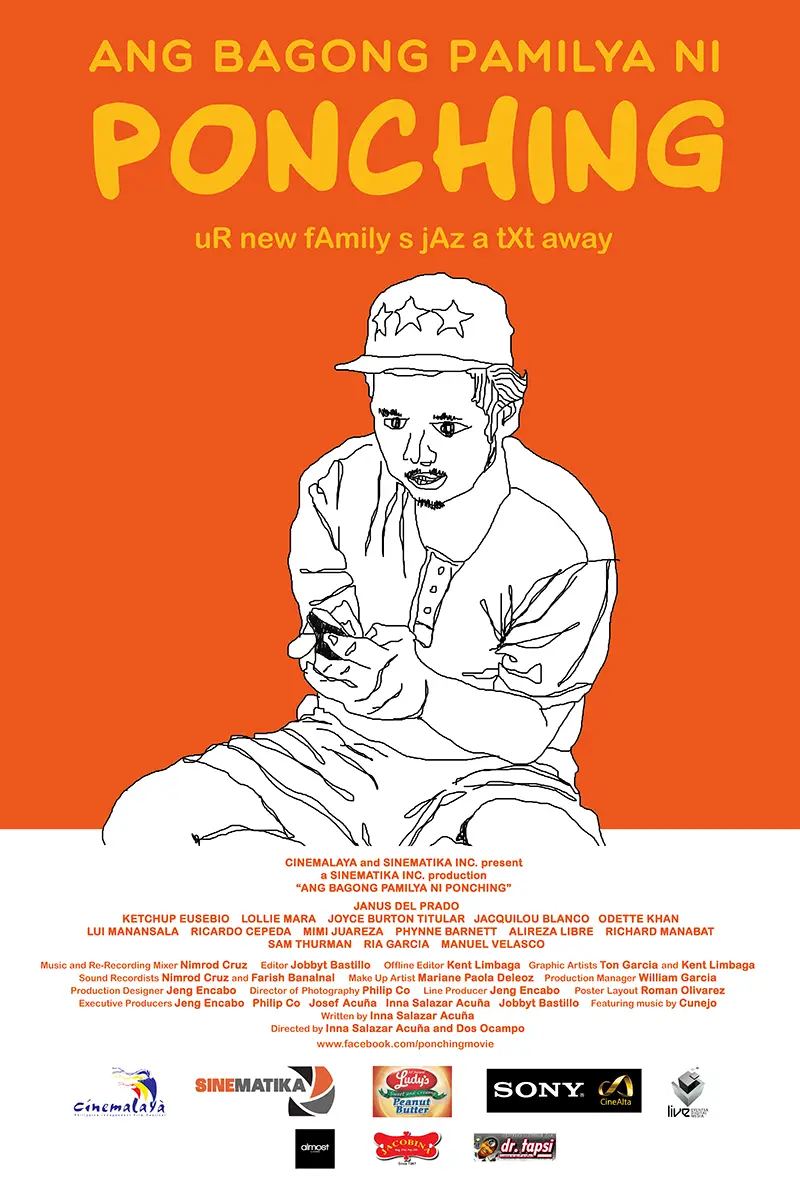 Dagsin (Gravity)
Writer and Director: Atom Magadia
Main Cast: Tommy Abuel, Lotlot De Leon, Benjamin Alves, Janine Gutierrez, Sue Prado, Marita Zobel, Rolando Inocencio, Yoshihiko Hara, Arpee Bautista. Introducing Alex Diaz
Genre: Drama-suspense
Synopsys: After surviving the Death March, Martial Law and the loss of his legs, Justino became an atheist. But when his wife dies, a part of him is yearning to believe in life beyond death; just for a chance to be with her again. Searching for parts of her he can still hold on to, he devours her diaries for information into their past –opening a Pandora's Box of secrets.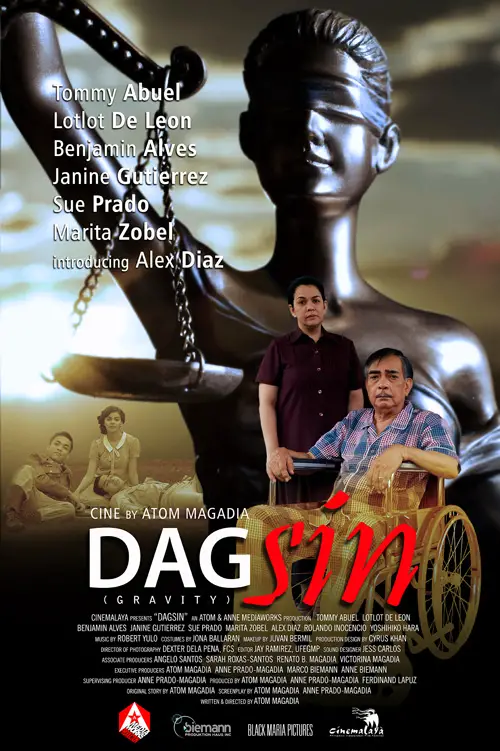 Hiblang Abo
Director: Ralston Jover / Writers: Ananias Estrella and Ralston Jover
Main Cast: Lou Veloso, Jun Urbano, Nanding Josef, and Leo Rialp; with Matt Daclan, Lui Manansala, Anna Luna, Angela Cortez, Mike Liwag, Flor Salanga, , Cherry Malvar, Rommel Luna, Rener Concepcion, Bernard Carritero
Genre: Drama
Synopsys: "Hiblang Abo" speaks volumes of muted memories and infinite struggles among four men in their twilight years, confined in a hospice facility or home for the aged. Their gray hair grows and fades unnoticed, their lives enter the void of oblivion. Everything unfolds so naturally into their swan song until their body pains and heartaches yield the same intensity, when their hearing and their feelings become permanently impaired; and when their blurry vision and memories become "clear" signs that the inevitable state of death is as fleeting as the vibrancy of life itself.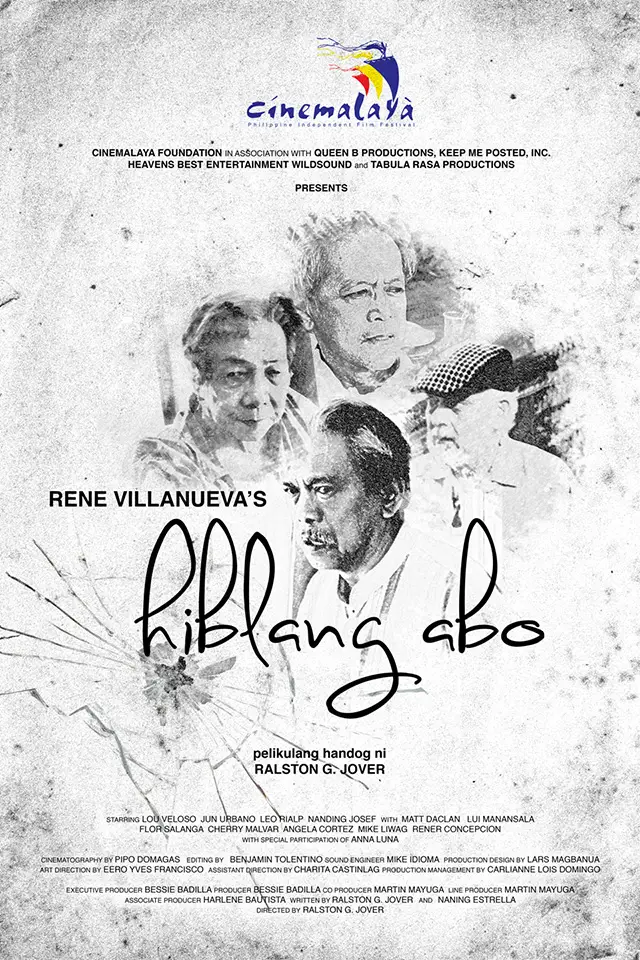 I America
Writer and Director: Ivan Andrew Payawal
Main Cast: Bela Padilla, Matt Evans, Elizabeth Oropesa, Thou Reyes, Joe Vargas, Lui Manansala, Sheena Ramos, Rob Rownd, Kate Bautista, Raflesia Bravo, Rhyzza Kafilas
Genre: Drama-comedy
Synopsys: "I America" is a dramedy about a complex half-Pinay, half-Caucasian lady looking for American living in Olongapo City (Philippines) who tries to get her passport and US visa in order to meet her father personally for the first time.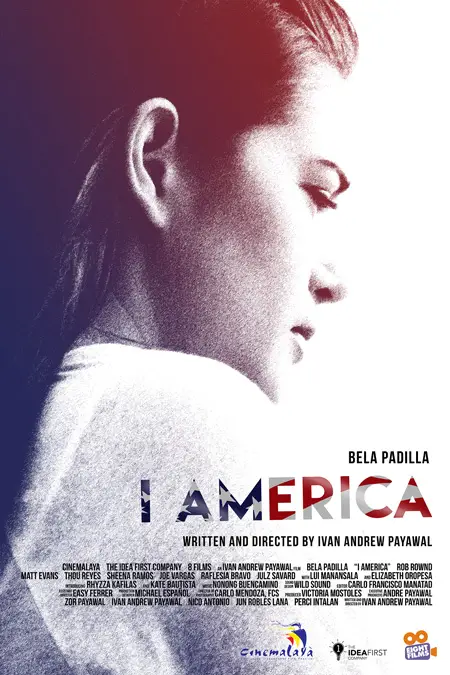 Kusina (Her Kitchen)
Director: David Corpuz / Writer-Director: Cenon Palomares
Main Cast: Judy Ann Santos, Luis Alandy, Joem Bascon, Gloria Sevilla, Therese Malvar, Bong Cabrera, Trina Legaspi, Czarina Yecla, Karen Gaerlan, Sarah Jane Biton, Elora Españo, Mike Liwag, Princess Ortiz, Criszha Mae Cruz, Yurianna Ashley Gracio, Kim Chloe Oquendo, Francis Grengia
Genre: Drama
Synopsys: "Kusina" (Her Kitchen) is the silent witness to the life and love of Juanita. It is her sanctuary, the place where she creates dishes for her family, her friends, even enemies and strangers. Through cooking, she gets to know the people around her, and in return, reveal herself to them.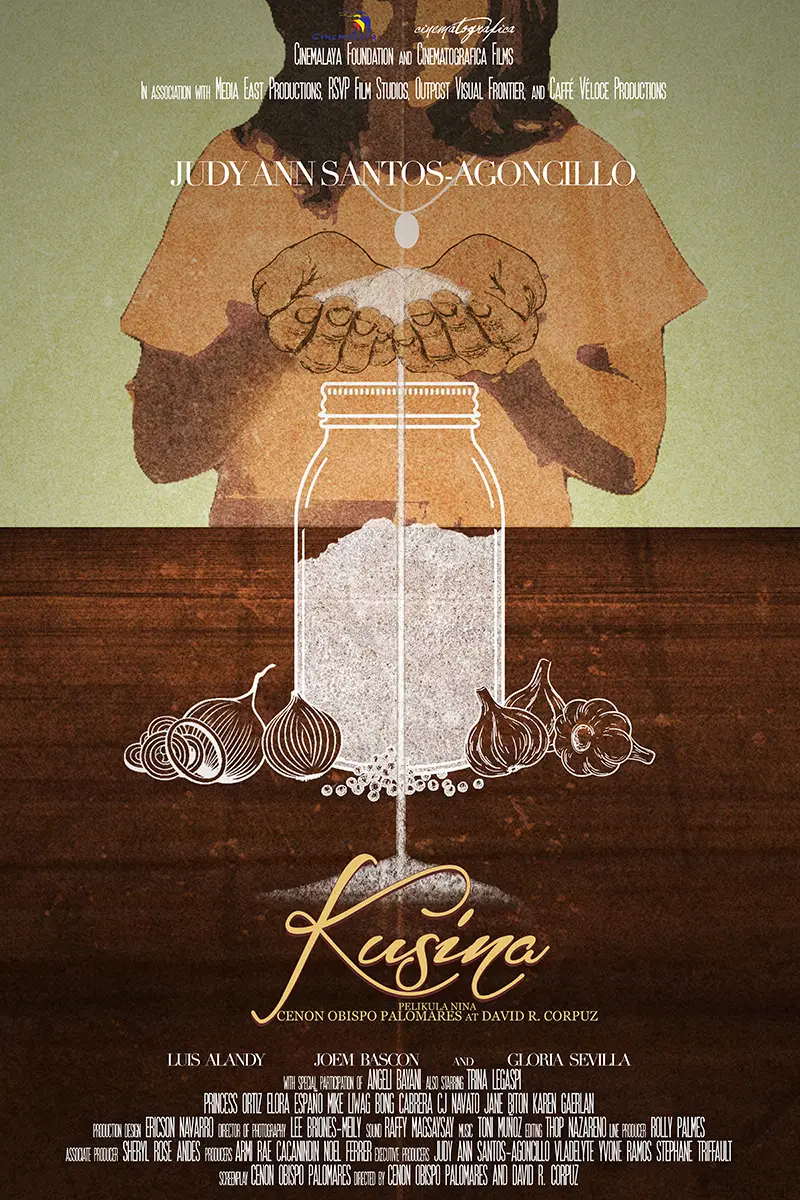 Lando at Bugoy
Writer and Director: Vic Acedillo, Jr.
Main Caste: Allen Dizon and Gold Azeron, with actors from Davao and Cagayan de Oro — Rachel Anne Ang Rosello, Maricar Semitara, Carlos Penaloza, Benjie Criss Estrella, Reynald Mangao, Camilo Apugan, Roger Gonzales
Genre: Drama
Synopsys: Disrespected by his teenage son, a 40-year-old high school dropout tries to solve this problem by returning to school which only makes his son hate him even more. Amidst the struggle between them, an unexpected event changes everything.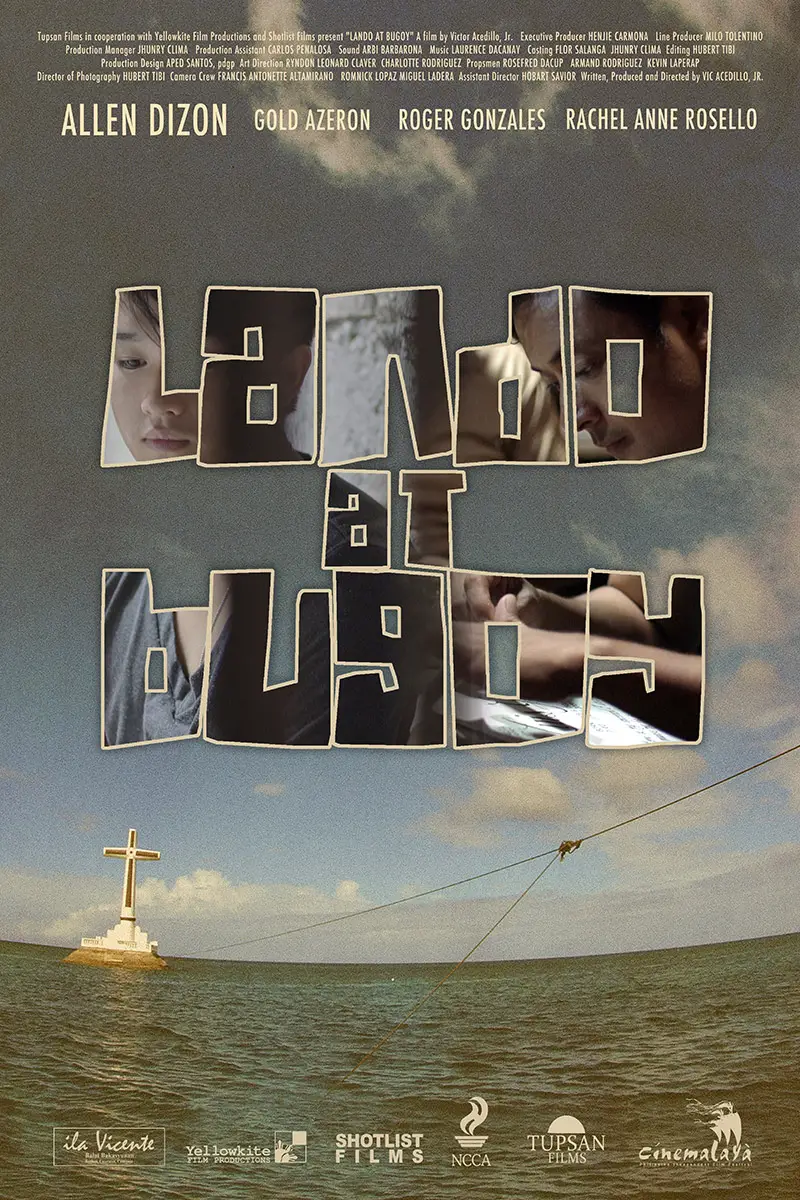 Mercury is Mine
Writer and Director: Jason Paul Laxamana
Main Cast: Pokwang and Bret Jackson, with Vincent de Jesus, Maey Bautista, Kristof Garcia, Leo Sarmiento, Justine Dizon, Bea Vega, Mitzi Ong, Waka Hasegawa, Uzziel Delamide
Genre: Drama-comedy
Synopsys: Carmen, a middle-aged cook, is about to close down her eatery at the foot of Mt. Arayat when a white American teenage boy named Mercury approaches her and begs for work in exchange of nothing but shelter.

Pamilya Ordinaryo
Writer and Director: Eduardo Roy, Jr.
Main Cast: Ronwaldo Martin and introducing Hasmine Kilip. Guest roles from Maria Isabel Lopez, Sue Prado, Erlinda Villalobos, Karl Medina, Menggie Cobarrubias, and Ruby Ruiz
Genre: Drama
Synopsys: Jane and Aries are teenage parents. They make a living out of stealing on the streets… until fate hits back at them.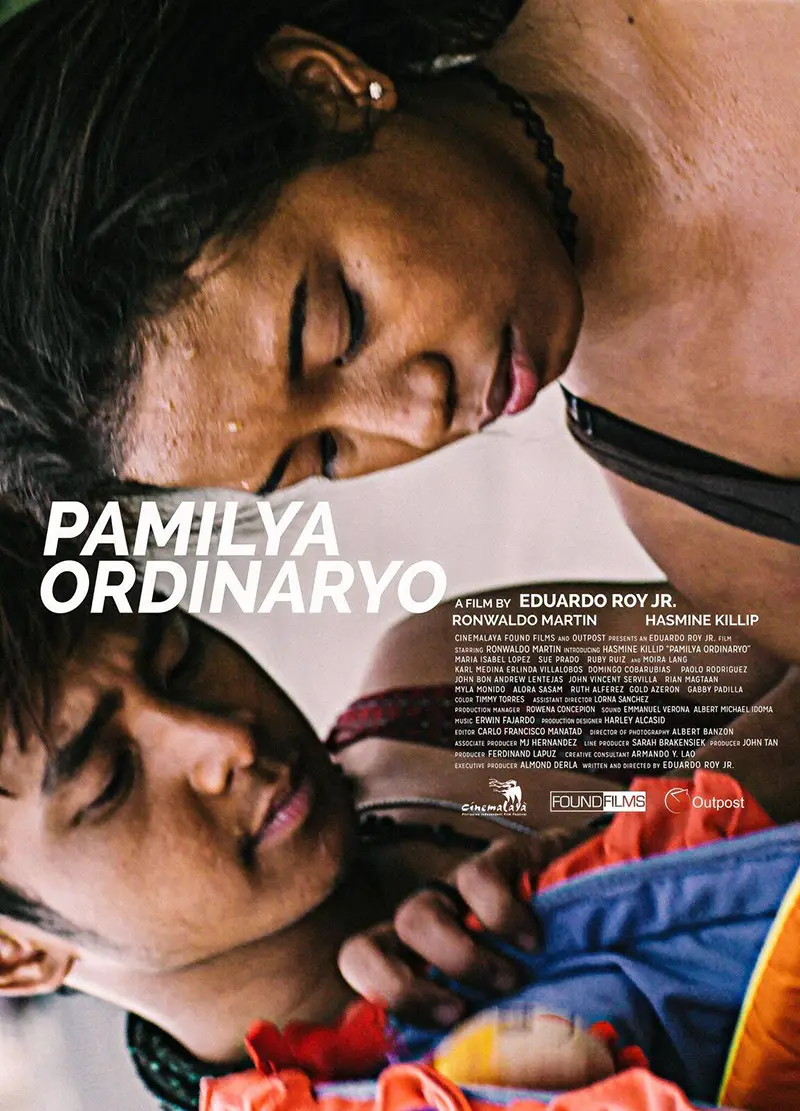 Tuos
Director: Derick Cabrido / Writer: Denise O'Hara
Main Cast: Nora Aunor, Barbie Forteza, Flor Salanga, Ronwaldo Martin, Elora Españo, Ronnie Martinez
Genre: Drama
Synopsys: Pina-ilog (Nora Aunor) is chosen to be their village's "Binukot", a maiden selected as the fairest amongst the women in her village, confined to her house, never allowed to go outside. She is chosen to keep the traditions alive, memorizing the chants, dances, and performing them. She is to pass the title and responsibility to her granddaughter Dowokan (Barbie Forteza). When the sanctity of the "tuos" becomes threatened, putting Dowokan in danger, Pina-ilog realizes that she cannot just stand aside. Pina-ilog finds herself coming face to face, literally, with the ghosts of tradition, which have shackled her into a life of solitary confinement.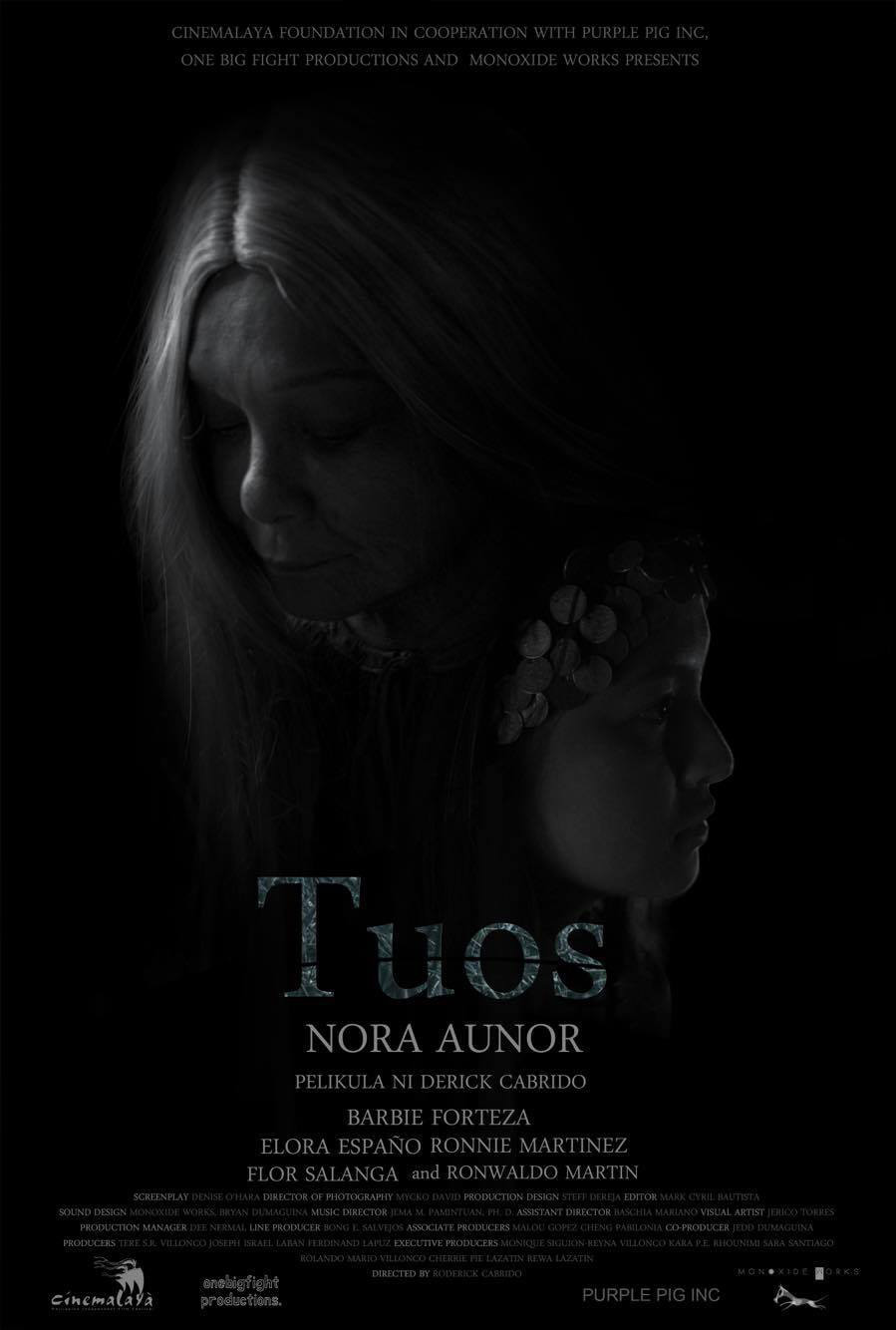 Cinemalaya 2016 Schedule (Complete)
August 5 (Friday)
CCP Main Theater (Tanghalang Nicanor Abelardo)
Opening Film: "1-2-3" Directed by Carlo Obispo
(Free Admission, to be screened after the Opening Ceremonies at 6:00 PM)
August 6 (Saturday)
CCP Main Theater (Tanghalang Nicanor Abelardo)
3:30 PM – SHORTS "A"
6:15 PM – PAMILYA ORDINARYO (Gala Screening)
9:00 PM – I AMERICA (Gala Screening)
CCP Little Theater (Tanghalang Aurelio Tolentino)
10:00 AM – KUSINA
12:45 PM – DAGSIN (GRAVITY)
3:30 PM – Panoptika: AN OPEN DOOR
6:15 PM – Visions of Asia: KEN AND KAZU (Japan)
9:00 PM – Festivals Best: APOCALYPSE CHILD (QCinema 2015)
CCP Studio Theater (Tanghalang Huseng Batute)
12:45 PM – Visions of Asia: UNTIL I LOSE MY BREATH (Turkey/ Germany)
3:30 PM – TUOS
6:15 PM – Panoptika – MGA DAYO: FILIPINOS IN MYANMAR
9:00 PM – Indie Nation: REMITTANCE
CCP Dream Theater (Tanghalang Manuel Conde)
10:00 AM onwards – Gawad CCP Para Sa Alternatibong Pelikula
Glorietta 4 (Cinema 4)
2:00 PM — PAMILYA ORDINARYO
4:30 PM – SHORTS "A"
7:00 PM – MERCURY IS MINE
9:30 PM – LANDO AT BUGOY
Trinoma (Cinema 2)
2:00 PM – PAMILYA ORDINARYO
4:30 PM – SHORTS "A"
7:00 PM – MERCURY IS MINE
9:30 PM – LANDO AT BUGOY
Greenbelt 1 (Cinema 1)
2:00 PM –TUOS
4:30 PM – I AMERICA
7:00 PM – SHORTS "B"
9:30 PM – HIBLANG ABO
U.P. Town Center (Cinema 3)
2:00 PM –TUOS
4:30 PM – I AMERICA
7:00 PM – SHORTS "B"
9:30 PM – HIBLANG ABO
Solenad Nuvali (Cinema 4)
2:00 PM – DAGSIN (GRAVITY)
4:30 PM – HIBLANG ABO
7:00 PM – KUSINA
9:30 PM – ANG BAGONG PAMILYA NI PONCHING
Fairview Terraces (Cinema 4)
2:00 PM – DAGSIN (GRAVITY)
4:30 PM – HIBLANG ABO
7:00 PM – KUSINA
9:30 PM – ANG BAGONG PAMILYA NI PONCHING
August 7 (Sunday)
CCP Main Theater (Tanghalang Nicanor Abelardo)
3:30 PM – SHORTS "B" (Gala Screening)
6:15 PM – MERCURY IS MINE (Gala Screening)
9:00 PM – LANDO AT BUGOY (Gala Screening)
CCP Little Theater (Tanghalang Aurelio Tolentino)
10:00 AM – ANG BAGONG PAMILYA NI PONCHING
12:45 PM – HIBLANG ABO
3:30 PM – Visions of Asia: RIVER ROAD (China)
6:15 PM – Indie Nation: MANA
9:00 PM – Indie Nation: LAUT
CCP Studio Theater (Tanghalang Huseng Batute)
12:45 PM — Visions of Asia: STRANGER (Kazhakstan)
3:30 PM – Visions of Asia: UNDER HEAVEN (Kyrgyzstan)
6:15 PM – SHORTS "A"
9:00 PM – Special Screenings — Rainbow: ECHORSIS
CCP Dream Theater (Tanghalang Manuel Conde)
10:00 AM onwards – Gawad CCP Para Sa Alternatibong Pelikula
Glorietta 4 (Cinema 4)
2:00 PM – HIBLANG ABO
4:30 PM – I AMERICA
7:00 PM – DAGSIN (GRAVITY)
9:30 PM – KUSINA
Trinoma (Cinema 2)
2:00 PM – HIBLANG ABO
4:30 PM – I AMERICA
7:00 PM – DAGSIN (GRAVITY)
9:30 PM – KUSINA
Greenbelt 1 (Cinema 1)
2:00 PM – ANG BAGONG PAMILYA NI PONCHING
4:30 PM – PAMILYA ORDINARYO
7:00 PM – SHORTS "A"
9:30 PM – DAGSIN (GRAVITY)
U.P. Town Center (Cinema 3)
2:00 PM – ANG BAGONG PAMILYA NI PONCHING
4:30 PM – PAMILYA ORDINARYO
7:00 PM – SHORTS "A"
9:30 PM – DAGSIN (GRAVITY)
Solenad Nuvali (Cinema 4)
2:00 PM – TUOS
4:30 PM – LANDO AT BUGOY
7:00 PM – MERCUTY IS MINE
9:30 PM – I AMERICA
Fairview Terraces (Cinema 4)
2:00 PM – TUOS
4:30 PM – LANDO AT BUGOY
7:00 PM – MERCUTY IS MINE
9:30 PM – I AMERICA
August 8 (Monday)
CCP Main Theater (Tanghalang Nicanor Abelardo)
3:30 PM – DAGSIN (GRAVITY)
6:15 PM – TUOS (Gala Screening)
9:00 PM – ANG BAGONG PAMILYA NI PONCHING (Gala Screening)
CCP Little Theater (Tanghalang Aurelio Tolentino)
3:30 PM – SHORTS "A"
6:15 PM – Indie Nation: RINGGO, THE DOG SHOOTER
9:00 PM – Visions of Asia: UNDER HEAVEN (Kyrgyzstan)
CCP Studio Theater (Tanghalang Huseng Batute)
12:45 PM – Special Screenings – FOCUS: JACLYN JOSE / WORKING GIRLS 2
3:30 PM – KUSINA
6:15 PM – HIBLANG ABO
9:00 PM – Festivals Best: MRS. (Sinag Maynila 2016)
CCP Dream Theater (Tanghalang Manuel Conde)
10:00 AM onwards – Gawad CCP Para Sa Alternatibong Pelikula
Glorietta 4 (Cinema 4)
2:00 PM – ANG BAGONG PAMILYA NI PONCHING
4:30 PM – SHORTS "B"
7:00 PM – TUOS
9:30 PM – I AMERICA
Trinoma (Cinema 2)
2:00 PM – ANG BAGONG PAMILYA NI PONCHING
4:30 PM – SHORTS "B"
7:00 PM – TUOS
9:30 PM – I AMERICA
Greenbelt 1 (Cinema 1)
2:00 PM – MERCURY IS MINE
4:30 PM –LANDO AT BUGOY
7:00 PM – KUSINA
9:30 PM – ANG BAGONG PAMILYA NI PONCHING
U.P. Town Center (Cinema 3)
2:00 PM – MERCURY IS MINE
4:30 PM –LANDO AT BUGOY
7:00 PM – KUSINA
9:30 PM – ANG BAGONG PAMILYA NI PONCHING
Solenad Nuvali (Cinema 4)
2:00 PM –PAMILYA ORDINARYO
4:30 PM – SHORTS "A"
7:00 PM – DAGSIN (GRAVITY)
9:30 PM – HIBLANG ABO
Fairview Terraces (Cinema 4)
2:00 PM –PAMILYA ORDINARYO
4:30 PM – SHORTS "A"
7:00 PM – DAGSIN (GRAVITY)
9:30 PM – HIBLANG ABO
August 9 (Tuesday)
CCP Main Theater (Tanghalang Nicanor Abelardo)
3:30 PM – I AMERICA
6:15 PM – KUSINA (Gala Screening)
9:00 PM – HIBLANG ABO (Gala Screening)
CCP Little Theater (Tanghalang Aurelio Tolentino)
8:30 AM – 5:00 PM – CINEMALAYA CAMPUS
6:15 PM – Visions of Asia: AUGUST IN TOKYO (Japan)
9:00 PM – Festivals Best: NED'S PROJECT (Cine Filipino 2016)
CCP Studio Theater (Tanghalang Huseng Batute)
12:45 PM – Festivals Best: ARI, MY LIFE WITH A KING (MMFF New Wave 2015)
3:30 PM – Visions of Asia: MOTOR BICYCLE (Sri Lanka)
6:15 PM – SHORTS "B"
9:00 PM – Indie Nation: FLOTSAM
CCP Dream Theater (Tanghalang Manuel Conde)
10:00 AM onwards – Gawad CCP Para Sa Alternatibong Pelikula
Glorietta 4 (Cinema 4)
2:00 PM — TUOS
4:30 PM – MERCURY IS MINE
7:00 PM – KUSINA
9:30 PM – PAMILYA ORDINARYO
Trinoma (Cinema 2)
2:00 PM — TUOS
4:30 PM – MERCURY IS MINE
7:00 PM – KUSINA
9:30 PM – PAMILYA ORDINARYO
Greenbelt 1 (Cinema 1)
2:00 PM – DAGSIN (GRAVITY)
4:30 PM – HIBLANG ABO
7:00 PM – I AMERCIA
9:30 PM – LANDO AT BUGOY
U.P. Town Center (Cinema 3)
2:00 PM – DAGSIN (GRAVITY)
4:30 PM – HIBLANG ABO
7:00 PM – I AMERCIA
9:30 PM – LANDO AT BUGOY
Solenad Nuvali (Cinema 4)
2:00 PM – KUSINA
4:30 PM – SHORTS "B"
7:00 PM – ANG BAGONG PAMILYA NI PONCHING
9:30 PM – TUOS
Fairview Terraces (Cinema 4)
2:00 PM – KUSINA
4:30 PM – SHORTS "B"
7:00 PM – ANG BAGONG PAMILYA NI PONCHING
9:30 PM – TUOS
Ayala Center Cebu (Cinema 4)
7:00 PM – DAGSIN (GRAVITY)
9:30 PM – LANDO AT BUGOY
August 10 (Wednesday)
CCP Main Theater (Tanghalang Nicanor Abelardo)
3:30 PM – LANDO AT BUGOY
6:15 PM – DAGSIN (GRAVITY) (Gala Screening)
9:00 PM – MERCURY IS MINE
CCP Little Theater (Tanghalang Aurelio Tolentino)
8:30 AM – 2:30 PM – CINEMALAYA CAMPUS
3:30 PM – SHORTS "B"
6:15 PM – Visions of Asia: CHILD OF DEBT (India/ Kannada)
9:00 PM – Visions of Asia: MINA WALKING (Afghanistan/ Canada)
CCP Studio Theater (Tanghalang Huseng Batute)
12:45 PM – Digital Classics: KUNG MANGARAP KA'T MAGISING
3:30 PM – Visions of Asia: KEN AND KAZU (Japan)
6:15 PM – PAMILYA ORDINARYO
9:00 PM – I AMERICA
CCP Dream Theater (Tanghalang Manuel Conde)
12:45 PM – TRIBUTE: FRANCIS XAVIER PASION >> BAKIT TINUTUHOG ANG SAMPAGUITA and SAMPAGUITA
3:30 PM – Special Screenings – HISTORICAL DOCUMENTARY: GUNITA and EIGA
6:15 PM – Special Screenings – FOCUS: JACLYN JOSE >> ITANONG MO SA BUWAN
9:00 PM – Indie Nation: BIG TIME SPECIAL
Glorietta 4 (Cinema 4)
2:00 PM – SHORTS "B"
4:30 PM – HIBLANG ABO
7:00 PM – ANG BAGONG PAMILYA NI PONCHING
9:00 PM – DAGSIN (GRAVITY)
Trinoma (Cinema 2)
2:00 PM – SHORTS "B"
4:30 PM – HIBLANG ABO
7:00 PM – ANG BAGONG PAMILYA NI PONCHING
9:30 PM – DAGSIN (GRAVITY)
Greenbelt 1 (Cinema 1)
2:00 PM — TUOS
4:30 PM – SHORTS "A"
7:00 PM – MERCURY IS MINE
9:30 PM – KUSINA
U.P. Town Center (Cinema 3)
2:00 PM — TUOS
4:30 PM – SHORTS "A"
7:00 PM – MERCURY IS MINE
9:30 PM – KUSINA
Solenad Nuvali (Cinema 4)
2:00 PM – LANDO AT BUGOY
4:30 PM – MERCURY IS MINE
7:00 PM – I AMERICA
9:30 PM – PAMILYA ORDINARYO
Fairview Terraces (Cinema 4)
2:00 PM – LANDO AT BUGOY
4:30 PM – MERCURY IS MINE
7:00 PM – I AMERICA
9:30 PM – PAMILYA ORDINARYO
Ayala Center Cebu (Cinema 4)
2:00 PM – SHORTS "A"
4:30 PM – MERCURY IS MINE
7:00 PM – PAMILYA ORDINARYO
9:30 PM – I AMERICA
August 11 (Thursday)
CCP Main Theater (Tanghalang Nicanor Abelardo)
3:30 PM – ANG BAGONG PAMILYA NI PONCHING
6:15 PM – SHORTS "A" (Gala Screening)
9:00 PM – TUOS
CCP Little Theater (Tanghalang Aurelio Tolentino)
12:45 PM – PAMILYA ORDINARYO
3:30 PM – Visions of Asia: STRANGER (Kazhakstan)
6:15 PM – Visions of Asia: MOTOR BICYCLE (Sri Lanka)
9:00 PM – Digital Classics: CAIN AT ABEL
CCP Studio Theater (Tanghalang Huseng Batute)
12:45 PM — Visions of Asia: CHILD OF DEBT (India/ Kannada)
3:30 PM – Visions of Asia: RIVER ROAD (China)
6:15 PM – LANDO AT BUGOY
9:00 PM – Festivals Best: MANANG BIRING (Cinema One Originals 2015)
CCP Dream Theater (Tanghalang Manuel Conde)
12:45 PM – Panoptika: HEADHUNTING WILLIAM JOMES
3:30 PM – TRIBUTE: FRANCIS XAVIER PASION >> JAY
6:15 PM – Indie Nation: IADYA MO KAMI
9:00 PM – Panoptika: DAHLING NICK
Glorietta 4 (Cinema 4)
2:00 PM – LANDO AT BUGOY
4:30 PM – TUOS
7:00 PM – SHORTS "A"
9:30 PM – MERCURY IS MINE
Trinoma (Cinema 2)
2:00 PM – LANDO AT BUGOY
4:30 PM – TUOS
7:00 PM – SHORTS "A"
9:30 PM – MERCURY IS MINE
Greenbelt 1 (Cinema 1)
2:00 PM — DAGSIN (GRAVITY)
4:30 PM – KUSINA
7:00 PM – PAMILYA ORDINARYO
9:30 PM – I AMERICA
U.P. Town Center (Cinema 3)
2:00 PM — DAGSIN (GRAVITY)
4:30 PM – KUSINA
7:00 PM – PAMILYA ORDINARYO
9:30 PM – I AMERICA
Solenad Nuvali (Cinema 4)
2:00 PM – SHORTS "B"
4:30 PM – ANG BAGONG PAMILYA NI PONCHING
7:00 PM – HIBLANG ABO
9:30 PM – LANDO AT BUGOY
Fairview Terraces (Cinema 4)
2:00 PM – SHORTS "B"
4:30 PM – ANG BAGONG PAMILYA NI PONCHING
7:00 PM – HIBLANG ABO
9:30 PM – LANDO AT BUGOY
Ayala Center Cebu (Cinema 4)
2:00 PM – SHORTS "B"
4:30 PM – ANG BAGONG PAMILYA NI PONCHING
7:00 PM – HIBLANG ABO
9:30 PM – KUSINA
August 12 (Friday)
CCP Main Theater (Tanghalang Nicanor Abelardo)
3:30 PM – HIBLANG ABO
6:15 PM – SHORTS "B"
9:00 PM – KUSINA
CCP Little Theater (Tanghalang Aurelio Tolentino)
10:00 AM – MERCURY IS MINE
12:45 PM – LANDO AT BUGOY
3:30 PM – Visions of Asia: THE KIDS (Taiwan)
6:15 PM – Festivals Best: EDSA (World Premieres Film Festival)
9:00 PM – Indie Nation: 4 DAYS
CCP Studio Theater (Tanghalang Huseng Batute)
12:45 PM — Visions of Asia: MINA WALKING (Afghanistan/ Canada)
3:30 PM – Visions of Asia: AUGUST IN TOKYO (Japan)
6:15 PM – ANG BAGONG PAMILYA NI PONCHING
9:00 PM – DAGSIN (GRAVITY)
CCP Dream Theater (Tanghalang Manuel Conde)
10:00 AM – Panoptika: LANDSCAPE WITHIN
12:45 PM – CINEMALAYA INSTITUTE 2016 SHORTS
3:30 PM – Special Screenings – FOCUS: JACLYN JOSE >> SARONG BANGGI
6:15 PM – TRIBUTE: FRANCIS XAVIER PASION >> BWAYA
9:00 PM – Special Screenings – RAINBOW: MISS BULALACAO
Glorietta 4 (Cinema 4)
2:00 PM – I AMERICA
4:30 PM – PAMILYA ORDINARYO
7:00 PM – SHORTS "B"
9:30 PM – ANG BAGONG PAMILYA NI PONCHING
Trinoma (Cinema 2)
2:00 PM – I AMERICA
4:30 PM – PAMILYA ORDINARYO
7:00 PM – SHORTS "B"
9:30 PM – ANG BAGONG PAMILYA NI PONCHING
Greenbelt 1 (Cinema 1)
2:00 PM – HIBLANG ABO
4:30 PM – SHORTS "B"
7:00 PM – LANDO AT BUGOY
9:30 PM – MERCURY IS MINE
U.P. Town Center (Cinema 3)
2:00 PM – HIBLANG ABO
4:30 PM – SHORTS "B"
7:00 PM – LANDO AT BUGOY
9:30 PM – MERCURY IS MINE
Solenad Nuvali (Cinema 4)
2:00 PM – KUSINA
4:30 PM – TUOS
7:00 PM – SHORTS "A"
9:30 PM – DAGSIN (GRAVITY)
Fairview Terraces (Cinema 4)
2:00 PM – KUSINA
4:30 PM – TUOS
7:00 PM – SHORTS "A"
9:30 PM – DAGSIN (GRAVITY)
Ayala Center Cebu (Cinema 4)
2:00 PM – I AMERICA
4:30 PM – KUSINA
7:00 PM – TUOS
9:30 PM – MERCURY IS MINE
August 13 (Saturday)
CCP Main Theater (Tanghalang Nicanor Abelardo)
3:30 PM – PAMILYA ORDINARYO
6:15 PM – Indie Nation: ROSITA
9:00 PM – Closing Film: ANG HAPIS AT HIMAGSIK NI HERMANO PULI by Gil M. Portes
CCP Little Theater (Tanghalang Aurelio Tolentino)
10:00 AM – TUOS
12:45 PM – I AMERICA
3:30 PM – Panoptika: CURIOSITY, ADVENTURE, AND LOVE
6:15 PM – Visions of Asia: UNTIL I LOSE MY BREATH (Turkey/ Germany)
9:00 PM – Indie Nation: THE SISTER
CCP Studio Theater (Tanghalang Huseng Batute)
12:45 PM — Visions of Asia: THE KIDS (Taiwan)
3:30 PM – MERCURY IS MINE
6:15 PM – Special Screenings – RAINBOW: TRANSLACION (THE MARCH TO THE ALTAR OF UNCERTAINTY)
9:00 PM – Panoptika: THOMAS CHAPIN: NIGHT BIRD SONG
CCP Dream Theater (Tanghalang Manuel Conde)
10:00 AM – Special Screenings: THE LONG AND SHORT OF LAV >> ANG ARAW BAGO ANG WAKAS (1 short film by Lav Diaz to be screened 3 times: 10:00 AM, 10:40 AM, 11:20 AM)
12:45 PM onwards (8 hours epic) – Special Screenings: THE LONG AND SHORT OF LAV >> HELE SA HIWAGANG HAPIS
Glorietta 4 (Cinema 4)
2:00 PM – DAGSIN (GRAVITY)
4:30 PM – KUSINA
7:00 PM – HIBLANG ABO
9:30 PM – LANDO AT BUGOY
Trinoma (Cinema 2)
2:00 PM – DAGSIN (GRAVITY)
4:30 PM – KUSINA
7:00 PM – HIBLANG ABO
9:30 PM – LANDO AT BUGOY
Greenbelt 1 (Cinema 1)
2:00 PM – SHORTS "A"
4:30 PM – PAMILYA ORDINARYO
7:00 PM – ANG BAGONG PAMILYA NI PONCHING
9:30 PM – TUOS
U.P. Town Center (Cinema 3)
2:00 PM – SHORTS "A"
4:30 PM – PAMILYA ORDINARYO
7:00 PM – ANG BAGONG PAMILYA NI PONCHING
9:30 PM – TUOS
Solenad Nuvali (Cinema 4)
2:00 PM – I AMERICA
4:30 PM – PAMILYA ORDINARYO
7:00 PM – SHORTS "B"
9:30 PM – MERCUTY IS MINE
Fairview Terraces (Cinema 4)
2:00 PM – I AMERICA
4:30 PM – PAMILYA ORDINARYO
7:00 PM – SHORTS "B"
9:30 PM – MERCUTY IS MINE
Ayala Center Cebu (Cinema 4)
2:00 PM – PAMILYA ORDINARYO
4:30 PM – LANDO AT BUGOY
7:00 PM – SHORTS "A"
9:30 PM – ANG BAGONG PAMILYA NI PONCHING
August 14 (Sunday)
Glorietta 4 (Cinema 4)
2:00 PM – SHORTS "A"
4:30 PM – ANG BAGONG PAMILYA NI PONCHING
7:00 PM – LANDO AT BUGOY
9:30 PM – I AMERICA
Trinoma (Cinema 2)
2:00 PM – SHORTS "A"
4:30 PM – TUOS
7:00 PM – MERCURY IS MINE
9:30 PM – PAMILYA ORDINARYO
Greenbelt 1 (Cinema 1)
2:00 PM – SHORTS "B"
4:30 PM – MERCURY IS MINE
7:00 PM – PAMILYA ORDINARYO
9:30 PM – HIBLANG ABO
U.P. Town Center (Cinema 3)
2:00 PM – SHORTS "B"
4:30 PM – I AMERICA
7:00 PM – DAGSIN (GRAVITY)
9:30 PM – KUSINA
Solenad Nuvali (Cinema 4)
2:00 PM – SHORTS "A"
4:30 PM – DAGSIN (GRAVITY)
7:00 PM – KUSINA
9:30 PM – TUOS
Fairview Terraces (Cinema 4)
2:00 PM – SHORTS "A"
4:30 PM – HIBLANG ABO
7:00 PM – ANG BAGONG PAMILYA NI PONCHING
9:30 PM – LANDO AT BUGOY
Ayala Center Cebu (Cinema 4)
2:00 PM – TUOS
4:30 PM – DAGSIN (GRAVITY)
7:00 PM – SHORTS "B"
9:30 PM – HIBLANG ABO
Regular Screening Price: P150.00 / Student Price: P100.00 (CCP screenings only)
Discount of 20% for Senior Citizens, PWD, and government employees (CCP screenings only)
For more information, call the CCP Box Office at 832-3704, 832-3706, and Ticket World at 891-9999, or visit the CCP website: www.culturalcenter.gov.ph and Cinemalaya website: www.cinemalaya.org