With only two hours of sleep, my alarm sounded two hours after midnight, March 4. I hesitantly opened my eyes trying to fight my subconscious mind, stood up and took a quick cold shower that instantly freed me from the state of trance. I was about to face a big challenge that day, I would go biking from Manila to Lucban, Quezon.
I already timed myself on numerous instances that I pedal from Manila to Las Pińas. The 26 kilometer distance usually takes an hour and a half, give or take. I needed to be in our meeting place on or before four o'clock in the morning and I wanted to be the first one there. It would be a long and tiring day, I anticipated, but I was prepared.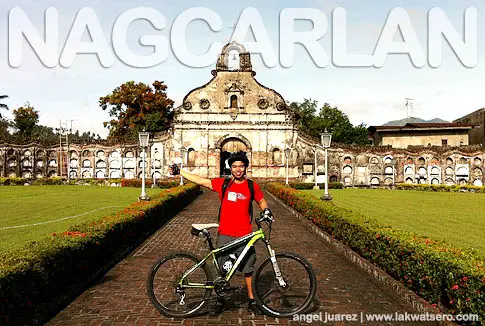 I arrived first, just as I hoped for. My buddies Aj and Ken followed after a while. At five in the morning, we started to pedal to Alabang, where we decided to board a bus to San Pablo, Laguna. It was supposed to be a bike-all-the-way trip, but taking a bus to midpoint was a very wise decision. I couldn't imagine how we would be if we did not.
The three bikes fitted perfectly in the compartment while we enjoyed the comfort of our soft seats in the air-conditioned bus. The four wheeler left at past six and I took a nap. Almost two hours had passed and we arrived in San Pablo.
The sun was already up when we started to pedal. From San Pablo we traversed the road going to Nagcarlan, passing the small town of Rizal.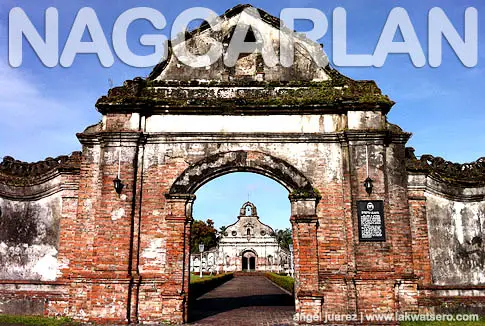 Nagcarlan Underground Cemetery, the sign says and I smiled. It was my long time dream to see the place and in a very unexpected moment, I was able to visit it. We stopped for a rest and a quick tour. It is a quaint and beautiful structure, its grandeur still beaming. It reminded me of the Paco Park and Cemetery, both with circular outer wall with layers of tombs and a crypt in the center.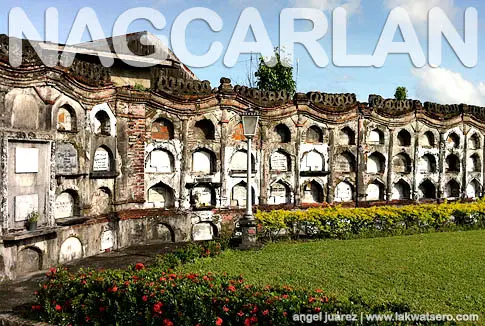 After touring the cemetery we continued our journey and pedal more until we reached Liliw, Aj's ancestral hometown. We stopped in their home for breakfast and short pleasantries with his relatives then bid goodbye. We made another stop at the nearby St. John de Baptist Church of Liliw, bewildered and amazed with its red-brick structure, then tasted the local kakanin called "buding" sold outside the church.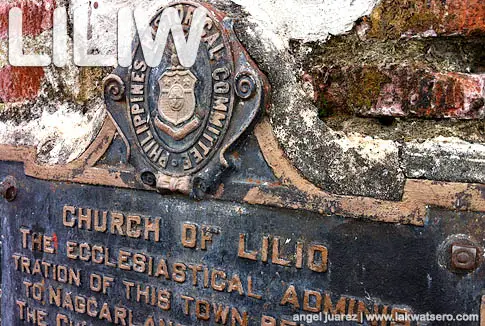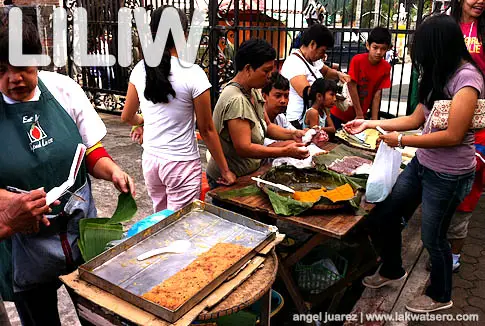 Before noon, we were already battling the ascending slopes of Majayjay. It was the hardest part of the trip, with steep and sharp uphill slopes that punished our legs and tested our strength and stamina. But we were thankful that the sun hid behind the gray clouds, one that I prayed for the night before. There was a short moment of drizzle but the heavy clouds moved away and an overcast sky prevailed. It was a great relief.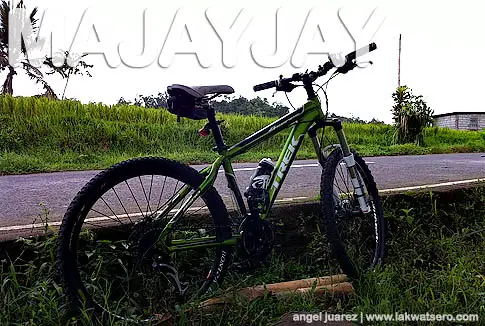 After nine hours since I started to pedal from Manila, we finally reached Lucban, just in time for midday break. We proceeded to Lakwatserong Kusinero Rest'o for our lunch and finally met the all-girl tripsters Mela, Emely and Jennifer with her daughter Gab, who came all the way from Lucena just to meet us.
Lakwatserong Kusinero Rest'o (House of Asian Cuisine) is owned by Chef Janjie, who happened to be on duty in Malampaya the day we visited. Aside from being a chef and an entrepreneur, he also does poi dancing and organizes out-of-town camping trips and adventures. His restaurant is a proof of his being a lakwatsero as seen on display, the collection of photographs and other items from the places he visited.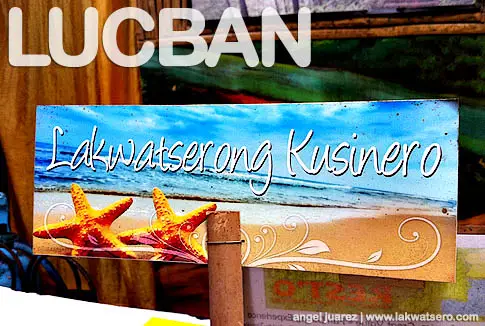 We rewarded ourselves with Crispy Pata, Buttered Chicken, Chopsuey and Yang Chow Rice. The fatigue and hunger quickly dissipated as we devoured the sumptuous dishes served to us.
By two in the afternoon, we said goodbye to the girls but not without the famous Lucban Longganisa that they gave. Thanks again Mela, Emely and Jennifer.
We chose the Lusiana way going back but the challenge was not yet over with stretches of uphill in this town. But we were determined to pedal all the way going back and we knew it wouldn't be easy.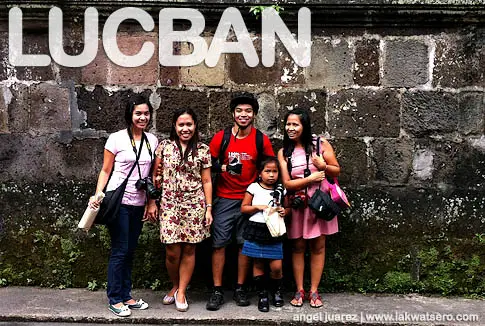 The scene slowly changed as we traversed the national highway going to Manila. From the highlands of Lusiana and Cavinti, down to the beautiful quaint towns of Pagsanjan, Sta.Cruz, Pila, Victoria, Calauan, Bay and Los Baños, and through the urban landscapes of Calamba, Cabuyao, Sta. Rosa, Biñan and San Pedro, until we reached Metro. Passing the mountains of Laguna and Quezon, old churches, beautiful arcs, heritage houses and the countless awkward SM Malls and Super Centers along the road.
We were oblivious with time and I can't even remember where we were when the sun set or when the blue sky turned to dusk. We were preoccupied with seemingly endless horizon ahead of us. It was already dark and I was already tired. But the nonchalance of my two bike buddies to hunger and restlessness, if they ever felt it, somewhat comforted me. If they were able to stand the challenges of the day, I believed that I could too.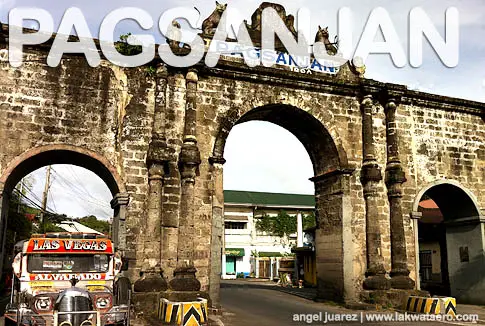 It was a long journey home but in the end, we all survived, tired but proud and satisfied. We had our dinner at a fast-food in Alabang before we all parted ways. Ken and Aj were already home in Las Piñas, while I was left pedaling alone to Manila.
After 21 hours and 204 kilometers of biking, I was back to my abode. Wasted, tired, and sleepy but with a big smile on my face. It was such a great day and there were so many reasons to smile: my new milestone of 204 kilometers on bike; my two amazing and inspiring bike buddies Ken and Aj; our sumptuous lunch at Lakwatserong Kusinero Rest'o; the stunning scenery from the mountains and greens of Laguna and Lucban to the night lights of the Metro; the very cooperative weather; the lovely people we met in Liliw (Aj's relatives) and Lucban (Mela, Emily, Jennifer with Gab); and the whole experience!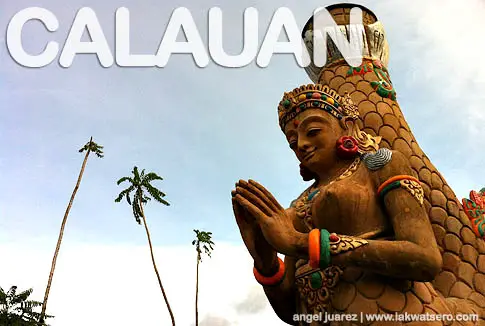 The whole day took its toll on me, my mind and body were already screaming for a good rest . When I closed my eyes, I still could feel the rushing wind of speeding down the slopes of Cavinti and Pagsanjan, I felt like flying. And then the beautiful scenery flashed back one after the other until my consciousness totally faded. Twenty-one hours on the road, soaked in the sun, exposed to road dirt, restless, aching body… but  it's all worth it! It's all worth it.