I was supposed to go to Sinulog on the third weekend of January but the flights to and from Cebu on that weekend were already fully booked. So I thought of another place to go and for some reason I ended up choosing Baler.
Baler is the capital of the province of Aurora, a town increasingly becoming popular not only to surfing enthusiasts. No doubt because the town is  blessed with natural attractions and historical spots that truly beckon.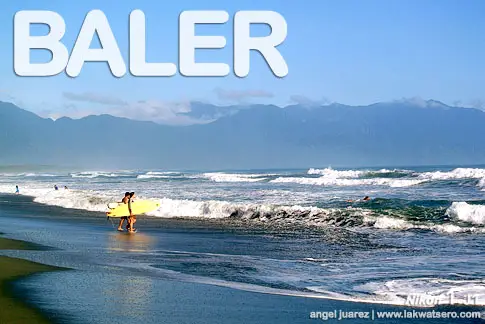 I haven't been to Baler and the entire province of Aurora yet, to think that it is only six hours away from Manila. So I welcomed the idea of this detour. To make it more exciting, I decided to bring my folding bike.
I biked my way from our home in Sta. Cruz, Manila to Genesis Bus Terminal in New York, Cubao. It was 30 minutes past midnight, quite early for the 2AM regular aircon bus so I had enough time to fix my bike and rest. All eyes were on me as I folded my bike. Some curious bystanders were really amazed with my toy, they even approached me and fired question after question – "how much it is?", "where did you buy it?", "how heavy?", "you're bringing it to Baler?", etcetera and etcetera.
I was shy that I got the attention of the crowd but really proud of my bike. When the euphoria died down, I sat on an empty chair with the folded bike on my side and waited for the bus to arrive. The thought of traveling alone with a folding bike hit me. It was my first time to bring the foldie on an out of town trip, I was anxious and a bit afraid.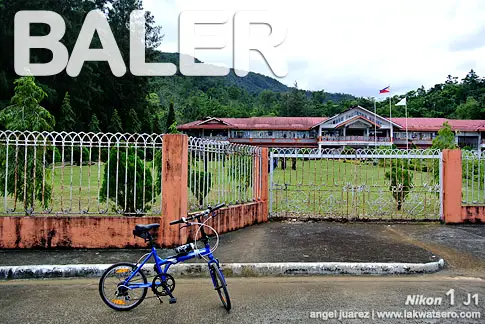 An hour before the scheduled departure, the bus arrived and the awaiting passengers hurried to secure their own seats. I went inside and put my bag on an empty spot at the middle of the bus, then went down to fix my baggage. With its relatively reduced size, it quickly fitted on one of the compartments, leaving more space for other baggage. Presto! We were good to go!
The bus left a few minutes after two o'clock in the morning, had short stops at Cabanatuan and San Jose and made it to Baler after six hours. Again, my foldie attracted attention as I unfolded it in the terminal.
From the bus terminal, I pedaled to Sabang Beach to look for an accommodation. The famed Bay's Inn was fully booked, as well as the nearby Bayler's View Hotel. I never thought that accommodations in Baler would be fully booked on that time of the year. I searched the net and some of the bloggers I know recommended Pacific View Inn and Jam and Jen's Lodge. Only aircon room was available on the first but I was lucky on the latter, the guest in their fan room just checked out.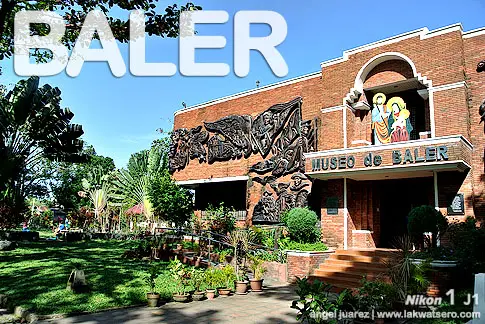 So I went to Jam and Jen's Lodge and there was Ate Marivic, the owner, fixing my room. Her warm welcome and comic aura made me feel at ease instantly. Priced at P600 per night for a clean and decent fan room with wi-fi, just a stone throw away from Sabang Beach, it was actually a good deal. Plus, I was able to check-in early. Thanks Ate Marivic 🙂
By nine o'clock in the morning, I was already comfortably resting in my room and at ten, I was off for a tour of Baler. I was aiming to check out Dicasalarin Cove so I dropped by Bahia de Baler, just beside Jam and Jen, and paid for a gatepass worth P300, entrance fee is required for non-guests of Bahia de Baler payable to the hotel's Reception Desk.
After obtaining my gatepass, I proceeded to the historic plaza where Baler Church, Doña Autora Aragon-Quezon House, Municipal Hall and Museo de Baler are located. I made a quick round at the plaza and bought some snacks and power drinks before heading southwards.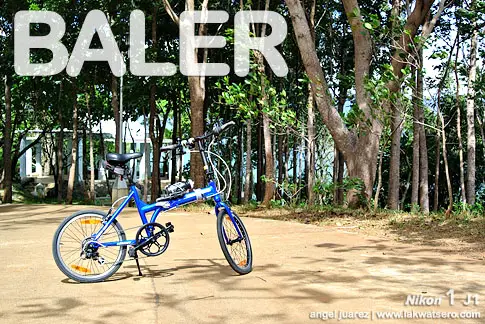 From the plaza, I pedaled my way to the general direction of the Philippine Atmospheric Geo-Physical and Astronomical Services Administration (PAGASA) Radar Station and Dicasalarin Cove, and along the way are some of Baler's famous tourist spots.
First stop was at the Dikaloyungan, where Katipunero's teared their cedula as a sign of protest against the Spaniards, it is along the road, halfway between the junction of the main road and Aurora State College of Technology (ASCOT). A National Historical Marker was enshrined on the site to commemorate its importance not only in the province of Aurora but also in the country.
Passing through ASCOT, its beautifully designed old school building caught my attention so I took a couple of shots of their campus before my foldie's first real challenge – the Ermita Hill!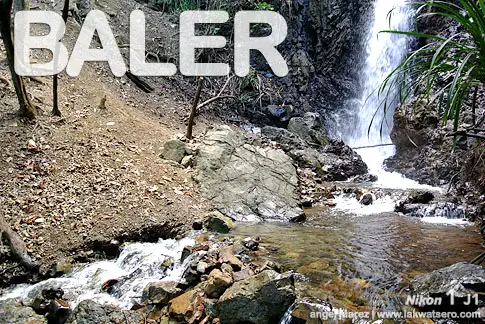 Situated around 50 meters above sea level, Ermita Hill is one of Baler's prominent spots. With its panoramic view of Baler Bay, the hill turned into a park, is a favorite stop  for locals and tourists alike.  The hill which is known in the old times as Point Baja was where the Balerians took refuge during a tsunami that washed away an old village known as Kinagunasan in the 17th century.
After a quick rest atop Ermita Hill, I pedaled down and continue my journey passing Cemento Beach, Baler Fish Port, the small falls of Diguisit along the main road, Diguisit Beach and Añao Islet. Finally, at exactly noon, I was already at the foot of the hill going to PAGASA Weather Station and Dicasalarin Cove, the start of the steep climb.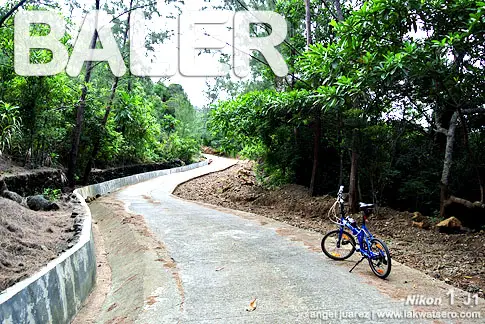 Slowly, my foldie and I climbed the steep hill. I cleared the first few meters up but halfway to PAGASA weather station, I felt that my bike was already giving up, the screech sounded as if it was suffering and I pity my little bike. On that moment, I thought of my mountain bike. I am pretty sure that the ascent would be bearable and easier with it but not with my foldie. So I got down and just walked on the steepest area and after fifteen minutes, I reached the PAGASA and Dicasalarin Cove Junction. It was a descending road from there so I enjoyed the downhill. It took me another fifteen minutes to reach the gate of the private cove.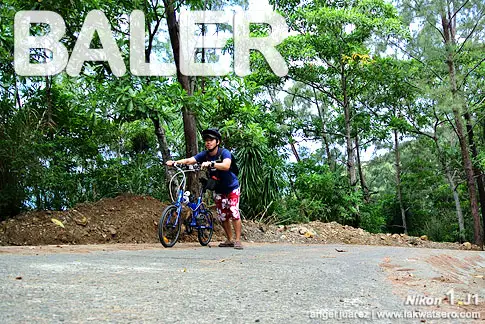 There was no one around when I arrived in Dicasalarin Cove, no guard to check my permit, no one to talk to or ask around. Carefully, I got inside looking for someone. I parked my bike in one of the cottages and waited. A few minutes of nothing passed yet  there was no other sign of life but me, so I decided to walk to the beach
It was an empty cove with huge waves hitting the shore. A sign says that swimming is prohibited. I was tempted to dip but decided against it. Still, no one was around but me. I saw the intriguing structure on a hill on my right. A lighthouse? I think not.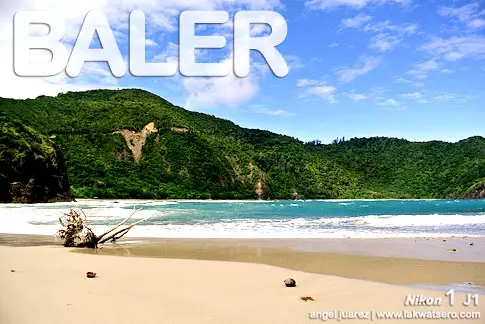 I went back to the cottage to check my bike and thankfully an old woman emerged from nowhere. I approached her and asked permission to park my bike in the cottage and climb the hill to check the rumored lighthouse. She nodded.
So I went back to the beach, walked towards the hill and up the built trail towards the top. Intrigued and puzzled, I inspected the white peculiar structure. It doesn't look like a lighthouse to me albeit everyone I asked said that it is. A graffiti on the wall that saying that it is a "water treatment facility" added confusion.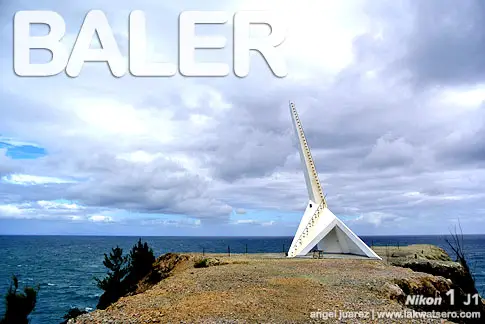 The southern sky turned gray and hinted a shower so I decided to go down, back to the cottage where I parked my bike. It was still there but it attracted kiddie audience curiously inspecting my bike. I smiled as I approached them and they moved back as I unlock their subject. They saw my camera and dared me to take picture of them, I  instructed them to pose and they gamely did. They crowded me after I hit my shutter, I showed them their pictures and they all laughed.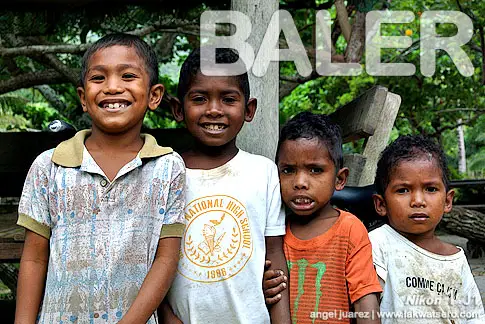 It was half past one in the afternoon, I was already craving for lunch so I bid goodbye to the kids and pedaled out of the gated area, back to the sloping road towards PAGASA Weather Station then down the hill, a total of 30 minutes on a pedal and foot combination. I continued biking to town and at exactly three o'clock in the afternoon, I was back in Sabang where I feasted on cheap and delicious offerings of Bay's Inn restaurant.
Tired of biking, I decided to just laze inside my room for the rest of the day. The next day, I woke up early to catch the sunrise at Sabang Bay. The waves were perfect that morning and the early morning surfers looked like they were really enjoying. It had been a long time since I ride the waves, the last one was a year ago in Pagudpud during Lakbay Norte. I wanted to try again but the water was so cold so I passed. I went back to my room, packed my stuff and took a short nap. My trip back to Manila was at noon.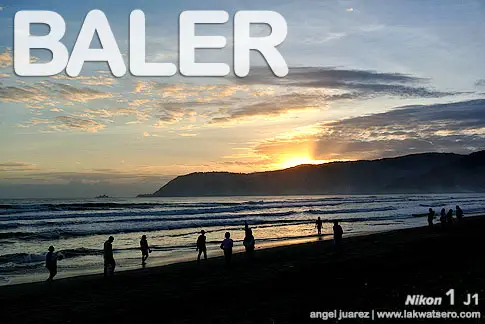 I had real fun on my first time in Baler and my first out-of-town trip with my folding bike. I find it to be a cheap way to explore Baler. There were places I missed though, but I guess they were enough reason for me to go back in this beautiful town. It was a tiring trip but a well spent weekend nonetheless.