A day before the Valentines Day of 2010, I attended a wedding of a college friend Donna to Jurick at Transfiguration Chapel of Caleruega in Nasugbu, Batangas. The chapel is merely a short drive from Tagaytay City and with its temperate weather and panoramic view, the place is one of the dream wedding locations for future life partners, and I can say that it really is a great place to celebrate love.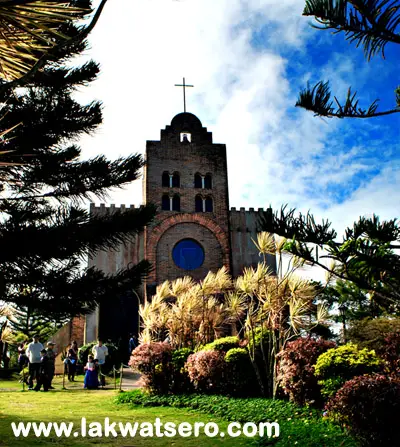 Caleruega is actually a house of prayer and renewal. It is an ideal place for retreats, recollections, youth camps, team buildings, workshops and other activities. But for lovers who have been there, it is a perfect place for their sweetest day.
According to their website, the entirety of the chapel is filled with symbols.
Its façade is a reproduction of the original chapel in Caleruega, Spain. Its hut-shaped roof is in remembrance of the temporary sheds that the apostles wanted to build for Jesus, Moses, and Elijah during the transfiguration (Mt 17:1-8). The seal of the Dominican Province of the Philippines is depicted in stained glass in the upper portion of the chapel's façade. The seven grapevines entwined in the steel doors of the chapel not only portray Jesus as the vine and we as branches (John 15:5), but also symbolize the seven sacraments. The main altar is a carved tree trunk representing the "stem of Jesse," mentioned in the Book of the Prophet Isaiah: then a shoot will spring from the stem of Jesse, and a branch from his roots will bear fruit (Is 11:1). The tabernacle is a gentle reminder of the burning bush through which God revealed Himself to Moses in Mt. Sinai (Ex 3:2). The birds carved on the communion table are representations of God's providence in Matthew 6:26: Look at the birds of the air, that they do not sow, neither do they reap…and yet your heavenly Father feeds them. The stained glass depicts the Transfiguration of Jesus witnessed by Peter, John, and Luke. With Jesus are Moses and Elijah, two significant instruments of God in the Old Testament (Mat 17:3).
Scheduling
Scheduling your wedding in Caleruega should be done as early as possible since the chapel is in demand for such event. The best months are from November to June or during the dry season. Wedding fee as of February 2010 is P15,000.00. The fee is for the use of the chapel, sound system, organ and services of priest that will solemnize your wedding and altar boys (sacristan), but exclusive of flower arrangement and choir. You may also opt to provide a priest if you already have one.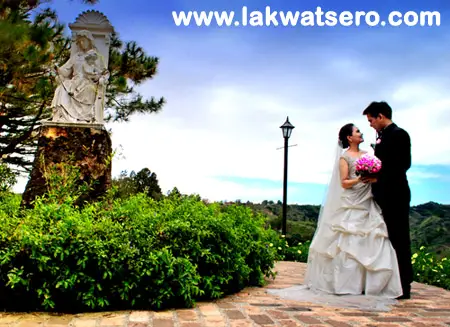 Reception
Reception should not be a problem for they have indoor facilities like the Veritas (Reception Hall) that can accommodate large gatherings, or at Gazekubo and open air roof deck for smaller groups, you just need to look for your own caterer. But with Tagaytay City just stone-throw away,  you may scout for your wedding reception venue from restaurants with scenic view of Taal Lake and Volcano to the various event halls in the city. Some of the popular reception venues are Antonio's, Bag of Beans, Chateau Royale, Hacienda Isabella, Josephine's, RMS, Royale Tagatay, Sonya's Garden, Splendio and Ville Sommet.
Going There
If you are going to Caleruega via private transport, just follow the usual routes to Tagaytay City, it is either via South Luzon Expressway (SLEX)  or Coastal Road – Aguinaldo Highway – Cavite.
Via SLEX, take the Carmona Exit and drive down to Governor's Drive and Silang up to the entrance of Tagaytay City. You can also take Sta. Rosa exit going to Tagaytay City. Via Coastal Road, drive south to Aguinaldo Highway passing through Bacoor, Imus, Dasmarinas and Silang, Cavite.
From Tagaytay City Rotonda, follow the road (Aguinaldo Highway) that leads to Nasugbu, then turn left at the Evercrest Golf Club right after the Nasugbu welcome arc. This will lead to a "Caleruega" sign pointing to a road to the right. Follow the sign and Caleruega is at the end of that road.
For commuters,  there are buses in EDSA Taft going to Nasugbu or Balayan, they will pass through Tagaytay City and Evercrest Golf Club. Get off at Evercrest and take a tricycle from there. Advise the trike driver to wait for you or fetch you on agreed time because there are no trike station in Caleruega.
Contacts and Rates
In summary, here are the contact information and rates as of February 2010 for using the chapel and other facilities of Caleruega:
Caleruega's Transfiguration Chapel
Address:  Brgy.  Kaylaway, Batulao, Nasugbu, Batangas
E-Mail: [email protected]
Contact Numbers: (043) 706-0348 / 0921-830-4226 / 0921-270-9890
Contact Persons: Ms. Jackie, Ms. Melda, Ms. Cristalle
Wedding Fee :
Use of the chapel – P15,000.00
Reception:
Roofdeck – P40,000.00
Veritas – P30,000.00 + use of Aircon P5,000.00
Gazekubo – P25,000.00 + use of Aircon P5,000.00
For more information on holding your wedding or other events in Caleruega, please visit their website at: http://www.dominicans.ph/caleruega/index/index.htm.