The ride back from Kuala Besut to Kuala Terengganu was smooth, it only took us two hours. We arrived at the bus station at noon, the sun was up and it felt like summer so I just decided to take the Waktu Perjalanan Bus to Chendering, the only local bus parked at the terminal, for only 1 Ringgit. I left my backpack in the luggage storage in Hentian Bus Terminal for only 2 Ringgits.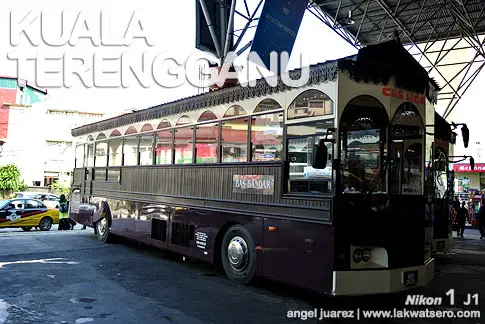 The airconditioned, spacious and beautifully designed Waktu Perjalanan Bus passed to the Stadium Negeri, Hospital Sultanah Nur Zahirah, Kelab Golf di Raja and other interesting spots onwards to Laluan Chendering where I got off.
The Chendering stop is right in front of Masjid Sultan Ismail, a picturesque, white and beautiful mosque. I wandered around the area for a while, amazed with the Islamic landmark of Chendering. I never been to a lot of mosques before, but the mosques of Malaysia piqued my interest and curiosity that I wanted to see more. Terengganu alone is home to some of the famous mosques in the country being a predominantly Islamic state.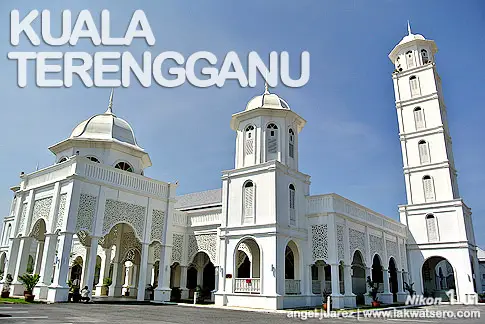 After seeing Masjid Sultan Ismail, I walked to nearby area and saw a Keropok Losong store. I asked for a Keropok Lekor, very famous in Terengganu. Kerepok Lokor is made up of ground fish, it is actually a fish sausage. A whole order costs 5 Ringgits, but the serving was so huge so I asked only for small part so I could taste it. The kind attendant gave me small serving for free. She was smiling as I slowly eat the Keropok Lekor. It actually tasted good, I wanted to have one whole order but I was still full from my heavy lunch.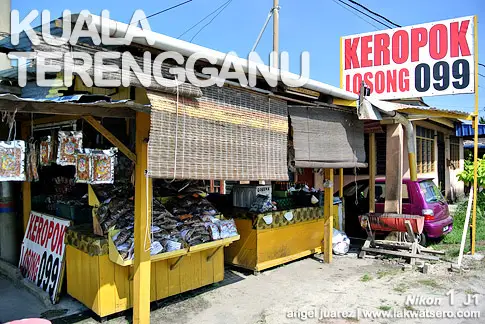 I went back to the Chendering bus stop and hopped to a local bus to Kuala Terengganu bus station, I paid 1.50 Ringgits. Then I transferred into another Waktu Perjalanan Bus that took me around Losong, passing the Museum Negara and towards Taman Tamadun Islam in Pulau Wan Aman an Edutainment Park famous for Masjid Kristal or the Crystal Mosque. Going back, I got off at Mydin Mall and walked for two kilometers along Sultan Mahmud Bridge, to Pulau Duyung to have a closer unobstructed view of Masjid Kristal.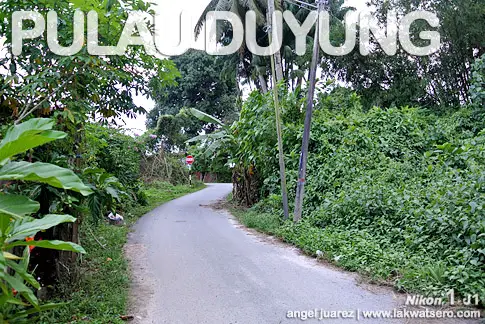 Despite its proximity to the highly urbanized Kuala Terenganu, Pulau Duyung has maintained its rural and laid back ambiance. A total opposite to the hustle and bustle of the Terengganu capital. Here people spend the time slowly, children leisurely playing on rural streets while along the shore, men are building wooden boats. The rustic charm of Pulau Duyung makes it one of the favorite stops of tourists in Terengganu.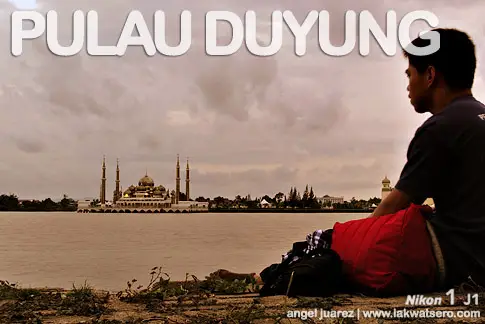 The sun was already down as I stepped my feet in the island. I took the road that leads to the shore fronting Masjid Kristal, and there it was, in all its glory, the beautiful Crystal Mosque of Terengganu. It was so grand and utterly amazing.
I sat on the shore for quite some time doing nothing, just staring at the mosque. As the darkness slowly creeps the sky of Terengganu, the mosque started to shine as it lighted up for the night. She was more beautiful at night.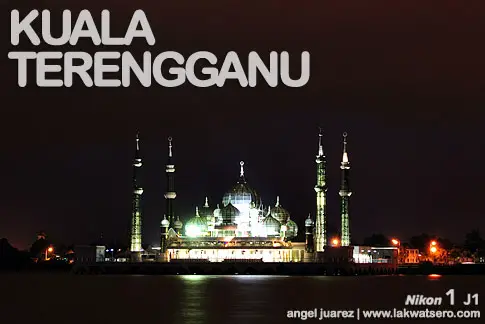 I took a couple of shots of the bridge, the mosque and the port of Pulau Duyung at dusk. Oh what a lovely way to spend the last night of my short stint in Kuala Terengganu. I wish I had more time, but for now, the amazing scenes during your blue hour are happy memories that I will forever remember and cherish.
Terimah kasi Terengganu!
Thanks to Zest Air and Tourism Malaysia for making this trip possible. Zest Air now flies four times a week from Manila to Kuala Lumpur.