Reunited with our group and still high after summiting Mt. Kinabalu the day before, we faced another day of adventure in Sabah Malaysia – wild water rafting in the raging Padas River!
From downtown Kota Kinabalu, we traveled to the jump off point at Padas by van and by trains. Going there was already a worthy adventure – the drive to Beaufort Train Station, the train ride to Halogilat and Rayoh Stations, and the transfer to Pangi Station took four hours on a scenic countryside of Sabah.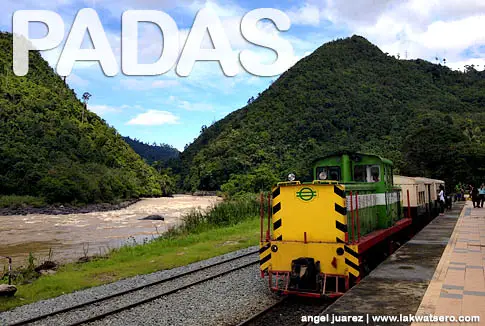 Almost all passengers of the smaller train from Rayoh to Pangi were into the river adventure. We arrived at Pangi at ten o'clock in the morning and headed to the Borneo Ultimate Sports and Adventure Tours (BUSAT) Hut. We rested for a while before one of their staff conducted the routine briefing. It was no different from the briefing we had before white water rafting in Cagayan de Oro, Davao or Tabuk.
Padas River is located southwest of Kota Kinabalu, in the interior part of Sabah accessible only by train. The term "padas" means spicy in Malay. The river boasts of approximately 13 kilometers of raftable stretch consisting of six major rapids of Class 3 to 4 and few minor ones.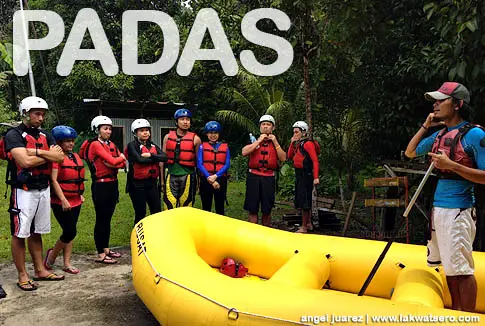 After the briefing, we all headed to our assigned rafts. There were three groups, but the nine of us fitted in a single raft. Our guide was a funny guy they called Kingkong.
By half past the hour of ten, our adventure in the water began. We spent the first few minutes on getting accustomed with the raft, Kingkong taught us only two paddle movements – forward and backward, all other controls were on him. We hit few minor rapids, probably of Class 2 and 2.5, before the major ones. Then we were ready!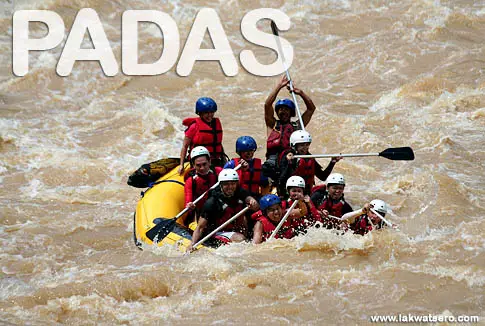 We were treated to a two-hour of adrenaline pumping wild water ride in Padas River, on the raging rapids they aptly named Merry-Go-Round, Break Point, Scooby Doo, Cobra, Curve, Lambada and Head Hunter. The rapids were indeed wild, I lost count of how many of us fell into the rapids, it was fun nonetheless!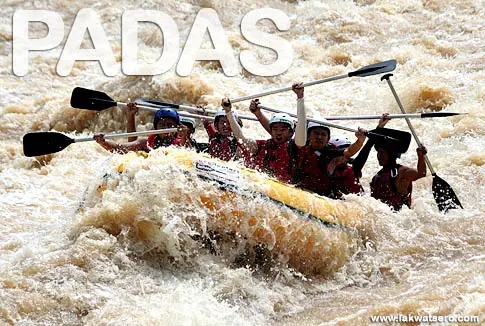 At past noon, we reached Rayoh Station, the end of our adventure. The entire experience was quite short, but we were all happy and high. We showered and dressed up while exchanging laughter and stories. A lunch buffet was served afterwards.
By 2PM, the train arrived and we all boarded. Our tired and aching bodies killed the euphoria of our adventure.  We changed train again at Halogilat and transferred to our van at Beaufort. By 6PM we were back at our hotel in Gaya.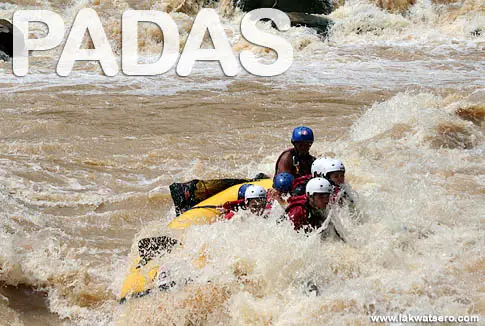 It was indeed an adventure filled trip. This plus our journey to the summit of Mt. Kinabalu made me love Sabah. I missed the waterfalls, the beaches and the dive sites but what I have experienced were more than enough to fall in love with the place. I left a part of me there with a promise to return again someday to experience more.