Isn't it great to have an unplanned weekend exploration to some places you haven't been before? It is like, every place you go is a surprise, you get to know new stuff, discover new places, experience something you haven't done before and do things as spontaneous as it transpire. And all you have to do is to enjoy every bit of surprise and thank life.
I spent one weekend in Pagsanjan, Laguna to visit a friend. Pagsanjan, as we all know, is the tourist capital of Laguna and is famous for shooting the rapids of the river and crossing the Pagsanjan Falls via bamboo raft. But I didn't venture into that, and yes I will try it on my next visit.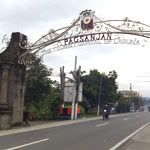 [1] Sta. Cruz-Pagsanjan border.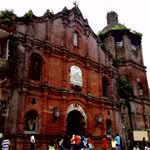 [2] Liliw Church.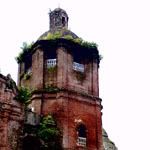 [3] Belltower of Liliw Church.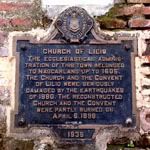 [4] Historical marker.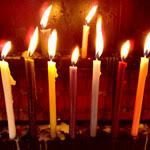 [5] Candle offerings.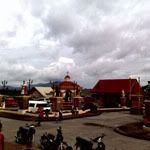 [6] Liliw plaza.
Pagsanjan is located on the eastern part of Laguna. It is a three hour bus ride from Buendia, Pasay passing to South Luzon Expressway all the way to Calamba, Los Baños, Bay, Calauan, Victoria, Pila and Sta. Cruz. I've only been to as far as Los Baños taking this route so when I passed by the town of Pila, I was amazed of the beauty of the place where old houses lined up in a street. I promised to spend a day in this town someday.
It was already dark when I arrived at Pagsanjan. By nine in the evening, the whole town was almost asleep, so after a couple of alcohol I decided to call it a day and sleep. The next morning, along with my friends, we woke up early, got in the car, drove to nowhere and realized we were on Liliw, Laguna.
Liliw is famous for its red brick church, old and beautiful. The Saint John The Baptist Parish of Liliw (Lilio Church) was built in 1605 but what is erected now is just a reconstructed church and convent, since the original structure was seriously damaged by the earthquakes of 1880 and partially burned on 1898.
Liliw, Laguna is also famous for its Tsinelas (Sandals). You can find a lot of fashionable shoes and sandals originally made in this town at inexpensive prices, in fact they have their own Tsinelas Festival celebrated every April to showcase their famous product.
After a short visit to Liliw, we headed to Batangas. Our destination – San Nicolas, one of the towns surrounding the Taal Lake. It is a two hour ride from Pagsanjan via Star Tollway, all the way to Cuenca, Alitagtag and Sta. Teresita. We spent some time in Taal Lake fishing, and from there, I was amazed with the different view of the Taal Volcano, at least for the one who is used on seeing it from Tagaytay viewpoint.
We then went to a town not far from San Nicolas, (a neigboring town in fact) – Taal. It is a heritage town, with old houses and structures still standing and well preserved, among them is the Basilica de San Martin de Tours (Taal Basilica), which is the biggest church in South East Asia. Taal, a former capital of the province of Batangas is also famous for Barong Tagalog and Balisong.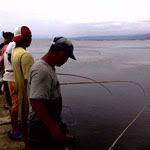 [1] Fishing in Taal Lake.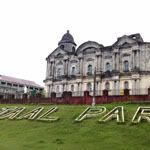 [2] Taal Park.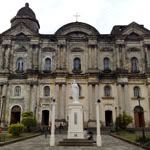 [3] Taal Basilica.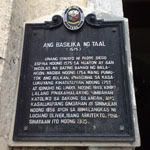 [4] Historical marker in Taal Church.
[5] Church interior.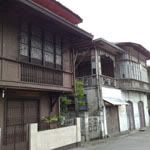 [6] Old structures in Taal –  a heritage town.
It was already raining when we decided to take a dip in the beach of Lemery. Since we didn't plan for this, we have no extra shirts, underwear and all, so we dropped by to a small store in Taal to shop before driving to Lemery, the rain stopped. When we reached Lemery, we hurriedly went to the beach as it was already getting dark. The waves were high but didn't stop us from swimming in the black sand beach of this coastal town.
It was really a fun weekend. Having been born and raised in Manila, I always overlook Batangas, Laguna, Cavite, Quezon, Bulacan and other neighboring provinces of Metro due to its proximity. I always think that they are within my reach and end up bypassing these places when in fact they offer a lot of surprises and wonderful places, and it is a very good opportunity for me to have an unplanned weekend spent there. Surely, I will go back there to discover and explore more.
By the way, if you happen to be in the area, don't forget to try the buko pie of The Orient Original Buko Pie, located in Los Baños, they say this is the best buko pie in Laguna. I haven't tasted it yet (almost actually, but they ran out of buko pie), but the long queue of customers everyday seems to prove that it is really good. Also, don't miss the famous Bulalo of Rose and Grace, with branches in Sto. Tomas, Sta. Rosa, Calamba, and SLEX, with good reviews and feedback, it is indeed a "must try", right Benj?