It was a cold and foggy morning in Kathmandu and the thunderstorms at dawn made the morning cooler on my second to the last day in Nepali capital. I woke up chilling even with a thermal blanket covering my body. As usual there was a power outage which seems regular in the city.
I was hoping for a sunlight and blue skies but an overcast one prevailed. But it didn't stopped me from wandering.
There were still spots on my Nepal bucket list that I needed to see before I hop on a train back to India.  I needed to see the Stupas in Kathmandu and Patan Durbar Square in Lalitpur.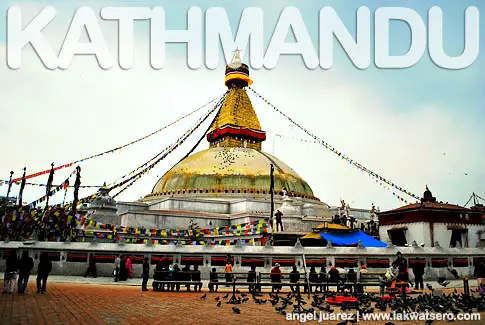 My day started at eight in the morning with a walk from Thamel to Boudhanath Stupa. I reached the sacred Buddhist site after an an hour and a half of walking, passing by Chabahil District where I had my first sighting of a Nepali Stupa.
Located in the Boudha District of Kathmandu, Boudhanath Stupa, also known as Bodnath or Boudha Stupa, is the holiest Tibetan Buddhist temple outside Tibet and the largest Stupa in Nepal. It is considered as the center of Tibetan culture in Kathmandu. Built during the 14th century, the Stupa was declared as a UNESCO World Heritage Site in 1979 due to its importance in Tibetan Buddhism being a pilgrimage and meditation site.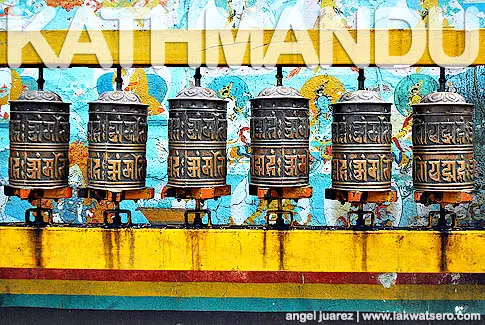 As with other tourist spots in Kathmandu, an entrance fee of 200 Rupees is collected at the main entrance but like others, there are ways to get in for free. I found a small alley next to the main gate that also leads to the Stupa so I got to enter without paying. I know I was bad but I was really in a tight budget, sorry 🙂
The sky started to turn blue and the sun showed up at last. I wander around the complex for a while just watching people, tourists and Buddhist pilgrims alike. Shortly after, I left and walked back to Chabahil District to ride a bus going to Ratna Park where I experienced the Kathmandu traffic. It took me an hour to reach Ratna Park, almost the same time by foot.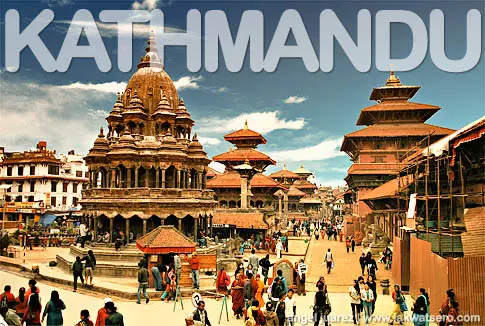 From Ratna Park, I headed south to the general direction of Patan Durbar Square in Lalitpur. It was another hour of walking. An hour past noon, I reached Patan Durbar Square.
The Durbar Square of Patan is another UNESCO World Heritage Site in Kathmandu Valley, five kilometers south of Kathmandu. It houses the residence of the former Patan royal family and one of its attractions is the Ancient Royal Palace where Malla Kings of Lalitpur resided. Inside the complex are three main courtyards – Mul Chowk, Sundari Chowk and Keshav Narayan Chowk, and other impressive temples, religious shrines and historical places reminiscent of ancient Newari architecture.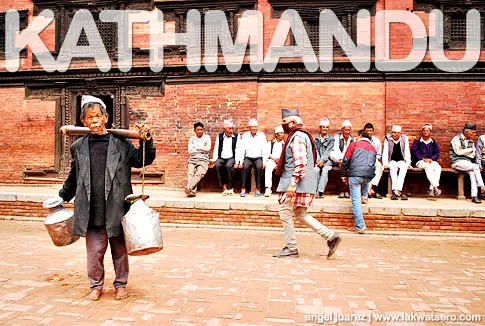 As expected, there are also small alleys leading inside for those who want to avoid paying the entrance fee at the main gate. I chose the free entry point because my budget was already depleting (again please pardon me).
Patan Durbar Square is not as big as Kathmandu Dhouka or Bhaktapur but equally beautiful. I spent some time walking around until I got tired, so I sat in one of the temples to rest. I watched people as they came and went on the busy square with the aging temples and structures seem unaffected. I checked my watch and an hour already passed. It was time for me to go for my next and final stop – the Swayambhunath Stupa.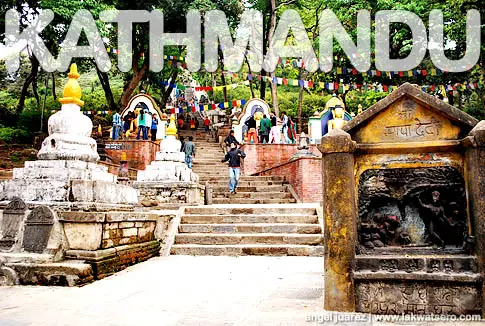 Another hour-and-a-half of walking from Patan to Swayambhunath in western Kathmandu and I reached the famed Tibetan Buddhist temple past three in the afternoon. Situated on the top of a hill that is accessible via the 365-steps stairways, the temple is believed to be 'self-created' or 'self-existed'. Also known as Monkey Temple, it is one of the most popular, holy and instantly recognizable landmarks of Nepal, another UNESCO World Heritage Site.
I paid 200 Rupees at the main gate to get to the top of the hill where the famed temple is located. I was already tired and hungry after walking almost whole day but seeing the temple and the unobstructed view of Kathmandu from the top of the hill made me forgot the restlessness and hunger. The place is just so beautiful.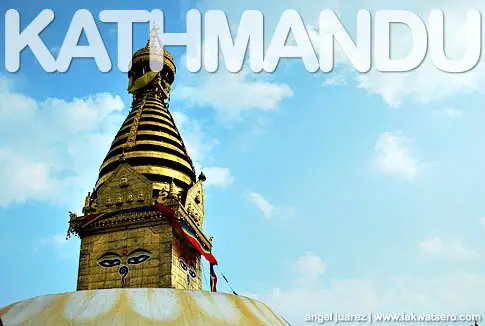 I walked back to Thamel and reached my room in Chitwan Guest House at around five in the afternoon, the rain started pouring in. When the rain subsided, I walked around the tourist district of Thamel and bought a really cheap North Face fleece jacket (knock-off but looks really good), a couple of books and some souvenir items. It was already getting dark and my last night in Kathmandu, a city that I learned to appreciate and love, was also my saddest moment. My six days of solo backpacking in Nepal was about to end and I still wanted to stay longer. My memories of Nepal were all beautiful and I will definitely miss all of it, from the amazing ancient temples to the scene of the shy Himalayas. I promise to return soon!