One of the fast rising tourist destinations in Central Luzon is the Mt. Pinatubo, the infamous volcano that had its catastrophic eruption in 1991 after centuries of dormancy. Its eruption was considered as the biggest and most destructive volcanic eruption in the recent years.  It claimed hundreds of lives, displaced thousands of families, destroyed billions worth of crops and unknown to many, brought down the world temperature by a few centigrade.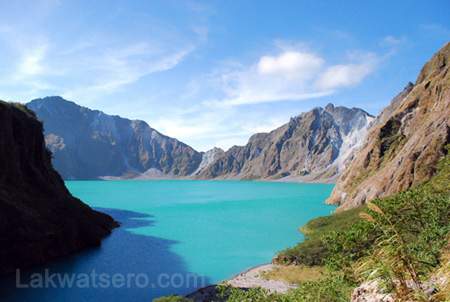 Years after its tragic past, the volcano is slowly becoming a popular tourist spot, attracting many local and foreign tourists, myself included.
A day trek to Mt. Pinatubo was actually a great way to start my travel year 2009. Together with the Travel Factor guys, I braved one cold Sunday morning of January to trek the volcano. We left Manila around 3 in the morning and headed to Tourism Office in Barangay Sta. Juliana, Capaz, Tarlac, where we rode the 4×4 jeep via the skyway.
There are actually two known ways of going to the crater from Capaz, Tarlac, the longer one requires four to five hours trekking along a gradual gradient of rocky trail, while the shorter one is via skyway,  where only 4×4 vehicles are allowed, passing to a desert like field and traversing an uphill trail to a jump-off point that requires only one to two hours of trekking. We took the latter, and after one to two hours of walking on a rocky trail, we finally reached the crater around 10 in the morning.
The scene on the top is fascinating. The crater reflects a vivid color that perfectly matched its gray sand wall and  blue sky. It is really picturesque. I forgot the hunger, the tiring two hour trek (how much more if we didn't take the skyway) and the heat of the sun. I just marveled on the awesome scenery right in front of my eyes, then after a moment of enjoying its beauty, I grabbed my camera and started capturing it digitally.
After sometime, more tourists arrived in the crater. I put my camera to rest. I sat near the water and just killed the time eating my trail foods while watching people and the surroundings, others were busy clicking their shutters, exploring the area and swimming in the crater. I loved the moment. It is not everyday that I get to see amazing natural scenes, and most if not all require hard work, patience and a strong will to see nature at its best.
Day Trek Itinerary
As mentioned, it is possible to trek Mt. Pinatubo on a day. Here is our itinerary.
03:00am – Departure to Barangay Sta. Juliana, Capaz, Tarlac
06:00am – Arrival at Tourism Office, Capaz, Tarlac for Registration
06:30am – 4 x 4 skyway ride to jump-off point
07:30am – Trek from jump-off point to crater
09:30am – Arrival at the crater, explore, photo ops
11:30nn – Lunch
01:30pm – Departure from crater to jump off point
03:30pm – Arrival at jump off point, 4 x 4 ride back to Tourism Office
04:00pm – Arrival at Tourism Office
05:00pm – Departure to Manila
Sidetrip
Before going home, have a glimpse of Philippine History at Capas Shrine. It is a memorial shrine for those Filipino and American soldiers who died during the Bataan Death March during the Japanese occupation of the Philippines of World War II. See the 70-meter obelisk towers above the grounds of the former interment camp and imagine yourself  seeing The Needle of Washington DC.
Note
Bring your own lunch, there are no restaurants on the crater, and please follow the LEAVE NO TRAIL PRINCIPLE: TAKE NOTHING BUT PICTURES,  LEAVE NOTHING BUT FOOTPRINTS, KILL NOTHING BUT TIME.