Coming from a short trip in Yogyakarta, the night train arrived at Jakarta's Pasar Senen Station at three in the morning, I thought of relocating to Gambir Station to spend the rest of the dark hours there before daylight. Gambir is more tourist friendly than Pasar Senen. It was also the suggestion of my new found Indonesian friend Hadi and thankfully it was along the way to where he lives.
We walked to the nearby bus stand, Hadi said local buses operate round-the-clock. As we were walking, I noticed the big improvement of the train station compared the first time I was there around three years back. Hadi said the government made a big investment in improving their railway system. Even the train's economy section now is fully airconditioned across all the routes.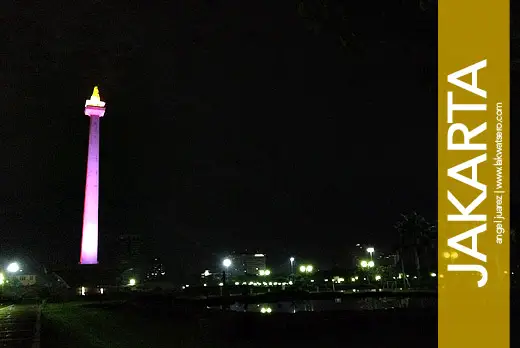 There were crowds grouped in the various areas of the station, all in front of huge TV screens. It was the FIFA World Cup Finals between Germany and Argentina. I know for a fact that Indonesians are big football fans and yet I was still surprised of their love for football. I told Hadi that Filipinos are not too much into football, that we are a basketball country. So while most of the world are hooked on the final match of the World Cup, I was pretty sure that majority of the Philippine population are in the middle of their deep sleep and oblivious of the FIFA fever.
A short five-minute walk and we were already in the bus stand. We hopped in the P20 bus that made it to Gambir Station in less than 20 minutes for only 10,000 Indonesian Rupiah (IDR), passing the National Monument which is just beside the station. It was in the middle of the dawn but Gambir Station was not deserted. Like Pasar Senen, there were crowds watching the World Cup Finals.
I entered the station and settled in one of the vacant seats hoping to catch more sleep with the remaining night time. But sleep was elusive, I was wide awake with more than two hours before sunrise. I finished the remaining JCo Donuts I bought in Yogyakarta and just surfed the net of quick things to do in Jakarta. After few minutes of research, I made up my mind. I would go to Batavia, the old town of Jakarta!
With nothing to do, waiting for daylight was quite boring. Then I remembered the National Monument they called Monas (short for Monumen Nasional), the famed obelisk of Indonesian capital which is just across the station. It was three years ago when I first visited it on broad daylight, so I stood up and walked outside to see how it looks at night. There it was, the towering obelisk that I found equally imposing under dark sky, with its full playful lights that add character and radiance to its commanding presence. I took some shot and headed back to my spot in the terminal.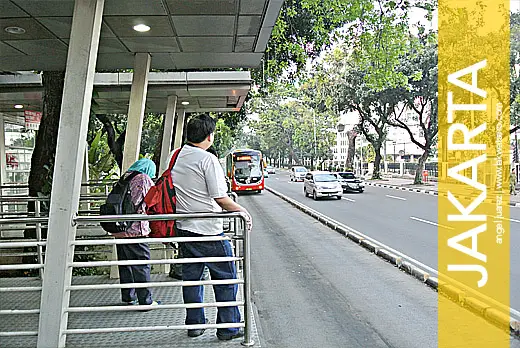 Trains arrived and departed, people came and went, time slowly passed and daylight started creeping in. I left the station a quarter before six and walked to the nearby Bus Rapid Transit (BRT) station to catch a Trans Jakarta bus to Kota. I was told by the BRT crew to take the bus to Monas and transfer to another one going to Kota. Easy!
I paid 3,000 IDR and followed as instructed and in less than one hour, including all the waiting and transfer, I was already in Kota Station. It was only around 7AM, quite early to be in Kota. The museums, government offices, shops and restaurants were still closed and the street workers were busy clearing and cleaning up the areas.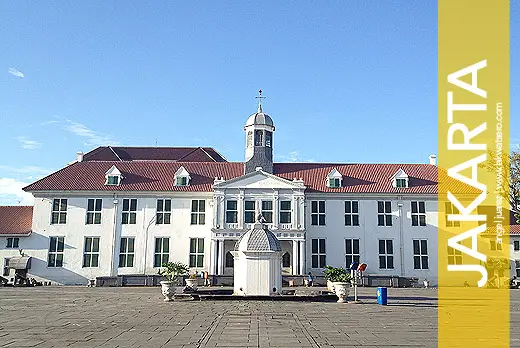 I took my time leisurely walking around Kota from the Jakarta Grand Central to Fatahillah Square, awed by classic beauty of Old Batavia, the center of Dutch Government's for more than 300 years of occupation of the archipelago. I never expected Jakarta to have this side, it was like a little Netherlands in Indonesia. And as I walked around, I was pretty impressed with the old structures that are still in good condition and saddened by those in state of neglect.
I walked in and around the Fatahillah Square for a couple of times, killing more time and waiting for the clock to tick nine. I thought of checking out Wayang Museum and having a breakfast at Djakarta Restaurant, which they say is the cheaper version of fancy Cafe Batavia. I sat in a shaded seat and waited for two hours for the old town to come alive.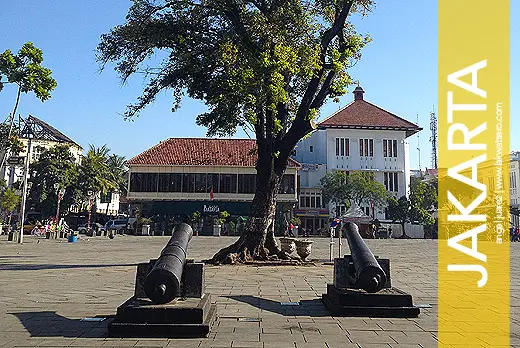 By nine in the morning, Cafe Batavia opened its door. Wayang Museum and Djakarta Restaurant were still closed. I wanted to wait until Djakarta Restaurant opens but I was running out of time, my flight was in four hours and I needed to be in the airport at noon, the latest.
Half hearted, I decided to go to Cafe Batavia and as I walk on its doorway, the corteous staff warmly welcomed me. I was instantly hooked with the old and classy ambiance and the grand interior of the restaurant . I looked around and managed to take some shot. Then I was led to the non-smoking area at the second floor, on a table by the window, overlooking the open square. It was a prime seat!
Although I have read a lot of good reviews and feedbacks about Cafe Batavia, I have high reservations due to budget constraints. But every guide book and blog says that it is a must experience and to be honest, a part of me really wanted to give it a try. Perhaps it was the "been there, done that" pressure.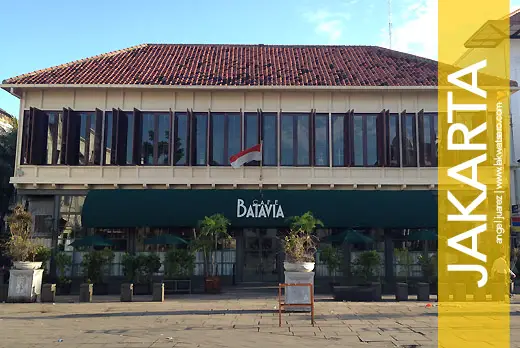 Since Djakarta Restaurant was still closed, I had no other choice but to go where the crowd go, to follow what the guide books and blogs are raving, hoping that it was all worth it. So I gave in to the pressure that is Cafe Batavia and splurged approximately 150,000 IDR for a generous serving of Nasi Lemak, a traditional Indonesian meal; Hakau; and Iced Cappuccino. In all honesty, they were all good although a bit expensive, as expected. But I charged it to experience, for me it was the experience of sitting by the window of the quaint and classy restaurant and eating awesome food that I all paid for.
It was already almost 10 in the morning when I left Cafe Batavia, Wayang Museum was still closed. I decided to leave Kota since my flight back to Manila was in three hours. I passed by the Tourist Information Office and asked if what time will the museum open, the Indonesian lady replied that the museums are closed on Monday. Oh yeah, it was Monday! Not that I forgot, the fact is I really do not have a sense of time.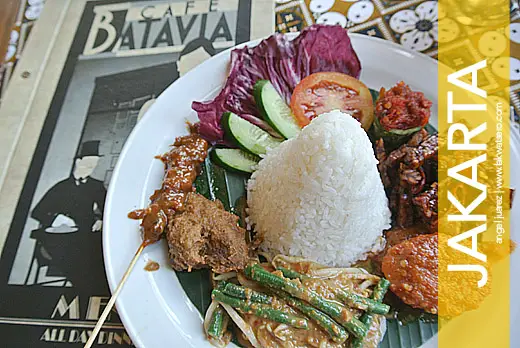 So I walked to the Jogjakarta Kota BRT Station and hopped on a Trans Jakarta bus to Monas, the same station where I changed platform from Gambir to Kota. When another bus arrived, I asked the personnel if it was going to Gambir and he nodded in affirmation. So I hopped in. But the bus went past Jalan Medan Merdeka Selatan and headed towards Bank Indonesia, then Sarinah and Bundaran Hotel Indones and Tosari ICBC, getting farther from Gambir. I decided to get off.
At Tosari ICBC, I carefully studied the rapid bus transit network and eventually found out that it wasn't hard to understand at all, even by a non-Indonesian. The various bus lines are color coded, the stations are properly labeled and the interchanges are properly identified. Going to Gambir from Tosari ICBC, one should hop to a red bus to Kota, get off at Monas and transfer to a blue bus to Gambir. Easy! After 15 minutes I was already at Gambir. Had I paid attention on analysing the BRT network earlier, I would probably en route to the airport by then. But misadventures happen, and it just did.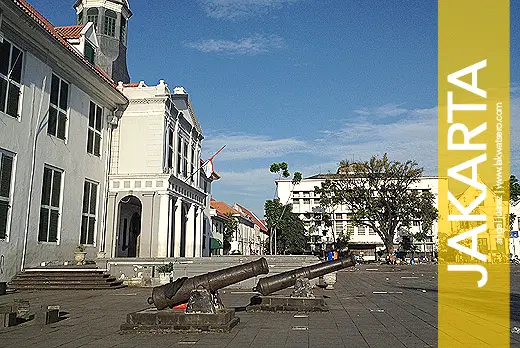 I hurriedly get off the BRT and rushed towards the Damri Airport Shuttle Bus Terminal. I was less than two hours away from my flight's departure time and I started panicking. I paid 30,000 IDR at the lady on the ticket booth who instructed me to proceed to the first bus in the queue. Thankfully, the bus is already half-full and was about to leave very shortly. Five minutes have passed when the bus finally left. I was relieved.
The bus traveled for 45 minutes from Gambir Station to Soekarno Hatta International Airport, it stopped at Terminal 1 before going to Terminal 2. I already saw the Philippine Airlines' aircraft at the airport, I was still in the bus with 45 minutes left before the scheduled departure, I was already in state of panic thinking that the check-in counters were probably closed.
They say when it rains, it pours. No! Hopefully, not on that moment when I was rushing with time. But misadventure after misdaventure happens, I missed my stop. I alighted at the next gate around 300 meters away which made me ran to the next gate, hoping against hope that the check-in counter personnel would still allow me.
As expected, the counters were already closed and packing up. I presented my ticket and I just got blank faces from the staff. Thankfully, the supervisor was there. He asked why I was late and I said that I got confused and lost in Jakarta's BRT. He inspected my ticket and upon learning that it was a staff ticket, he instructed one of the agents to check me in. I sighed in relief. Now, the only thing boggling me was the 150,000 IDR terminal fee. I only had few thousand Rupiah in my wallet and I was hoping they accept US Dollars. And they do!!! Whoah! Thank God!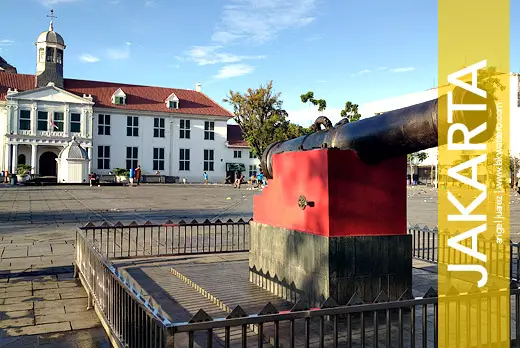 The agent advised me to proceed to the boarding gate immediately as the flight was already boarding. I thanked the supervisor and sped fast to the immigration area where I spent another ten minutes in the queue. It was then that I found out that I left one of my phones in the Dimri Bus enroute to airport. But it was a point of no return, my flight was already boarding so I had to let go of my old phone, the bus already left anyway.
From immigration to the boarding gate was another long stretch. Although there was no last call yet, I ran and walked as fast as I could. When I reached the boarding gate's document check, another unfortunate event happened – my departure card was missing! Oh no!!! So I had to trace my path back from the last time I saw my departure card. I know it was still with me at the final security check. I saw passengers already boarding my flight. I, on the other hand, still needed to look for this small piece of paper to get to my flight. Funny!
Thankfully, I found my departure card few meters away from the final security check. It was my ticket to the boarding gate! Finally, I was cleared for boarding. As I bid Jakarta farewell, my rendezvous for that moment is filled with mixed emotions… of happiness and sadness. Happy for another discovery in Jakarta and sad because of my misadventures. But then it dawned to me that the intangibles are priceless and forever, and it was more than a consolation. So I decided to end the trip on a happy note that in my very short stop in Jakarta, I was able to walk on its old district, appreciate the city's past and understand its history. Five hours are too short to get to know the Indonesian capitol deeply but I believe the old Batavia is a great place to start.