A placid lagoon surrounded by green islets and home to millions of brown non-stinging jellyfish. If you think it can only be found in Palau, think again.
The Sohoton Cove also known as Bucas Grande Group off the coast of Surigao del Norte boasts of islands and limestone islets rested in calm water of the Philippine Sea. The place is home to beautiful caves, white sandy beaches with vivid underwater life, amazing coves and lagoons, including the enchanting Tojoman Lagoon.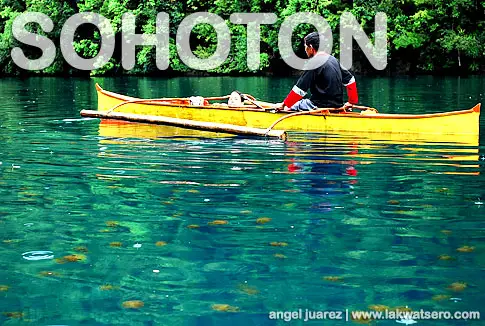 Tojoman is from the local word "tojom", which means sea urchin, and the lagoon is named such due to large number of sea urchins that cover its sea floor. However, its main attraction is the huge population (perhaps millions)  of non-stinging and friendly jellyfish, thus the place is also called Jellyfish Lagoon.
The species of jellies in Tojoman Lagoon is the so called Spotted Jelly or Lagoon Jelly with scientific name Mastigias papua. They are mostly brown with white spots and characterized by several smaller mouth openings in their oral arms that feed on plankton. Their lifespan is observed to last only for approximately four months and are active primarily on summer when the water temperature is warm.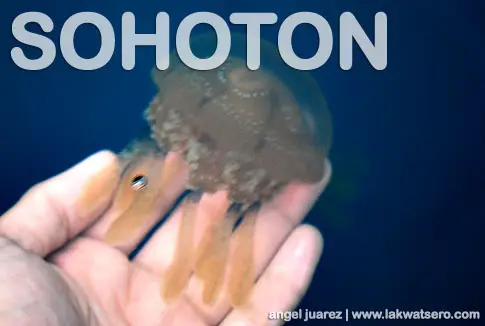 Aboard a small paddle boat, one can explore Tojoman Lagoon and swim with these bizarre harmless creatures of various sizes, it is a guaranteed surreal experience interacting with them. However, since their life spans only for four months, they are usually found only from March to early June.
The Tojoman Lagoon is among the beautiful wonders of Bucas Grande and these amazing jelly creatures on a serene and unspoiled lagoon add to its mystique. Truly enchanting.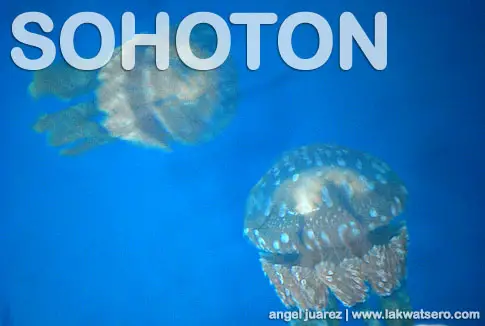 For information on how to get to Tojoman Lagoon and Bucas Grande, please check Lakwatsero's Travel Guide to Sohoton/Bucas Grande Islands.