Fronting the vast water of the Philippine Sea is the farthermost island of  Polilio Group in Quezon Province, a town enveloped by quaintness and simplicity – Jomalig. An island municipality surrounded by unique golden shores of bead-like sand and turquoise water that is rich in marine life, where most locals get their livelihood.
Strange as it sounds, the town's name is pronounced as "humalig", from the Tagalog word "humalik" or "kissed". Its name was derived from a local folktale, said to be the only love story legend in Quezon Province.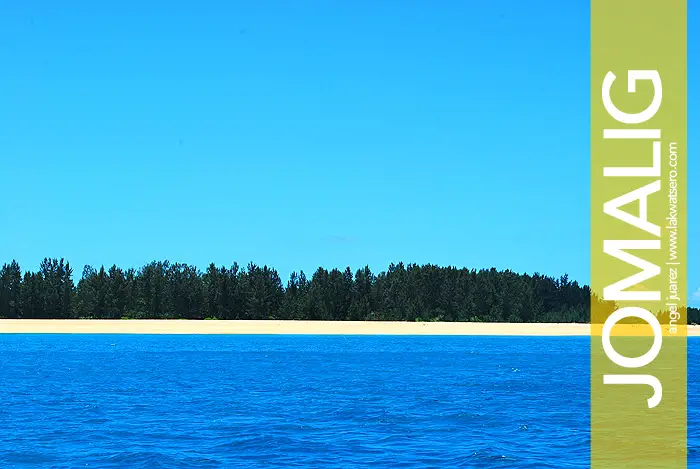 The tale is about a young man from a neighboring island who courted the daughter of the town's chieftain. The chieftain challenged the young man about fishing, but the young man lost in the end. As a consolation, he asked for a kiss from the chieftain's daughter. The girl who pitied the young man, gave her precious kiss in front of the town people who were shocked. They shouted "humalik! humalik!" (She kissed! She kissed!), and from then on, the island was named Humalik, which later on became Humalig and spelled by the Americans in their English alphabet as Jomalig.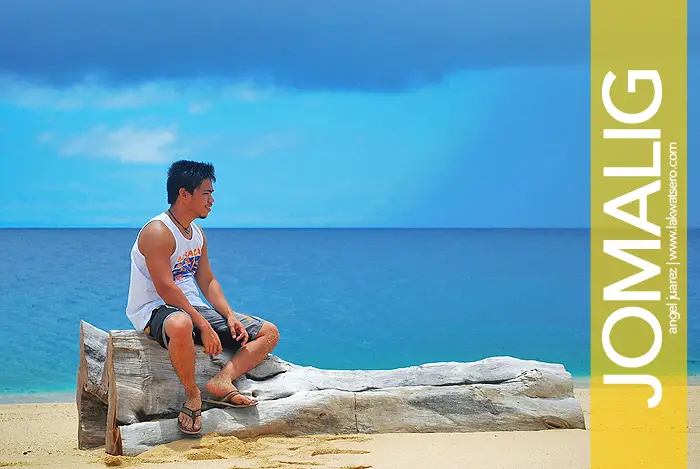 Jomaligins are what the locals of the island call themselves. They are migrants from the island of Samar and provinces in Bicol Region, resulting to naturally lovely people of diverse culture, traditions, beliefs and personalities.
Jomalig is six hours by boat on a rough sea from the port of Real or Atimonan. Its remoteness is a turn off for most, but for brave souls, Jomalig is a promise of serenity and beauty. This is not your typical tropical island, it is a place carefully built by nature and time, and taken good care by its  people – laid back, peaceful, scarcely untouched by urbanization and almost unheard but uniquely beautiful.
Time passes unnoticed in the island of Jomalig, a place which perhaps, will forever be a quaint town due to its isolation, but its quaintness is its charm that entices every soul who experienced the island to return to its golden soil.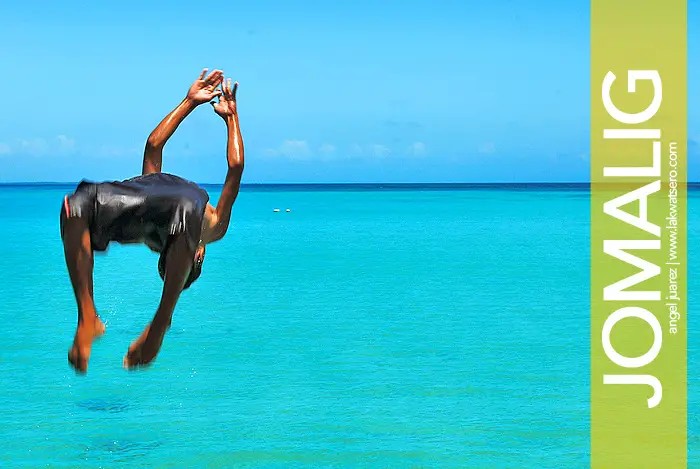 How to Get to Jomalig
Jomalig has an airstrip, so it is possible to charter a plane to go to here but the usual mean of getting there is by boat which is an adventurer's treat. There are three possible ways to get there by boat – via Real and Atimonan in Quezon Province and Panganiban in Camarines Norte. These are not commercial boats but cargo vessels. Going there by boat is difficult from September to January due to huge waves.
Via Real
This  is the most common route since there are regular boats from Real that go to Jomalig. These boats ferry fish from Jomalig but  also allows passengers to board. The Jomalig bound boats are found in the docking station near the school (not in Puerto Real). They usually leave in the morning to noon for at least four hours of boat ride. Fare is at P400.00, it usually includes fisherman's meal.
If you miss the boat to Jomalig, you may opt to catch a boat to its neighboring island of Patnanungan, and then charter a boat to Jomalig from there.
Going to Real via public transport, catch an Infanta or Real bus bound in Legarda, Manila. Raymond Bus Line has round-a-clock schedule for Infanta/Real for at least four hours of bus ride passing to Rizal Province, Siniloan and Famy in Laguna. Bus fare starts at P200.00. Get off at the docking station near the school before the Puerto Real port.
Alternatively, there are vans located near Raymond Bus Terminal, fare is P250.00. Travel time is three to four hours.
Via Atimonan
Boats to Jomalig from Atimonan ferry copra, but unlike Real, the ferry services from this point are irregular and not on daily basis. Travel time from Atimonan to Jomalig takes six to seven hours.
From Manila, Atimonan is accessible by land transportation. Buses going to southern towns of Quezon and Bicol pass to Atimonan. Travel time is approximately four hours. Once in the town, take a tricycle to go to the port.
Via Panganiban, Camarines Norte
Like Atimonan, boats to Jomalig from Jose Panganiban, Camarines Norte have irregular ferry schedules although this is the closest entry point to Jomalig from mainland Luzon. Travel time takes three to four hours.
Catch a bus going to Daet and get off at Talobatib Junction in Labo. From Talobatib Junction, you can ride a bus going to Panganiban, bus fare is less than P50.00. Travel time from Manila to Talobatib is approximately six to seven hours, and from Talobatib to Panganiban is around an hour to an hour-and-a-half.