It was once a magical and mysterious place that locals believe it is enchanted. But through the years, with the influx of tourists, the serenity has gone a bit but the enchantment is still attached to its name. Welcome to Enchanted River of Hinatuan!
Tucked in between Barangay Talisay and Cambatong, in the quiet coastal town of Hinatuan, the Enchanted River fast became a tourist hotspot. With its clear deep blue water, the river provides a real striking scene.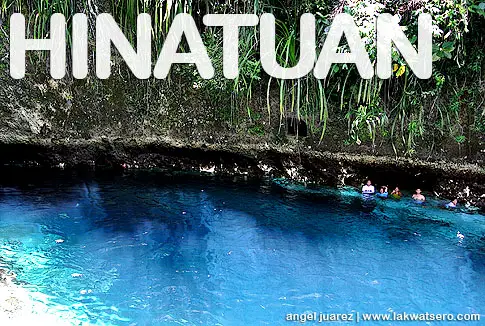 A few versions of local myths and legends exist on how it was called enchanted, but its natural feature is more than enough to call it as it is. The river is so deep as reflected on its color. The water, a mixture of fresh and sea, supports the theory that an underwater cave is directly connected to the nearby Pacific Ocean, thus the presence of fishes in the river.
The best time to visit Enchanted River is on weekdays and in the early morning to avoid the crowd. At noon daily and occasionally at three in the afternoon, the river is cleared with people for the fish feeding. Entrance fee at Enchanted River is P30. Picnic huts are available for rent inside. You may bring your own food  or let the restaurants outside cook for you.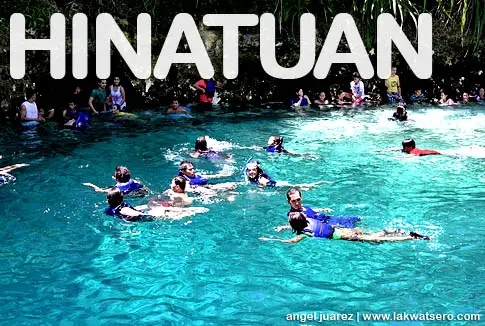 For those curious to see the river's deep, Discover Scuba Diving in the Enchanted River is being offered for P550 for no fins/no swim intro dive on a maximum depth of 10 feet with souvenir photos and video. P950 with complete scuba gear, with orientation and on maximum depth of 20 feet. Leisure diving for professional is not allowed.
How to Get There
Surigao del Sur has airports in Bislig and in the provincial capitol of Tandag, but there is no commercial airline serving these points. The nearest commercial airports and also serving as gateways to Hinatuan are Butuan City, Surigao City (Surigao del Norte) and Davao.
From Butuan
There are buses and vans from Butuan City Integrated Bus Terminal going to Mangagoy that passes to Hinatuan. Direct deluxe (non-aircon) bus travel time takes approximately four (4) hours to Hinatuan for a fare of P190 (as of August 2012). Vans travel faster, approximately three-and-a-half (3.5) hours to Hinatuan.
Alternatively, you may catch an aircon bus going to Davao, get off at San Francisco (San Franz) in Agusan Del Sur (2 hours) and transfer to another bus or van going to Mangagoy via Hinatuan. Travel time from San Franz to Hinatuan is two hours.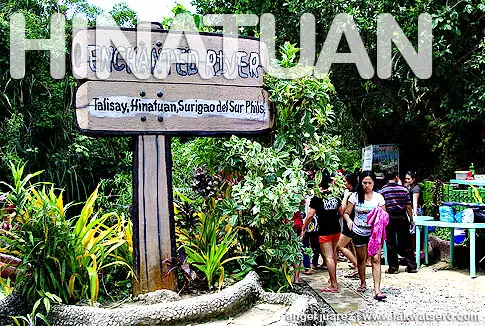 From Surigao City
Getting to Hinatuan from Surigao City is quite strenuous since there is no direct link between these places and it really requires transfer. From Surigao City, you may either go to Butuan which is around two hours or Tandag which is four to five hours. The latter is ideal if you are coming from Sohoton/Bucas Grande Islands.
From Butuan, there are direct deluxe (non-aircon) buses going to Hinatuan and Mangagoy (Bislig), while in Tandag, there are jeepneys and vans going to Hinatuan.
From Davao City

There are deluxe (non-aircon) buses from Davao City's Ecoland Bus Terminal going directly to Mangagoy (Bislig). Travel time takes around six hours. Alternatively, you may catch an aircon bus going to Butuan City, get off at the town of Trento and transfer to another bus or jeepney going to Hinatuan.
When you reach Hinatuan, transfer to a habal-habal to take you to Enchanted River at P50.00, one-way, per person. For more information on Hinatuan, check out Travel Guide: Bislig and Hinatuan.