Night food markets are "in" today and what I like about them aside from giving income opportunities to local entrepreneurs is that we get to taste wide assortments of really fabulous foods in just one location. A one-stop-shop for food addicts because almost everything is there, in one convenient stop, all in reasonable prices – pasta, sea foods, grilled foods, shabu-shabu, burgers, pizza, cakes, steaks, drinks… name it!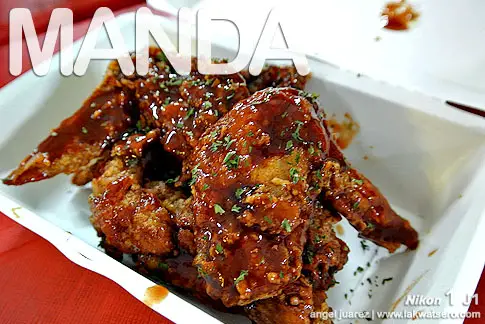 But for a resident of downtown Manila like me, I still have to go to Makati, Quezon City, Taguig and Alabang just to experience such. Thankfully, a newly opened night food market in Mandaluyong City brings the experience closer to Manila. Enter Manda Central!
Manda Centrale, the latest addition to the growing list of night food markets and bazaars in Metropolitan Manila, opened last October 2012 in the busy area of Mandaluyong City. Located in Mayflower Parking Area of Greenfield District, popularly known as EDSA Central, this food market is from the same group who popularized the graveyard foodie havens Mercato Central in Fort Bonifacio Taguig, Soderno in Alabang, Distrito in Makati and Mezza Norte in Quezon City.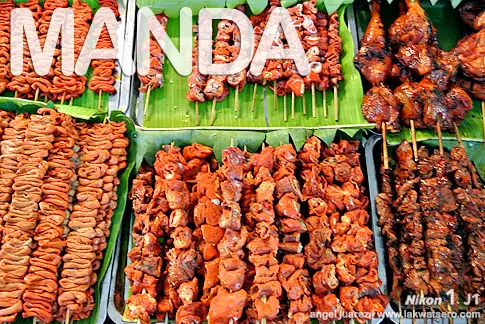 And while there is no such night food market in my city for now, I troop to Manda Centrale one Friday night and got the chance to experience this newest food destination. Yay! After more than an hour of food tripping, I went home with really full and happy stomach. I am not a night eater but I tried to taste as much as I can. But with a lot of foods to choose from, I think I need to go back there soon… very soon.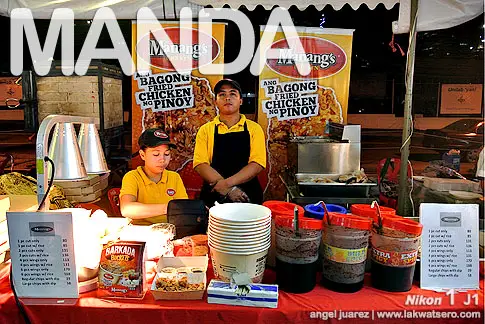 Some that I liked are the soft and saucy barbecues of PAJ Grill; the spicy buffalo wings coated with Black Mamba chili sauce and a hint of chocolate by B. Wings Buffalo Chicken; the delicious baked beef lasagna and cheesy potato by Mads About Spuds; and the yummy choocotroffle cake of Cakes by K.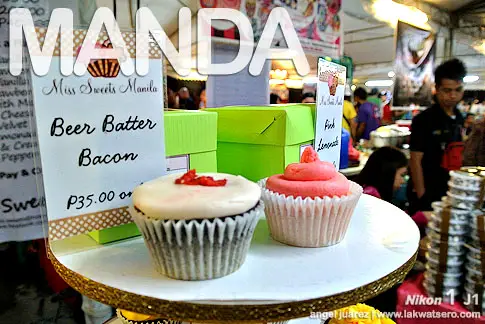 Next time, I will make sure to try Moshi Moshi's rice meals, gyudon and takoyaki; Happy Chef Culinary Concept's gourmet rice toppings; Panchados's Mechado in a bread bowl topped w/queso de bola; IRL Shawarma's samona azkals or noodle shawarma; Shrimp World variety of shrimp based menu; Dadi's Berd, Skew Grill, Nina's Grill, Pimielca Marketing and Home of Grill's grilled specialties; Chicago Pizza and Gino's Brick Oven Pizza's creations; Carlos Kitchen's chicken cordon blue, pan-grilled pork chop and chicken teriyaki; Juana Bowl's grilled pink salmon and pork ribs; and Lu Chi's dimsums.
Also Edgys Food Trip's baby back ribs and garlic chicken; Rene Ruz, Miss Sweet Cupcakes, C & B Sweet Story Bakeshop and Mio Gelati's sweet offerings; Macheesemo Burgers, Big Bobs Charcoal Grilled Burgers and Johny's Steam's burgers; Maria's Ilocos Empanada authentic Ilocano empanada; and the other specialties by Sergio Perez, Eli's Planhouse, DadsMoms Kitchen, Auntie May, Let's Salsa!, Z's Sausage, Figueroa's Nueva Ecija Delicacies, Cheese Steak Shop Phils., Inc., Angus Beef Tapa Lady, Chef Resty, Manang's Fried Chicke, Nacho El Mexicanto, FMT Taclings, Sinangag Trip and Mr. Tea.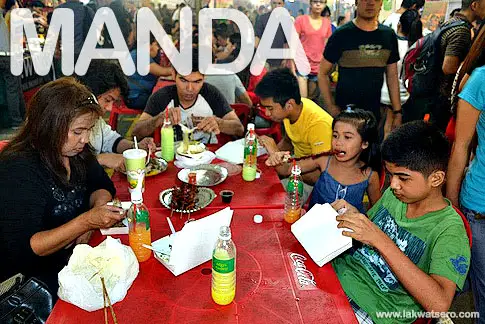 Manda Central is open every Wednesday, Thursday and Friday from 6PM to 3AM. It is in the corner of United and Mayflower Streets, near EDSA and Shaw Boulevard. Go check it out guys, bring your family, friends and loved ones and have a fabulous food finds at Manda Centrale!