Aside from Cagbalete Island, you have probably asked yourself what other attractions await in Mauban, Quezon. The town seems to be synonymous to the infamous island off the coast of the town. Unbeknownst to many, there's more in Mauban for those who seek to explore beyond Cagbalete – old lighthouse, hills, caves, black sand beaches and numerous waterfalls!
Yes, waterfalls!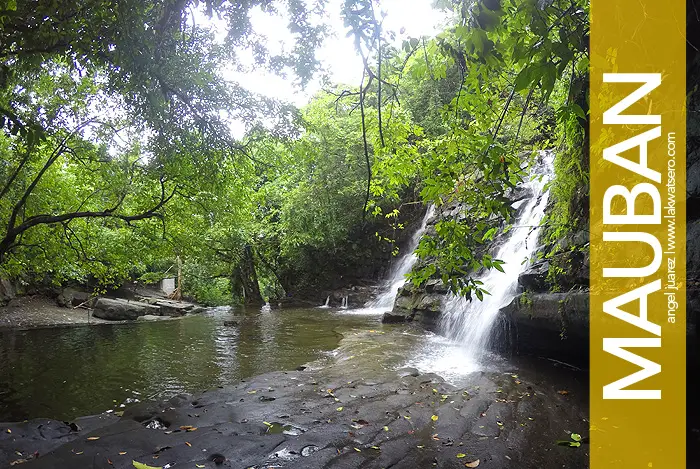 Rumor has it that there are more than twenty waterfalls in Mauban, some are not even documented or brought to public attention yet. If this is true, then Mauban can give Iligan City a good competition. But out of this rumored twenty waterfalls only a handful is known to public including Dahoyhoy Falls, Hagdan-Hagdan Falls and Alitap Falls.
Dahoyhoy Falls
Situated in Barangay Macasin, Dahoyhoy Falls is probably the most accessible and popular waterfalls of the town. The trail going to this falls is well established, completely cemented and with signages for direction and distance. It is closed to villages and along the trail to other communities of Barangay Maasin.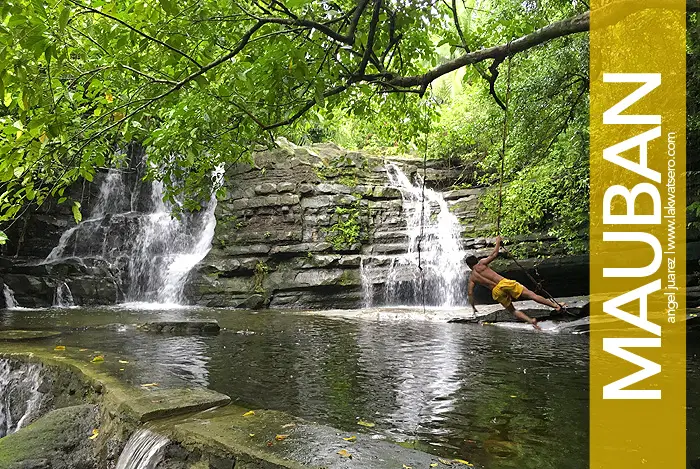 But despite its proximity to communities and its popularity, Dahoyhoy Falls lacks the usual touristic crowd and generally unspoiled by the mass tourism. Although the pool itself was already altered to cater to tourists, there is a high chance that you will get to own the place specially on weekdays and off season.
Dahoyhoy Falls has only one level, the cold water cascades from a height of fifteen feet, against what seems to be horizontal layers of stone wall. The water, said to come from a spring at the top, falls into a shallow pool that is shaded by huge trees.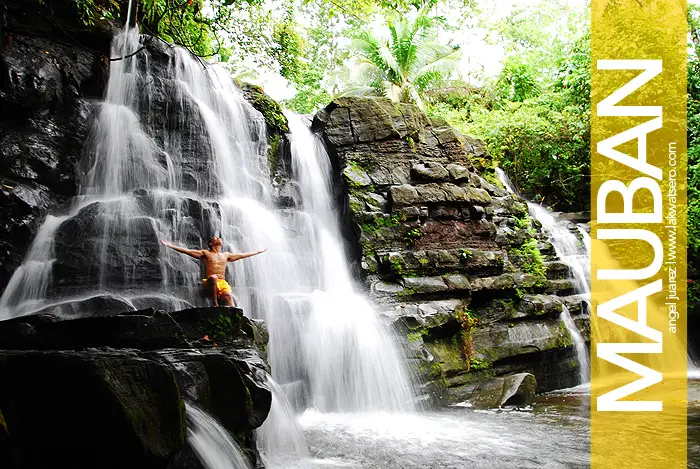 The waterfalls is approximately two-kilometers from the trike terminal at the interior street of Barangay Baao. The trek here usually takes half-an-hour, crossing two hanging-bridges and one wooden bridge, and passing along rice fields. Entrance fee is P10 for adult and P5 for kids, but it is only true if the collector counter is open.
To go to Dahoyhoy Falls from Mauban Town Proper, flag a trike and tell the driver to take you to Dahoyhoy Falls in Macasin, fare is P13 per person. If you are coming from Tayabas or Lucena, get off at Barangay Baao, specifically at the street going to Macasin, fare is P48 per person from Lucena. Take a trike from there for only P7 per person.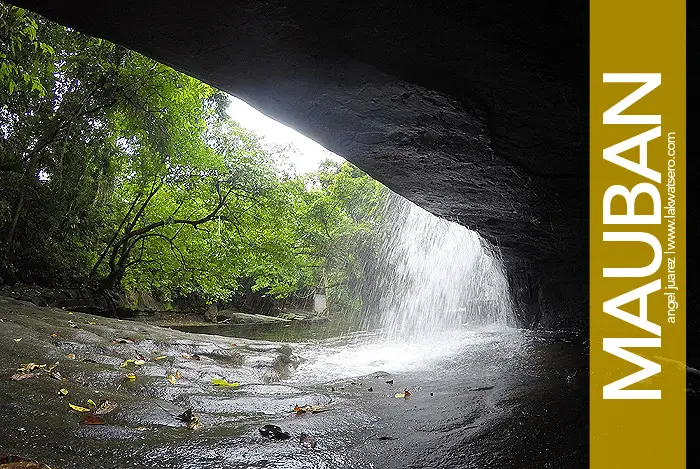 Hagdan-Hagdan Falls
For many reasons, Hagdan-Hagdan Falls is the exact opposite of Dahoyhoy Falls- the trail is confusing and not yet developed, there are no signages for direction, the river is its water source, and it requires someone who knows the place to get to it.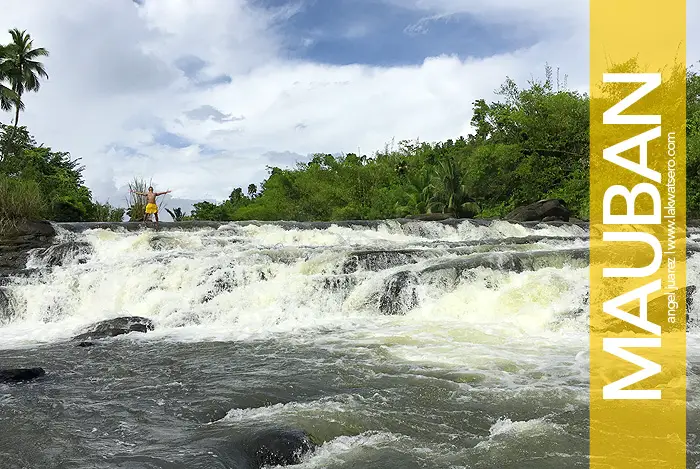 Situated in Barangay Balaybalay, Hagdan-Hagdan Falls is a series of small yet wide cascades along Balaybalay River. The height of the cascades ranges from three to six feet, layered like terraces thus "hagdan-hagdan". The water current can be so strong after the rain so swimming is not advisable in the middle of the cascades, only on the small pools created by enclosed rocks on the sides of the river. But it is a totally different story during dry season.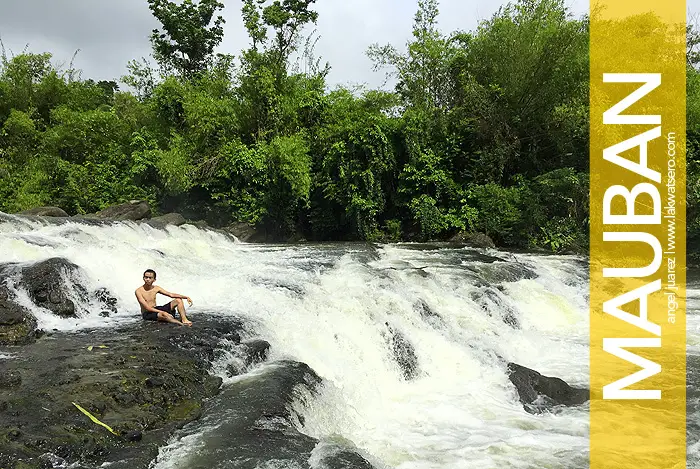 The trek to Balaybalay takes around 30-45 minutes from the main road in Balaybalay and involves river crossing on a raging current specially on rainy days, extra precaution is recommended when taking this trail. Alternatively, you can take the longer route via the woods from the main road right after the bridge from Balaybalay to Liwayway, trekking takes around an hour from here albeit no river crossing. As the trail is confusing, it is advisable to get assistance and guidance from the locals. No standard fee, just give whatever your heart desires. 🙂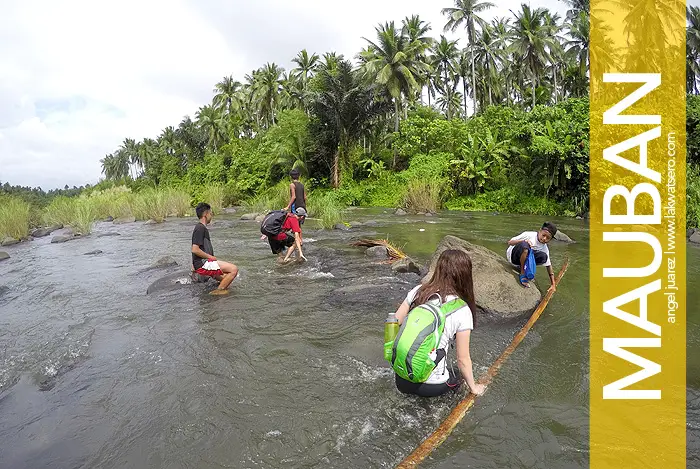 To go to Balaybalay from Mauban Town Proper, hop on a trike and ask the driver to take you to Hagdan-Hagdan in Balaybalay. Fare is P25 per person from the town and P20 per person from Baao. If you are coming from Tayabas or Lucena, get off at the small street after the river's long concrete bridge in Balaybalay. Fare is P45 per person from Lucena.
Alitap Falls
The seven-tiered Alitap Falls is located in Barangay Alitap, a remote village of Mauban. Going here is not as easy as going to Dahoyhoy or Hagdan-hagdan falls as it involves boat ride, motorbike or habal-habal ride, and river trekking which becomes dangerous or impossible after the rain.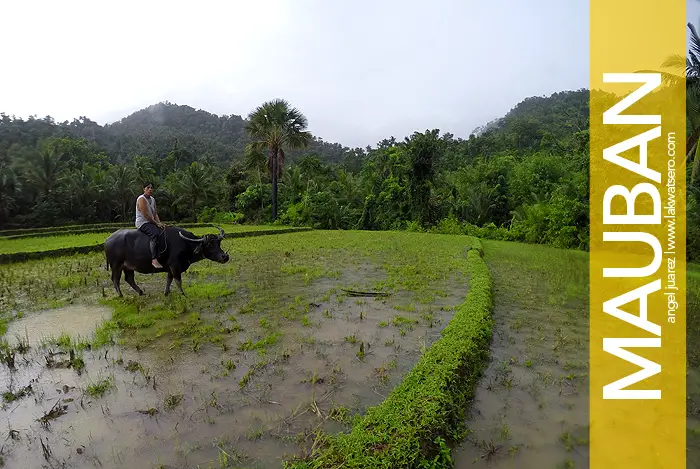 The rare images of Alitap Falls online are beckoning. Sad to say though, we weren't able to reach even the first falls during our visit due to high water and strong stream current brought by rain. If in any consolation, we found Ligaw Falls, a small cascades from the spring at the upper slopes of the village accessible by smaller trails from the river.
One of the remarkable experiences of going to Alitap Falls is the fifteen minute habal-habal ride to the jump-off, passing small streets, narrow bridges, rice fields and human trails. Prepare to be amazed with the ride and with the skill of your driver.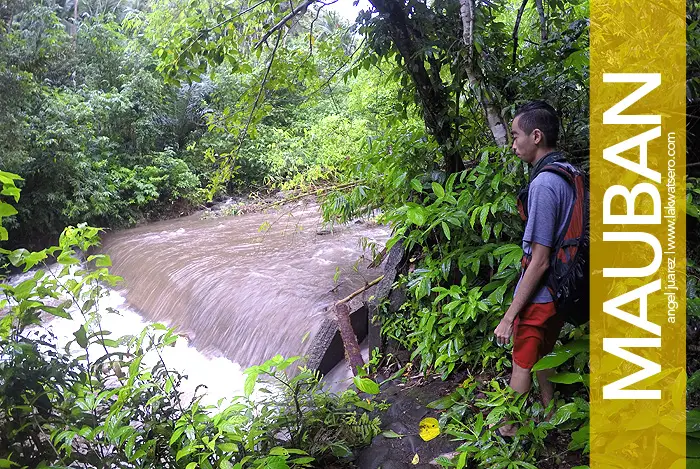 From the jump-off, the trek involves river crossings and trekking upstream to the first level and onward to the seventh. It usually takes only half-an-hour from the jump-off to the first waterfalls, the second is located exactly on top of the first. Trekking up to the seventh falls requires around two-hours or so.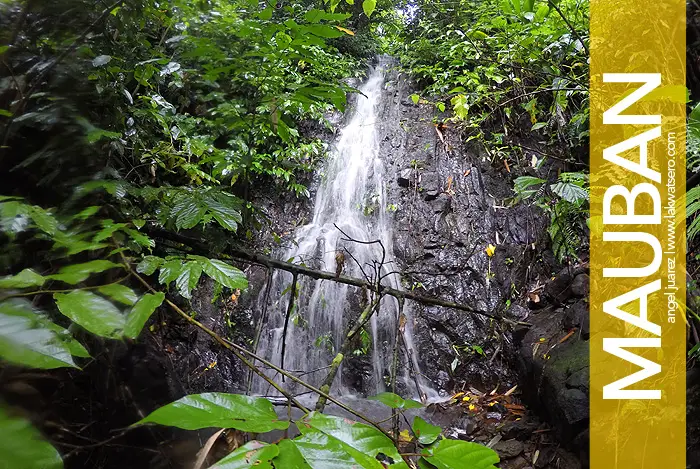 Going to Alitap Falls from the town proper, take a trike at P10 per person to Quezon City (yes, they call the port Quezon City). From there, take a boat to Luya-Luya at P7 per person, boat ride takes around 10 minutes. Then hop on a habal-habal to take you to the jumpoff in Alitap, ride takes 15 minutes and fare is P50 per trike. Earliest boat is around 6AM and last trip is at 5PM.
Other Waterfalls
Another known waterfalls of Mauban is Bisibis Falls in Barangay Cagsiay III. Locals say that there are more waterfalls in remote villages of Barangay Cagsiay II and Cagsiay III, near the boundaries of Real, Paete, Lumban, Kalayaan and Cavinti. Meanwhile, the nearby town of Sampaloc boasts of Hangga or Maapon Falls, Buho Falls and Asedillo Falls.
How to Get to Mauban, Quezon
DLTB has direct trip from Cubao and Pasay to Mauban, although the trips are limited, fare is P250.
The most common route is via Lucena City with plenty of departures from Kamias, Cubao, Alabang or Buendia. DLTB, Jac Liner, Jam Transit, Lucena Liner, Ceres Transport, among others, have buses bound to Lucena Grand Central  Terminal. Buses leave almost every hour, every day for approximately three hours ride from Buendia, Pasay, fare is at P210.00. You can book your bus from Manila to Lucena or vice versa below:
BOOK YOUR BUS FROM MANILA TO LUCENA
From Lucena Grand Central Terminal, catch a non-air con mini bus, travel time is approximately one hour and thirty minutes and fare is around P54, earliest trip is 7AM and last trip is at 6 pm.
Alternatively, aircon vans to Mauban are located in Pacific Mall and SM City Lucena for P60 per person. Earliest trip is at 6AM and last trip is at 9PM. Travel time via van is approximately one hour.
*First published: 02-Nov-2015 | Updates: 17-Aug-2019