Go beyond the usual Bohol itinerary and be mesmerized with other surprises that are hidden in the suburbs of Tagbilaran City. Because there's more in Bohol than the Chocolate Hills, centuries old churches, man-made forest or the iconic Tarsiers.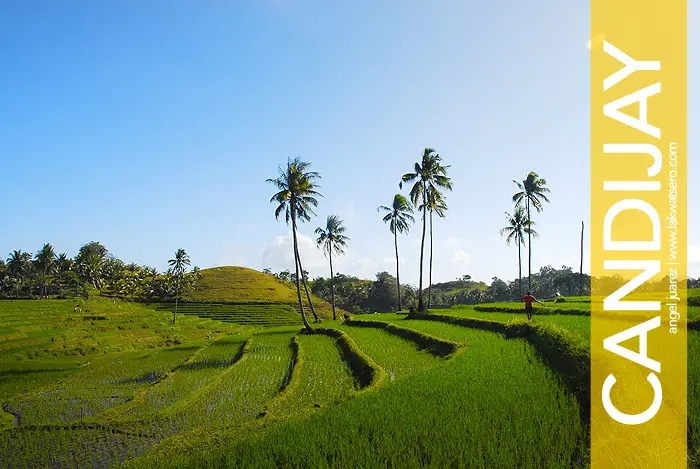 Two hours away from Tagbilaran, approximately 92 kilometer east, is the laid back town of Candijay, an emerging tourism hot spot for its manifold of attractions – caves, springs and mangrove forest. But what makes the town popular these days are the rice terraces and waterfalls particularly in Barangay Cadapdapan.
Cadapdapan Rice Terraces
Rice terraces are not unusual in the province of Bohol. In the hinterlands of the island are these carved hills and mountains, perhaps not as grandiose as those in Cordilleras, but uniquely beautiful just the same. There are rice terraces in the towns of Lila, Dimiao, Sierra Bullones and Jagna, but many locals say that the most beautiful in the province are located in the town of Candijay.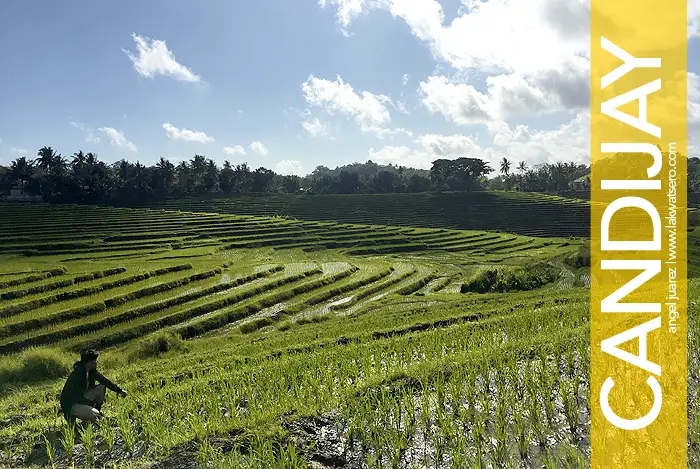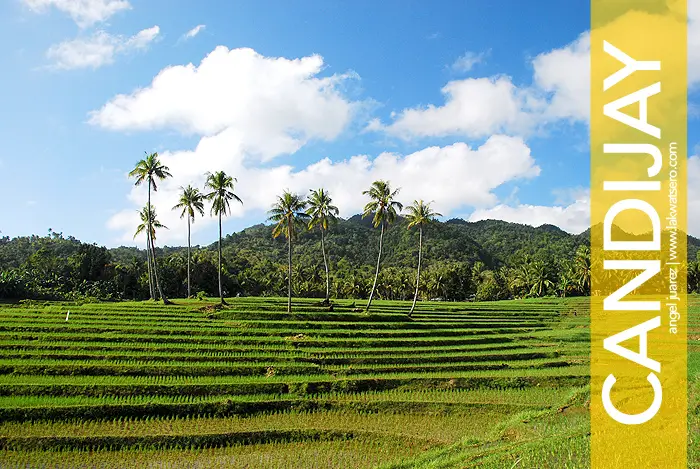 Being among the top rice-producing towns of Bohol, it is not surprising that Candijay harbors the most captivating of all the rice terraces of the province. These terraces are found in the highlands of the villages of Panadtaran, Canawa, Cambane, Abihilan, Lungsoda-an, Tambongan, Luan, Anoling and Cadapdapan. The last is considered as one of, if not, the most captivating of all.
No one really knows the exact story of how these rice terraces were formed but locals say that these are made by their ancestors, hundreds or even thousands of years ago. If there is one thing certain, it is the fact that these rice terraces is comparably beautiful to the rice terraces of Banaue specially when the rice paddies are in vivid green.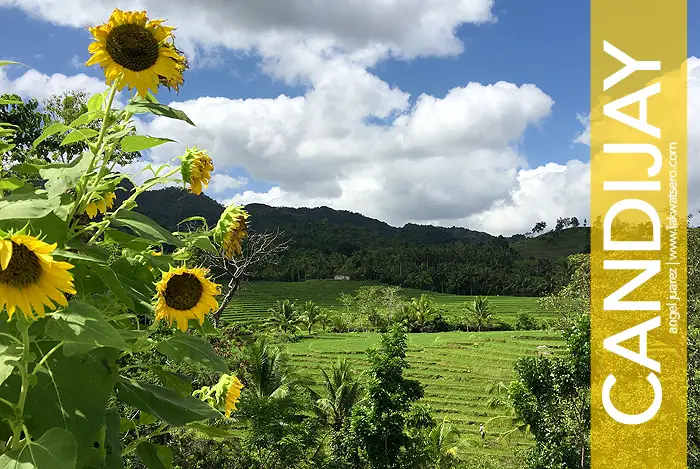 Cadapdapan Rice Terraces covers few hectares of the mountain slopes of Barangay Cadapdapan and being irrigated by the waters from Cadapdapan River, the same river system that flows down to Can-Umantad Falls.
Can-Umantad Falls
Just below Cadapdapan Rice Terraces, at least 15 minutes trek down, is Can-Umantad Falls, the most iconic attraction of Candijay.
Can-Umantad Falls is regarded as the tallest waterfalls in the entire province of Bohol. The cascade lies along Cadapdapan River that supplies irrigation to the rice terraces nested above it before flowing downstream.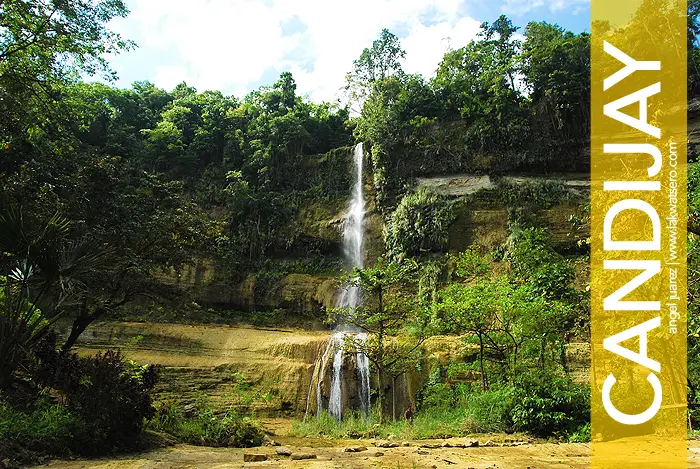 The main cascade towers at the height of 60 feet and layered into three. The water flow freely to a very shallow and rocky basin. Few meters downstream is a lower cascade which is quite smaller at 10 feet high yet dropping to a deep green circular pool, a favorite spot for those who love to take a quick dip.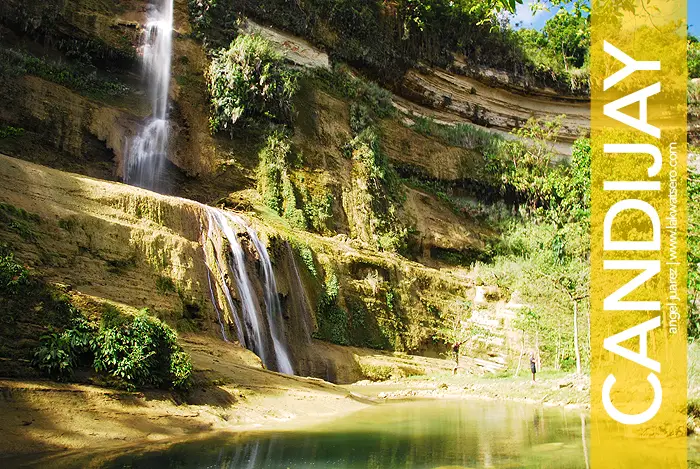 Can-Umantad Falls and the nearby spring pools are owned and managed by Eleuterio's Can-Umantad Falls and Rice Terraces Resort Inc. It is open to public everyday from 7AM to 5PM. Entrance fee is P20 per person, parking fee is P10 for motorbike and P20 for private cars.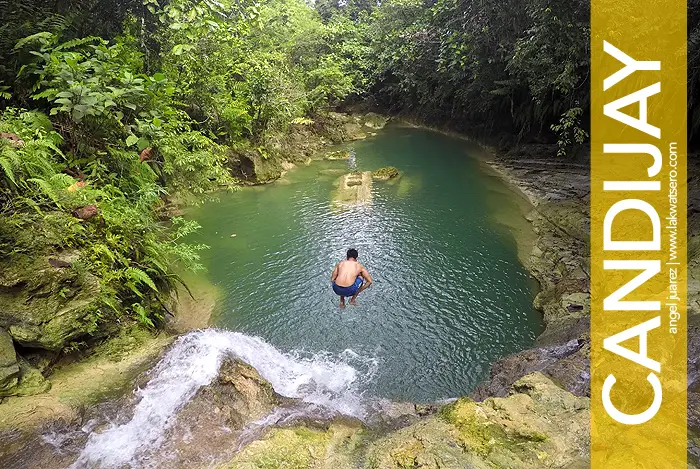 Other Attractions of Candijay
Aside from Cadapdapan Rice Terraces and Can-Umantad Falls, Candijay has several other attractions that will surely delight its guests including Canawa Cold Spring, Candijay Mangrove Forest, Kawasihan Islet Sandbar, Danicop Jorge Brook, Kantaligsok Peak and the man-made lake called Boongon Swip, among others.
How to Get to Candijay, Bohol
From Tagbilaran City
Going to Candijay from Tagbilaran City, catch a van (P130 one-way) at city center or bus (P60 one-way) at Dao Terminal in Tagbilaran City to Ubay and get off at the public market of Lungsoda-an in Candijay. From there, take a twenty-minute motorbike or habal-habal ride going to Cadapdapan (P160 per person, round trip and waiting). The trek to the waterfalls takes at least 15 minutes on a quite steep stone stairs.
*First published: 25-Jan-2016 | Updates: 15-Oct-2019